Thu, 26 Sep 2013, 17:39 PM



It's Crunch Time



By Bob Frey


Photo copyright 2013 Auto Imagery, Inc.





With two races in the "Countdown" already behind us the NHRA Mello Yello championship battle is starting to take shape. Doug Kalitta had a great weekend in Dallas while Mike Edwards stumbled a bit and will look to getting back on track (literally and figuratively) this weekend in St. Louis. While they do that the racers in the Lucas Oil series are also jockeying for position as they also head down the stretch. In other words, for the racers in the sportsman classes, just like those in the pro ranks, it's crunch time.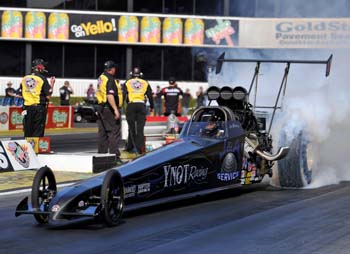 Jim Whiteley
I always preface my little look into the sportsman crystal ball by saying that the points can change in a hurry, and because of the way they score points there is always an outside chance that a real dark horse could emerge and steal the championship, but since we are in the latter part of the season there are a few classes that look like they already have some clear cut leaders in the battle for the championship. Top Alcohol Dragster is one of those, and as competitive as the class is this year, with his win in Dallas it looks like Jim Whiteley may have put this thing out of reach. Jim, the defending Lucas Oil World Champion, leads second place Chris Demke by seventy-three points and that's a lot at this time of the year, especially since Chris has just two national events left to claim. If my math is correct (and it isn't always), Chris has to win both of those races to pass Jim and his current total, but Jim still has a couple of national races to count and he could add to his tally, and if he did that would be too much for Chris to overcome. Jim, who has been one of the top drivers in recent years, just seems to get better as the years go on. He won the title last year by ninety-five points over Demke with the five-time champ, Bill Reichert, just another point back in third place. Now he has a comfortable lead and appears poised to make it two in a row. By the way, Jim has stated that this will be his last year behind the wheel, and if that's true that's a shame because it will deprive fans of seeing one of the best ever in the class and it will eliminate that great rivalry between him and Chris.
Frank Manzo
The situation in the Top Alcohol Funny Car class looks like it could be a repeat of last year, and the year before that and, well, you get the idea. Even though he lost in the final round last week in Dallas Frank Manzo, who already has more national championships than anyone in the history of the sport, looks like he is ready to add another. Right now Frank is eighty-five points up on Shane Westerfield, the guy who beat him in Dallas, and eighty-six ahead of John Lombardo who is in third place. Both of those drivers have enough races left to claim (two national and a regional) and plenty of points to add to their totals so it is possible for them to catch and pass Frank. The catch is that Frank also has races to claim, and while I believe he may only race at the Maple Grove national event, with his past history there he could and probably will add to his total, and since he will be replacing a second-round loss you would think that it's more than likely that he hasn't posted his final points total yet. Shane and John both have good cars and I think it would be neat if one of them slipped into Maple Grove to challenge Frank on his home turf. Of course it's easy for me to say because I don't have to race him, do I?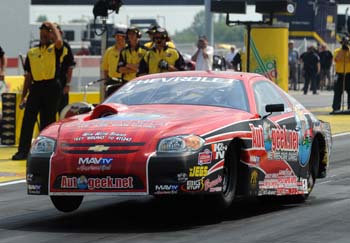 Bruno Massel
The Competition Eliminator class is one of the more interesting ones since there are several drivers with a shot at winning the title. Bruno Massel the reigning champ, currently leads the way with 561 points and that's fifteen better than Kyle Cultrera who is in second place. Bruno can add points at one divisional race and Kyle can do so at a national event. Based on what they each do at their remaining points-scoring races will tell us what the total is to beat. Alan Ellis is currently lurking in fifth place with 504 points but he can still score at both national and divisional races so he has a lot of upside to his points, and the way that car runs there is no counting him out. Kyle will fill out his points when he competes at Maple Grove next week while Alan will wait until the national events in Las Vegas and Pomona to complete his scoring. All three are capable of adding points so it should be a great finish in Competition Eliminator this year. And in case you were wondering, Frank Aragona is currently in third place with Greg Kamplain in fourth but both drivers have used up their full allotment of races so they can't add to their totals.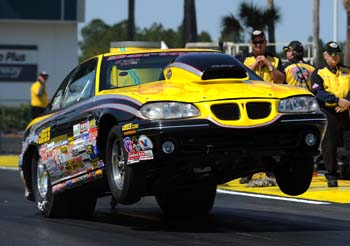 Anthony Bertozzi
How about this for a lineup in the Super Stock class? Anthony Bertozzi, Dan Fletcher and Jimmy DeFrank are the top three in the standings right now. Talk about a loaded field, but then there is Jeff Dona in fourth, Byron Worner in fifth and Joe Sorensen in sixth and they all have races to claim. Having said that Anthony, with 603 points, has two more divisional races to claim and he will be trying to replace a pair of third-round losses, so he has a lot of potential points to add to his total. Dan, on the other hand, only has one divisional race to claim and he'll need to go past the fourth round to add to his total of 603 points. Jimmy, who has already won four national championships, is sitting on 591 points but he can still claim one national and a pair of divisional races so he has even more upside than Anthony so you can't count him out. As for Jeff, he is out of divisional races but can still claim a pair of national events and he'll be looking to go past the second round to add to his total of 590 points. That's the exact same amount that Byron has, and with a national and divisional still to claim he could surpass the leaders with a good showing at one or the other. Meanwhile Joe Sorensen is still in the chase with his classic Chevrolet but he will basically need to win his last national event and hope that the leaders don't add to their totals before he gets a chance to do so at the Las Vegas event. Hey, stranger things have happened..Advantage, Anthony. I mean Jimmy. I mean...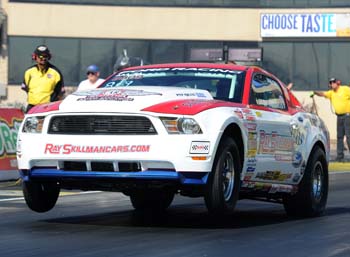 Drew Skillman
The Stock Eliminator title chase is interesting since the top two drivers, Drew Skillman and Charley Downing are already out of races to claim. Drew has 644 points and Charley has 620 but that's as high as they can go. So that leaves Joe Santangelo and Katie Sepanek as the main challengers with just a few races remaining in the year. Joe, the 2011 champ, is thirty-five points back with one national event to go on his scorecard. Since he will be replacing a third round, passing the leaders is certainly doable. Katie, meanwhile, has 598 points, one race remaining and a third round loss to replace. Since both Joe and Katie will be at Maple Grove the battle for the Stock title should be decided in the next two weeks. For that matter several of the Super Stock contenders are also entered for the Reading event so that should be a big race for any fan who loves sportsman racing. By the way, before I get letters (or e-mails or texts or whatever as I always do after this yearly exercise) Jody Lang is in seventh place and he has two national events to claim so he can't be counted out just yet. Maybe after Maple Grove, but not yet.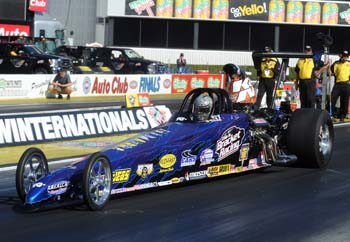 Luke Bogacki
The "90" categories are always interesting since their points totals can vary depending on how many cars show up and how many rounds the event includes. Having said that, Luke Bogacki leads the Super Comp ranks with 676 points and one divisional race to go. At that event he will try to go past the fourth round to add to his total and virtually close out everyone else. The always tough Ray Miller is in second but his 602 points leave him with a lot of work to do if he wants to pass Luke. With two divisional races to claim Ray would have to win both and hope Luke doesn't add to his total to keep his title hopes alive. In the Super Gas ranks the Sawyer family, Ray and Mike, currently hold down the first and third place in the standings with Troy Coughlin sandwiched in between them. Ray has 615 points, Troy 601 and Mike 592 and they all have one divisional race still to count. It's amazing how good two families can be, isn't it? Ray won the World Championship in 2005 and Mike has finished second and third to go along with two other top ten finishes and we all know about the legacy of the Coughlin family. Rick Beckstrom, the Division 7 standout, is in fourth place and he could be the sleeper in the field since he could virtually go to every race that remains on the schedule and count points at all of them. The reigning champ, Jeff Lopez, is still mathematically alive and so is Ray Connolly, so NHRA may have to wait a while before sending out those invitations to the Lucas Oil award's affair.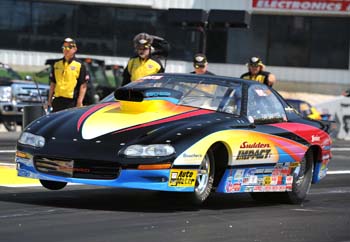 Ray Sawyer
Remember, these are all general scenarios with no predictions in any of the classes, and even though there are a few clear cut leaders right now, stick around because as we all know things can change rapidly in the Lucas Oil classes. Oh yeah, good luck to everyone.




NHRA: 10 Most Recent Entries [ top ]

Apr 24- CHARLOTTE 1 - Steve Torrence Enjoying Four-Wide Success Heading to NGK Spark Plugs NHRA Four-Wide Nationals
Apr 24- CHARLOTTE 1 - Fact Sheet
Apr 24- Kalitta Motorsports Welcomes NASCAR Stars to the SealMaster Track Walk in Charlotte
Apr 24- zMAX Dragway Celebrates 10th Anniversary
Apr 24- CHARLOTTE 1 - NGK Spark Plugs NHRA Four-Wide Nationals Brings 40,000 Horsepower Thrill Show to zMAX Dragway
Apr 23- HOUSTON - Lucas Oil Drag Racing Series Wrap Up The NHRA Lucas Oil Drag Racing Series Wrap Up
Apr 23- CHARLOTTE 1 - J.R. Todd Aiming for Two Four-Wide Racing Wins in 2018
Apr 23- Mid America Dragway Joins NHRA Member Track Network
Apr 23- HOUSTON - Special Awards
Apr 23- HOUSTON - Sunday Video