Wed, 25 Sep 2013, 13:35 PM



Carolina Dragway Takes Division 2 East Summit Team Finals Crown



Courtesy of IHRA Communications



Six More Drivers Advance to Summit World Finals in Memphis



AIKEN, S.C. --
At one of the biggest Summit Racing Equipment Team Finals events of the year, six drivers survived a grueling afternoon against a dozen talented tracks to punch their tickets to the Summit SuperSeries championship runoff at Memphis International Raceway in October.
Greg Maddox (Top ET), Brad Hall (Mod ET) and Amanda Foley (Junior Dragster) won their respective classes on opening day of the Division 2 East Summit Team Finals at Carolina Dragway on Friday, joining runner-up finishers Kevin Crawford (Top ET), Jay Norris (Mod ET) and Zach Pennington (Junior Dragster). The six drivers automatically advance to compete for the Summit SuperSeries World Championship next month.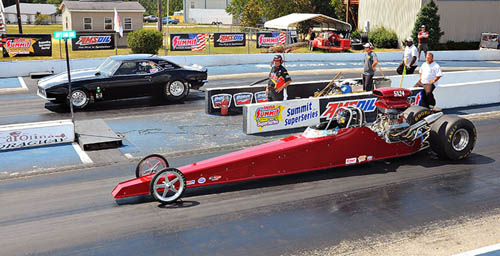 Division 2 East Summit SuperSeries Top ET Final:
Greg Maddox vs. Kevin Crawford
In the team competition host track Carolina Dragway (61) took the overall crown by 18 points over team runner-up Pageland Dragway (43). Ware Shoals Dragway finished third with 41 points, followed by Orangeburg Dragstrip (35) and Immokalee Regional Raceway (32). Rounding out the remaining teams were Darlington Dragway (31), Union County Dragway (31), Bradenton Motorsports Park (24), Dorchester Dragway (23), Lakeland Dragstrip (21), Douglas Motorsports Park (20) and Palm Beach International Raceway (18).
Representing Ware Shoals Dragway, Greg Maddox kicked off the huge weekend of racing at Carolina Dragway with a win in Top ET over Kevin Crawford. Maddox nailed the tree with a .015 light to Crawford's .629 and backed it up on the top end with a 5.422 second lap at 96.32 miles per hour on a 5.15 dial. Crawford had a 6.200 on a 6.17 dial at 109.28 mph.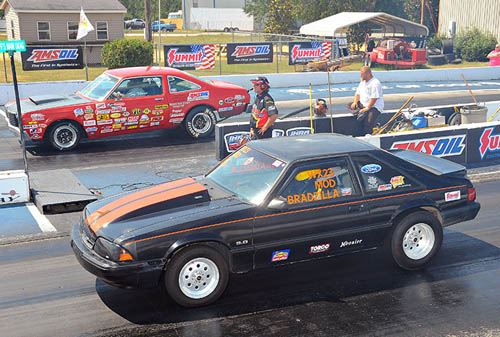 Division 2 East Summit SuperSeries Mod ET Final:
Brad Hall vs. Jay Norris
In Mod ET Brad Hall, also representing Ware Shoals Dragway, had to overcome a slower light against Jay Norris and ended up just beating his opponent in a very close double-breakout. Hall ran an 8.512 on an 8.52 dial at 78.22 mph, while Norris had a 7.417 lap on a 7.43 dial.
Amanda Foley wrapped up the Summit SuperSeries competition at Carolina Dragway by giving Palm Beach International Raceway a representative at the Summit World Finals. Foley won a close race over Zach Pennington of host track Carolina Dragway, posting a .061 light and running a 7.958 on a 7.90 dial at 81.16 mph. Pennington had a 7.915 lap on a 7.90 dial.
Other big winners from the Division 2 East Summit Team Finals were Top Main Event winner Joe Gary from Carolina Dragway, Mod Main Event winner Jay Norris from Union County Dragway and Junior Dragster Main Event winner Christian Hanson from Ware Shoals Dragway.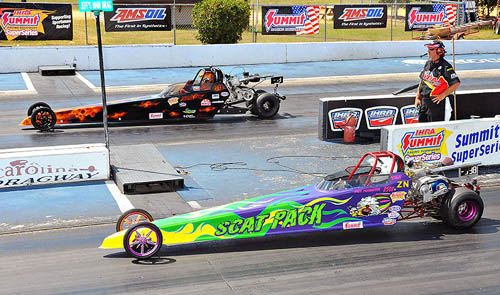 Division 2 East Summit SuperSeries Junior Dragster Final:
Amanda Foley vs. Zach Pennington
The following are the final results from the Division 2 East IHRA Summit Team Finals event at Carolina Dragway.

Division 2 East Summit Team Finals Team Standings

1. Carolina Dragway - 61
2. Pageland Dragway - 43
3. Ware Shoals Dragway - 41
4. Orangeburg Dragstrip - 35
5. Immokalee Regional Raceway - 32
6. Darlington Dragway - 31
7. Union County Dragway - 31
8. Bradenton Motorsports Park - 24
9. Dorchester Dragway - 23
10. Lakeland Dragstrip - 21
11. Douglas Motorsports Park - 20
12. Palm Beach International Raceway - 18

SUMMIT SUPERSERIES RESULTS

SUMMIT SUPERSERIES RUNOFF TOP ET - Greg Maddox (Ware Shoals) .015 RT, 5.422, 96.32 def. Kevin Crawford (Pageland) .629 RT, 6.200, 109.28
SUMMIT SUPERSERIES RUNOFF MOD ET - Brad Hall (Ware Shoals) .042 RT, 8.512, 78.22 def. Jay Norris (Union County) .028 RT, 7.417, 89.12
SUMMIT SUPERSERIES RUNOFF JUNIOR - Amanda Foley (Palm Beach) .061 RT, 7.958, 81.16 def. Zach Pennington (Carolina) .133 RT, 7.915, 80.64
INDIVIDUAL RESULTS

Main Event Top ET - Joey Gary (Carolina) .005 RT, 4.555, 148.17 def. Thomas Bell (Carolina) ..041 RT, 4.542, 152.50
Main Event Mod ET - Jay Norris (Union County) .033 RT, 7.401, 90.32 def. Bryan Cox (Douglas) ..029 RT, 7.691, 87.48
Main Event Juniors - Christian Hanson (Ware Shoals) .096 RT, 9.409, 67.89 def. Elizabeth Keene (Bradenton) .004 RT, 9.299, 62.49
Main Event Juniors - McKenna Bold (Castrol) .057 RT, 8.042, 80.07 def. Jenna Michaud (Castrol) .197 RT, 8.357, 78.61




IHRA: 10 Most Recent Entries [ top ]

Apr 24- Racers Receive Prizes at IHRA Summit Sportsman Spectacular Opener
Apr 24- Comeaux, Hughes Make History at IHRA Summit Sportsman Spectacular
Mar 21- 2018 IHRA Summit Sportsman Spectacular Series on April 20-22
Feb 26- Weather-Related Construction Delays Postpone IHRA Xtreme Raceway Park Opener
Feb 16- IHRA Summit Sportsman Spectacular Schedule Announced
Feb 15- New York Track Finds Value for Racers with IHRA Agreement
Feb 15- IHRA Summit Sportsman Spectacular Debut Only One Month Away Now is the Time to Pre-Enter
Feb 15- Summit Texas Location is a Racers' Paradise
Feb 15- Canadian Track Makes Large Commitment to IHRA Drag Racing
Jan 27- Mid-Michigan Destination Joins IHRA Family