Tue, 24 Sep 2013, 20:57 PM



Pittsburgh Raceway Park Runs Away With D3 Summit Team Finals Win



Courtesy of IHRA Communications



Six More Drivers Advance in Summit SuperSeries Championship



NEW ALEXANDRIA, Pa. --
Six very excited drivers kicked off the Division 3 Summit Racing Equipment Team Finals at Pittsburgh Raceway Park with final round appearances in the Summit SuperSeries runoff, automatically advancing them to the Summit World Finals at Memphis International Raceway in October.
Albert Donnell (Top ET), Greg Sauvage (Mod ET) and Roberta Benedict (Junior Dragster) won their respective classes on the first day of racing in Pittsburgh, joining runner-up finishers Brad Perkins (Top ET), Ray Wade (Mod ET) and Darrell Holstion (Junior Dragster) with automatic tickets to compete for the Summit SuperSeries World Championship next month.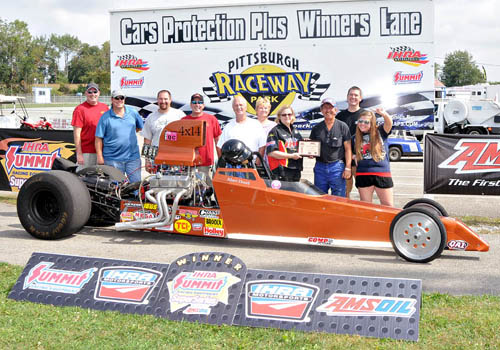 Division 3 Summit SuperSeries Top winner Albert Donnell
In the team competition, host track Pittsburgh Raceway Park (65) pulled away to a 19 point win over runner-up team Quaker City Motorsports Park (46) in the eight-time race. Beaver Springs Dragway was third with 45 points, followed by Thompson Raceway Park (44.5) and Empire Dragway (39). Rounding out the field were Elegant Builders Raceway Park (39), Skyview Drags (26) and Kanawha Valley Motorsports Park (24).
Albert Donnell, representing his home track of Quaker City Motorsports Park, won the Top ET runoff in thrilling fashion. Both he and runner-up Ray Perkins had tremendous reaction times, with Donnell holding a narrow edge of .005 to a .007, while Donnell ran an 8.848 on an 8.84 dial at 148.32 miles per hour. Perkins was beat by just inches at the line, producing a 10.808 on a 10.79 dial at 119.81 mph.
In the Mod ET runoff Kanawha Valley Motorsports Park's Greg Sauvage had little trouble with Ray Wade, posting a .002 reaction time and running a 10.594 lap on a 10.58 dial. Wade had a .071 light and ran a tad quicker than predicted with a 10.710 on a 10.78.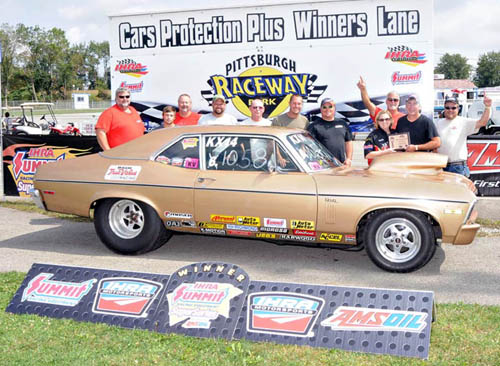 Division 3 Summit SuperSeries Mod winner Greg Sauvage
Roberta Benedict, from Thompson Dragway, won the Junior Dragster runoff over Darrell Holstion. Benedict won the battle at the tree with a .014 to a .092 and backed that up with a 7.960 on a 7.93 at 80.73 mph. Holstion was just off on his numbers, producing an 8.298 on an 8.30 dial.
Other big winners from the Division 3 Summit Team Finals were Top Main Event winner Steve Butler from Pittsburgh Raceway Park, Mod Main Event winner Nathan Waugh from Kanawha Valley Motorsports Park, Junior Dragster Main Event winner Paige Montgomery from Empire Dragway, Street Main Event winner Bruce Tharp from Quaker City Motorsports Park and Motorcycle Main Event winner Tom Ozinga from Thompson Raceway Park.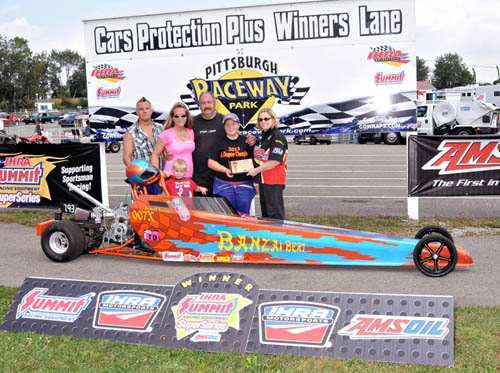 Division 3 Summit SuperSeries Junior Dragster winner Roberta Benedict
The following are the final results from the Division 3 IHRA Summit Team Finals event at Pittsburgh Raceway Park.

Division 3 Summit Team Finals Team Standings

1. Pittsburgh Raceway Park - 65
2. Quaker City Motorsports Park - 46
3. Beaver Springs Dragway - 45
4. Thompson Raceway Park - 44.5
5. Empire Dragway - 39
6. Elegant Builders Raceway Park - 39
7. Skyview Drags - 26
8. Kanawha Valley Motorsports Park - 24

SUMMIT SUPERSERIES RESULTS
SUMMIT SUPERSERIES RUNOFF TOP ET - Albert Donnell (Quaker City) .005 RT, 8.848, 148.32 def. Brad Perkins (Empire) .007 RT, 10.808, 119.81
SUMMIT SUPERSERIES RUNOFF MOD ET - Greg Sauvage (Kanawha Valley) .002 RT, 10.594, 122.98 def. Ray Wade (Quaker City) .071 RT, 10.710, 121.82
SUMMIT SUPERSERIES RUNOFF JUNIOR - Roberta Benedict (Thompson) .014 RT, 7.960, 80.73 def. Darrell Holstion (Kanawha Valley) .092 RT, 8.298, 78.82
INDIVIDUAL RESULTS
Main Event Top ET - Steve Butler (Pittsburgh) .010 RT, 5.415, 124.69 def. Bobby Cireddu (Thompson) .027 RT, 4.859, 139.28
Main Event Mod ET - Nathan Waugh (Kanawha Valley) .014 RT, 6.470, 108.54 def. Stephanie Buhan (Empire) .043 RT, 7.486, 90.91
Main Event Juniors - Paige Montgomery (Empire) .000 RT, 8.013, 76.80 def. Tyler Halleen (Elegant Builders) .114 RT, 7.938, 80.96
Main Event Street - Bruce Tharp (Quaker City) .025 RT, 7.993, 87.21 def. Dale Rhoads (Beaver Springs) .054 RT, 7.657, 88.95
Main Event Motorcycle - Tom Ozinga (Thompson) .117 RT, 5.685, 112.53 def. Ken Kauffman (Beaver Springs) -.018 RT FOUL




IHRA: 10 Most Recent Entries [ top ]

Apr 24- Racers Receive Prizes at IHRA Summit Sportsman Spectacular Opener
Apr 24- Comeaux, Hughes Make History at IHRA Summit Sportsman Spectacular
Mar 21- 2018 IHRA Summit Sportsman Spectacular Series on April 20-22
Feb 26- Weather-Related Construction Delays Postpone IHRA Xtreme Raceway Park Opener
Feb 16- IHRA Summit Sportsman Spectacular Schedule Announced
Feb 15- New York Track Finds Value for Racers with IHRA Agreement
Feb 15- IHRA Summit Sportsman Spectacular Debut Only One Month Away Now is the Time to Pre-Enter
Feb 15- Summit Texas Location is a Racers' Paradise
Feb 15- Canadian Track Makes Large Commitment to IHRA Drag Racing
Jan 27- Mid-Michigan Destination Joins IHRA Family