Tue, 24 Sep 2013, 20:25 PM



What Are The Odds?



By Bob Frey


Photo copyright 2013 Auto Imagery, Inc.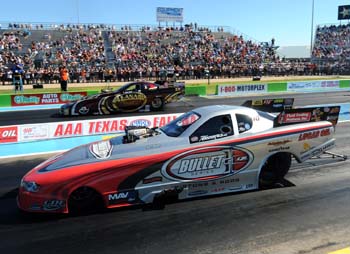 Shane Westerfield defeated Frank Manzo
After looking at the results from the
AAA Texas NHRA Nationals
I can honestly say that it was one of the races I sure would have enjoyed being a part of. The competition was great, the racing was spectacular and the surprises were omnipresent. Think about it, for the first time in history we have a tie in the Top Fuel points, arch-rivals
Cruz Pedregon
and
John Force
slugged it out in the Funny Car final round, we have a new leader in Pro Stock, a
Harley-Davidson
, yes I said a Harley-Davidson won the Pro Stock Motorcycle class and
Frank Manzo
lost in a final round. I honestly don't know which of those things surprised me the most but all of them made for one thrilling drag race and the kind of stuff that makes the
NHRA Mello Yello Drag Racing
so exciting?.The race was impacted by rain which shortened qualifying to two rounds and that made for some anxious race teams. It also made for a DNQ by one of the top ten drivers in Top Fuel and, in the long run, made for some interesting first round matchups?.All in all it was a classic event in
Texas
and now the stage is set for a four race sprint for the championship.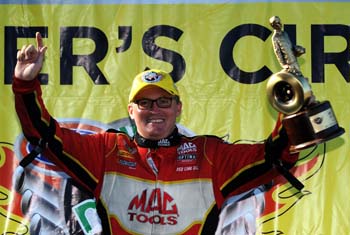 Doug Kalitta celebrates win.
With all of the talk about the Team Schumacher teams, and they deserved all of the hype based on what they did the first part of the season, they have gone into a slump at the worst part of the season. When you include Indy the Don's teams have now gone three races without a win, and while that may not be big news for most teams it sure is for Don's. And not only did they not win in Dallas, or even make the final round, they lost the point's lead in Top Fuel to the combo of Doug Kalitta and Shawn Langdon. Did you know that since they started keeping points this is the first time there has ever been a tie at the top of the Top Fuel standings? With four races to go there are five teams that are within six rounds of each other and that should make for some exciting racing this week and beyond?.Doug Kalitta, who has to be tired of hearing that he is one of the "best drivers to never win the championship" moved into the first place tie when he beat Shawn Langdon in the final round, and in the interest of fair reporting I should mention that Doug never trailed in the race. That means he was first off the line and first to the finish line as he won for the 33rd time in his great career. Did you know that moves Doug into thirteenth place on the all-time list of winners in the combined fuel classes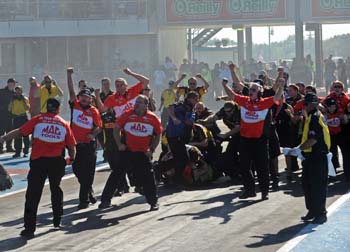 The Kalitta crew go crazy after win.
and he is in seventh place on the Top Fuel list? While Doug may never be the one to give the
ESPN
folks that great sound bite he can always be counted on to drive well and give his team a chance to win. With the win Doug earned a share of the lead and it's the first time since the 2009 season that he has been at the top of the points.
Did you know
that this is the first time since 2007 that we have had five drivers at the top of the Top Fuel point's list?....Doug's win gave us a total of nine different winners in the Top Fuel class this year and that's one less than we had last year.
Did you know
that eight of those ten winners from 2012 have also won this year? Only
David Grubnic
and
Brandon Bernstein
have not cashed in this year after winning a year ago?..The win by Doug leaves
Clay Millican
as the only driver in the "Countdown" who hasn't won a race this year. Clay is still in sixth place and just 111 points (five and a half rounds) behind the leaders?..Since I mentioned the Don's teams, and I truly believe they will rebound, I should mention that
Antron Brown
qualified fourteenth in Dallas, and
did you know
that was his lowest starting spot since the St. Louis race in 2010, seventy-nine races ago? And
Tony Schumacher
had his lowest starting spot since Houston earlier this year and both of those things could be a result of the rain-shortened qualifying sessions, but having said that everyone had the same situation, didn't they?.....
Khalid alBalooshi's
title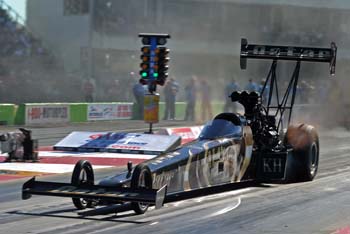 Khalid alBalooshi
hopes took a real hit when the
Al-Anabi
driver failed to make the show.
Did you know
this was the first time that Khalid failed to make the starting lineup in his two-year career?....With Antron's DNQ last week that makes two of the playoff teams that already have a DNQ on their resume this year and I ask you, what are the odds of that happening? With twenty-four cars entered in the dragster class this week it's possible another top ten driver could be watching the action from the stands on Sunday. Stay tuned.
Everyone knows how hot Cruz Pedregon can get at times and it looks like the Snap-On Tools Toyota is in this thing for the long haul, in fact, based on how he has run in the last few races he might even be the favorite to win it all. Cruz not only won the race and beat John Force, which had to make it even sweeter for Cruz, but he moved to within fifty-one points of the leader, Matt Hagan. Did you know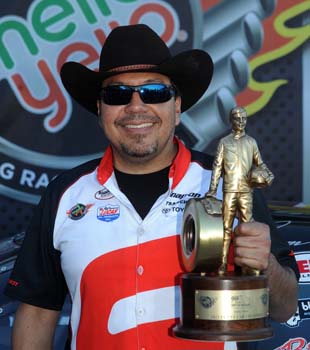 Cruz Pedregon celebrates 34th career win.
that this was Cruz's 34
th
win and that ties him with
Cory McClenathan
for eleventh place on the all-time fuel list and he is in fifth place on the Funny Car list?....Anytime you go to a race and get a Cruz Pedregon - John Force final round it's worth the price of admission. These two have been providing us with great side-by-side action for years and that's why it was surprising to see that the last time Cruz beat John in a final round was thirteen years ago? Really! He beat him at Englishtown in 2000 and then lost four straight final rounds against John before finally closing the deal on Sunday.
Did you know
that in his career Cruz has beaten John more times (29) than he has any other driver? And he has also lost to John more times (60) than he has to any other driver. A win is a win but any time you win by beating the best in the history of the sport it has to be extra special, don't you think?...Cruz's four round wins gave him 490 Funny Car round wins for his career, and
did you know
that ties him with
Ron Capps
for third place in class history? For the record, Cruz won his in 431 races while Ron did it in 386?.In the Funny Car class there are 102 points between the leader, Matt Hagan, and the sixth place driver, Ron Capps, so the battle for the championship is wide open. Having said that the St. Louis race is important to all of those drivers and they can take a big step toward keeping those title hopes alive by simply qualifying, and if you don't think that's important ask Antron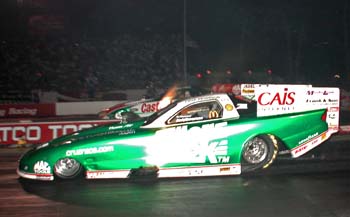 Pedregon defeated Force
at Englishtown in 2000.
or Khalid?..Cruz started from the number two spot in the field and, historically that hasn't been a good place at the Dallas event.
Did you know
that Cruz became just the fifth Funny Car driver to win when starting second in the field in
Dallas
and he is the first to do so since
Al Hofmann
in 1997? And who did Al beat in that final round? Of course, it was John Force?.The points are so tight in the class that Matt leads Cruz by fifty-one points, Cruz is twelve points ahead of
Robert Hight
and John Force is just one point behind Robert. The reigning champ,
Jack Beckman
, is a dozen points behind Force and Ron Capps is twenty-six behind Jack. Like I said, anyone can win this thing and a good showing in St. Louis is a must if you want to stay in contention?.On his way to the final round John beat his daughter,
Courtney
, his former teammate,
Tony Pedregon,
and Robert, so he certainly didn't have an easy path to the money round.
Did you know
that John and Courtney have now faced each other seven times and five of them have been in round one? And
did you know
that John has now faced Robert twenty-eight times and they each have fourteen wins?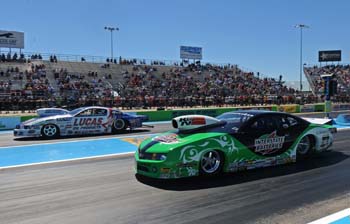 Edwards vs. Morgan
Besides Ron Capps who dropped from second to sixth in the standings after the Dallas race, the other driver who took the biggest hit was probably Mike Edwards in Pro Stock. Mike, who lost in round one, went from first to third in the standings, and while he is still only thirty-four points out of first, I'm sure he is beating himself up after losing to Larry Morgan on a holeshot. Did you know that Mike was number one in the points for the last fifteen races before dropping out this week? A holeshot loss is the worst way for a driver to lose, and when it happens in the first round it is especially aggravating, I'm sure. Mike has a great car and will rebound and the good news is that he only has to wait a few days until the St. Louis race. Did you know that Larry Morgan has only won two rounds this year and that both of them have come on holeshots? What are the odds?....Jason Line won the race by beating Shane Gray in the final round and jumped from third to first in the standings, and he is now eight points ahead of Jeg Coughlin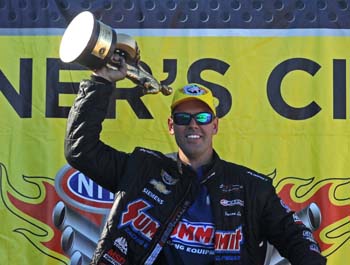 Jason Line celebrates second win this season.
and, as I mentioned, thirty-four up on Mike. The runner-up,
Shane Gray
, is in fourth while
Allen Johnson
is fifth and
Erica Enders-Stevens
and
V. Gaines
are tied for sixth, 118 points (or almost six rounds) out of the lead. With four races remaining that's a lot to make up and I'm sure Erica and V. will tell you that they need a good showing, like a final round performance in
St. Louis
to stay alive in the "Countdown."?Jason's win, his first since
Houston
earlier this year (also over Shane) gives him thirty-one wins for his career, and
did you know
that places him seventh on the Pro Stock win list? With two final round appearances in the two races in the "Countdown" Jason appears to be getting hot at just the right time, doesn't he?
Did you know
the last time he went to back-to-back final rounds was at the end of the 2011 season when he went to four consecutive finals and he used them as a springboard to the championship? Could history be repeating itself this year?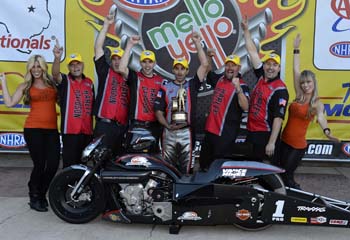 Eddie Krawiec and crew
celebrate his first win this season.
It's hard to believe that the Harley-Davidson riders, Eddie Krawiec and Andrew Hines, went the first eighteen races of the season without a win (and only one final round between them) and now they have won the first two races in the "Countdown." Too bad Andrew missed the cut for the top ten or he could be a factor in the championship run like Eddie is. In the final round Eddie beat Matt Smith, the hottest rider in the class right now, and he did it on a holeshot. Like I said earlier, that's a tough way for a driver to lose but it's a great way to win. Did you know that this was just the sixth holeshot win of Eddie's career and the third that has come this year? It was also the first time he scored a holeshot victory in the final round. As I often point out, when you have a fast car or bike you are not going to win a lot of races on holeshots, and since Eddie doesn't have the best bike this year it's important that he be on top of his game on the starting line, and apparently he is. And here's an amazing little bit of information. Did you know that coming into the 2013 season Eddie had gone to sixty-six races and competed in 200 rounds without a single holeshot win? The win jumped Eddie from seventh to fourth in the standings, the highest he has been since after the Houston race, and he is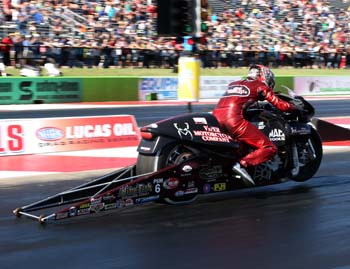 Matt Smith
now just sixty-two points behind the leader,
Hector Arana Jr.
?Matt Smith, the runner-up, is having a very good year and the final round in Dallas was his fifth of the season and it came against his fifth different final round opponent. Matt is now 14 - 19 in final rounds and those thirty-three finals have him tied with Antron Brown for seventh place on the bike list.
Did you know
that Antron reached his final rounds in 146 races while Matt has participated at 159 events?.Prior to their opening round match Eddie and Andrew had faced each other thirty times and they were even at 15 - 15.
Did you know
that those fifteen losses by Andrew are the most for him against any of the opponents he has faced? Eddie "survived" a .149 reaction time in round one against his teammate, and
did you know
that was his worst reaction time since the Englishtown race 2011 (other than a round when his opponent left before the tree came down) and that's 119 rounds ago? Luckily for him Andrew had trouble on the track and slowed to a 7.295, isn't it?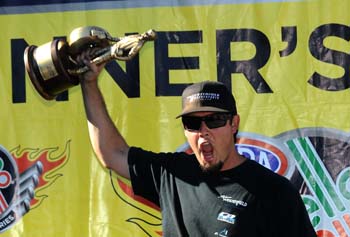 Shane Westerfield celebrates
first National event win.
It's very rare that a driver losing a race is news, but when that driver is Frank Manzo it really is news. Shane Westerfield, who is in the running for the Top Alcohol Funny Car championship this year, earned his first NHRA national event win and he did it in style by outrunning the best driver in the history of the class in the final round. By now I'm sure you know that Frank had won a staggering forty-two consecutive final rounds before the loss to Shane. But did you know that before his previous loss at the Winternationals in 2006 he had also won ten consecutive finals? That means that following his loss on Sunday Frank has won fifty-two of his last fifty-four final rounds and that's still unbelievable. Like I mentioned a few weeks ago records are made to be broken but nobody is going to beat Frank's mark of forty-two straight final round victories. Nobody! First of all you have to get to forty-two final rounds and that's not easy. Did you know that in the combined three classes of Top Fuel, Funny Car and Pro Stock there are only twenty-eight drivers who have even been to forty-two final rounds? I don't want to dwell on it but Frank's accomplishment is something that I'm glad I was around to see. Nice job, Frank, and a big tip of the hat to Shane for being the one to end the streak. Did you know that prior to Sunday Shane had been to three final rounds and lost them all and they were all to Tony Bartone?...Jim Whiteley just about put a hammer lock on his second consecutive title by beating Bill Reichert in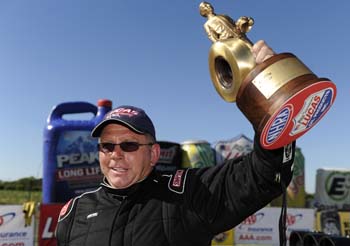 Jim Whiteley celebrates win.
the final round at Dallas. Jim now has a commanding lead in the points with
Chris Demke
the only guy with a realistic chance at catching him. Others are mathematically alive so it's far from over, but from my view point it looks like Jim or Chris will be giving the acceptance speech in California, and right now I'm leaning towards Jim. With his win Jim ran his final round record to 22 - 6 and he is 144 - 42 overall and that's very impressive?.Jim was the top qualifier, set low elapsed time and top speed so it was a very good weekend for the reigning champion?.The
Northern Sportsnationals
were held in Columbus over the weekend and there were six drivers who won for the first time at an NHRA national event. In addition to those six
David Billingsley
and
Jeff Sexton
also picked up wins so congrats to all of the winners in
Columbus
.




NHRA: 10 Most Recent Entries [ top ]

Apr 23- HOUSTON - Lucas Oil Drag Racing Series Wrap Up The NHRA Lucas Oil Drag Racing Series Wrap Up
Apr 23- CHARLOTTE 1 - J.R. Todd Aiming for Two Four-Wide Racing Wins in 2018
Apr 23- Mid America Dragway Joins NHRA Member Track Network
Apr 23- HOUSTON - Special Awards
Apr 23- HOUSTON - Sunday Video
Apr 22- HOUSTON - Sunday Pro Mod Wrap Up