Thu, 12 Sep 2013, 06:33 AM



One More Time



By Bob Frey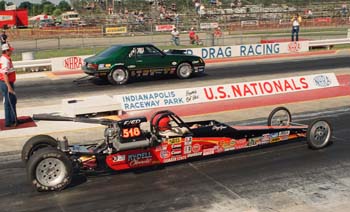 Doug Kjono defeated Ron Baker
in 1984 Indy final.
Photo copyright 2013 Auto Imagery, Inc.
OK, here I go again talking about Competition Eliminator and how much I really enjoy it. Later this week I will get to spend some time with one of the truly greats of the class, Pete Shadinger. Pete, who was a New Jersey boy (and still is part of the year), will be among the honorees at the inaugural New England Hot Rod Reunion in Epping, New Hampshire. In my early years in the sport I watched Pete race many times at my home track in Atco where he was one of the best. In addition to how well he did at home it was always a thrill when he would take his show on the road and beat up on all the top stars in the sport at the NHRA national events including a couple of big wins at Indy in 1962 and 1965. This year, with all of the excitement that surrounded the U.S. Nationals I missed being there for several reasons, including one you may not expect. I would have loved to have been there to see Mike DePalma and that slick AA/AT car that he was running. Sure, Top Fuel cars are cool but you can see them at any national event, but I ask you, how many times can you see a car run almost a second under the index in its class? Mike did that and I missed it. Darn. Plus he went deep into eliminations and that would have been fun to watch. And there was another car and driver there that I would have enjoyed seeing and that was Doug Kjono. Doug, for those who don't know, won Indy in 1984, the same year that Don Garlits won Top Fuel, Jim Head stunned Kenny Bernstein in Funny Car and Warren Johnson beat Bob Glidden in Pro Stock. Doug doesn't race a lot these days but he does make it a point to return to Indy to see if he can win it just one more time.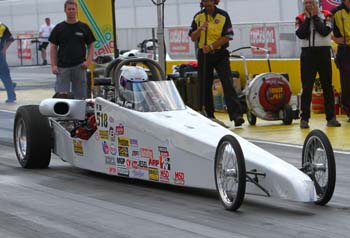 Doug Kjono at Indy this year.
Photo copyright 2013 Auto Imagery, Inc.
One of the reasons that Doug may not be a household name in drag racing is because of where he lives. "I'm from Grand Forks, North Dakota," he said. "And as surprising as it may be this isn't exactly the hotbed of drag racing." That may be true but it did give the sport one of the toughest and best Competition Eliminator racers ever. "This is a sickness," he said. "But unlike a lot of other ailments this one has no cure." If anyone knows that to be true it's Doug, who is now sixty-three years old and who has been racing for most of those years. "I started out with a street car when I was about seventeen, so you do the math. That's a lot of drag racing." Yes it is, even if you take off the years that Doug sat out to concentrate on his business. "Those 'life things' got in the way of my racing," he added with a smile. "But the bug never left me." When you live in North Dakota you often have to travel a long way just to get to a track let alone a national event. "We grew up racing at places like Marion, South Dakota, Interstate Dragway in Morehead, Minnesota and a couple of other tracks in the Division 5 area. They may not all have been great facilities but we loved them and there was a lot of good racing going on."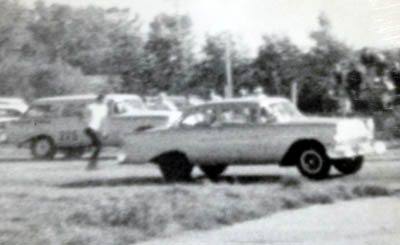 Kjono in his '56 Chevy.
Doug's first serious endeavor was with a 1956 Chevrolet and he remembers his first outing with that car like it was yesterday. "Jere Stahl had just sold his old station wagon to some guys from around here and we lined up against them at my first real race and I won. I remember thinking, wow, this is easy. Well, if I knew then what I know now I sure wouldn't have thought like that." Don't worry, Doug, you're not the first nor will you be the last racer who made that statement.
After his initial foray into the world of Stock Eliminator Doug decided to step up in class. He raced a Modified Production Chevrolet Camaro for a while and it was the last car he raced before he built the car that he drove to victory at Indianapolis. "In 1983 we built my first dragster, it was a four-cylinder Pontiac-powered car. Wes Rydell, who owned a bunch of car dealerships across the country, got in touch with me after a race in Brainerd and said he thought that we should team up. I liked the idea and that's how we got together and we began work on our new car right away." That car took over a year to build and featured a Frank Parks built chassis and a killer engine. "It was fast, very fast," Doug said." We knew the first time out that it was going to fly." Now the only thing that stood between that pair and a win was the driver. "I had never driven a dragster and never had a car with an automatic transmission so this was all new to me and I guess it showed the first couple of times we took it out." One of the first times was at Bandimere Speedway in Denver, and while the car ran well the team exited early. "I fouled out in the second round," he recalled. "So we made a few adjustments to the car, put a delay box in it, which you could do at the time, and promptly fouled out in the first round at our next race. On the way home I'm saying to myself I looked really stupid out there and I vowed that it wouldn't happen again."
Kjono at the Motorplex
Readers of National DRAGSTER are familiar with the column by Bruce Deveau, a man who talks about the power of positive thinking. Well, it might not have been Bruce but it was someone like him that helped Doug get over the "yips" on the starting line. "I didn't have Bruce's column to read back then but I did do a lot of talking to myself over the next two weeks. I just about talked myself crazy, and to this day I don't know exactly what it was but it worked, and when I went to Indy, I'm telling you, the tree looked like it was coming down in slow motion. It never happened before and hasn't happened since but I was in a zone and knew that I couldn't lose." And that was a good zone to be in because that year the Competition Eliminator field was made up of 161 cars. That's not a misprint, there were 161 cars in Comp at the 1984 U.S. Nationals.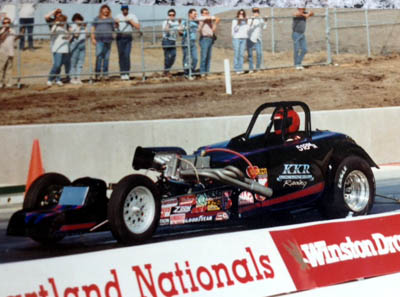 Doug Kjono
Doug's car was so good that he qualified second in the massive field behind only Gary Brown, and while the race ended well for him it got off to a very rocky start. "We won our first round match and we're loading the car up (they only ran one round on the first day of Comp) when an NHRA official came over and said we had to re-run because the other guy's index was put in incorrectly. When I pointed out that it says in the rulebook that if you stage you accept the handicap he went and got Bernie Partridge who promptly told me that the rulebook also says everything is up to the discretion of the race director, and the race director says we have to re-run." So guess what they did? Right, they re-ran and the outcome was the same and Doug was on his way to one of the greatest days ever in Comp at Indy. Once he made the quarter-finals he looked around and saw that the top six qualifiers had all made it to that round too, so there would be no easy runs. "I had to run Garth Hill and that monster turbo-car that he had. I stared at that thing for an hour in the staging lanes getting psyched up for the race and I beat him to move on." He then met the reigning World Champion, Coleman Roddy, and Doug ran .61 under his index to get the win and that set up the final round meeting with Ron Baker and you know how that came out. As great as the win was and as happy as Doug was his enthusiasm was tempered before he even got home. "They hit me with a penalty of fifteen-hundredths before I even got back to town, and as if that weren't enough the F/ED index was hit with another fifteen-hundredths right after the World Finals that year. We went from having a very fast car to one that could barely make the field. In fact, the next year at Indy we didn't even qualify."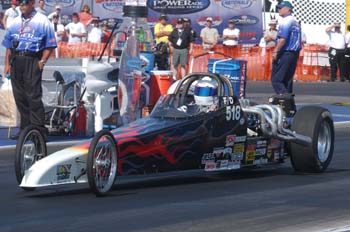 Doug Kjono
Photo copyright 2013 Auto Imagery, Inc.
As mentioned Doug was out of the sport for a while, at least as far as national events were concerned while he built up his business, an automotive repair shop that he started when he just twenty years old. "I still do that but I also have a dyno and a flow bench and I do engines for a lot of other racers." Of course, since there aren't a lot of drag strips near home Doug said that he does do a lot of circle track engines. "It's a good business and we have some very loyal customers." But he still never got over drag racing. "Besides keeping up with the business I lost my dad a few years back and that took its toll. He always came with me to the races and I really miss him." With an eye toward the future Doug built his new car and he said that it's a lot of fun and a challenge at the same time. "I've still got a Pontiac engine and a Frank Parks chassis but this one has all the new stuff including electronic fuel injection." Doug was planning on going to the Division 5 race this past weekend but he found out that they hurt the motor at Indy so they may be done for the year but certainly not forever. "I'll be back, in fact I never really went away. I love racing and meeting all of my friends, and let's face it, I really would like to win Indy again." Hey, once you've beaten a field that had 161 cars everything else should be easy, but then that's what Doug thought in 1984, isn't it?




NHRA: 10 Most Recent Entries [ top ]

Apr 23- HOUSTON - Sunday Video
Apr 22- HOUSTON - Sunday Pro Mod Wrap Up