Wed, 11 Sep 2013, 15:25 PM



Top Fuel Standout Spencer Massey Ready to Finish Job



Courtesy of NHRA Communications


Photo copyright 2013 NHRA





At Home Track During AAA Texas NHRA FallNationals



ENNIS, Texas --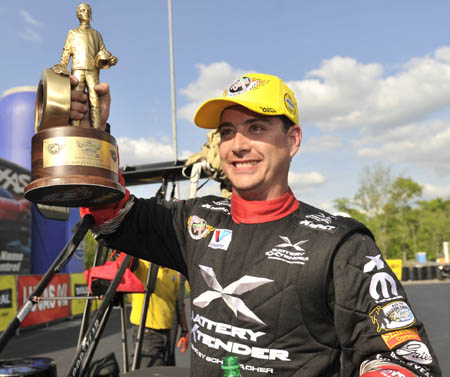 Spencer Massey celebrates Charlotte
win earlier this year.
When Top Fuel standout Spencer Massey pulls to the starting line at Texas Motorplex, he will so with plenty of familiarity and plenty of confidence.
Massey has frequented the sport's first super track since he was 13 years old and the Fort Worth, Texas native feels more at home at Texas Motorplex than just about any track in the NHRA Mello Yello Drag Racing Series.
The only thing left for Massey to do at the track is take his 8,000-horsepower Battery Extender/Schumacher Electric Top Fuel dragster to the winner's circle, and he will get that opportunity at the upcoming AAA Texas NHRA FallNationals, Sept. 19-22 at the famed all-concrete dragstrip located south of Dallas. It marks the 20th of 24 events in the 2013 NHRA Mello Yello Drag Racing Series and the second of six races in the Mello Yello Countdown to the Championship playoffs. Last season, defending world champion Antron Brown (Top Fuel), Bob Tasca III (Funny Car), Allen Johnson (Pro Stock) and Michael Ray (Pro Stock Motorcycle) earned victories at the event that will once again be televised on ESPN2 HD.
Massey had one of the best views of Brown's win racing against him in the final round. It marked the second straight final round appearance at the event, which leads Massey, currently second in the Top Fuel points standings, to believe he's on the cusp of winning at the legendary track.
"I would love to finally get that Wally at Texas Motorplex and wear that cowboy hat they give to the winners," Massey said. "The last two years it came down to the last run and I would love to be in that position again.
"When you roll under the tower and to the starting line, it can be pretty breathtaking there but I feel very comfortable because I've been racing that at the track since I was 13. I'm very much at easy because that's my home and it's where I love to race."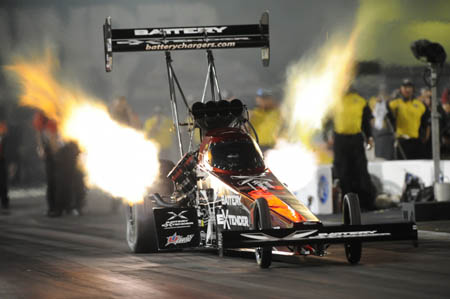 Spencer Massey
That confidence and familiarity can play huge dividends, especially during the Countdown to the Championship. Every run becomes magnified and critical decisions must be made before every run of qualifying and during eliminations.
That pressure likely won't affect Massey, who is in championship contention for a third straight season. He's also perfected the art of balancing a good number of ticket requests during the AAA Texas NHRA FallNationals and concentrating on the important task at hand.
"We always have tons of friends and family at this race, but when it comes to race day you just have to forget about all that and just race," said Massey, who started his driving career in a junior dragster at Texas Motorplex. "Everyone knows that when it comes to eliminations you have to be focused on your job, but it's good to have that support, too. If it wasn't for them I wouldn't be driving a Top Fuel car."
With four wins, Massey is again in top form and is among the favorites in the Countdown. Everyone is chasing points leader Shawn Langdon, who earned his fifth victory of the season at the Chevrolet Performance U.S. Nationals, but Massey will also have to contend with five-time event winner and defending world champion Brown. Other contenders for the championship include Khalid alBalooshi, Doug Kalitta, Clay Millican, Morgan Lucas, Texan Steve Torrence and Bob Vandergriff, who beat Massey in the 2011 finals.
"I feel like we are where we need to be, but so does everyone else and all 10 drivers in the Countdown are capable of winning a championship," Massey said. "You can't take anybody lightly and you have to make sure you're doing your job these last six races."
Massey also knows the importance of the AAA Texas NHRA FallNationals. As the second race in the Countdown to the Championship - and also the second of four straight race weekends to kick off the playoffs - a strong performance is imperative to stay in the hunt for a world championship title.
"The Dallas event is right at the start of the Countdown so you really have to go rounds to stay in that top three or five," Massey said. "If you start falling behind it's tough to catch up. This is a race where you really have to start laying the foundation for a championship run, and you really have to keep that momentum going."
In Funny Car, Matt Hagan leads the series standings with four season victories at the controls of his Magneti Marelli Dodge Charger and will be trying to earn his second victory at the Motorplex. He will need to hold off veterans Cruz Pedregon, a three-time event champ, and Ron Capps, the 1998 winner there. Others to watch include the John Force Racing powerhouse that includes 15-time world champion John Force, his youngest daughter Courtney, a two-time winner this season, and two-time Motorplex winner and Auto Club Ford Mustang driver Robert Hight, who recently won the prestigious Chevrolet Performance U.S. Nationals for the third time.
Oklahoma native and series points leader Mike Edwards aims to bring his Interstate Batteries/I Am Second Chevy Camaro back to the Motorplex winner's circle as he did in 1998, giving him seven victories in his dream season. But defending event champion Johnson has high hopes for a second straight world championship, and his teammates Jeg Coughlin Jr., who has two wins, and three-time winner Vincent Nobile are also strong contenders. Rodger Brogdon of Tomball, Texas and Chris McGaha of Odessa, Texas are also local favorites seeking wins in front of a large contingent of family and friends.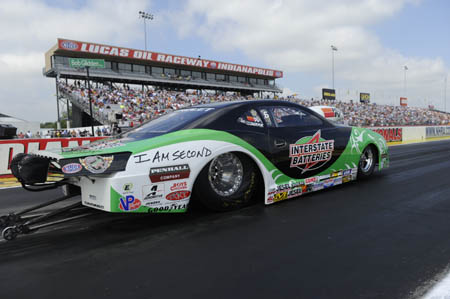 Mike Edwards won Indy.
Pro Stock Motorcycle sensation Hector Arana Jr. leads the class with four wins aboard his Lucas Oil Buell while battling a tough group of challengers in the two-wheel category, including two-time season winner and New Braunfels, Texas rider Ray and his Sovereign-Star Racing Buell, Matt Smith, John Hall, defending world champ Eddie Krawiec and Hector Arana Sr.
The NHRA Lucas Oil Drag Racing Series also will thrill the crowds during the weekend with intense competition on the track.
As always, every ticket purchased for the AAA Texas NHRA Fall Nationals is a pit pass, which offers an extraordinary look behind the scenes in the world of the NHRA Mello Yello Drag Racing Series. This unique opportunity in motorsports gives fans direct access to the teams, allowing them to see firsthand the highly skilled mechanics "twirl the iron" between rounds, and enjoy some cherished face time with their favorite NHRA drivers.
Fans will also want to check out NHRA Nitro Alley and the popular NHRA Manufacturers Midway where manufacturers and sponsors create a carnival atmosphere, with interactive displays, simulated competitions, merchandise, food and freebies. Fans will also want to take advantage of Championship Sunday for the fun fanzone featuring driver introductions and a special Track Walk at 9:30 a.m. It's free to all Sunday ticket holders.
The AAA Texas NHRA FallNationals qualifying opens on Friday, Sept. 20, with sessions at 2:15 and 5:15 p.m. The final two qualifying sessions will take place Saturday, Sept. 21, at 11:15 a.m. and 2:15 p.m. Final eliminations are scheduled for 11 a.m. on Sunday, Sept. 22.
Tickets for the AAA Texas NHRA FallNationals are available now, ranging from just $10 to $380 for weekend packages. Youth tickets for children 12 and under start as low as $5. For tickets or more information, please call the Texas Motorplex office at (800) MOTORPLEX or visit www.texasmotorplex.com.




NHRA: 10 Most Recent Entries [ top ]

Apr 21- HOUSTON - Pro Modified Qualifying Notes, Session #3
Apr 21- HOUSTON - Top Fuel Harley Qualifying Notes, Session #3
Apr 21- HOUSTON - Super Gas Round 4 Eliminations
Apr 21- HOUSTON - Super Stock Round 4 Eliminations
Apr 21- Worsham Announces Planned Hiatus from Racing
Apr 21- HOUSTON - Super Comp Round 4 Eliminations
Apr 21- HOUSTON - Stock Eliminator Round 4 Eliminations
Apr 21- HOUSTON - Super Gas Round 3 Eliminations
Apr 21- HOUSTON - Super Stock Round 3 Eliminations
Apr 21- HOUSTON - Super Comp Round 3 Eliminations