Mon, 09 Sep 2013, 16:40 PM



Meadors Wraps up West Coast Outlaw Pro Mod Championship in Bakersfield



Courtesy of John Drummond



BAKERSFIELD, Calif. --
Heading into last weekend's one-day-only "Saturday Night Nitro" event at Auto Club Famoso Raceway north of Bakersfield, Marc Meadors and the Goodguys Racing Team were seeking their 4th event win and 7th consecutive final round appearance in West Coast Outlaw Pro Mod competition this season. They got that and more! After qualifying in the second slot with a 6.083/244.52 then advancing to the final against Dan Myers, Meadors and the Goodguys team extended their series points lead far enough to sew up their first-ever season title with one-race still remaining.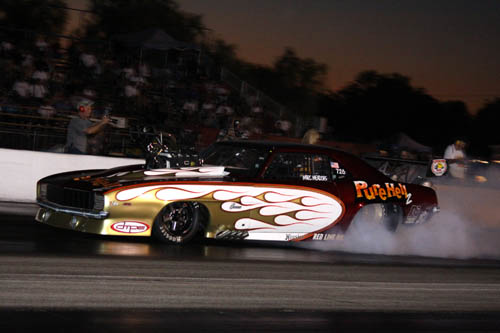 Marc Meadors
Meadors in the flamed "Pure Hell2" Camaro and Myers, driving Don Carter's Sacramento-based '69 Camaro, were on a collision course all day & night. Both drivers qualified at the top of the ladder and were quickest and fastest in each elimination round heading into the climactic final.
As midnight approached, the two supercharged Camaros pulled to the line to decide the race. At the flash of green, Myers' .027 reaction time gave him a 4-hundredth of a second advantage. The cars screamed down track, door handle to door handle, with Myer's Camaro sticking its nose out (literally a few inches) across the stripe for the event win. The scoreboards told the story of an epic battle; Myers' 5.789/239.61 to Meadors' 5.795/250.41 in what was the second quickest side-by-side race of the year in WCOPM competition.
Losing the final by just inches but winning the season championship had Marc Meadors grinning ear to ear post-race. "Looking back, this was a dream season," he said. "Going to every final round of each race we competed in this year and taking home 3 event wins is something I'll remember for a lifetime. What people don't see - the hours spent in the shop, the road miles, the late night team dinners and long hot days at the track doing battle has galvanized us as a team. I'm proud to say I think we have the best team out here and this championship is a testament to the guys and their dedication."
Meadors and the Goodguys gang will race twice more this season at Auto Club Famoso Raceway - October 5 & 6 for the final race of the WCOPM 2013 season before finishing their year at the NHRA California Hot Rod Reunion October 18-20.
Joining Meadors on the now championship-winning Goodguys Racing Team is crew chief Jason Bunker and crew members Billy Fereira, Danny Miller and Greg Lee.
The Pure Hell2 Pro Mod is sponsored by...Goodguys Rod & Custom Association, Red Line Oil, Neal Chance Converters, Fiber Optic Supply, The Rear End Shop, Andy's T Shirts, DMPE, JRi Shocks, Tim McAmis Race Cars, Billet Specialties and Speedway Motors.
For more on the Goodguys Racing team click here. To follow the team's Facebook feed, click here.

Race Results
Saturday Night Nitro
Auto Club Famoso Raceway, Saturday Sept 7th

Final Qualifying Order:
1.Dan Myers, '69 Camaro - 6.024/225.22
2.Marc Meadors, '69 Camaro - 6.083/244.52
3.Jeremy Hanger, '53 Studebaker - 6.112/240.21
4.Rod Burbage, '69 Camaro - 6.125/240.00
5.Tim Krupa, '53 Corvette - 6.462/234.98

Eliminations:
First Round Eliminations:
(W) Myers - 5.899/245.72 vs BYE
(W) Krupa - 5.948/241.02 (L) Burbage - 6.072/243.41
(W) Meadors - 15.925/48.33 vs BYE (broke blower belt)
(W) Hanger - 6.079/239.36 vs BYE

Semi Final Eliminations:
(W) Myers - 5.803/241.37 (L) Krupa - 5.849/245.81
(W) Meadors - 5.870/248.71 (L) Hanger - 6.094/241.54

Finals:
(W) Myers 5.789/239.61 (L) Meadors 5.795/250.41





Drag News: 10 Most Recent Entries [ top ]

Apr 22- K&N Spring Fling Million Final Day Results
Apr 21- K&N Spring Fling Million Friday Results
Apr 20- K&N Spring Fling Million– Thursday Results
Apr 19- K&N Spring Fling Million- Wednesday Results
Apr 18- Buckeye S/SS @ National Trail April 28th
Apr 18- Don "the Snake" Prudhomme Returns To Baja Competition After 50 Years
Apr 18- K&N Spring Fling Million Tuesday Results
Apr 17- K&N Spring Fling Million Pre-Race
Apr 12- Summit Racing Equipment is Newest Sponsor of Midwest Junior Super Series
Apr 12- Summit Racing Named Official MWPMS Sponsor and Event Title Rights Holder