Mon, 09 Sep 2013, 14:56 PM



WFA Barona Dragway Race Report



By Hal Sanguinetti



LAKESIDE, Calif. --
Sunny skies and enthusiastic fans greeted the Western Fuel Altereds group at Barona Dragway's 10th Anniversary Party on July 13. Running their usual Chicago-style format where every car run two rounds and the two quickest cars meet in the finale, the favorites quickly established their positions.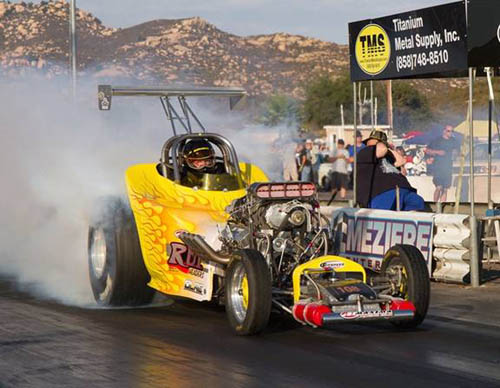 First round action saw 2011/12 WFA Champion Dean Oberg set the standard with a 4.502/157.37 (top speed of the meet) on Barona's 1/8-mile surface, an outstanding run on the daytime-tricky (for hot cars) surface. Second was Barona's own former CIFCA champ Eric Gates, almost a tenth behind with a 4.591. Both drivers were running funny car bodies for this 'open' event, as was Gardnerville Utah's Hal Rishton, who encountered some issues with the combination this weekend. Third the first round was a new racer with WFA from Kingman, AZ. Greg Holeman brought his very bright yellow '23 T-bucket an ran a nice 4.653/173.34, only to have problems at the big end with late parachutes. If you've been to Barona, you know that getting the laundry out promptly is of great importance, to say the least. Fortunately, Greg had 4-wheel brakes and slowed the car down quickly in a huge cloud of tire smoke - a very heads-up driving job! It remained the 'buzz talk' for everyone the rest of the evening.
This event saw the return of the 'Rust Bucket' Bantam roadster driven by Mitch Bowen from Flagstaff, AZ. Mitch had taken the 2012 season off but came right back hard with a 4.762/138.93.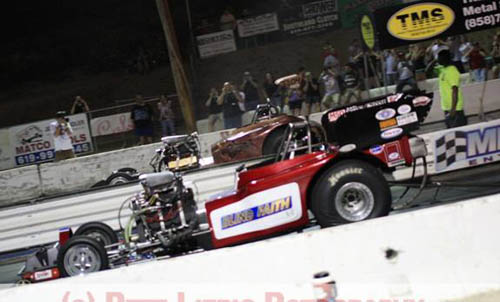 Some of the other WFA 'hitters' had rough weekends: Sheldon Lofgreen and his AZ Thunder/AZ Blow Dryer twin-turbocharged machine launched well each run (the two best 60' times of the event!) but literally blew the tires off at about the 330' mark each pass. When they get this beast figured out, it is going to be an animal - tons of power, very low maintenance and really fun to watch! Also, former WFA Champion Jim Maroney was running this event without some of his regular crew members, so some of the other teams jumped in to help when their own cars were ready - thanks, guys! Jim, however, continued to overpower the track with his 526" hemi-powered Ford roadster. They had installed a huge new fuel funny car-style rear wing in an effort to hook the car up. Dubbed the "Rumble Seat" by the crew, it got a lot of attention from racers & fans alike. But on the 1/8-mile track it didn't appear to help as much as they had hoped.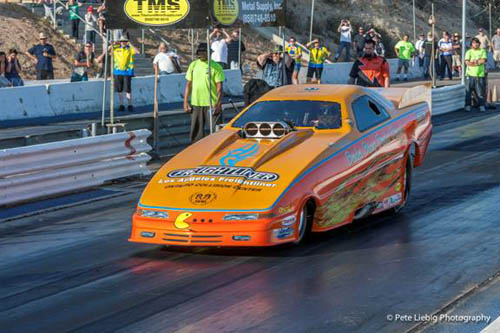 By the second round, the sun was off the track and there was some shuffling of the qualifying sheet, as Greg Holeman really stepped up with a fine 4.554, which put him as the second-quick car of qualifying. Oberg ran quicker in the second round with a beautiful 4.488 for low ET of the meet as well. He initiated the run with a burnout worthy of anything John Force has ever done - a 1/8-mile PLUS smoker! Track officials verified it as the longest powered burnout in the track's history. In the words of legendary NHRA Announcer Bob Frey, "the crowd went wild", and needless to say, Oberg won the Burnout Contest $100 certificate from Good Vibrations Motorsports. He also took the RBS Superchargers #1 Qualifier Award, and Rob Winefsky's 500" JFR Ford-powered Bantam took the Torco Oils Best Reaction Time cash with a nice .022 in the first round.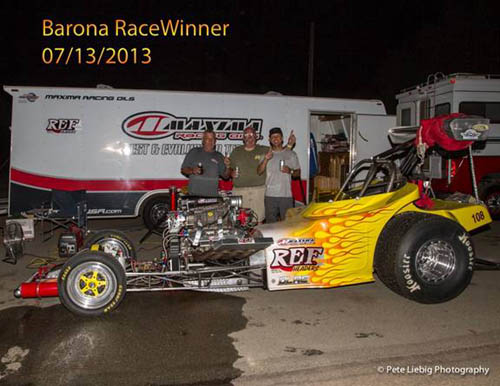 The final rolled to the line just about 10:30, and paired the Ford roadster of Greg Holeman against the beautiful orange Funny Car of Dean Oberg. There were no long burnouts this time, both had come to race. However, the sharp-eyed Barona starting line crew quickly shut Oberg off when they noticed a trail of 60-weight coming out beneath the car - a loose oil line was the culprit. Holeman made a single at 4.593/155.58 for the win. Afterwards, he told us "I hate to win that way, but there's no such thing as an ugly win light. Thanks to Barona Raceway, REF Racing Headers, Maxima Oils, Dustin Lee Racing Engines and the Western Fuel Altereds for a great race. It's only our second event with them, and we're very, very happy!"
More pictures can be found here: smu.gs/13ZKbYi




Drag News: 10 Most Recent Entries [ top ]

Apr 22- K&N Spring Fling Million Final Day Results
Apr 21- K&N Spring Fling Million Friday Results
Apr 20- K&N Spring Fling Million– Thursday Results
Apr 19- K&N Spring Fling Million- Wednesday Results
Apr 18- Buckeye S/SS @ National Trail April 28th
Apr 18- Don "the Snake" Prudhomme Returns To Baja Competition After 50 Years
Apr 18- K&N Spring Fling Million Tuesday Results
Apr 17- K&N Spring Fling Million Pre-Race
Apr 12- Summit Racing Equipment is Newest Sponsor of Midwest Junior Super Series
Apr 12- Summit Racing Named Official MWPMS Sponsor and Event Title Rights Holder