Fri, 06 Sep 2013, 16:24 PM



PSM Title Challenger Ray Expects Tough Battle from Veteran North Carolina Rider Smith



Courtesy of NHRA Communications


Photo copyright 2013 NHRA





As Countdown Playoffs Open at zMAX Dragway



CONCORD, N.C. --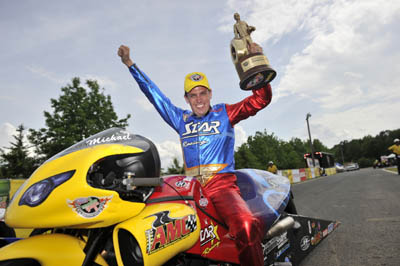 Michael Ray celebrates Englishtown win.
Michael Ray has emerged as one of the favorites to win the Pro Stock Motorcycle world championship title this season in the NHRA Mello Yello Drag Racing Series aboard his Sovereign/Star Racing Buell.
As the Mello Yello Countdown to the Championship opens Sept. 13-15 at the Carlyle Tools NHRA Carolina Nationals presented by NAPA Auto Parts at zMAX Dragway, the Texas rider expects a strong challenge from North Carolina's own Matt Smith during the six-race playoff battle for two-wheel drag supremacy.
The riders were teammates last season, when Ray scored a breakthrough first victory at Texas Motorplex. They went their separate ways during the off-season, and now the two find themselves wrapped in a tight points battle for the world championship.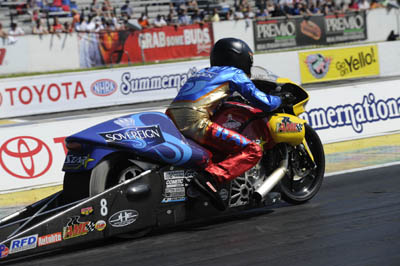 Michael Ray
Hector Arana Jr. has led the series standings all year on his Lucas Oil Buell, boosted by three early-season wins. Since mid-May, however, Ray and Smith have been grabbing most of the headlines in the class and moving to the top of the points order. The two riders enter the Countdown in second and third place, respectively, and carrying a lot of momentum.
Once the series points are reset for the Countdown, they will trail Arana Jr. by 40 points or less, and Ray expects the final six playoff races to be an intense shootout. No disrespect to Arana, but Ray has a gut feeling that Smith will be the one he needs to focus on most during the championship run.
"I'd have to say if you discounted Matt Smith Racing and Viper Motorcycle Co., that rivalry between Matt and me, you'd be cutting us a little short," Ray said. "He and I have raced really hard together. He's a past champion. He's my past crew chief. So there is nobody I want to personally beat any more than him when I put on my helmet."
Ray has claimed victories in Englishtown and Chicago this season and earned two No. 1 qualifying positions. Smith, the 2007 NHRA PSM world champ from nearby King, N.C., scored an emotional win in Norwalk, where he shared the winner's circle with his father, Rickie, a North Carolina drag racing legend, who claimed the Pro Mod victory at the same event. He has also posted three runner-up finishes, including at the recent Chevrolet Performance U.S. Nationals, and earned three No. 1 qualifying positions on his Viper Motorcycle Co. Buell.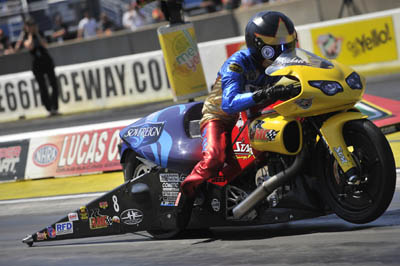 "The Lucas team, they're really focused on themselves," Ray said. "I would say they're trying to stay under the radar, but I would say if Matt and I get down into this championship, it's going to be pretty good. Because I am ruthless and not afraid of anybody. We all know from his last name and his history, he's got a good mouth on him, and he's a great racer. He's a past champion. To be the man, you've got to beat the man, and I'm focused on taking him out."
Ray says that off the track, he and Smith have remained friends, but when they put on their racing leathers, gloves, and helmets, anything can happen.
"I think that our friendship off the track allows us to be more fiery competitors to each other," Ray said. "He knows that there's a little bit of bad blood kind of from the way things ended last year with him and me, and when he beat me a couple times this year, whether it be on holeshots, and when he won up in Norwalk, it was a little bit of redemption for him, whether he'd come out and admit it or not."
While the rivalry can get very intense, he says that he doesn't expect it to become physical. He says their level of competition just brings out the best in each at the track.
"I don't see us coming to blows," Ray said. "But I'm definitely not afraid to tell Matthew how I feel about a situation. He's definitely not afraid to tell me what he thinks. It's been good because it gets us both fired up and focused. I don't think you'll ever see us punching each other, but I'm not afraid to get up in his face and let him know what's going on, and he's not afraid to get in mine and tell me where I'm supposed to be either."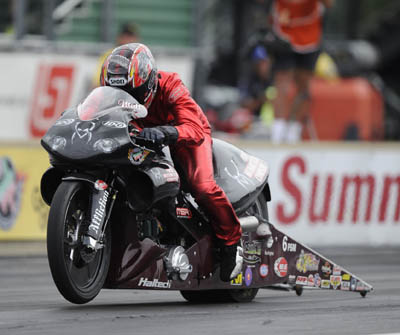 Matt Smith
Others to watch in the 190-mph Pro Stock Motorcycle category include Indy winner and Smith's Viper Motorcycle Co. teammate, John Hall, Indy No. 1 qualifier and past zMAX winner Hector Arana Sr., Scotty Pollacheck, and defending world champ Eddie Krawiec.
In Top Fuel, defending race winner Shawn Langdon, Tony Schumacher, defending world champ Antron Brown, Doug Kalitta, Clay Millican, Morgan Lucas and Khalid alBalooshi will all be battling for a playoff victory to aid in their championship pursuits.
Matt Hagan has been the driver to beat in Funny Car all season, but defending Carolina Nationals winner Ron Capps is definitely in the championship mix once again. John Force, Courtney Force, Cruz Pedregon, Johnny Gray, defending world champ Jack Beckman and Tim Wilkerson are among the pre-race favorites in the 8,000-horsepower category.
In Pro Stock, Mike Edwards is leading the charge in his I Am Second Chevy Camaro, while defending world champ Allen Johnson, Jeg Coughlin and Vincent Nobile are in hot pursuit in their Dodge Avengers. Local favorites Greg Anderson and Jason Line will be looking to get back on the winning track at zMAX Dragway.
The NHRA Carolina Nationals is sure to be a crowd-pleaser. In addition to all of the drama and excitement going on in the Countdown playoffs, fans will also enjoy a brilliant night qualifying show on Friday, some powerful exhibition runs by two jet dragsters and an incredible fireworks display to close out Friday's racing.
The Carlyle Tools NHRA Carolina Nationals presented by NAPA Auto Parts is sure to be a crowd-pleaser. In addition to all of the Countdown drama and excitement, fans will enjoy a brilliant night qualifying show Friday, powerful exhibition runs by two jet dragsters, and an incredible fireworks display to close Friday's racing.
As always, fans will have the opportunity to interact with their favorite drivers as they're granted an exclusive pit pass to the most powerful and sensory-filled motorsports attraction on the planet. No other sport offers fans an up-close-and-personal experience, which includes the opportunity to stand near teams as they warm up their high-horsepower machines prior to each run.
Fans also will want to visit NHRA's popular Nitro Alley and Manufacturers Midway, where sponsors and race vendors create a carnival atmosphere with interactive displays, simulated competitions, merchandise, food, and fun for the entire family.
Be a part of the action all weekend with a 3-Day Pass to the Carlyle Tools NHRA Carolina Nationals presented by NAPA Auto Parts. Purchase a three-day package for just $99. Bring the kids along for an even better ticket offer: Children 13 and younger will receive free general admission with a paid adult all weekend.
Carlyle Tools NHRA Carolina Nationals presented by NAPA Auto Parts qualifying opens Friday, Sept. 13, with sessions at 4:15 and 6:45 p.m. The final two qualifying sessions will take place Saturday, Sept. 14, at 12:15 and 2:30 p.m. Final eliminations are scheduled for 11 a.m. Sunday, Sept. 15.
The race will be televised on ESPN2HD, with qualifying coverage Saturday and three hours of eliminations coverage Sunday beginning at 8:30 p.m. ET.
To purchase tickets, call zMAX Dragway, 800-455-FANS (3267), or log on to www.zmaxdragway.com.




NHRA: 10 Most Recent Entries [ top ]

Apr 20- HOUSTON - Friday Wrap
Apr 20- HOUSTON - Saturday Schedule
Apr 20- HOUSTON - Top Fuel Qualifying, Session #2 Order
Apr 20- HOUSTON - Top Fuel Qualifying Notes, Session #2
Apr 20- HOUSTON - Pro Stock Qualifying, Session #2 Order
Apr 20- HOUSTON - Funny Car Qualifying, Session #2 Order
Apr 20- HOUSTON - Pro Modified Qualifying, Session #2 Order
Apr 20- HOUSTON - Funny Car Qualifying Notes, Session #2
Apr 20- HOUSTON - Pro Stock Qualifying Notes, Session #2
Apr 20- HOUSTON - Pro Modified Qualifying Notes, Session #2