Fri, 06 Sep 2013, 13:40 PM



Joon on Fast Track to His American Dream



Courtesy of Joanne Dawson



ZAANDAM, Netherlands --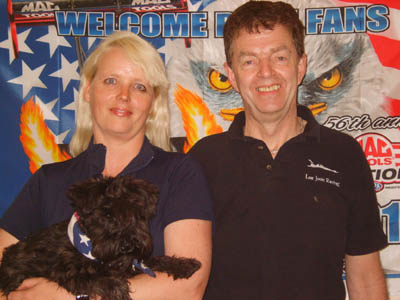 The Joons and their dog ChaCha.
Dutch Top Fuel racer, Lex Joon and his wife Gerda are taking great strides in their quest of their American Dream. It's no secret that the Joon's have long had the dream to build a life in the United States and compete with the best drag racers in the world in the National Hot Rod Association (NHRA) Mello Yello Drag Racing Series. This dream is quickly turning into a reality for this talented and likeable couple.
Joon, the most successful drag racer in the history of the Netherlands was the 2005 FIA European Top Fuel Champion and runner-up in 2007 and 2008. He hopes to bring this success to his new life in the United States. Joon looks to Dutch racer Arie Luyendyk as inspiration as he goes through the trials and tribulations to reach his dream. In 1984, Luyendyk left the Netherlands to follow his dream and won the Indianapolis 500 in both 1990 and 1997. Joon looks forward to being the next Dutchman to become a champion in his new country and his goal is to be racing full-time with the NHRA in 2014.
"In 2001 I met my wife, Gerda and we took a trip to the NHRA Finals in Pomona, Calif.," explained Joon. "We were both involved in drag racing in the Netherlands but we couldn't believe the difference in everything we saw and experienced. I told her, one day we will race here ourselves. There is a big difference between going through the spectator gates and the competitor gates. From that day, we started dreaming about one day racing in the United States.
"In 2009, we had the opportunity to ship our race program to the U.S. and race with the NHRA in Las Vegas and Pomona. We called it our American Dream Tour, and a dream it was. The warm welcome and helpfulness of everyone, the hard work and dedication of our crew and the enthusiasm of the fans was overwhelming. All we could think was 'this is it, this is what we want.' That's when we decided to make our dream a reality."
In January of 2012, the couple began the arduous process of preparing to make the move to the United States. The first step was to apply for a Permanent Residence Card or Green Card. With the help and advice of an immigration attorney, in October 2012 they applied for their Green Cards under what the Immigration Service calls "an athlete of extra ordinary" which includes athletes that have won a gold medal in the Olympics or someone that has won a Nobel Prize.
"Only three days after we sent in the paperwork, we received a call from our attorney saying that our application was approved," explained Joon. "She said, 'I know you are in a fast sport but I have never seen an application approved so fast.' We were over the moon. But it was only the first step of many."
Next, the Joon's had to interview at the U.S. Embassy in Amsterdam and they both needed physicals from the only doctor in their country approved by the U.S. Embassy. But before they did any of this, they were informed that the United States did not recognize their partnership as a marriage and Gerda could not make the move. In the Netherlands, their "registered partnership" is the same as being married but the U.S. Immigration Service does not accept it, and Gerda would have to stay in the Netherlands. So, on February 8, 2013 the couple was married at city hall. They had their international marriage certificate sent to the U.S. Embassy and four days later, Gerda received a call from the Embassy congratulating her on her marriage and telling her she was approved.
"On March 11, we went to Amsterdam for our interviews," said Joon. "Nerves were pounding through our bodies because we were so close to making our dream come true. At the end of the interview, we had to take a pledge. We learned that the last step we had to take was that within a year we had to travel to the U.S. and have an interview with the U.S. Immigration Service. On April 15, we arrived in Chicago and for the first time we didn't have to go through the visitor's customs, instead we were allowed to go through U.S. citizen customs. That was so cool. It almost felt like we were coming home. After our interviews, they took our fingerprints, told us we were finished, and would soon receive our Green Cards in the mail. On May 13, our attorney called saying she had our Green Cards. We will always remember that day, because it was Gerda's birthday. That was the best gift we could have ever wished for."
The hard work has now begun for the couple. Joon is a successful businessman and has been self-employed since he was 18. He is in the process of selling his auto repair shop and service center, Autobedrijf Lex Joon in Zaandam. He has raced and worked on cars since he was 17, so a business repairing and selling American trucks and muscle cars was a perfect and successful fit for the ambitious Joon.
They are also in the process of packing up their home and race car shop and have found a place to live in Brownsburg, Ind. Besides the physical work, they are dealing with emotional tasks and decisions involved with ending a lifestyle and saying good-bye
"Giving up our life in the Netherlands and starting a new one in the U.S. was not a decision we made overnight," explained Joon. "We knew it would be filled with hard work and that we would shed some tears. The hardest thing we had to do was tell my sons and Gerda's parents. We wanted to put it off but knew it was only fair to tell them early so they had time to get used to the idea. They surprised us with their support. They knew that one day this could happen and they were very happy for us. They cannot wait to celebrate Christmas in the U.S. one day.
"Now that the time is nearer, things are getting more intense and some difficult decisions have to be made. We decided to leave Gerda's horse in the Netherlands. He is getting too old to make an airplane trip to Chicago, so we will give him a well-deserved retirement. I will never forget the day that they won their first championship together. We will bring our dog, Cha Cha with us and she will be on the same flight with us to Chicago. Gerda has trained her in English and I am convinced that she will love it at the race track.
"Many friends and customers admire us for taking the risk and for leaving everything behind. Our philosophy is very simple; if you do something make sure you do it right, otherwise don't do it. And at the end, you will regret the things you didn't try. Gerda and I are closing all types of things in the Netherlands, knowing we may never do or see them again. But when we are closing doors in the Netherlands, we know others will open in the USA."
The Joons may be leaving the Netherlands and the only life they have ever known but they are filled with hope and optimism. And on October 1, 2013, their American Dream will no longer be a dream - it will be a reality.




NHRA: 10 Most Recent Entries [ top ]

Apr 23- HOUSTON - Lucas Oil Drag Racing Series Wrap Up The NHRA Lucas Oil Drag Racing Series Wrap Up
Apr 23- CHARLOTTE 1 - J.R. Todd Aiming for Two Four-Wide Racing Wins in 2018
Apr 23- Mid America Dragway Joins NHRA Member Track Network
Apr 23- HOUSTON - Special Awards
Apr 23- HOUSTON - Sunday Video
Apr 22- HOUSTON - Sunday Pro Mod Wrap Up