Tue, 03 Sep 2013, 22:42 PM



Jim Luikens' Reporter's Notebook at the 59th Annual Chevrolet Performance NHRA U.S.



Courtesy of NHRA Communications


Photo copyright 2013 Auto Imagery, Inc.





BROWNSBURG, Ind. --
Nationals Notes from Jim Luikens' Reporter's Notebook at the 59th Annual Chevrolet Performance NHRA U.S. Nationals
There is no bigger drag race on the NHRA calendar than the U.S. Nationals. This year it became the Chevrolet Performance U.S. Nationals when Chevrolet chose, for the first time ever, to come aboard as the event's title sponsor. Chevrolet actively leveraged their event involvement with an extensive midway display of custom and stock Chevrolets, including some yet-to-be released 2014 models. They also had an interactive display in their booth as well as a ride and drive on the raceway's oval track.
Speaking of the Chevrolet Performance U.S. Nationals, next year will be the milestone 60th Annual edition.The NHRA is planning a number of special, theme-park-style attractions that will bring to life some of the biggest and most historical events in the history of the "Big Go." It was also announced that a year-long anniversary sweepstakes held by Candlewood Suites will award a trip for two for the grand prize winner to the 60th Anniversary race.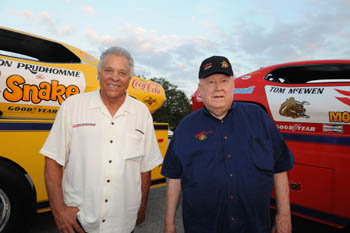 Sanke and Mongoose
at the movie premiere.
Photo copyright 2013 Gary Nastase
Each year there seems to be an off-track event at the Nationals that rivals the on-track activities for "buzz." Last year it was the Linda Vaughn Roast and this year it was the Indy premiere of the Snake and Mongoo$e movie. The premiere showing was a standing-room, invitation-only event that was attended by many of the big name drivers and industry insiders that were in town for the race. Speaking at the track during the movie's press conference there, Don Prudhomme seemed particularly proud of the end result saying that it wasn't a drag racing only movie but instead a family movie that had something for everyone.
This year's race itself played out in four acts. Act One was Wednesday, Thursday, Friday, and Saturday until about 5 PM when conditions were very hot and very humid. In fact, Saturday was the hottest day of the year in Indianapolis with a recorded high of 96 degrees. Around 5 PM a cold front moved through the raceway bringing with it wind, rain and lightning of memorable proportions. The result was three hour rain delay and a 20 degree drop in temperature that led to Act Two. Mineshaft conditions and very impressive elapsed times followed for the Fuel Funny Cars that completed their qualifying round Saturday evening. Act Three was Sunday when overcast conditions led to cooler temperatures and Act Four closed out the event on Monday with more (relatively) cool conditions in the lower 80s.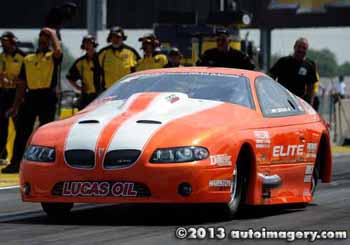 Mike DePalma
At this event every year there is a car that is "The Car." This year "The Car" was the AA/AT 2007 Pontiac GTO of Mike DePalma from Glendale, Arizona. Mike qualified Number One in Competition Eliminator with an astounding 6.114 second elapsed time, a mere -.926 under the AA/AT index of 7.04 seconds. Mike began his march through eliminations with a round one victory over the C/DA of Dick Maris. Unfortunately, Mike incurred a .010 CIC reduction in his dial-in while picking up the victory. In round two Mike defeated the C/AA Camaro of Jim Greenheck while gathering another CIC index reduction. However, this time it was only .004 of a second. In the third round Mike made the bye run that he had earned for qualifying on the pole. Defending Nationals Comp Champ Greg Kamplain turned on the red light against him in the fourth round which gave Mike another shut-off pass. In the semi-final round (of four) Mike's excellent vacation came to an abrupt end when he got loose and crossed the centerline, disqualifying him. Although he came up one round short of the final Mike's weekend will not be forgotten soon by him or others.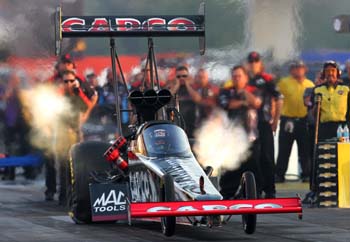 Billy Torrence
A surprising twenty-five cars attempted to qualify for the 16-car Top Fuel field. Among the nine unqualified cars were traditional T/F starters T.J. Zizzo, Brandon Bernstein, and Cory McClenathan.
The Capco Contractors team used this event to introduce Billy Torrence as a teammate to his son, Steve Torrence, in a second Capco car. When T/F qualifying was completed Steve stood third in the field with a fine 3.812 elapsed time and his father was sixth in his debut performance with a 3.823-second elapsed time. When each driver won their first round the elimination ladder paired them together for the second round. Young Steve took the win when dad had brake failure on the burnout. Steve then parlayed that victory into a final round appearance for the second day in a row. Monday's T/F final matched the same two competitors that had met in the final round of Sunday's Traxxas Shootout. For the second day in a row the result was the same as Chad Langdon reigned victorious over Steve each day.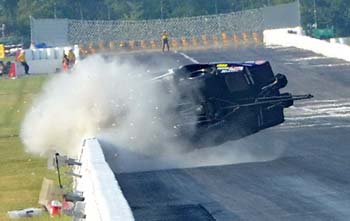 Tim Tindle hits the wall hard.
Photo copyright 2013 Roger Richards
Twenty-four competitors appeared here for the 16-car Pro Modified field. Joining tour regulars at this event were new NHRA P/M drivers Craig Cawte, Kevin Fiscus, Jimmy Widener, and Jason Hamstra.
Tim Tindle, in a second Danny Rowe P/M Camaro, supplied the only heart-stopping moment of the weekend when he impacted the left guard wall near the finish line. Despite vaulting over the wall Tim was able to eventually extract himself from his badly-damaged car and walk to the ambulance.
Former NHRA Fuel Funny Car World Champion Bruce Lawson was here making exhibition passes in his newly-recreated USA-1 1968 Camaro. It is the nicest recreation of a historic drag car that I have ever seen. In fact, I would dare bet that the new car is nicer than his original Camaro ever was. In exhibition runs Bruce recorded a best elapsed time of 7.35 seconds at 184.93 miles per hour.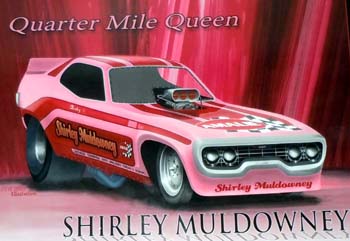 Finally, Shirley Muldowney was here to announce that she is returning to the driver's seat in 2014. She'll be driving a supercharged Plymouth Satellite funny car similar to the one that she drove four decades ago. "This isn't going to be about making nice, low-key exhibition passes just so everyone can take pictures" said Shirley. I have never climbed into a race car without the sole purpose of beating the car in the other lane and I'm certainly not going to start now" she added. Her car is being built by Pennsylvania's John Worm, who also built the Larson car, for competition in the Legends of Drag Racing Tour.




NHRA: 10 Most Recent Entries [ top ]

Feb 28- GAINESVILLE - Fact Sheet
Feb 28- GAINESVILLE - Event Preview
Feb 25- PHOENIX -Through the Lens of Ron Lewis
Feb 25- PHOENIX - Torrence Back On Top at Arizona Nationals
Feb 25- PHOENIX - Tommy Johnson, Jr. Earns 20th NHRA Victory, and First for MD Anderson
Feb 25- PHOENIX - Special Award
Feb 25- PHOENIX - Erica Enders Continues Strong Start, Rolls to Pro Stock Win in Phoenix
Feb 24- PHOENIX - Mickey Thompson Top Fuel Harley Series Wrap Up
Feb 24- PHOENIX - Lucas Oil Drag Racing Series Wrap Up
Feb 24- PHOENIX - Sunday Video