Sat, 31 Aug 2013, 20:40 PM



Rupert Takes Inaugural Victory at Rocky Mountain Raceways' NHRA Summer Send-Off



Courtesy of


Photos Courtesy of Chris Dake





WEST VALLEY CITY, Utah --
Jason Rupert claimed the Nitro Funny Car win at Rocky Mountain Raceways' inaugural National Hot Rod Association (NHRA) Hot Rod Heritage Series race on Saturday, August 24. Rupert bested Kris Krabill in the final round, running 239.80 mph with an elapsed time of 5.914. Krabill ran 241.61 mph with an elapsed time of 6.134.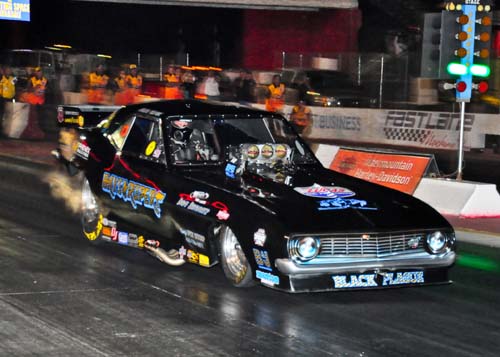 Jason Rupert Nitro Funny Car winner.
Kin Bates took home both the A/Fuel event win and 2013 A/Fuel Championship running 7.279 at 161.40 mph against Bill Wayne. This championship marks Bates' sixth championship season with the NHRA Hot Rod Heritage Series.
Defending NHRA Hot Rod Heritage Series Jr Fuel Champion Don Enriquez took home the win tonight with a 7.439 e.t. running 179.46 mph against Scott Parks in the final. The win solidified Enriquez's championship season.
Local racer Jed Dubach, from Syracuse, Utah, secured the 7.0 Pro event win against Bobby Cottrell. Leaving the starting line too soon, the win automatically went to Dubach who went 7.476 e.t. at 177.72 mph. Cottrell captured the 2013 7.0 Pro Championship with his runner-up performance in Salt Lake City.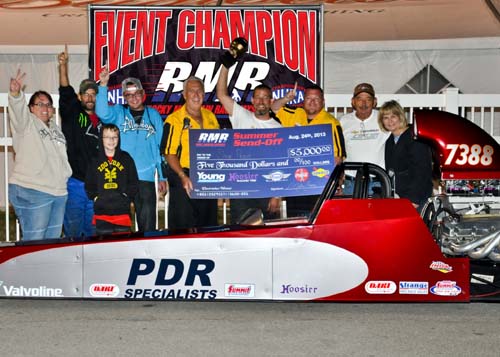 Steve Priest, Electronics winner.
RMR event winners included Andy Schmall (Non-Electronics,) Steve Priest (Electronics,) Wes Morris (Top Junior,) and Zachary Harrbrink (Quick Junior.)
Drag racing will continue on Sunday, August 25 with the Big Money Bracket Race. The next major drag event will be the Night of Fire running in conjunction with the NHRA Lucas Oil Divisional Series on Saturday, September 28.
About Rocky Mountain Raceways
Entering its 17th season of racing, Rocky Mountain Raceways is Utah's premiere motorsports venue for short-track oval racing, drag racing, and motocross racing. For more information about Rocky Mountain Raceways' schedule of events, please visit www.rmrracing.com.

NHRA Summer Send-Off, featuring the NHRA Hot Rod Heritage Series
Rocky Mountain Raceways
Saturday, August 24, 2013 Race Results

NHRA Hot Rod Heritage Series
Nitro Funny Car
Jason Rupert (69 Camaro)      5.914 e.t., 239.80 mph
Kris Krabill (78 Firebird)         6.134 e.t., 241.61 mph

NHRA Hot Rod Heritage Series
A/Fuel
Kin Bates         7.279 e.t., 161.40 mph
Bill Wayne (06 URC Fed) (foul)

NHRA Hot Rod Heritage Series
Jr Fuel
Don Enriquez   7.439 e.t., 179.46 mph
Scott Parks (12 N&P)   17.202 e.t., 55.08 mph

NHRA Hot Rod Heritage Series
7.0 Pro
Jed Dubach (69 HD Fed)         7.476 e.t., 177.72 mph
Bobby Cottrell             7.472 e.t., 168.50 mph (foul)

Electronics
Steve Priest (10 Dragster)      8.069 e.t., 166.79 mph
Matt Schoenfeld (05 Neil & Parks)     7.465 e.t., 180.54 mph (foul)

Non-Electronics
Andy Schmall (72 Nova)          11.421 e.t., 106.08 mph
John Kidd (95 Chevy S-10)       10.380 e.t., 111.49 mph

Quick Junior
Zachary Harrbrink (05 Motivational) 8.012 e.t., 76.07 mph
Kyle Anderson 8.819 e.t., 74.71 mph

Top Junior
Wes Morris (06 Motivational)            8.001 e.t., 77.06 mph
Austin Schoenfeld       8.071 e.t., 79.50 mph





Drag News: 10 Most Recent Entries [ top ]

Apr 24- NHRA Heritage Series Heads To Wild Horse Pass
Apr 22- K&N Spring Fling Million Final Day Results
Apr 21- K&N Spring Fling Million Friday Results
Apr 20- K&N Spring Fling Million– Thursday Results
Apr 19- K&N Spring Fling Million- Wednesday Results
Apr 18- Buckeye S/SS @ National Trail April 28th
Apr 18- Don "the Snake" Prudhomme Returns To Baja Competition After 50 Years
Apr 18- K&N Spring Fling Million Tuesday Results
Apr 17- K&N Spring Fling Million Pre-Race
Apr 12- Summit Racing Equipment is Newest Sponsor of Midwest Junior Super Series