Fri, 30 Aug 2013, 09:36 AM



It's A Big Go For Sportsman Racers, Too



By Bob Frey


Photo copyright 2013 Auto Imagery, Inc.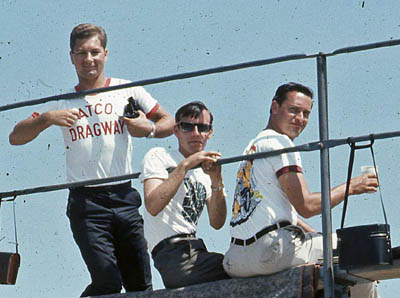 Ray Szafranski, Yours Truly and Mike O'Donnell at '67 Indy.
As always a lot of the attention at Indy this year will be focused on the drivers in the Mello Yello classes, that is the top four categories of Top Fuel, Funny Car, Pro Stock and Pro Stock Motorcycle. While that is true, Indy wouldn't be Indy without the huge turnout of sportsman racers, and these are racers who really have to want to be there because it is a marathon. A lot of the professional racers get paid no matter what day they get to Indy, how many rounds they go or even if they qualify or not, but that's not the case with the racers in the Lucas Oil classes, aka, sportsman racers. When you figure that they have to be there, for the most part, on Wednesday and hope to be there until the next Monday, you can see what an imposition this race can be. Now I mean that in the nicest way, but when you are a sportsman racer and have a job it's not an inexpensive proposition to go to the U.S. Nationals. Over the years I have done hundreds of stories about these racers and a lot of them are self-employed, which means that when they are away from their business there is a good chance it's not making money, and when you add everything up a week or more at Indy is not cheap. True, some of them have those really slick motor homes that they travel in, but those aren't free, and while it's true they are not spending money on hotel rooms the monthly payment on those rolling condominiums can't be cheap.
All that talk about hotels reminds me of my first Indy in 1967. Two friends of mine and I decided to drive out and see the race and I'll never forget that as we got closer to Indianapolis we started to see trailers, cars and trucks parked at hotels and we were so excited. A lot of the cars were Top Fuel cars, Top Gas cars and other members of the drag racing elite. Remember, back then the teams didn't stay at the track overnight, they actually went back to their hotel and worked on the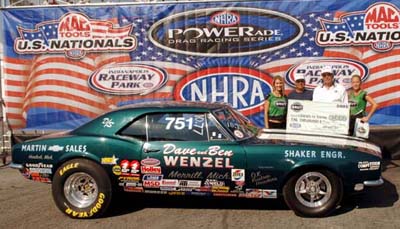 Dave and Ben Wenzel won the
Brut Essence of Racing Award 2005.
car there, and it was not uncommon to see some of the sport's biggest stars crawling under a car in the parking lot of the Holiday Inn. Since the statue of limitations has probably expired I can also tell you that more than one team took an engine out of the car and into their room to work on it and the result was a better engine and a trashed hotel room. Needless to say the management of the hotel was not pleased.
Back to the sportsman racers. As of this time there are 642 sportsman cars entered for the event with Stock Eliminator leading the field with 174 and Super Stock close behind with149 entries. As hard as it maybe for some of today's fans to believe Super Stock and Stock Eliminator received a lot of attention at my first Indy in 1967. Even today people still talk about Ben Wenzel's win with a car that was only a few days old, and if you weren't lucky enough to be there in '67 you can still see that car because Ben will be running it this week. Ben beat the Gunning Brothers in the final round and it was one of the most exciting races of the day. Sure, Don Garlits beat James Warren and Don Cain won Top Gas Eliminator, but the fans were on their feet for the Wenzel - Gunning match just as they were for the great Super Stock final that featured Bill Jenkins. My point is that nobody left the stands when the Super Stock and Stock cars came to the starting line.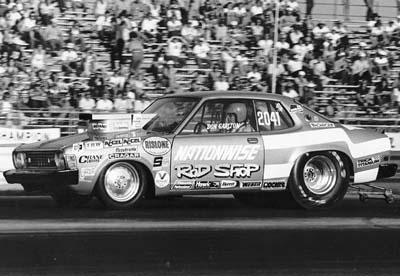 Don Carlton won two in a row.
here he is in 1976.
Photo copyright 2013 NHRA
While some of the classes and categories have changed over the years the desire by the sportsman racers to win has not. This year, and it may be a sign of the times and the economy, there are not sixty-four cars entered in Competition Eliminator and that's a shame. The Indy Comp show was always one of the best and it was the only time of the year that the field was expanded to a six-round show. Racers like David Rampy and Glen Treadwell have been good enough to win Indy three times in the highly competitive Comp field while others like Tom Trisch, John Lingenfelter, Don Carlton and Larry Pritchett have won it twice. A quick look at the entry list shows that Doug Kjono is bringing his F/D to Indy this week in hopes of picking up his second National's crown. Doug won it in 1984 when he beat Ron Baker and to this day that remains Doug's only national event win and his only final round for that matter. Hey, if you can only win one race Indy would be it, right? There are others, like the great Jim Oddy and the Division 1 Hall of Fame member Harry Luzader who also won just one NHRA national event and it was the "Big Go."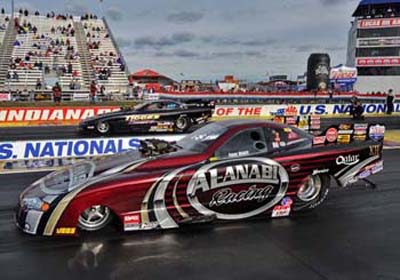 Frank Manzo deafeated Fred Tigges
I have been reading all of the press releases about Tony Schumacher's quest for his tenth Indy title, and while I know the releases are all talking about the pro racers they constantly mention that "nobody has won ten Indy titles." Well, yes they have. Frank Manzo, who holds so many records that you lose track of them, has won Indy an amazing ten times and they span from his first in 1986 when he beat Pat Austin to his most recent in 2011 when he stopped Fred Tigges. In 1997 he beat Jim Sickles in a race that I'm sure Jim replays everyday and that's because he was quicker than Frank in the final but lost on a holeshot. Let's face it, when you get to one final round in your career and it's Indy, and when you're quicker than Frank in that final round and you lose you probably never get over it. Frank really earned that win and he did it over a field that included Tony Bartone, Bob Newberry, Pat and Bucky Austin, Lou Gasparrelli and Fred Mandoline just to name a few. And Vern Moats had Frank on the ropes in the 1994 final round when Frank posted a very uncharacteristic .583 (.183 in today's terms) reaction time. I remember announcing that race and thinking that Frank had no chance, but Vern shook the tires violently and slowed to a 6.97 and he watched Frank sail by for the win. Frank has won every way possible at Indy and while Tony Schumacher will be shooting for a professional record this week let's remember that somebody has won Indy ten times..Frank Manzo.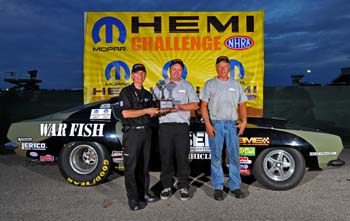 Charlie Westcott Jr. celebrates
win last year.
In addition to Comp and the alky classes the fans will be treated to another classic Mopar Hemi Challenge, or as we call it the Westcott Family Annuity Race, as well as a shootout between the new muscles cars that are coming from Ford, General Motors and Chrysler. Between the two of them Charlie Westcott Sr. and Jr. have won the "Challenge" in seven of the last eight years with only Jim Daniels's win in 2010 breaking up that family affair. Daniels was also in the other lane when Jr. won it last year. The folks at Mopar love the "Challenge," the racers enjoy it and the fans really get into it, so while it may not be Ronnie Sox against Dick Landy or Bill Jenkins against Bob Glidden, it still is a great show and a nice addition to the Indy proceedings. Meanwhile over twenty drivers are entered for the Factory Stock Showdown program that features the latest high performance muscle cars from Detroit. That includes the Cobra Jet Fords, the COPO Camaros and the Mopar Challenger Drag Pak and it, too, is a great addition to the event.
There are so many things that make Indy special and the thousands of sportsman racers who have gone down the track are a big part of it. So while you enjoy the nitro cars and the Pro Stock machines, take time to sit back and watch some of the best racers in the sport as they slug it out on the famous Indy quarter-mile. And when they win show your appreciation because that means a lot, after all, they are not in this for the money, they do it for the love of the sport, although the Westcott's may do it for the money, not that there's anything wrong with that!




NHRA: 10 Most Recent Entries [ top ]

Apr 24- CHARLOTTE 1 - Steve Torrence Enjoying Four-Wide Success Heading to NGK Spark Plugs NHRA Four-Wide Nationals
Apr 24- CHARLOTTE 1 - Fact Sheet
Apr 24- Kalitta Motorsports Welcomes NASCAR Stars to the SealMaster Track Walk in Charlotte
Apr 24- zMAX Dragway Celebrates 10th Anniversary
Apr 24- CHARLOTTE 1 - NGK Spark Plugs NHRA Four-Wide Nationals Brings 40,000 Horsepower Thrill Show to zMAX Dragway
Apr 23- HOUSTON - Lucas Oil Drag Racing Series Wrap Up The NHRA Lucas Oil Drag Racing Series Wrap Up
Apr 23- CHARLOTTE 1 - J.R. Todd Aiming for Two Four-Wide Racing Wins in 2018
Apr 23- Mid America Dragway Joins NHRA Member Track Network
Apr 23- HOUSTON - Special Awards
Apr 23- HOUSTON - Sunday Video