Fri, 16 Aug 2013, 14:53 PM



Jungle Jim Rides Again at Geezers Reunion



Courtesy of Evan Jones



MOHNTON, Pa. -
With all the records broken during the weekend in the Nostalgia Nitro Funny Car class at Maple Grove Raceway, the Mickey Thompson DRO AA/FC Challenge ended with a whimper rather than a bang.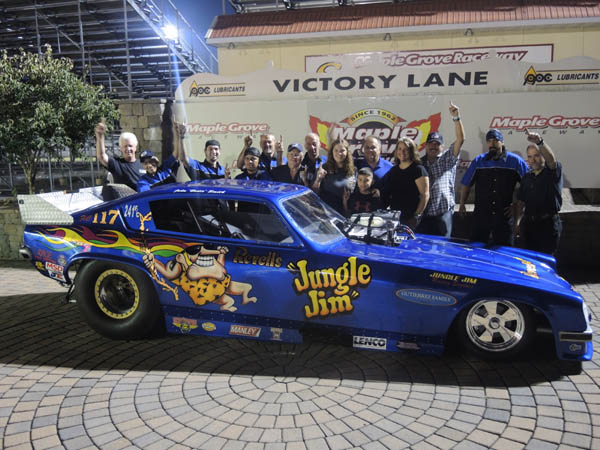 John Smith and the crew of the Jungle Jim celebrate in Victory Lane.
John Smith and the Jungle Jim Vega won the championship late Saturday night as part of the Geezers Reunion at The Grove and the Uni-Select Cavalcade of Funny Cars.
He didn't have to make a pass in the final as his opponent, Shawn Bowen, broke his car after beating Marc White in the semifinals.
Bowen and his '77 Firebird won the race, but then broke down in the shutdown lane, causing a 43-minute cleanup. Replacement parts were available, but the crew couldn't make the repairs in the 90-minute window.
Maple Grove's speed record was reset twice in the first round of eliminations. White went 248.98 mph at 5.741 seconds - also a track record - in a win over Mike Halstead. White's 5.741, which stood at the end of the evening, bettered a mark of 5.775 set by Mike Lewis in Friday's qualifying.
Bowen took the speed record away in his pass against Peter Gallen. Bowen went 251.49 at 5.754 seconds to grab the mark.
On the other side of the bracket, "Crazy Jake" Crimmins upset top-seeded Lewis in the first round as he made a run of 5.971 at 232.35 as Lewis fell behind and couldn't quite catch up at the end. Meanwhile, Smith ran against his brother, Mike, and won the sibling battle by going 5.829 at 246.21.
In the semifinals, Bowen got the jump on White at the start and got to the finish first as both cars struggled. Turns out, the run was too much for Bowen's Firebird. On the other hand, Smith had an easy road when Crimmins fouled at the start.
The Alcohol Funny Cars used a Chicago-style format in which the two quickest in the first round of time shots faced each other in the second for the championship. Rocky Pirrone in the Screamin' Eagle Firebird had a victory cruise when George Reidnauer in the Excalibur Corvette broke at the starting line.
To get to the final, Pirrone went 6.643 seconds at 210.21, while Reidnauer went 6.780 at 203.00.




Drag News: 10 Most Recent Entries [ top ]

Apr 26- Nate Van Wagnen Named Drag Illustrated Editor-In-Chief
Apr 24- NHRA Heritage Series Heads To Wild Horse Pass
Apr 22- K&N Spring Fling Million Final Day Results
Apr 21- K&N Spring Fling Million Friday Results
Apr 20- K&N Spring Fling Million– Thursday Results
Apr 19- K&N Spring Fling Million- Wednesday Results
Apr 18- Buckeye S/SS @ National Trail April 28th
Apr 18- Don "the Snake" Prudhomme Returns To Baja Competition After 50 Years
Apr 18- K&N Spring Fling Million Tuesday Results
Apr 17- K&N Spring Fling Million Pre-Race