Wed, 14 Aug 2013, 16:00 PM



Lindstrom, Sapone open 2013 Super Street Season with Wins at Bakersfield



By Bob Johnson Auto Club Famoso Raceway


Photo copyright 2013 Bob Johnson Photography





BAKERSFIELD, Calif. --
Jeff Lindstrom and John Sapone opened the 2013 Southern California Super Street Association, series with wins at the season-opening single day, doubleheader race at Auto Club Famoso Raceway.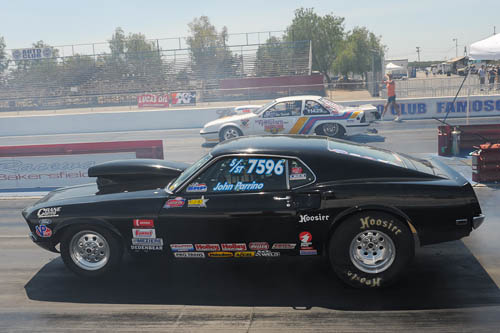 Jeff Lindstrom defeated Tim Daniel
in the final.
The first race opened with Tim Daniel leading all qualifiers with a 10.901 with his Chevy Beretta, followed by Daniel McClelland, and Randy Guitar.
Quarterfinal racing saw eventual winner Lindstrom defeat Greg Dreher, John Castro beat Val Houmard, and Daniel got a bye into the semifinals. Daniel stopped Castro in a double-breakout semifinal, 10.86 to a 10.84, and Lindstrom drove the John Parrino-owned '69 Mustang into the final on a bye run.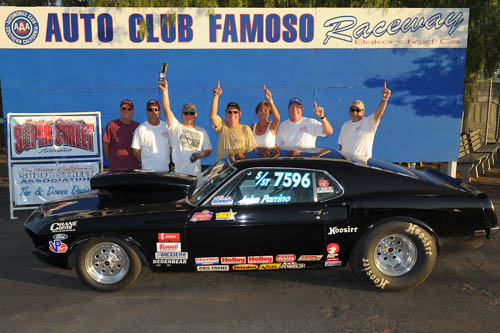 Jeff Lindstrom celebrates the win.
The final round of the Tim and Donna Daniel/SoCal Super Street-sponsored event saw Lindstrom's Mustang take the win with a .019 better reaction time and 10.909, 130.52 to defeat 2010 series champion Daniel, losing with a 10.941. Lindstrom thanks his father-in-law (Parrino) for the opportunity to race his car for the first time.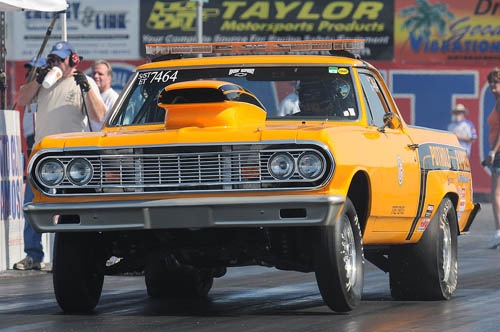 John Sapone
Mid-day temperatures approached 110 degrees at the second race where John Sapone drove his "Pothole Express" '64 El Camino to victory in a double-breakout final round recording a 10.880, 131.95 as Mike Lang ran a 10.859, 135.78 after recording a perfect .000 reaction time. Sapone stopped Daniel McClelland, Greg Dreher, and Randy Guitar in early round eliminations. Lang posted wins over Lindstrom in round one, Johns Castro in the second round before getting a bye in the semifinal. Sapone thanks his wife Jennifer, Jimmy at RaceTrans.com and crew chief Ron Combs. Denso Products and Services sponsored the race.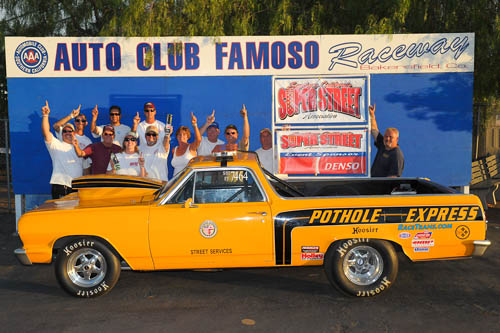 John Sapone celebrates win.
The Super Street series continues with another two-race single day event at Barona Drag Strip on August 24, followed by the series final set for September 21, also at Barona. Lindstrom leads the series points chase with 1027 points, followed by John Sapone at 1021. Tim Daniel (930), John Castro (921), and Mike Lang (918) round off the top five. Series event sponsors include Denso Products & Services, RPM Racing, Sid's Auto Body, and Daniel Racing.




Drag News: 10 Most Recent Entries [ top ]

Apr 22- K&N Spring Fling Million Final Day Results
Apr 21- K&N Spring Fling Million Friday Results
Apr 20- K&N Spring Fling Million– Thursday Results
Apr 19- K&N Spring Fling Million- Wednesday Results
Apr 18- Buckeye S/SS @ National Trail April 28th
Apr 18- Don "the Snake" Prudhomme Returns To Baja Competition After 50 Years
Apr 18- K&N Spring Fling Million Tuesday Results
Apr 17- K&N Spring Fling Million Pre-Race
Apr 12- Summit Racing Equipment is Newest Sponsor of Midwest Junior Super Series
Apr 12- Summit Racing Named Official MWPMS Sponsor and Event Title Rights Holder