Tue, 06 Aug 2013, 13:54 PM



Fletcher Doubles- Sweeps NHRA Western Swing



Courtesy of NHRA Field Marketing


Photo copyright 2013 Auto Imagery, Inc.





Cowie's Comeback; 2 for 2



KENT, Wash. --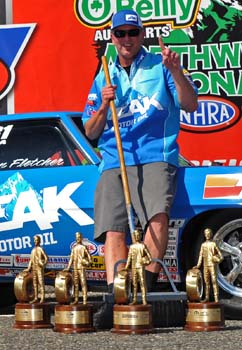 Dan Fletcher Doubles Up and Sweeps
Dan Fletcher scored wins in both Stock and Super Stock at the O'Reilly Auto Parts NHRA Northwest Nationals for his first career double-up to go along with his sweep of the NHRA Western Swing. Shawn Cowie continued the monumental comeback he recently launched with a win at Woodburn Dragstrip by running down Garrett Bateman for the win in Top Alcohol Dragster. Top Alcohol Funny Car, Clint Thompson, another driver whose only previous start this season came three weeks ago at Woodburn, turned back Sean Bellemeur in the final for his fifth career win and third at this event.
Fletcher, Churchville, N.Y., picked up win numbers 84 and 85 to become just the 17th driver in history to record the double win. He is now tied with NHRA legend Bob Glidden for fourth place on the all-time NHRA wins list. This is the second time he has swept the Western Swing (1994) as he won Super Stock in Denver two weeks ago and in Stock last weekend in Sonoma, Calif. He first ran down Don Elgin for the win in Stock Eliminator then faced off with Sonoma winner Jody Lang in Super Stock. Lang left early by one one-thousandth of a second, turning on the red-light and giving the win to Fletcher.
For Cowie, critically injured in April 2011 when a drunk driver plowed into his motorcycle on an Interstate ramp in Nashville, this actually was his third win in a row; he won his last start before the accident, the 2011 SummitRacing.com Nationals in Las Vegas.
After taking the Woodburn event from the No. 1 qualifying spot, Cowie was No. 4 in Seattle, one of four drivers in the 5.20s, behind Ray Martin (5.26), Johnny Ahten (5.27), and Chris Demke (5.27) with a 5.29. Cowie's Mundie's Towing entry was a picture of consistency throughout eliminations, beating one multiple national event champion after another, beginning with a 5.34 against Aaron Olivarez. His best run of eliminations, a 5.29, took out a close 5.37 by Demke, the defending event champ, in the second round, and a 5.33 in the semifinals dumped 2011 world champ Duane Shields, ending Shields' best outing in what to this point had been a disappointing season.
Bateman, driving the HipLink A/Fueler, tore up the other side of the ladder with at least a .034 reaction time in every round. From the No. 7 spot, Bateman, who last appeared in a national event final 10 years ago in Sonoma, beat Greg Hunter in the first round with a 5.37 and No. 1 qualifier Ray Martin in a crucial second-round race that awarded the winner a semifinal bye.
Martin, who qualified on the pole for the second national event in a row, missed a second straight final when his car went silent before half-track, slowing to an 8.69 at 94 mph. Bateman slipped to a 5.58 that time, picked up to a 5.44 on his bye, then fell back to his worst run of the weekend, 5.64, in the final.
Shawn Cowie defeated Garrett Bateman
"This is just unreal," an elated Cowie said. "The whole crew did a perfect job all weekend, and I can't even believe this happening."
Thompson, who hadn't run a national event since the 2012 Finals, scored at the Seattle race for the third time in his career, including 2005 and 2007 wins over Dennis Taylor. Thompson was in the 5.50s in every round but the semi's, when he got the one break he needed. Jay Payne red-lighted after both drivers staged almost simultaneously, and Thompson shook the tires and coasted across the finish line at 91 mph.
"You usually need one break to win one of these things, and that was it," said Thompson, who had the best car in eliminations after qualifying No. 3 with a 5.57. There were four 5.5s in eliminations, and he ran three of them. (The other, 5.54, was by John Lombardo, who qualified No. 1 with another 5.54.) Thompson's MBR-powered Monte Carlo defeated home state driver Dave Germain in round one with a 5.58 and Terry Ruckman by just seven-thousandths of a second in the quarterfinals with a 5.56, low e.t. of eliminations.
Bellemeur, who also was runner-up at Pomona and Sonoma in 2007 and at the 2011 Finals in Pomona, qualified No. 4 with a career-best 5.59, his first run in the 5.50s. He took out the defending event champ, John Evanchuck, in the first round on a holeshot with the best reaction time of the entire event, .019, and past Seattle winners Brian Hough and Steve Gasparrelli in the middle rounds with times of 5.63 and 5.72. Gasparrelli appeared to be on his way to his sixth Seattle final in the past 10 years until he banged the blower and Bellemeur shot into the lead.
Bellemeur got off the line with Thompson in the final and made his quickest run of eliminations, 5.63, but Thompson moved harder through the middle of the track for his first win since Dallas last year and fifth overall.
In Super Comp it was Steve Williams looking for his second win in as many weeks. The Beaumont, Calif., racer meet up with Andy Morris, Olympia, Wash., and held on for his seventh NHRA national event win covering the quarter-mile in 8.945 seconds at 178.12 mph. Williams also won Super Comp in Sonoma last week to go along with his win in Super Gas, earlier this year in Topeka, Kan.
Doug Lambeck grabbed his 10th national win and his fourth in Comp Eliminator as he took out Alan Ellis and his '23 Ford roadster. Lambeck's 8.399 second lap at 160.27 mph was enough to hold on for the win by about two feet.
There was also a pair of first time winner's this weekend in Ed Hutchinson and Larry Miner who won in Super Gas and Super Street respectively. Hutchinson, Victoria, B.C., won in his '57 Corvette when Eddy Plaizier left early with a foul start. Hutchinson was the Super Street runner-up here at Pacific Raceways back in 1996.
Miner, Sedro-Woolley, Wash., was nearly identical at the tree with Bret Oglesbee, Spokane, Wash., but was better at the finish line clocking in at 10.904 on the 10.90 dial for the win.
The following are the final results from the O'Reilly Auto Parts NHRA Northwest Nationals presented by Super Start Batteries at Pacific Raceways:
Top Alcohol Dragster
Shawn Cowie, 5.372, 268.33 def. Garrett Bateman, 5.649, 252.80.
Top Alcohol Funny Car
Clint Thompson, Chevy Monte Carlo, 5.594, 257.04 def. Sean Bellemeur, Chevy Camaro, 5.632, 256.84.
Competition Eliminator
Doug Lambeck, Pontiac Sunfire, 8.399, 160.27 def. Alan Ellis, '23-T Ford, 6.572, 209.65.
Super Stock
Dan Fletcher, Chevy Camaro, 10.252, 117.35 def. Jody Lang, Chevy Malibu, foul.
Stock Eliminator
Dan Fletcher, Chevy Camaro, 11.279, 104.95 def. Don Elgin, Pontiac Grand Am, 12.739, 100.21.
Super Comp
Steve Williams, Dragster, 8.945, 178.12 def. Andy Morris, Dragster, 8.929, 163.39.
Super Gas
Ed Hutchinson, Chevy Corvette, 9.918, 160.86 def. Eddy Plaizier, Corvette, foul.
Super Street
Larry Miner, Chevy Camaro, 10.904, 141.09 def. Brett Oglesbee, Chevy Vega, 10.917, 121.32.




NHRA: 10 Most Recent Entries [ top ]

Apr 24- CHARLOTTE 1 - Fact Sheet
Apr 24- Kalitta Motorsports Welcomes NASCAR Stars to the SealMaster Track Walk in Charlotte
Apr 24- zMAX Dragway Celebrates 10th Anniversary
Apr 24- CHARLOTTE 1 - NGK Spark Plugs NHRA Four-Wide Nationals Brings 40,000 Horsepower Thrill Show to zMAX Dragway
Apr 23- HOUSTON - Lucas Oil Drag Racing Series Wrap Up The NHRA Lucas Oil Drag Racing Series Wrap Up
Apr 23- CHARLOTTE 1 - J.R. Todd Aiming for Two Four-Wide Racing Wins in 2018
Apr 23- Mid America Dragway Joins NHRA Member Track Network
Apr 23- HOUSTON - Special Awards
Apr 23- HOUSTON - Sunday Video
Apr 22- HOUSTON - Sunday Pro Mod Wrap Up