Thu, 01 Aug 2013, 19:26 PM



I'm Having A Ball



By Bob Frey


Photo copyright 2013 Bob Johnson Photography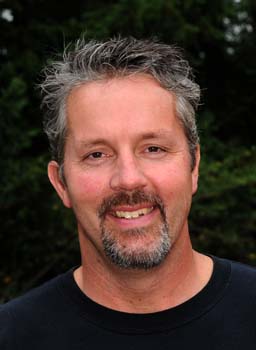 Todd Miller
Photo copyright 2013 Auto Imagery, Inc.
I wish the heading to this story pertained to me, but it doesn't. Ok, so I am enjoying my "retirement" days and I am busy and having a lot of fun with my grandsons but I don't believe I have uttered the words "I'm having a ball" just yet. I may, someday, but not yet. The words do belong to one of the newest members of the Competition Eliminator category, Todd Miller. Now before I get into detail about Todd and his very quick, unique car, I should point out that his is not the first, nor will it be the last car in Comp that has earned my admiration. After all, as you know, Comp is my favorite class or category in all of drag racing, and since I have been around the sport for a long time I have seen my share of interesting automobiles. I can go all the way back to the days of "Ohio George" Montgomery and his first turbocharged Mustang, a car that revolutionized the AA/GS class. And then there was Chase Knight and his twin-turbocharged dragster, a car and a combination that were years ahead of their time. The late Buddy Ingersoll's line of turbo cars were great and fun to watch, as was the famous "Double Eagle" of the genius, Don Enriquez, the classic A/FD of Texan Ben Griffin, any of John Lingenfelter's cars or ones driven by Larry Tores or Bill Maropulos, and more recently, the fantastic car of Jirka Kaplan. I could go on, but you get the idea, Competition Eliminator is a breeding ground for ingenuity and creativity and that's where Todd Miller comes in. Oh, and I'll get back to Jirka in a little bit.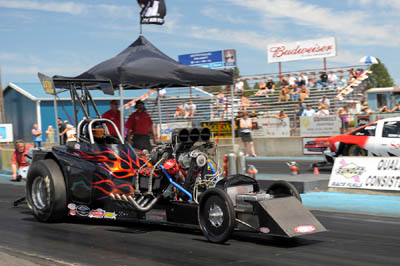 Todd Miller
To say that Todd Miller burst on to the drag racing scene at the recent Division 6 race in Woodburn, Oregon would not be completely correct. Close, but not exactly. "I have been involved with racing since I was in fifth grade," he said while loading up and getting ready to head for the NHRA national event in Seattle this weekend. But when Todd says "racing" he isn't exactly talking about the drag races. "My dad had a Jeep that he used to race in the 100 yard dirt racing events around home. He actually taped some blocks to the pedals so I could reach them and I got to drive that car around for a while. It was a blast." Let's see, a Jeep with a 302 cubic inch engine and a four-speed transmission running on an obstacle course that's three hundred feet long, yeah, that's the normal way that guys get into drag racing. "Hey, it got my 'need for speed' juices flowing at an early age," Todd said.
When he got a little older, and I assume a little wiser, Todd decided that he would love to give drag racing a try so he put together a car that wasn't exactly your quintessential bracket racer. "It was a '31 steel-bodied Ford with a small-block engine," he said. "We raced it a lot in the bracket classes around home, and that included Jackson County Sports Park, Woodburn and a few others." His next venture into the sport was a bit of a step up to something a little quicker and a lot faster. "It was an altered body with another small-block engine, but this one had a supercharger on it. I ran that one in the 7.0 bracket classes in the Northwest and I did some 7.60 nostalgia racing with it. The Pro Nostalgia class up here was like the Top Dragster class, that is we had a Quick 8 series and ran on a 4/10th tree but you had to have either a roadster, an altered or a front-engine dragster if you wanted to compete." He had one of them, and thanks to dad, he certainly wanted to compete, and he did for about fifteen years. "We had some good luck with that car and we won the series championship for four years. I had a lot of fun with that particular combination."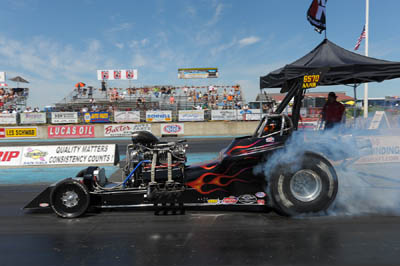 Like most drag racers, even though he was having fun, Todd still wanted to go faster and participate at the sport's highest level, the NHRA national events. "I always loved the Top Alcohol Funny Cars, and ultimately that's what I would like to drive. I have worked on Brian Hough's crew a few times and I know a lot of the guys in the class." But since he has been around the sport for a while Todd knew that stepping up in class was a function of one thing, money. "I knew it would take some extra financing if I wanted to go Comp racing," he said. "I got very lucky when a man by the name of Larry Palmer approached me a while back. He had raced Funny Cars in and around the Northwest back in the '70's and was looking to get back in the sport. He saw my car, must have liked it and asked what it would take to step up. I told him and we've been partners for a few years now." The partners decided to go from bracket racing to Comp and that's a huge step. "We ordered a Brad Anderson engine, got some other new parts and had Bill Comstock build this current car and now we run in the AA/AM class." As unique as some of the cars were that I mentioned earlier, AA/AM cars aren't exactly springing up on every corner. "There are only a few of them in the country," Todd said. "There's the one in Florida (Rodney Rosentiel) and not too many others that I can think of."
While Todd tried to make his former combination, a small-block power plant work in the class, he knew that if he wanted to be successful he had to step up again. "That's when we decided to go with the Brad combination and it has really paid off." I guess it has, since their first real outing with the car at the Division 6 Lucas Oil race in Woodburn last month resulted in a national record and a few round wins. "I couldn't have been happier with the way it ran at Woodburn. We ran 6.27 - 223.93 in qualifying, set the record and managed to hang around for a while in eliminations. It was a great debut and I'm having a ball." In addition to the success he had at Woodburn Todd said that the question he was asked the most was if this was Jirka Kaplan's old car. "They both are black and have flames on them and they do look a lot alike, but this isn't his car. In fact, he was running his alky car at Woodburn and I went over and introduced myself. We talked for a bit and I said I hope I don't do anything that might provoke him into bringing his car back out. That car made a five-second pass and Jirka is really talented so I hope he stays where he is!"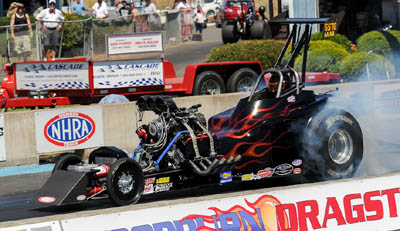 While he is new to Comp and while he did run bracket races for a long time, the trip to Seattle this week will not be the first NHRA national event for Todd. "I ran the Denver race a few years ago," he said. "I was in Super Comp at the time." And if you think Todd was racing Super Comp in one of those ubiquitous rear-engine dragsters then you just don't know Todd. "No, I had my supercharged roadster and it gave the dragster guys fits. I would run it all out for about four seconds before the throttle stop would come on, and when it did I slowed almost to a stop. Then the dragsters would go around me before my car kicked in again and I would try to run them down. It was a lot of fun and I actually made it to the semi-finals at that race."
Now with all of those bracket and Super Comp days behind him, Todd Miller is expecting big things from his new car. "I am going to Seattle with two goals," he said. "Win the race and don't punish my index." And if all goes well he will be at the Las Vegas events and Pomona at the end of the year." Between racing and working his day job, which is at a custom car restoration shop in Oregon, Todd is keeping very busy. "Things at the shop are good and we're just finishing up a 1963 Chevrolet Impala. It has a 454 engine, electronic fuel injection and lots more. It's really nice. Steve Frisbee owns the shop, Steve's Auto Restorations, and he does great work plus he's a real strong supporter of my racing program." Once he finishes work on that he can head off to Seattle, roll out his beautiful car and see what he can do in Comp at a national event. I know one thing, regardless of what happens in Seattle, right now Todd Miler is having a ball!




NHRA: 10 Most Recent Entries [ top ]

Mar 22- LAS VEGAS 1 - Defending Funny Car Winner Tommy Johnson Jr. Excited for Four-Wide Racing
Mar 22- NHRA Northwest Nationals Tickets on Sale Now
Mar 21- LAS VEGAS 1 - Fact Sheet
Mar 21- LAS VEGAS 1 - Event Preview
Mar 20- Strong Stable of Contending Pro Stock Racers Vie for Final Starting Position for K&N Horsepower Challenge
Mar 20- GAINESVILLE - Special Awards
Mar 20- GAINESVILLE - Lucas Oil Drag Racing Series Wrap Up
Mar 19- GAINESVILLE - Sunday Video
Mar 18- GAINESVILLE - Pro Mod Sunday Wrap Up
Mar 18- GAINESVILLE - Sunday Wrap Up