Tue, 30 Jul 2013, 19:33 PM



Two Down And One To Go



By Bob Frey


Photo copyright 2013 Auto Imagery, Inc.





Am I the only one who is glad there are no drivers with a chance to sweep the "Western Swing?" Nothing against the Denver winners but now we won't have to hear about that "sweep" when the racers go to Seattle this week and we can concentrate on the race itself. Like I said before, the "Swing" has it's moments, but in this day and age, with four races in four weekends during the year, it may be a bit overplayed. Ok, that's it from the soapbox.. From all angles the Sonoma race was a great event, with big crowds, big numbers on the scoreboards and great final rounds. In short, it's everything you would want from a drag race. It started out with the Eric Medlen charity event on Thursday night and ended with the ice cream social after the race on Sunday. The folks at Sonoma do a great job with their event and it's one that I truly miss attending.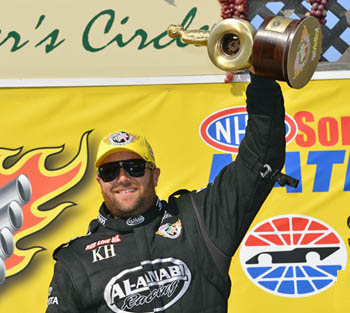 Shawn Langdon celebrated
his fourth win of the season.
Shawn Langdon is hot, and the driver for the Al Anabi team has to be considered one of the front runners, if not the front runner for the championship this year. Ok, so his 3.92 in the final round wasn't spectacular, but his 3.744, 3.799 and 3.804 in the earlier rounds sure were. Shawn has now won four races in seven final rounds this year and the car and the team don't appear to have any weaknesses. They can run on hot tracks or cool tracks, they have a great crew, led by Alan Johnson and Brian Husen, and a driver who is as good as any in the class, and the way I see it, that's the stuff champions are made of..The battle for the top spot in the "Countdown" is shaping up to be a good one between Shawn, Spencer Massey and Tony Schumacher, and there might be even more competition for the tenth spot in the "Countdown." Right now Steve Torrence is in tenth place with David Grubnic and Brandon Bernstein right behind. Maybe "right" isn't the correct word since David and Brandon are both more than six rounds behind Steve, but there are three races and twelve rounds still to go before we make the cut and anything can happen in that time. Stay tuned..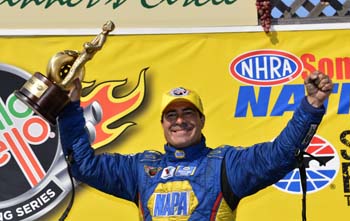 Ron Capps celebrates home track win.
Ron Capps beat John Force in a classic final round, the kind that we have come to expect when these two great stars get together. This was the fifteenth time they have met in a final round and Ron has now won seven of those encounters. John still has a commanding 44 - 26 lead in their head-to-head match ups, and did you know the only round that Ron has a winning record against John in is the first round (7-6)?...With his win Ron has now done something that only one other driver has done and that is beat John twice on holeshots in the final round. Did you know that he also beat John that way at Bristol in 2006? And the only other driver to have two holeshot wins against John in the final round is Del Worsham. And did you know that the only drivers to have more wins against John than Ron are Cruz (8) and Tony Pedregon (10)?... ....In addition to winning the race for Team Schumacher Ron also helped Don's team secure the top three spots in the qualifying and that included a pair of 3-secoond runs by teammates Matt Hagan and Jack Beckman. Did you know that was the first time this year and the first time since the Virginia race at the end of the 2009 season that Don's drivers occupied the top three spots at the end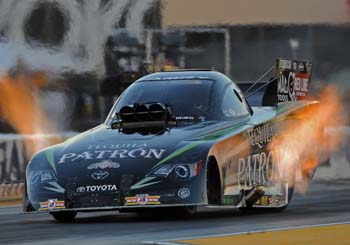 Alexis DeJoria had a good outing
advancing to the semifinal.
of qualifying? That should tell you just how tough the Funny Car class is right now....
Alexis DeJoria
had a good race and she almost made the final round,
almost
being the operative word. Still, to come from the last spot in the field, and to beat Matt Hagan and
Robert Hight
before falling to John Force in the semi-finals was quite an accomplishment, after all it's tough to get that far from the sixteenth spot in the lineup.
Did you know
that the last number sixteen qualifier to make the semi-finals in Funny Car was
Jeff Arend
at the Phoenix race in 2011?..Besides the great racing and the barrage of 3-second Funny Car runs the big story in
Sonoma
was the fact that
Ford
is pulling out of drag racing after the 2014 season. As nice as it was to see them in the Funny Car ranks I always thought they should have had some real involvement in Pro Stock, after all they are certainly more like the cars they sell than the Funny Cars, but the fact that they are pulling out is significant for a couple of reasons. Drag racing without the "blue oval" brand around just won't be the same, although the sport will weather the change as it has all the changes over the years. John Force's teams will be impacted heavily,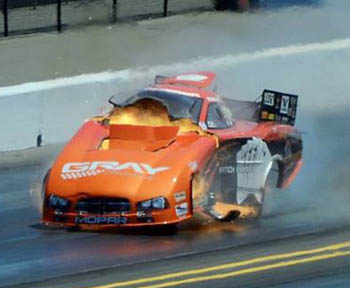 Johnny Gray had a big
engine explosion in round two.
Photo copyright 2013 Will Lester/Inland Valley Daily Bulletin
obviously, but everyone feels they will land on their feet and sign with another brand. The big question is what will
Bob Tasca
and
Tim Wilkerson
do? At least Tim is unencumbered by a relationship with Ford, but that's not something that Bob can say. When your family has a relationship with Ford going back generations, and when all the cars you have run and sponsored, not to mention sell, have been Fords, what do you do? Bob is between the proverbial rock and a hard place with this one. I will say this, I sure hope he stays in the Funny Car class because he's a talented driver, a great interview, a wonderful family man and he is very good for the sport. It will be interesting to see how this plays out.I wasn't there but from what I heard
Johnny Gray
had a huge explosion and apparently he isn't a big fan of the new tethering rules for the Funny Car bodies and that may be the understatement of the year..I forgot to mention last week that I went back and checked up on Cruz Pedregon's record and I noticed that he won the Denver race in 1993 and again this year, which is, if my math is correct (and it isn't always) a twenty year gap.
Did you know
that's the biggest gap between wins for any professional racer at the same event?
Frank Bradley
went fifteen years between wins at the Winternationals (1976 - 1991) and
Mike Edwards
went a dozen years between wins at
Seattle
(1997 - 2009), but Cruz's two decade long drought is, by far, the longest in pro class history for a driver who raced in just one class. Just thought I would point that out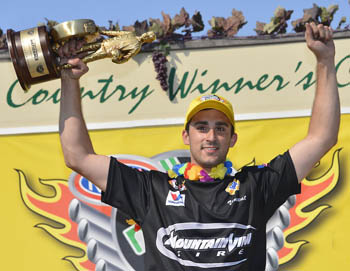 Vincent Nobile celebrated
second win of the season.
Vincent Nobile beat Jeg Coughlin in an all-Dodge final round in Pro Stock and that was after he beat Jason Line, Mike Edwards and Greg Anderson in the three rounds before that. Anytime you win a race it's great, but anytime you do it by beating four former World Champions it has to be extra special. Of course the fact that Vincent was first off the line against all of his opponents (Anderson fouled out) is something that we have come to expect. Let's face it, the kid can drive. Nice job Vincent and congratulations to his dad John and the entire Mitsos family (the car owners) on a wonderful weekend..I guess we have to tip the Mopar cap to Roy Johnson, too, since his son, Alan, was also in the semi-finals which meant all three of the Dodges running out of his Tennessee shop had a great trip to the wine country.Did you know that this was just the second time in the twenty-six year history of the Sonoma event that two Dodges faced off for the championship? The other time was 1994 when Darrell Alderman beat Scott Geoffrion for the championship..The top ten drivers are pretty much set in the Pro Stock Car class and the only real question is who will end up number one going into the "Countdown." Mike Edwards still leads Alan Johnson by a little more than three rounds, and while there are twelve rounds to go before the cut, picking up three rounds on Mike isn't easy. Of course AJ did pick up one this week, so we'll see..Jeg made the final round by using two things, his right foot and his left foot. Ok, so there was probably more to it than that but he had a good car (the right foot on the gas) and he won a couple of rounds on holeshots (the left foot off the clutch). Did you know that Jeg, with his two holeshot wins on Sunday,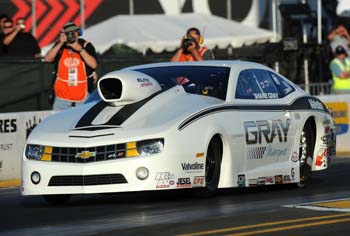 Shane Gray with another good race.
now has a total of 87 holeshot wins in his career? And
did you know
that this was the thirteenth race where he has had two holeshots on the same day? He has more multi-holeshot races than most guys have holeshots. Really! Stop me if you've heard this before, but that guy can drive! And one more thing, his three round wins gave him 514 for his professional career and
did you know
that moves him into the top ten on the all-time win list?...
Shane Gray
keeps getting better. The second-generation driver didn't win but he did set low elapsed time of the event in Pro Stock.
Did you know
that is the first time that Shane has had the quickest car on the property? He becomes just the 59
th
driver to ever record low elapsed time in the class and he is now one of twenty-four drivers who have done it just once. Among the others with one are
Jack Roush
,
Bobby Yowell
and
Dave Kanners
. I mentioned Greg Anderson's foul and that is not like Greg even if he was going up against the boy wonder, Vincent Nobile, in the semi-final round.
Did you know
that in 808 rounds of racing that was only the nineteenth red light for Greg in his career? .With his two round wins on Sunday Greg now has 577 for his career and that's just 20 short of
Bob Glidden's
mark of 597. Since numbers don't always tell the whole story I thought I should mention that Bob reached his total in 327 races, and
did you know
that the
Sonoma
race was Greg Anderson's 327
th
race? What are the odds, or did I already say that? In his career Bob competed in 817 rounds and Greg has now competed in 808.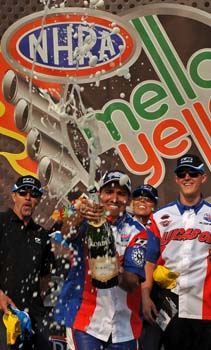 Hector Arana Jr. celebrates fourth win this season.
The Pro Stock Motorcycle class really does appear to be wide open this year and I can't remember the last time a rule change had such an adverse effect on one particular brand, make or model of vehicle. The Harley-Davidsons, which had their way with the class the last two years, are hardly competitive this year. Shawn Gann's win in Denver and Hector Arana Jr.'s four wins already this year are an indication that the Buells certainly seem to have the upper hand in the class. I have always said that as long as there are two or more combinations in the same class you are never going to make everyone happy. It didn't work in the alky dragster class (although they are close right now), and going back many years it didn't work when they tried to level the playing field in the Pro Stock Car category when there were big blocks and small blocks competing. It's tough, but I guess that's why the guys in the home office make the big bucks..Hector Arana Jr. beat Matt Smith in the final round at Sonoma and that was a battle between the number one (Matt) and number two (Hector) qualifiers. Did you know that was the 89th time in the 348 Pro Stock Motorcycle races that the top two qualifiers have advanced all the way to the final round? It was also the second straight year and the third time altogether that it has happened at Sonoma. And how about this amazing little tidbit? In the 748 races in Top Fuel history the number one and two qualifiers have met exactly 89 times in the final round, and in the 730 Funny Car races did you know how many times the top two qualifiers have met? You guessed it, exactly 89 times. What are the odds?....Last week I mentioned the fact that when Shawn Gann won in Denver in 2004 there were only four riders, including Shawn, who were still active full-time in the class. Did you know that in 2004 there were eight riders who won a national event and Shawn is the only one of them to win this year, too? Two of those winners in 2004, Andrew Hines and Steve Johnson still could win this year and another one of them, Antron Brown, is busy racing in some other class.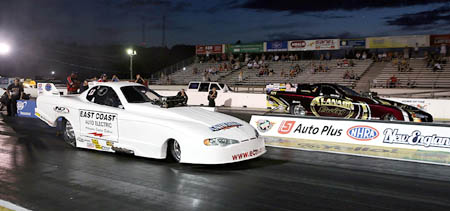 John Anderika defeated Frank Manzo
Photo copyright 2013 David Smith Photos
Since it is a bit hectic at this time of the year (a major understatement) there are a few things from two weeks ago that I would like to mention and didn't last week. First of all, congratulations to John Anderika for winning his first Lucas Oil event in the Top Alcohol Funny Car class at the Epping Division 1 event, and the fact that he beat Frank Manzo in the final round had to make the win even sweeter, but so did the fact that he had been trying so hard for so long to win one of these races. Did you know that John had been to ten final rounds in the alky class before he got his first win?...Todd Veney, who was competing at that event with the Jay Blake "Follow A Dream" car, writes stories for the alky racers that summarize the events (and not just the ones where he is racing) and he had a fascinating stat in his article about the Epping final. Did you know that when John beat Frank, 5.695 to Frank's losing (red light) 5.601 those were the exact same elapsed times for both drivers as their final round meeting at that same event in 2012? As I said earlier in this column, what are the odds? Nice job, Todd..And a few notes about some recent sportsman activity. Congratulations to Dan Fletcher who won his 83rd national event of his career, and second on the "Western Swing," when he beat Brent Calvert in the Stock Eliminator final round in Sonoma. Did you know that Dan is now all alone in fifth place on the all-time NHRA win list for all classes? Nice going, Dan. Hey, if he wins Seattle does he get credit for a "Sweep" even if he did it in two different classes? I vote yes...And just because I love sportsman racing and racers, especially those who do things a little differently, how about the top two qualifiers in Super Stock at the Denver race? There was Larry Schmidt in his classic 1955 Chevy at the top of the page and he was followed by Mark Prothero in his SS/VX Volkswagen. Now I ask you, how cool is that?




NHRA: 10 Most Recent Entries [ top ]

Apr 20- HOUSTON - Super Stock Qualifying, Session #1 Order
Apr 20- HOUSTON - Stock Eliminator Qualifying, Session #1 Order
Apr 20- HOUSTON - Rickie Smith Looks to Continue Strong Start at E3 Spark Plugs NHRA Pro Mod Drag Racing Series Race
Apr 20- HOUSTON - Erica Enders Hopes Turnaround Comes at Hometown Track for NHRA SpringNationals
Apr 19- HOUSTON - Friday Schedule
Apr 19- Tige Boats Named Presenting Sponsor of E3 Spark Plugs NHRA Pro Mod Drag Racing Series Portion of NHRA SpringNationals
Apr 19- HOUSTON - Previous Success, Early Win has Funny Car's Courtney Force Excited
Apr 18- Haney Headed for NHRA Pro Mod with Summit Racing on His Side
Apr 18- HOUSTON - Richie Crampton Enjoying Early-Season Success Heading to 31st Annual NHRA SpringNationals
Apr 18- 2018 Mustang Cobra Jet Celebrates 50th Anniversary of Racing Legend with Quickest