Tue, 16 Jul 2013, 18:04 PM



What A Return



By Bob Frey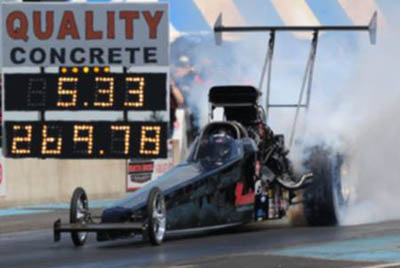 Shawn Cowie set low E.T. and qualified No. 1 on his
first pass in competition after accident.
Photo copyright 2013 Bob Johnson Photography
While the
NHRA Mello Yello
tour took a very well deserved week off there was a development in the sport that I thought was as significant as any we have seen in a while, especially on a personal level for one driver and one team.
Shawn Cowie
, who was in a near fatal accident a little over two years ago, returned to action for the first time since that near fatal day and he looked like he hadn't been away at all. Driving the family's car, one of the best blown alcohol dragsters in the country, Shawn made it to the final round at the Division
6 Lucas Oil
event in
Woodburn, Oregon
, and if that wasn't enough he beat
Chris Demke
to take his first win since the accident. Just the simple fact that he was back at all was significant, but the fact that he won the race was even more impressive. Shawn was at the NHRA national event at
Pacific Raceways
last year and told
ESPN
that he would be back behind the wheel as soon as he was physically capable of doing so, and the fact that it was almost a year since he made that statement, and more than two years after the accident that almost claimed his life, is a strong testimony to the type of person he is and the character that he has.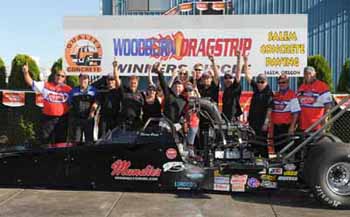 Cowie and crew celebrate win.
Photo copyright 2013 Bob Johnson Photography
After the accident there was talk that he may never walk again, let alone drive a race car again, but Shawn was determined to prove everyone wrong, and he did. His entire ordeal reminds me of what
John Force
went through in 2007 after his accident in
Dallas
. The only real difference is the fact that John's was on the race track and Shawn's happened while he was enjoying a leisurely ride on his motorcycle while on his way to a race. He is a wonderful and courageous young man and it's great to see him back behind the wheel of a race car. But better than that, it's just great to see him alive and well and enjoying life again, because for a while we weren't sure that would ever be the case. Congratulations Shawn and thanks to his family, friends and fellow racers for all of their support. It's this kind of story and this kind of person that makes our sport so wonderful, especially when it has a happy ending..By the way, did you check the results from that D-6 race and did you see the quality of cars they had especially in the two alcohol classes? It used to be that if you wanted to score some easy points in the alky ranks you stopped by a D-6 event. Well, if you try that these days you are in for a rude awakening because their fields have been great both in quantity and quality..Speaking of that, did you see what
Todd Miller
did with his AA/AM entry at Woodburn? How about a 6.270 in qualifying? Now that's some run for a car like that in Competition Eliminator and it's well below the existing national record. They have Comp at the upcoming
O'Reilly Northwest Nationals
so let's hope Todd and his nasty little car show up because that should be fun to watch.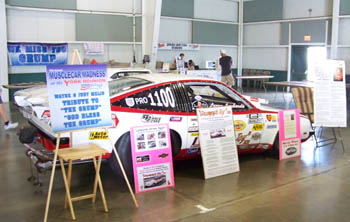 York Dragway Reunion
One of the things that I enjoy doing in my spare time these days is going to events that I was never able to attend because of my work schedule. One of those events was the Muscle Car Madness and York Dragway Reunion that is held at the York Expo Center. They have held this event for over a decade and it is spearheaded by former NHRA Division Director Darwin Doll and his wife, Pat. I had heard that it was a lot of fun but never knew that it would be as great as it was. Hundreds of cars, thousands of fans and millions of stories, some that were even true, highlighted the two-day event. For me it was an opportunity to catch up with some old friends, like the 1965 Super Stock Nationals winner Bob Harrop, and renew some old acquaintances like 1972 NHRA World Champion Jim Walther. It was a wonderful event and I wish I had more than just one day to enjoy it, but enjoy it I did. Next up on my "to do" list is a visit to Bruce Larson's annual open house in November. I can't wait..I also attended an event as a "worker" or a guest and that was the big 4th of July event at Eddyville Raceway. With help from everyone at Musco Lighting, which is based in Oskaloosa, Iowa, they had a wonderful race complete with Nostalgia Funny Cars, jets, wheelstanders and much more. "Big Daddy" Don Garlits made his first appearance ever at the track and to say that he was a big hit would be an understatement. Scott Gardner and his entire team run a great operation and they are the same ones who will be putting on the latest version of the World Series of Drag Racing at Cordova in August. If you have never been to that event you should put it on your calendar because it's a blast.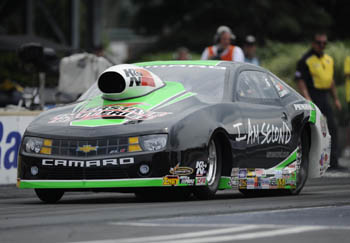 Mike Edwards
Photo copyright 2013 NHRA
OK, vacation's over now get back to work! After four races in four weeks everyone, and that includes racers and workers, needed and got a well-deserved week off, but that's over and now it's on to the famous "Western Swing" that features three more races in as many weeks and the tracks aren't exactly right next to each other. Denver, Sonoma and Seattle will be the three stops on the Mello Yello tour and by the end of that stretch, besides being tired, we should have a much clearer picture of which teams are in and which teams need to improve in order to be in the "Countdown" to the championship. I know for me it always seemed like once we finished the "Swing" we were in the home stretch of the season, but the fact is there will still be races in Brainerd and Indy before we set the field for the "Countdown."..Mike Edwards has already secured his spot in the "Countdown" and he can take it easy between now and Charlotte, the first race in the "Countdown". He can, but he won't. Mike will bring his Chevrolet to Denver in an effort to win the race and put more pressure, at least mental pressure, on the other Pro Stock teams. The one thing that most of the Pro Stock team won't have to worry about over the next few races is qualifying. Did you know that, as of the time I wrote this article,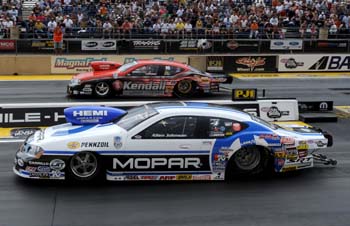 A. Johnson defeated Gaines
in the final last year.
Photo copyright 2013 Auto Imagery, Inc.
there were only sixteen cars entered for the
Denver
race and eighteen each for
Sonoma
and
Seattle
? That means that the contenders for the "Countdown" in Pro Stock can actually use Friday and Saturday in Denver as test sessions, and in the interest of fair reporting, they probably won't have a lot to worry about when they go to the next two races on the schedule. Be that as it may, the leaders will all be gunning for all the points they can get in order to secure a higher spot once the "Countdown" actually begins...If you had to pick a favorite this week you would probably be wise to pick one of the
Mopars
that are entered in the field.
Did you know
that the
Dodge
drivers hold eight of the ten quickest runs in
Bandimere Speedway
history?
Allen Johnson
himself holds seven of those time slips,
V. Gaines
and his Dodge has one while
Jason Line
and
Mike Edwards
are the only GM drivers to crack the list. When you add in the fact that Allen has made it to the final round in each of the past six events at Bandimere Speedway, and won four of those races, it's easy to see why a Mopar, or more precisely Allen's Mopar, looks like a good pick this week. As good as he has run at Bandimere
did you know
that there has only been one other Dodge to win at the Mile-High nationals?
Darrell Alderman
won in 1994 when he beat
Mark Osborne
in the final round. And the only time that there were two Dodges in the final round was last year when AJ beat the hometown favorite, V. Gaines for the money..As far as the "Countdown" is concerned V. Gaines currently is in tenth place and his closest competitor,
Greg Stanfield,
is 172 points back. I know there is a lot of racing to go but I believe we know which ten drivers will be in the "Countdown" this year..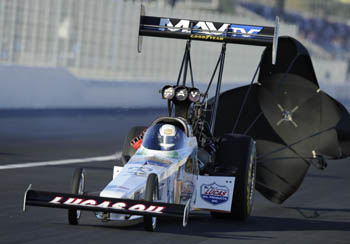 Brandon Bernstein
Photo copyright 2013 NHRA
Top Fuel looks very interesting with spots at both the top and bottom of the top ten still up for grabs. When you consider that Brandon Bernstein is in eleventh place and David Grubnic is twelfth it just shows you the depth of the field this year. Of course Brandon lost ground when he had to sit out because of his back problems, and while there is still time to make the "Countdown" he will have to get very hot over these next few races, that is if he drives at the next few races..Shawn Langdon leads Tony Schumacher by a point for the best mark in Top Fuel and both have to be considered threats at every race. Tony has won this race a couple of times but not since 2008, and for the Army team that's like a huge drought. When you add in the five other finals that he has been in at this event it's easy to see that Tony, Mike Green and the crew love coming to Colorado. Must be something in the air, or the lack of it..Antron Brown is the defending champ and he will try to accomplish a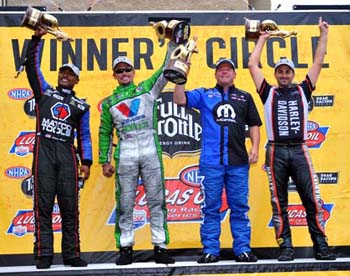 Last year's winners.
Brown, Beckman, Johnson and Krawiec
Photo copyright 2013 Auto Imagery, Inc.
couple of things this week. Obviously he would love to defend his title, but that's not easy to do.
Did you know
that the last Top Fuel driver to win back-to-back races at Bandimere was
Joe Amato
? And if he can't win the race Antron would at least like to win a few rounds this week. In 2013 he has already dropped seven round one matches but he has also been to three final rounds, so the way it looks it's either all or nothing for Antron this year..Racers often look forward to coming to certain tracks and I think Antron loves coming to Bandimere.
Did you know
that in fifteen previous trips to the track, including ten in the motorcycle class and five in Top Fuel, Antron is 13-2 in round one? And he has never lost a first round race in the dragster class so maybe this is the get-healthy race and track that he needs. We'll see..When Antron joined Allen Johnson in the winner's circle last year they shared the stage with
Jack Beckman
and
Eddie Krawiec
and that meant that all four winners in
Denver
went on to win the NHRA World Championship.
Did you know
that was just the second time that happened at the
Mopar Mile High Nationals
? The other time was 1994 when
Scott Kalitta
, John Force, Darrell Alderman and
Dave Schultz
all used the
Denver
race as a springboard to the championship.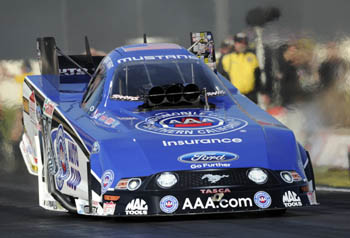 Robert Hight
Photo copyright 2013 NHRA
The defending champ, Jack Beckman, will be just one of seven former winners of the event to race in Denver this weekend. In the long history of this race only John Force and Tony Pedregon have won in consecutive years so the reigning champ has his work cut out for him. Since I mentioned the "Countdown" it should be pointed out that Robert Hight is the odd man out right now and that may be the surprise of the season. With a lot of good quality teams in the class Robert, who has won this race twice, trails Bob Tasca by just three points and he can make that up with qualifying points. He can, I'm not saying he will, but he can. Del Worsham, who has been running well lately, is in ninth place and he is forty-five points ahead of Mr. Tasca, so the battle for the last spot in the "Countdown" is going to be one to watch over the next few races..Speaking of Del it was his teammate, Phil Burkart, who won the race in 2004 in one of the wildest weekends ever on the mountain. Did you know at that race all of the drivers who were in the top ten, with the exception of Phil, lost before the semi-finals? The third round included Phil, Cruz Pedregon, Tommy Johnson Jr. and the Australian driver, Robert Schwab. That was one of the wildest weekends ever at Bandimere, a race that traditionally goes to the front runners in the class. I'm not sure there has ever been what you would call a major upset in the Funny Car class, other than Schwab making the semi-finals.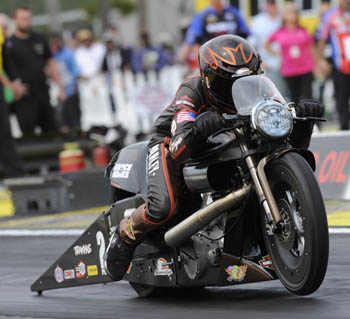 Andrew Hines
Photo copyright 2013 NHRA
If Robert Hight being out of the top ten right now is big news the fact that Andrew Hines is twelfth in the standings rates banner headlines. The new rules in the Pro Stock Motorcycle class, which I'm sure some teams love and others hate (and you can figure out which is which), have the two-wheel teams fighting and clawing for every point they can get. The rules have changed so much in the bike class over the years that runs that were made years ago still rank among the best at Bandimere. Did you know that the Bandimere track record in the bike class is 186.54 miles per hour? Now you might think that was by one of the Harley-Davidson riders in the last two years but that would be incorrect. Ryan Schnitz set the record and he did it in 2005, and the second fastest run was made by Michael Philips, a 186.41 mph blast that he did three years ago...For years there have been some suspicious speeds in the bike class, and that phenomenon goes way back, and that can be caused by a lot of variables, but whatever the case Ryan's run still stands as the Bandimere track record. By the way, did you know that the Brainerd track record in the bike class was also set in 2005? Andrew Hines ran 196.82 and that still stands as the fastest run ever at the zoo, I mean Brainerd...With the new rules in the bike class it's no surprise that we have seen a batch of new winners this year. As dominant as the Harleys were last year did you know that Michael Ray is the only motorcycle rider to have won a race in each of the last two years? At least, so far.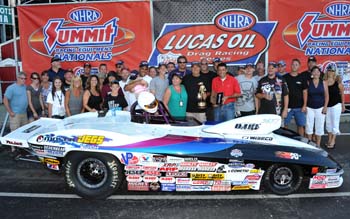 Ray Connolly celebrates Norwalk win.
Photo copyright 2013 Auto Imagery, Inc.
With the mention of the Division 6 race I should point out that two of the most prolific winners n the Lucas Oil tour won at Woodburn. Jimmy DeFrank picked off the Super Stock title while Jody Lang won Stock Eliminator. Did you know that both of those drivers are in the top twenty all-time on the division winner's list?...And I don't think I mentioned this before, but I should have. When Ray Connolly won Super Gas at the Norwalk race he became the first driver in 322 races to win Super Gas at back-to-back national events. Did you know the last guy to do it before Ray, who also won in Chicago, was Rod Fuller who did it at Maple Grove and Topeka in 1999?




NHRA: 10 Most Recent Entries [ top ]

Apr 23- HOUSTON - Sunday Video
Apr 22- HOUSTON - Sunday Pro Mod Wrap Up