Tue, 16 Jul 2013, 12:52 PM



Cowie Makes Triumphant Return in TA/D, Lombardo Takes TA/FC



By Todd Veney/ Pro Sportsman Association


Photo copyright 2013 Bob Johnson Photography





WOODBURN, Ore. --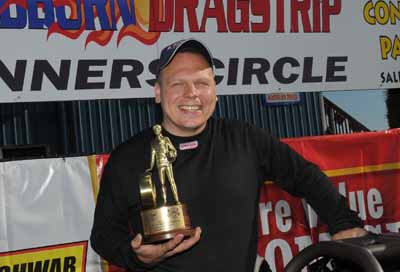 Shawn Cowie
Sidelined Top Alcohol Dragster star Shawn Cowie, critically injured in a motorcycle accident two years ago in Nashville and told repeatedly that he'd never race again, won the Les Schwab Challenge at Woodburn Dragstrip his first time back in the seat, qualifying No. 1 and defeating red-hot Chris Demke in the final. In Top Alcohol Funny Car, John Lombardo Jr. returned to early season form with a hard-fought win over the second-quickest field ever assembled.
Cowie's triumphant return began with a 5.45 test run on Thursday that was a victory in itself. Just getting the car down the track would have been a major accomplishment, but Cowie qualified No. 1 with a 5.33 that held up throughout eliminations for low e.t. and ran low e.t. of two of three rounds, including the final, where he edged Demke, 5.41 to 5.43, to cap a fairytale weekend.
Demke, coming off a win at the Route 66 Nationals, qualified No. 2 behind Cowie with a 5.39 and advanced to his seventh final already this season with back-to-back 5.38s against Megan McKernan, who backpedaled into a wheelstand, and track co-owner Joey Severance, who banged the blower.
Cowie's Mundie's Towing team took out defending event champ Gregg Lawrence in the opening round with a 5.37 and Norwalk runner-up Ray Martin in the semi's with a 5.41. Demke and Cowie left simultaneously in the final with .054 reaction times, and Cowie pulled ahead to win by half a car, 5.41, 267 to 5.43, 268 as Demke fell out of the 5.30s and the 270-mph zone for the first time all day.
Demke's 271.00 in the semifinals was good for top speed of the meet, and his latest final-round showing catapults him over yearlong leader Jim Whiteley and into the national points lead. Cowie's victory actually is his second in a row; in his last race before his accident in April 2011, he won the SummitRacing.com Nationals in Las Vegas.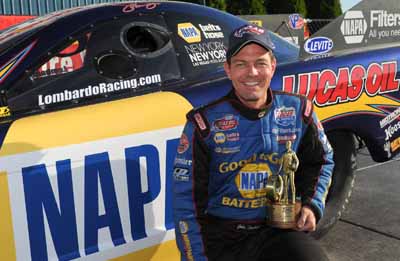 John Lombardo Jr.
Lombardo scored in Top Alcohol Funny Car for the first time since the season-opening Winternationals in Pomona. He lost photo-finish finals at both the national and regional events in Houston and was upset in the first round in his most recent outing, at Tulsa. This time a close final went his way, 5.70 to 5.75 over defending event champ Jay Payne.
The final was the only race all day in which the lower-qualified driver didn't win. No.8 Payne defeated No. 5 Steve Gasparrelli in one semifinal match, and No. 7 Lombardo took out No. 6 Sean Bellemeur in the other. In the first round, all four drivers from the top half of the field lost - No. 1 Clint Thompson to Payne, No. 2 Doug Gordon to Lombardo, No. 3 Annie Whiteley to Bellemeur, and No. 4 Brian Hough to Gasparrelli.
Qualifying was a show in itself. The bump was a 5.663 - the second-quickest ever behind only the 2009 Sonoma event (5.659 bump) won by Gasparrelli. Four drivers from that field also were a part of this one: Lombardo, Gordon, Gasparrelli, and Payne.
Oregon's Thompson qualified No. 1 with a 5.60, and another home state driver, Hough, set top speed with a barrage of 260-mph blasts, including a best of 262.23. Former Division 7 champion Terry Ruckman and 2013 national event winner Jirka Kaplan ran in the 5.60s and didn't qualify, and top-five driver Shane Westerfield just missed with a 5.70. The entire field was separated by less than six-hundredths of a second, from Thompson's 5.604 to Payne's 5.663.
Only one run in all of eliminations would have been quick enough to make the field - Lombardo's 5.62 in the first round. He ran a 5.70 against Bellemeur in the semifinals, Payne dispatched Gasparrelli a 5.75 in the other semi, and both drivers duplicated their semifinal times in the final.




LODRS: 10 Most Recent Entries [ top ]

Apr 23- LODRS 1-1 - Event Wrap Up
Apr 22- LODRS 1-1 - MXI/Magnaflux Top Dragster presented by Select Performance Final, Round 5 Eliminations
Apr 22- LODRS 1-1 - MXI/Magnaflux Top Sportsman presented by Select Performance Final, Round 5 Eliminations
Apr 22- LODRS 1-1 - Stock Eliminator presented by ATI Final, Round 7 Eliminations
Apr 22- LODRS 1-1 - Super Stock presented by ATI Final, Round 7 Eliminations
Apr 22- LODRS 1-1 - Super Street Final, Round 5 Eliminations
Apr 22- LODRS 1-1 - Competition Eliminator Final, Round 5 Eliminations
Apr 22- LODRS 1-1 - Super Comp Final, Round 6 Eliminations Results of final, round 6 eliminations in Super Comp at the NHRA Lucas Oil
Apr 22- LODRS 1-1 - Super Gas Final, Round 6 Eliminations
Apr 22- LODRS 1-1 - Super Comp Final, Round 6 Eliminations