Thu, 11 Jul 2013, 11:44 AM



NHRDA Indiana Diesel Shootout Results



Courtesy of NHRDA



CLERMONT, Ind. --
The 6th Annual NHRDA Indiana Diesel Shootout turned out to be a record breaking event as five different NHRDA records were broken. Jarid Vollmer and his Bully Dog team set a new NHRDA Pro Street record at 8.81 seconds and 157.04 mph at the event. In Pro Stock Wade Moody went 7.48 which is quicker than the current record but he had some mechanical issues when he tried to back up the run for the record. The Top Diesel class saw the Scheid Diesel Dragster run a 215.34 mph pass in the final round and the team was not able to back it up either.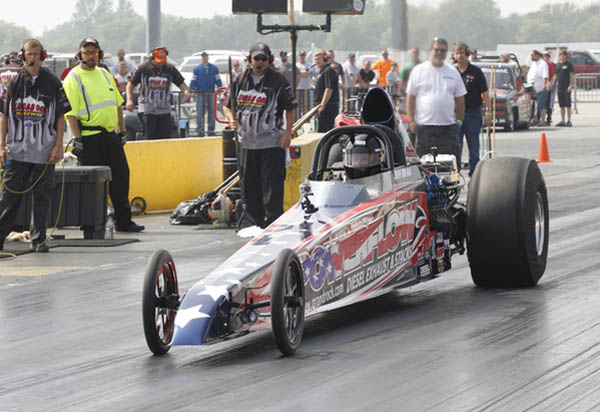 Top Diesel Winner Jeff Dean
This was the fifth stop on 2013 NHRDA MBRP Diesel Drag Racing Series and saw some new faces in the Winner's Circle, with Jeff Dean picking up his first ever MBRP Cup in Top Diesel, Johnny Gilbert was a first time winner in Super Diesel and Ben Shadday took the win in Super Street. Doug Brarens picked up his 8th career NHRDA victory in the Sportsman class and Phil Taylor took the win in Pro Street for the 2nd time.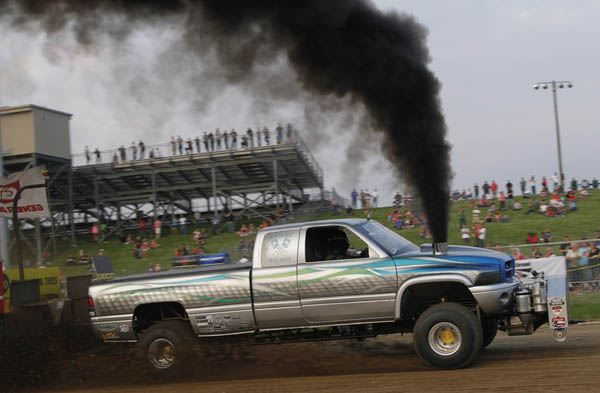 Super Stock Diesel Winner Shane Kellogg
After the drag racing was over it was time to switch over to the brand new NHRDA sled pull track at Lucas Oil Raceway in Indianapolis. The Lucas Oil Pro Pulling League and the NHRDA teamed up to have a dual points event for pullers in the Lucas Oil PPL and the NHRDA Diesel Sled Pulling Series. Shane Kellogg took the win in Super Stock Diesel for the second year in a row. Curt Haisley took the win in 3.0 in his "Off Constantly" Dodge and in 2.6 Diesel John Shriver took the win with a pull of 325.28 feet.
Final Round Results from the NHRDA MBRP Diesel Drag Racing Series:
Top Diesel: Jeff Dean, Lancaster OH, Dragster, 8.900 sec., 109.39 mph defeated Jared Jones, Montezuma IN, Dragster, Red Light, 6.862 secs., 215.34 mph
Pro Stock: Wade Moody, Mechanicsville MD, '01 S-10, 7.815 sec., 159.14 mph defeated Gage Makinen, Billings MT, '99 Chevy, 11.177 sec., 133.08 mph
Pro Street: Phil Taylor, McDonough GA, '98 Dodge, 9.686 sec., 140.39 mph defeated Jarid Vollmer, Chubbuck ID, '07 Dodge, 21.031 sec., 28.02 mph
Super Street: Ben Shadday, Osgood IN, '04 Dodge, 9.930 sec., 131.43 mph defeated Micah Sullivan, Stanford KY, '97 Dodge, 10.157 sec., 134.66 mph
Super Diesel (11.90 index): Johnny Gilbert, Middbury IN, .187 RT, 12.394 sec., 95.23 mph defeated Joel Johnson, Springfield OH, '01 Dodge, Broke
Sportsman Diesel: Doug Brarens, Mt. Pocono PA, '39 Chevy, Dial-In 12.00, .073 RT, 12.078 sec., 108.99 mph defeated Robin Ridgway, Lafayette IN, '01 Ford, Dial-In 16.20, .125 RT, 16.266 sec., 83.73 mph.
NHRDA Diesel Sled Pulling Series Results:
Super Stock Diesel: 1st Shane Kellogg, Kenton OH, "Gotta Have It" Dodge, 326.41 ft., Kent Crowder, Attica IN, "Scheid Diesel" Dodge, 313.29 ft., Matt Clemons, Wakeman OH, "Alter Ego" Chevy, 311.91 ft.
3.0 Diesel: 1st Curt Haisley, Swayzee IN, "Off Constantly" Dodge, 323.78 ft. 2nd Tyler Dillard, Ft. Run KY, "Smokin" Dodge, 323.28 ft., 3rd Terry Biggs, Noblesville IN, "24 Valve Blackout" Dodge, 321.97 ft.
2.6 Diesel: 1st John Shriver, London OH, "Thunderstruck" Dodge, 325.28 ft., Matt Jones, Normal IL, "Gunslinger" Ford, 323.88 ft., Ben Braunecker, Jasper IN, "Cummin Atcha", 323.10 ft.
For complete results go to www.nhrda.com and keep up with the NHRDA on Facebook at National-Hot-Rod-Diesel-Association Facebook




Drag News: 10 Most Recent Entries [ top ]

Apr 24- NHRA Heritage Series Heads To Wild Horse Pass
Apr 22- K&N Spring Fling Million Final Day Results
Apr 21- K&N Spring Fling Million Friday Results
Apr 20- K&N Spring Fling Million– Thursday Results
Apr 19- K&N Spring Fling Million- Wednesday Results
Apr 18- Buckeye S/SS @ National Trail April 28th
Apr 18- Don "the Snake" Prudhomme Returns To Baja Competition After 50 Years
Apr 18- K&N Spring Fling Million Tuesday Results
Apr 17- K&N Spring Fling Million Pre-Race
Apr 12- Summit Racing Equipment is Newest Sponsor of Midwest Junior Super Series