Fri, 05 Jul 2013, 10:07 AM



This One's For Dad



By Bob Frey


Photo copyright 2013 Auto Imagery, Inc.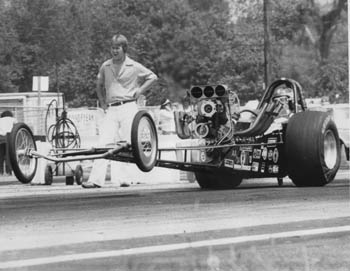 Dale Hall in E-Town from 79'.
The sport of drag racing has been around for a long time, and while most fans remember a few years back and a few of the stars of the past, there are a lot of racers who contributed greatly to the sport and whose accomplishments are sometimes forgotten. In fact, there is a whole class of racers whose exploits may have been almost completely removed from the consciousness of today's fan, and that class is Pro Comp. Long before the days of Top Alcohol Dragster and Top Alcohol Funny Car, the practitioners of Pro Com racing provided some of the most exciting moments at NHRA national events. The group was populated by such stars as Dale Armstrong, Ken Veney and the great Billy Williams, and there were a couple of other racers in there whom you may have heard of, guys by the name of Frank Manzo and Joe Amato. While some of these racers, like Armstrong and Veney, travelled all over the country, most of the Pro Comp racers stayed in their own part of the world and raced at events in their home division or region. Among them were Bogie Kell down south, Don Enriquez out west and Willard Buff in the southwest, and while those racers were tearing it up on their home tracks the northeast part of the country had it's own "killer car" and that was the one driven by Dale Hall.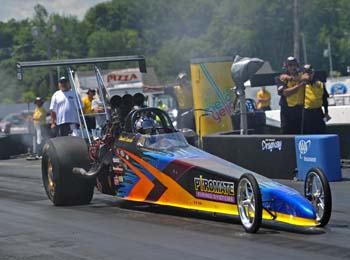 Scott Hall at Epping.
Dale was so good and represented the Northeastern part of the country so well that at one time he was the only driver from outside of the state of California to hold a record in any of the Pro Comp classes. That was in his B/Fuel Dragster, the one that he drove to the 1974 Sanair national event win. His other cars were equally as successful, and to most observers, just as unusual, and they included a string of small-block Chevrolet powered cars that gave the bigger cars and bigger stars fits on the drag strip. In all he won four national events and went to another seven final rounds including two in Competition Eliminator. Toss in almost a dozen final rounds on the divisional level and a couple of Division 1 championships and it's easy to see why the legacy of Dale Hall is one that is celebrated throughout the Northeastern part of the country, if not the entire United States. Recently his son, Scott, made his first venture into the world of drag racing as a driver at a national event and he did very well. Competing at the inaugural New England Nationals in his own back yard, Scott drove a Top Dragster to a best time of 6.004 at 232.15 miles per hour, grabbed the number one qualifying spot, went deep into eliminations and garnered the coveted "Best Engineered Car" award at the event. "That was a lot of fun," Scott said. "I had never driven the car before. It belongs to Dave Lavoie and Dan Page, the chassis builder, works on it. Dave didn't have the grade points to run at the event and I did so we got together. The first run I did so many things wrong and it all turned out right. I took off and the car went left so I pulled it back, then it went right and I pulled it back again. In all I drove about 1,500 feet and went 6.00. If I had done my job right we would have run in the five-second zone, the run would have been thrown out and nobody would have noticed us." As it was a lot of people noticed and Scott went several rounds before bowing out. "I'm not sure if I'll ever drive that car again, but to do what we did in front of my new wife, Sandy, my family and friends was really great." When he says his "new wife" that's exactly what he means. The two were married three and a half months ago at the Las Vegas national event in front of an all star drag racing gathering. "I've been very fortunate to meet and become friends with a lot of people in this sport," Scott said. "And that's one thing that my wife loves about drag racing. She says it's one big, happy family and it's like we're on a camping trip where we just happen to go racing." While I've never heard it put quite like that I know what she means and I agree!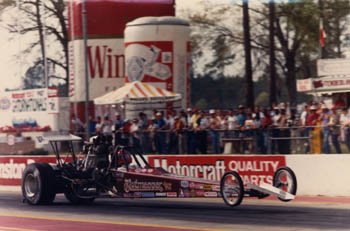 Dale Hall in the Nutmegger at 1987 Gainesville.
One person who wasn't there to see him make his national event debut was his famous father. "Dad was diagnosed with dementia about twelve years ago. He really isn't doing well and we have called in the hospice folks. They are angels, believe me. My mom, my sister and myself have made our peace with the situation and that's really about all we can do." But regardless of the circumstances Scott says that his dad will always be with him. "Yeah, I'll be racing one day and say, 'Sorry dad, I didn't mean to do that. You taught me better.' He'll always be a part of my life." And that will include being part of the new car that Scott is building for himself, a car that will run in the Top Dragster category but it will be a little different from the rest. "Actually," Scott added, "it will be a lot different." That's because he is going to use an engine that his father used to run. "It's a 388 cubic inch small block Buick with DART heads. The engine has been sitting around for sixteen years and when we got it we were amazed at what great shape it was in." Scott will put a supercharger on it, slip it into a new Dan Page chassis and see what he can do with all of those nasty, big block cars that populate the Top Dragster class. "Dad never drove a Hemi and I didn't, either until last week. Let's just keep that a secret between us, ok?" He went on to say that two men who have been a part of his family's racing history are working with him on the new car. "Both Ric Krahl and Norman Case, who was my dad's business partner for over 35 years at Precision Automotive, a company that is still operating, are working with me on the new car. Ric and I have raced together for eight years now. I'm so happy to have them both with me because they started with dad back in 1968."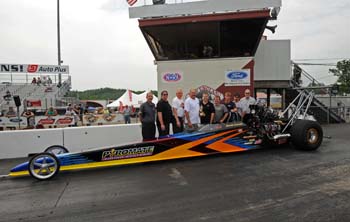 Scott Hall won "Best Engineered Award".
Scott has driven some very fast cars including the 632 cubic inch, nitrous-assisted car that he has been racing for a few years. "In my job as a Sales Engineer for Moroso Performance I get to see and try a lot of neat parts. We did some testing for Edelbrock and DART and a few other companies. I really enjoy my car but this new one is going to be special and I'm doing it to keep my father's memory and legacy alive. Everything he ran was unique and he made it competitive and that's what I want to do with this new car." His father was so competitive that he took his little small-block car to a time of 6.262 at the Maple Grove national event in 1986, a performance that was unheard of for any car in the class at that time. "For three weeks we had the quickest alcohol dragster in the country and that was a great accomplishment. You can get lucky and win a race but you can't get lucky and have the quickest car in the class. Dad was so proud of that fact."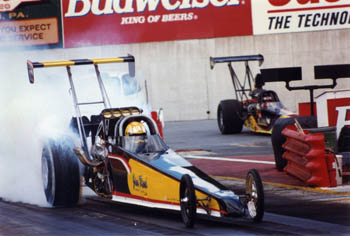 Dale Hall at Reading in 1996.
As anyone who follows the alky classes knows there are always rule changes and weight break adjustments that alter the balance of power in the class, and that's basically what put Dale Hall on the sidelines. "We were running well and Rick Santos was also doing well and putting up some big numbers with his car. NHRA changed the weight requirements for the small block cars and we just couldn't be competitive with the new rules. The saddest part about that is that the last time my dad came to the starting line with his car we had a leak and he was shut off. What a tough way to end a great career." That was at the same Maple Grove track where he had run so well ten years earlier and it was the last time Dale Hall even got in the race car.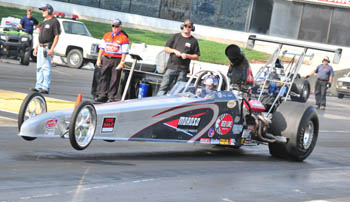 Scott Hall at Reading.
Photo copyright 2013 John DiBartolomeo
The career may have ended prematurely but the legacy of Dale Hall lives on. "He had some great cars, or should I say he made them great," Scott said. "I don't remember the real early days, the Comp cars and even the injected fuel car, but from 1984 on I went to all the races that dad went to. He taught me so much and gave me such a good instinct for the car and what it is doing. I honestly think that's why I was able to save that qualifying run in New England. The things I learned from him are invaluable." Scott still has the '37 Chevy that his dad owned and, as he put it, "I'll always have his memory." And so will everyone who ever saw the "Nutmegger" or any of Dale's cars go down the track. Now the torch is being passed to a new generation who will carry on what his father started, racing with a combination that most people think can't be competitive and then going out and proving them wrong. Dad would be so proud.




NHRA: 10 Most Recent Entries [ top ]

Mar 20- GAINESVILLE - Lucas Oil Drag Racing Series Wrap Up
Mar 19- GAINESVILLE - Sunday Video
Mar 18- GAINESVILLE - Pro Mod Sunday Wrap Up
Mar 18- GAINESVILLE - Sunday Wrap Up
Mar 18- GAINESVILLE - Pro Mod Championship Points
Mar 18- GAINESVILLE - Bonus Points
Mar 18- GAINESVILLE - Championship Points
Mar 18- GAINESVILLE - Mickey Thompson Top Fuel Harley Series Championship Points
Mar 18- GAINESVILLE - Bonus Points
Mar 18- GAINESVILLE - Summary of Eliminations in Top Fuel