Tue, 02 Jul 2013, 21:25 PM



What's A Guy Have To Do?



By Bob Frey


Photo copyright 2013 Auto Imagery, Inc.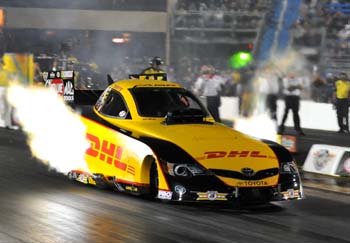 Del Worsham
I know race tracks and their personnel take a lot of pride in being able to say who has the quickest and fastest track in the country. Normally it's the tracks that have national events in the cooler time of the year, like early in the season or in the fall, but it's unusual for a track that has an event in late June to be able to make that claim. Well, after the performance barrage we saw at beautiful Route 66 Raceway over the weekend I think they can rightly say that they have the fastest track in America. Just how quick was it? Consider this. Del Worsham ran 3.999 in the DHL Funny Car and qualified fourth! Fourth, with a three-second run in a Funny Car, and that's because Ron Capps, Bob Tasca and Jack Beckman also made three-second runs and they were all quicker than Del. Like the heading says, what's a guy have to do to be number one around here? Unfortunately the weather didn't cooperate (as is often the case for the folks in Joliet) so not as many fans were able to see these historic runs as should have. As it was the fans who were there were treated to one of the most spectacular qualifying sessions in history and that's a real credit to everyone at the track as well as the NHRA Safety Safari..When qualifying was all over it was Morgan Lucas at the head of the Top Fuel class, Ron in Funny Car, Mike Edwards (again) in Pro Stock Car and Matt Smith in the motorcycle class. And while the other classes weren't quite as breathtaking as the Funny Cars were there was a track record recorded in all but the motorcycle class, so you can see why Route 66 can say that they have the "quickest track in America." Like I said..at least for now.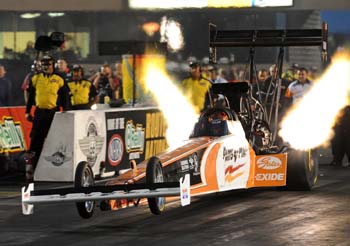 Clay Millican
What's a guy have to do to get a win? Clay Millican, certainly knows what his teammate, Bob Vandergriff, was going through all those years when he kept going to finals and couldn't close the deal, doesn't he? Clay had another shot in Chicago to pick up his first win and all he had to do was beat Tony Schumacher. Of all the people that Clay wouldn't want to meet in the final round it has to be the "Sarge." Did you know that going into their final round encounter Tony was a lofty 20-2 against Clay and that included thirteen consecutive wins? Clay hadn't posted a win against the Army car since the St. Louis race in 2007, and try as he might he didn't get a win on Sunday. This runs Clay's record in final rounds to 0-6, and while it's a long way from Bob Vandergriff's thirteen final round losses before he picked up his first win, Clay has to be a little frustrated. Even though he lost the final Clay is in seventh place in the points, has a good car and a good team and certainly seems poised to be a threat in the "Countdown."..That 20-2 mark (91% and now 21-2) for Tony against Clay is impressive but did you know it's not the best record that Tony has against an opponent? He was 11-1 against Andrew Cowin and Scott Weis (92%) and he was a perfect 12-0 against Hillary Will. I'm not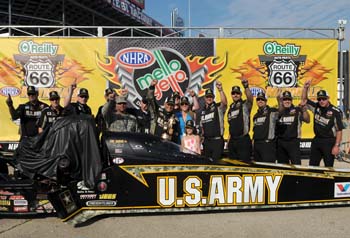 Schumacher and team celebrate win.
sure that will make Clay feel any better I just thought I would point it out..For his part Tony
just continues to have one of the best cars in the class, this year or any year, and his success is because of a combination of things. Obviously he is a very good driver but he also has a great crew and one of the most underrated crew chiefs in the sport in
Mike Green
. Tony's father,
Don Schumacher
, has assembled a great group of people for all of his cars and it sure looks like Tony will be a real factor come "Countdown" time...
Morgan Lucas
was the top qualifier but that's the last thing that went right for him. On Sunday he was beaten in round one by
Terry McMillen
, the number sixteen qualifier. This was Morgan's ninth time as the top qualifier and
did you know
that it was the first time that he lost in round one from the top spot? It's the second time this year that the sixteenth qualifier has won in the opening round and that's about the average for the past five years. In 2012 the last qualifier won three times in round one, they did it twice in 2011, once each in 2009 & 2010 and twice in 2008.
Did you know
that over the course of those five years Terry McMillen has won twice from the last spot in the field and so have
T.J. Zizzo
and
Spencer Massey
? It doesn't happen often but as competitive as the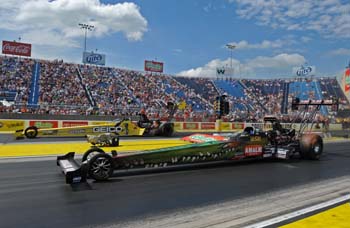 McMillen vs. Lucas
fields are you may see it more and more in the future..Even though he made it to the semi-finals the odds of Terry getting to the final round were huge.
Did you know
that in the history of the Top Fuel class, and that covers 745 races, the number sixteen qualifier has only made the final round twelve times?....Tony went back into the points lead with his win, the 72
nd
of his great career, and that's the fourth time this year that he has been at the top of the standings.
Did you know
that in the history of Top Fuel there have only been two years where a driver was in and out of the points lead four times in the first dozen races? Just two! And do you know when the other year was? How about 2012..
Antron Brown
started from the bottom half of the field for the fourth consecutive race.
Did you know
that's the first time that he has done that in his dragster career and you have to go back to 2003, or 188 races ago when he was on a motorcycle, to find the last time he did it at all?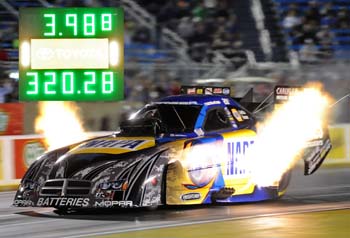 Ron Capps qualified No. 1
The Funny Cars sure did put on a show at Joliet and in the end there were four drivers who qualified in the three-second range and they were paced by Ron Capps. Ron had a very good car but so did a lot of others including his teammate, Matt Hagan and some guy by the name of John Force, the two finalists at the event. It's always a good race when a car for Team Schumacher meets a car from Team Force and this time it was Don's team winning in his backyard. Matt's win set the stage for another "double" for Team Schumacher and they have now done that five times this year and that's very impressive. Of course anytime you can stop John in a final round it has to make the win even sweeter,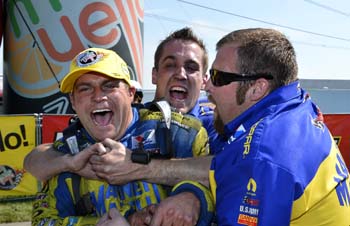 Hagan and teammates celebrate win
don't you think?....John has been surging lately and that's not good news for the rest of the Funny Car teams. Of course it was at the
Joliet
track where John broke
Bob Glidden's
record of 85 wins in 2000. With the win Matt stays at the top of the points while John has vaulted up to third with his performance at the past few races. By the way, with four races in four weeks do you think all the annual hype about the famous "Western Swing" should be cooled down a little? Just a thought..Matt might have won the race and I guess he also gets bragging rights in the Team Schumacher camp since he beat his teammates,
Johnny Gray
and Jack Beckman in the first two rounds. It's probably a good thing that he didn't meet up with Ron along the way since that is the only one of his teammates whom he hasn't beaten this year...Bob Tasca joined that exclusive three-second club when he ripped off a 3.988 in qualifying. Bob is now just three points out of the top ten and that means that every run and every race from now on will be critical if he wants to make the "Countdown."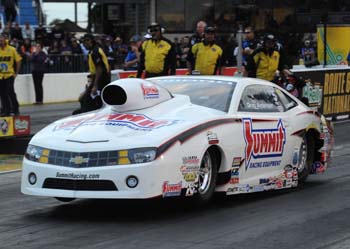 Greg Anderson
If I told you that going into the final round of Pro Stock, where Jeg Coughlin was going to face Greg Anderson, that one of those drivers had won three rounds on holeshots I'll bet you would have picked Jeg, and if you did you would have been wrong. Greg Anderson, who is struggling through a "very frustrating year" as he put it, advanced to the final round by beating V. Gaines, Erica Enders-Stevens and Mike Edwards on holeshots and he was looking to make history in the final round. Did you know that no driver has ever won four rounds on holeshots at the same race in any of the Mello Yello (professional) classes? Greg became just the fifteenth driver in history to win three rounds by being first off the starting line, and not surprisingly, ten of those drivers are Pro Stock racers. Only one driver has ever done it twice and that driver may surprise you. Did you know that George Marnell won two national events in his career and at both of them he won three rounds, including the final round, on holeshots?...Jeg looks very tough, and as I said before we know he can drive and now we know that he has a very good car so he'll be really hard to beat in the "Countdown." Did you know that his win was the 75th for Dodge in the Pro Stock class? The first, in case you were wondering, was won by Dick Landy at the 1970 Summernationals..Jeg's win was noteworthy for another reason. Did you know that he now has seventy wins and he passes Kenny Bernstein for tenth place on the all-time national event win list?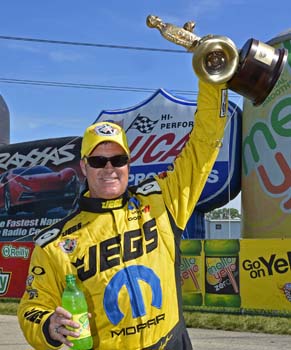 Jeg Coughlin celebrates win.
Congratulations, Jeggie..Greg didn't win the race but his four rounds did give him a total of 803 for his career.
Did you know
that Greg is just the thirteenth driver in history to go over the 800 round mark?...There was an interesting race in round one when
Vincent Nobile
faced off with
Greg Stanfield
and that's because it matched two of the best "leavers" in the sport. For his career Vincent has been first off the line an amazing 77% of the time while Greg has been first 68% of the time. For the record, Greg had a very good .018 reaction time and still left after Vincent. What's a guy have to do to leave first around here?.....When I say that those two are very good I guess the best way to illustrate it would be to compare them to one of the best, Jeg Coughlin. Generally acknowledged to be excellent on the starting line
did you know
that for his career Jeg has "left first" 64% of the time. See, I told you they were good!
The bikes have only been to six of the first twelve races this year so they will start to get a little more active now and we may see which bikes or which teams have the advantage going into the "Countdown." Although it's too early to tell I can say one thing, it appears that it won't be the Harley-Davidson teams. After having their way with the class the last couple of years the Harleys, and by that I mean Eddie Krawiec and Andrew Hines, are finding the new rules
Michael Ray celebrates win.
very, how can I put this, confining. Not only are they not winning races they are just barely making the fields. Case in point.Chicago, where Andrew was fifteenth and Eddie was sixteenth in the field.
Did you know
that Eddie has qualified sixteenth just twice in his career and they have both come this year, and he has been in the bottom half of the field at every race in 2013? While I have unlimited faith in the talents of the
Vance & Hines
team it may take everything they have to make the two competitive with the rules the way they are right now. Having said that I'm sure there aren't a lot of tears for them in the motorcycle pits especially after the way they steam rolled through the class last year.
Michael Ray
was the winner on Sunday when he beat the top qualifier,
Matt Smith
, in the final round. Michael, who started from the tenth spot in the field, now has three wins with two of them coming in the last three motorcycle events..I mentioned how tough it was for a dragster to make it to the final round from the sixteenth spot, well it's not much easier for a bike rider to do it from the tenth spot.
Did you know
that Michael became just the fourth rider in 345 Pro Stock Motorcycle events to win after qualifying tenth? And how about this; of all four of those winners three of them have won at the
Chicago
event.
Ryan Schnitz
did it in 2006,
Matt Guidera
did it in 2009 and now Michael..Michael beat Matt, the top qualifier, in the final round and that's unusual.
Did you know
that the last thirteen times the number one qualifier in the bike class has made it to the final round they won the race?...With the struggles of the Harley riders the top five has a distinctly different look than it has ever before with
Hector Arana Jr.
at the top, Michael is in second,
Hector Arana
is third followed by
John Hall
and Matt Smith. Interesting, isn't it?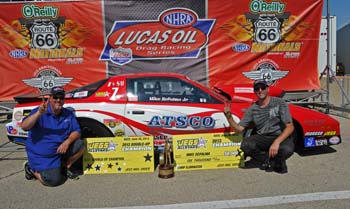 Mike DePalma doubled up.
The Lucas Oil racers had their big Allstar show and it was the home town heroes from Division 3 who took home the team title. Paced by former World Champion, Bill Reichert, the D-3 guys outlasted the team from Division 2 to win their seventh overall team championship..In an unusual turn of events Bill then failed to make the cut for the regular race on Sunday. What are the odds?....Even though the Division 7 stars didn't repeat their 2012 champion they did have a driver who "doubled-up." Mike DePalma won the Competition Eliminator title at the Allstar race and then came back on Sunday to win the regular event and pick up the bonus for winning on both days..Slate Cummings made the finals in both Super Stock and Stock at the Allstar show, losing to Mike Crutchfield in the Super Stock class while beating Brad Burton for the Stock honors..Ricky Shipp, the 2012 Allstar winner in Super Street made it back to the final round this year but lost to Casey Grubb and then he came back and won the big race on Sunday...And Phil Unruh showed how versatile (that means good) he is by making it to the final round of the Top Dragster portion of the Allstar show and then winning Super Stock on Sunday. There's a reason these guys are Allstars because they are all very good at what they do. Congratulations to all of the sportsman racers at Route 66.




NHRA: 10 Most Recent Entries [ top ]

Apr 24- CHARLOTTE 1 - Fact Sheet
Apr 24- Kalitta Motorsports Welcomes NASCAR Stars to the SealMaster Track Walk in Charlotte
Apr 24- zMAX Dragway Celebrates 10th Anniversary
Apr 24- CHARLOTTE 1 - NGK Spark Plugs NHRA Four-Wide Nationals Brings 40,000 Horsepower Thrill Show to zMAX Dragway
Apr 23- HOUSTON - Lucas Oil Drag Racing Series Wrap Up The NHRA Lucas Oil Drag Racing Series Wrap Up
Apr 23- CHARLOTTE 1 - J.R. Todd Aiming for Two Four-Wide Racing Wins in 2018
Apr 23- Mid America Dragway Joins NHRA Member Track Network
Apr 23- HOUSTON - Special Awards
Apr 23- HOUSTON - Sunday Video
Apr 22- HOUSTON - Sunday Pro Mod Wrap Up