Thu, 20 Jun 2013, 16:13 PM



He Loves His Pontiacs



By Bob Frey


Photo copyright 2013 Auto Imagery, Inc.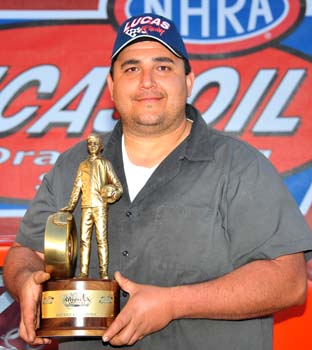 Leo Glasbrenner
The old classic drag racing ads that everyone grew up with, or at least that everyone my age grew up with, always featured the line "Sunday, Sunday," and while most of the races did take place on Sunday that wasn't the main attraction. No, it was and always will be the cars that take center stage at the drag races. In the early days there were several battles that attracted attention including the famous "Gasser Wars" between the top supercharged gas class cars of the day including K.S. Pittman, Stone, Woods and Cook, "Big John" Mazmanian and others. And, of course, there were always the battles between the car manufacturers, like Ford and Chevrolet or Ford and Mopar, Chevy and Mopar and so on. A race between one of the top Ford racers, like the Tasca Ford team, and a giant in the Chevy world, like Bill Jenkins was sure to pack them in regardless of what day of the week it was. But there was another manufacturer that had its share of heroes, and they, too, fought on the drag strips of the country. That brand was Pontiac and there were several big name stars that carried that name into battle. Mickey Thompson was probably the first racer of note to make a name for himself with a Pontiac and he was followed by Arnie "The Farmer" Beswick, Don Gay and many others. As early as 1960 Jim Wangers was wining the U.S. Nationals in a Pontiac, and later that decade the GTO came on the scene and people fell in love with the brand. Today, while there is no Pontiac division of General Motors, enthusiasts still love the cars and they can be found at car shows and drag strips around the country, and one of the best can be found at a garage in San Dimas, California, a garage that belongs to Leo Glasbrenner.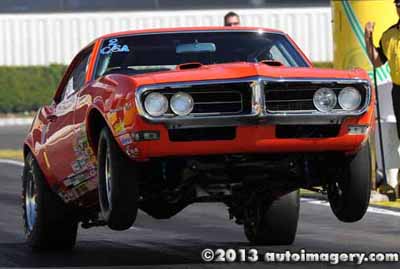 Leo Glasbrenner
Leo is a thirty-seven year old man who really has his hands full these days. "I'm trying to run my business, do some racing and still have time for my family," he said. That business is Remac Transmissions, a company that he has owned for a few years now. "I worked there since 1995," he said. "And then I bought the company in 2006. We do transmissions for all kinds of cars and we do a lot of racing work, too." The family includes his wife, Kara, and their three children who are all six years of age and younger. "We have our fourth child on the way later this summer," he said. "You can imagine that they keep us pretty busy." Having just spent a day with four of my grandsons I certainly know what he means. On the racing front Leo runs a pair of Pontiacs, one of them in Stock Eliminator and the other in Super Stock, and as you might have guessed they are both Pontiacs, and while the racing scene in his home area of Southern California isn't what is was in the days of Mickey Thompson, Leo still keeps a very active schedule, a schedule that is about to get a little busier. "Yeah, we qualified for the Allstar race and we're getting ready to go to Chicago next week," he said. "That's at least a thirty hour drive from here, and even though I will be flying, there is a lot of preparation to be done and things to get in order before we leave."
When Leo says "we" he means himself and his right hand man, Bobby Wareham. "He's the best," Leo said without hesitation. "He helps me with everything on the car and we bounce a lot of ideas off one another and it seems to work out very well." With a second place finish in the Lucas Oil World Championship last year it certainly seems to be a good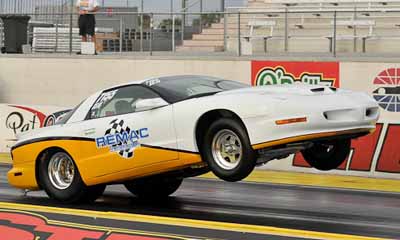 Leo Glasbrenner
Photo by: Bob Johnson Photography
arrangement. "We won a couple of national races last year and did well at the divisional events, too, and that's why we were able to win a berth on the Allstar team. I have to say that for all the things that I have done in my racing career this is certainly the highlight. I'm really looking forward to representing our division in Chicago."
Leo's drag racing career began modestly enough with a car that he bracket raced in 1996. "It was a Pontiac GTO Judge and I still have it." Now Pontiac fans everywhere know how rare those cars are, and to have one is a real joy. "It's a beautiful car, I just wish I had kept it completely stock," Leo said. "I had to make a few modifications in order to be able to race it. I didn't know how really valuable these cars were. I guess you could say that I was just young and dumb when I changed it around to go racing." That car, equipped with a 455 Pontiac engine and some really nice aftermarket parts, could run as low as 10-seconds flat. "We ran it at the Street Legal races when they had them at Pomona and we went to Irwindale, Palmdale and a few of the other tracks that existed in Southern California." With most of those tracks closed or not running very often, Leo decided to step up and run a "class" car. "I picked up a 1969 Malibu with a 350 in it and ran that from 2002 to 2004." But as nice as that car was Leo knew that it wasn't his dream car. "I wanted a Pontiac and in 2004 I found one." It was a 1968 Firebird that was, as Leo put it, in very poor condition. Still, being the Pontiac aficionado that he was, Leo saw the potential in it. "It took us a few months to fix it up but by the beginning of the 2005 season it was ready to go." That car was later joined by another Pontiac, this one a Super Stock car, that Leo has raced for the past few years. "It's a '97 Firebird with the Super Duty 455 engine and it runs in the GT/DA class."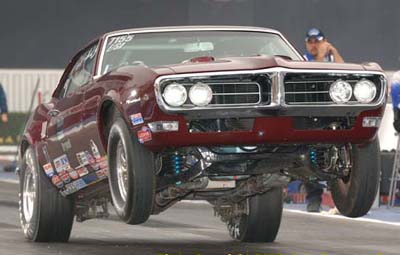 Leo Glasbrenner
Armed with a pair of the best running "Ponchos' in the country Leo has had a couple of very good years on the track and it was highlighted by his performance in 2012. "We put enough points on the board that by the early part of this year we were able to lock up the Allstar berth. This is something that Bobby and I are really looking forward to." And as much as he is looking forward to the race itself, the trip to Joliet will serve another purpose. "Our shop does a combination of regular passenger car and racing transmissions. Right now it's about an 80/20 mix with most of the work being everyday drivers. Most of the people that I do the racing work for I have never met, so when I go to Rt. 66 I want to look them up, meet them face to face and shake their hands and thank them for their business." He may also end up racing a few of them on the track. "We've been very fortunate to do work for some of the best racers in the country and I have to say that our best form of advertising is word of mouth." In a close knit community like drag racing if you build a good product word will get out and that's what's happened to Leo. "I just got a call recently from Mitch Truman. He had borrowed a transmission of ours for his car and it worked so well he called up and ordered one."
With a business, a family, a baby on the way and a couple of cars to maintain life is rather hectic for Leo Glasbrenner, but he says he wouldn't have it any other way. "I have a good business, a wonderful and supportive wife and great children and you couldn't ask for more than that." Well, except maybe for a win at the Allstar race. "That's' what I'm going there for, "he said. "To win." With all that has already happened to him it sounds like no matter what the outcome is in Joliet next week, Leo Glasbrenner is already a winner, and Pontiac fans all over the country have a new hero to cheer for. Now if he could just get that Judge back to its original condition!




NHRA: 10 Most Recent Entries [ top ]

Apr 24- CHARLOTTE 1 - Fact Sheet
Apr 24- Kalitta Motorsports Welcomes NASCAR Stars to the SealMaster Track Walk in Charlotte
Apr 24- zMAX Dragway Celebrates 10th Anniversary
Apr 24- CHARLOTTE 1 - NGK Spark Plugs NHRA Four-Wide Nationals Brings 40,000 Horsepower Thrill Show to zMAX Dragway
Apr 23- HOUSTON - Lucas Oil Drag Racing Series Wrap Up The NHRA Lucas Oil Drag Racing Series Wrap Up
Apr 23- CHARLOTTE 1 - J.R. Todd Aiming for Two Four-Wide Racing Wins in 2018
Apr 23- Mid America Dragway Joins NHRA Member Track Network
Apr 23- HOUSTON - Special Awards
Apr 23- HOUSTON - Sunday Video
Apr 22- HOUSTON - Sunday Pro Mod Wrap Up