Tue, 18 Jun 2013, 23:04 PM



Superman Returns!



By Bob Frey


Photo copyright 2013 Auto Imagery, Inc.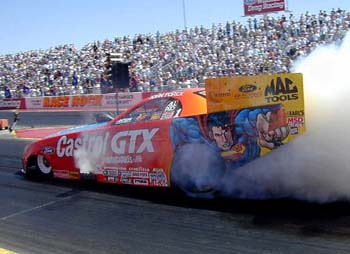 Force in the Superman car.
On a weekend when the new
Superman
movie
"Man of Steel"
broke box office records it was only fitting that drag racing's version of the super hero,
John Force
, returned to the winner's circle. With the win in
Bristol
over his own arch enemy,
Cruz Pedregon
, John picked up the 135
th
win of his great career and ended one of the longest droughts of his career all at the same time. We shouldn't lose sight of the fact that he did all of this in Bristol Tennessee, the same place where he beat everyone, Top Fuel Dragsters and Funny Cars alike, in 1999 while carrying the Superman colors into battle. That time it was just for fun and profit, this time it was for points and a chance to run for another championship in a few months, and possibly for the chance to show everyone that he still has what it takes to be a winner (not that anyone ever doubted that)...At the other end of the spectrum in Bristol we had one of the youngest Top Fuel drivers in the sport,
Steve Torrence
, picking up his fourth win overall in the Top Fuel class, while in Pro Stock
Rodger Brogdon
ended his own long dry spell and earned the first win of his professional career. All in all it was a super weekend in
Thunder
Valley
and now it's on to
New England
for the first time, or at least for the first time as an NHRA national event.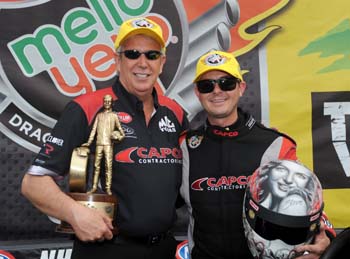 Lee Beard and Steve Torrence
Anytime John Force does something it's hard not to focus on that, but let's face it, Steve Torrence and Rodger Brogdon were both drivers who desperately wanted and maybe needed to win. Steve had gone through the tough process of dismissing a good friend and crew chief early in the season and Rodger had been racing Pro Stock cars for a while and was still looking for that elusive, first-ever national event win. Congratulations to all the winners in Tennessee who now have just a few days to savor the taste of victory before racing in New England...Steve Torrence, with veteran tuner Lee Beard calling the shots, didn't have the fastest car on race day but he did have a very consistent car and that, more often than not, wins races. He beat Leah Pruett, Shawn Langdon and Clay Millican before stopping the top qualifier, Spencer Massey in the final round. The racing in the Top Fuel class has been very competitive this year, and with a combination of weather and track conditions, qualifying itself was very interesting. Did you know that eleven different drivers earned at least one bonus point during the four rounds of qualifying? That's a bunch and it just goes to show you how many good cars there are in the class. Ok, so some earned the points in wacky sessions, like Q3 when Leah Pruett and Brittany Force picked up points with runs of 4.744 and 4.366 respectively, but still, they earned points on the same track and under the same conditions as everyone else so I'm sure they'll take it..Steve became the sixth driver to win in the dragster class this year and all six of them also won a year ago. In 2012 there were ten winners so we have a way to go before we reach that level, but based on what we have seen so far it wouldn't surprise anyone if at least ten drivers visited the winner's circle in 2013. The final round matched the top two qualifiers, and did you know that's the first time that has happened at the Bristol race, and when Steve won it continued a little streak at Thunder Valley. Did you know that this marks
Bobby Hilton defeated Jeb Allen
at Division 1 point's race in 1980.
Photo copyright 2013 NHRA
the fourth consecutive year when not a single number one qualifier won in any of the
Mello Yello
classes in
Bristol
? And
did you know
that this was the fourth time in his career that Spencer Massey has been involved in a 1 vs. 2 final round and he has only won one of those races?...Top Fuel will return to New England Dragway as part of the event this week and that will mark the first time since 1980 that an NHRA Top Fuel race was contested at the track.
Did you know
that last time that happened was at the Division 1 point's race in 1980 and that's when
Bobby Hilton
beat
Jeb Allen
in the final round? At that same event
Gary Burgin
beat
Rick Johnson
in the Funny Car class and
Frank Iaconio
stopped
Bob Ingles
in Pro Stock..It must be the proximity to Canada or maybe he just had a weekend off but
Tim Boychuk
is on the entry list this week. Tim has been to seven NHRA national events in the Top Fuel class but none since 2010. He has, however, distinguished himself on the
Hot Rod Heritage
tour where he is among the best in the class.
Did you know
that he won the
Bakersfield
race this year and that he recently earned his license to drive jet cars? The versatile driver will be a welcome addition to the dragster field in
New Hampshire
.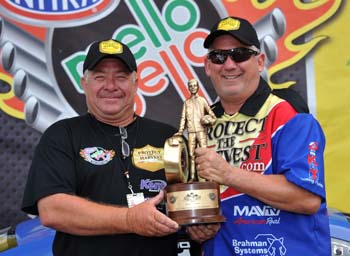 Steve Kent and Rodger Brogdon
Rodger Brogdon has to be breathing a sigh of relief after finally winning in Pro Stock. I say that because, despite the fact that he has had a good car for years, he wasn't able to win four rounds until Sunday in Bristol. Did you know that in the history of the Pro Stock class only Gordie Rivera (109) and Ken Koretsky (93) had made more race day starts without a win than Rodger had? And Rodger did it in his 93rd start and he has to be so very happy right now...When he wheeled his Chevrolet past Erica Enders-Stevens in the final round did you know that Rodger became just the 56th driver to win an NHRA national event in Pro Stock. When you consider the fact that there have been 720 races in the class that's a very select group to be a part of, isn't it? When you look at drivers who have won in a Chevrolet the group is, obviously, smaller, but did you know how small? Only twenty-two drivers have ever won in Pro Stock driving a Chevrolet, and Rodger joins a group that includes Joe Lepone, Harry Scribner and Ray Allen as guys who have only done it once. Of course Rodger gets another shot this week in New England and I'm sure he would love to go back-to-back..It will probably be a little to warm to think about a record this week but did you know that the Pro Stock record was set twice at the Epping, New Hampshire track? Bill Jenkins did it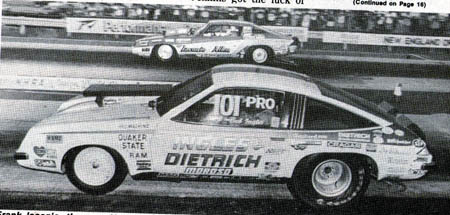 Frank Iaconio (far side) beating Bob Ingles
in the 1980 Pro Stock final.
Photo copyright 2013 NHRA
in 1972 with his all-conquering Vega and then
"Dyno Don" Nicholson
set the mark there in 1977. Since I mentioned Bill and Frank Iaconio and the 1980
New England
event I guess it's only fair to mention that Frank beat Bill in round one at that race. Hey, anytime you can give credit to someone for beating the "Grump" in round one you should do it. That race helped Frank secure the Division 1 championship in 1980, one of two that he earned in his career..Rodger started out race day in the number eight spot, and while that means that he was quicker than half the field it also means he didn't have an easy bracket in eliminations. As you know the number eight and nine qualifiers race in round one with the winner getting the winner of the number one vs. sixteen
match
, and that is almost always the number one person, and recently that is almost always
Mike Edwards
. Round one turned out to be the only round that Rodger had lane choice but it didn't seem to matter, in fact both Mike and
Jason Line
(in the semi-finals) had lane choice over Rodger and both had problems and never mounted a serious charge against him. The final round race with Erica was a classic with Rodger getting the win by less than a foot according to our wizards here at
DragRaceCentral
...Since I mentioned the number eight qualifier and how tough it is to win I should point out that he (or she) has only won seventeen times in the 720 Pro Stock races and that's just another reason why Rodger should be proud of what he and his team accomplished in Tennessee..
Did you know
that when Mike Edwards went out in the second round it marked the third consecutive year that a Pro Stock driver was number one, set low elapsed time and top speed and still didn't win in Bristol. Like I always say, that's why we make them go out and run them on Sunday!!....
Tom Martino
is a surprise entry this week and it will be interesting to see how he does. With his partner,
Bob Benza
, they have a new engine shop and may be shaking down some engines for new customers this week. Whatever their reason for going to Epping is I have always said that when Tom shows up he has a good shot at going some rounds on Sunday.
Did you know
the last time he raced in competition was in 2009? For his career Tom has been to fifteen final rounds and that places him 24
th
among all Pro Stock drivers and that's very impressive. Good luck to him this weekend,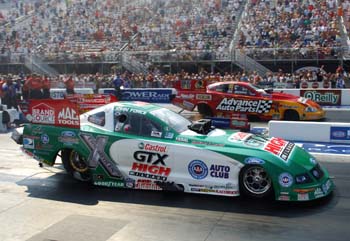 John Force defeated Cruz Pedregon
at Bristol in 2007.
Take nothing away from Steve Torrence or Rodger, and even though I wasn't there I can imagine that the most popular win on Sunday was the one John Force got over Cruz Pedregon. This make 135 national event wins for John and it is also the sixteenth time he has stopped Cruz in the final round. Did you know that is the most final round wins for John over any opponent that he has raced in his great career, and the last time John beat Cruz in a final round was at this same event in 2007?...John started the day from the sixth spot while Cruz was thirteenth, and if you think winning from the eighth position is hard try winning when you are lucky number thirteen. Did you know that in the entire history of the Funny Car class, and that is 725 races, the thirteenth qualifier has won exactly three times and one of them was in 1985? Maybe it's because of the way the ladder falls or maybe it's just the fact that when you're thirteenth you're usually just not that competitive, although we know that certainly isn't the case in recent years in the Funny Car ranks.Continuing that theme of the last time professional drivers competed in an NHRA event in Epping, did you know that three of New England's biggest stars were at that 1980 event that I mentioned earlier. While Gary Burgin won the race Kosty Ivanoff (the Hungarian Freedom Fighter) Al Segrini and Al Hanna were all in the eight-car field at Epping and all are part of the great drag racing history in New England?...Del Worsham grabbed the top spot in Funny Car in Tennessee and that was the 6th time that he has done that in his career and he also has seven number one spots in Top Fuel. Did you know that Del's Funny Car number one spots came in 422 races while his dragster ones occurred in just forty-four events? Actually they all took place in 2011, or in just twenty-two events, but for record keeping purposes you have to include his earlier races in the dragster class, too.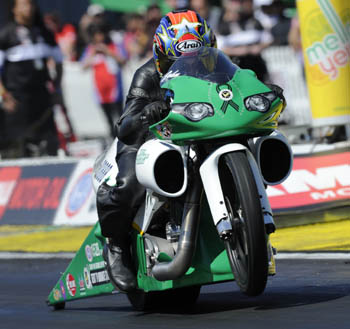 John Hall
Photo copyright 2013 NHRA
Of all the things that will be new this week the Pro Stock Motorcycles may get the most attention. After all, as I have mentioned, Top Fuel, Funny Car and Pro Stock Cars have been part of the New England racing scene for years, but the bikes will be relatively new. Of all the entries this week only John Hall and the veteran Sam Hurwitz can really call New England home. John is from Connecticut and Sam, who hasn't raced in years on the NHRA tour, is from Massachusetts..John is currently in fifth place in the points and he would like to make an upward move this week at his home track. Sam, on the other hand, may just be out to have a good time since he hasn't raced since 2005. Let's face it, it's tough to be competitive in any pro class when you do it every week, but when you only show up once in eight years it's really difficult..Like Joe DeSantis, who is still going strong at seventy-one years of age and who is entered for the event this week, Sam has been at this a long time. He is a former top ten rider on the AMA ProStar circuit and I'm sure he will enjoy being back in action even if it is only for this one race. Did you know that Sam's first NHRA race came at Columbus in 1989?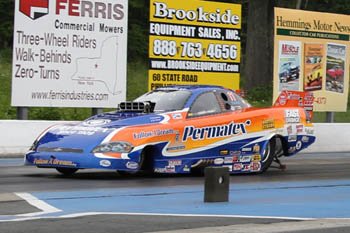 Todd Veney
Photo copyright 2013 David Smith Photos
Along with all the pro classes there will be a full slate of Lucas Oil activity this week and that comes on the heels of three divisional races that were held this past weekend. Jim Whiteley continued to run well and he won the race in Denver over first-time finalist Greg Hunter. Going into eliminations Jim was running 5.40's and the next best car checked in with a 5.70 time card...Tony Bartone took the Funny Car portion of the Denver race when he beat Jay Payne. Did you know that was Tony's first win on the regional level since August of 2011?...Back East it was John Finke and Todd Veney getting the trophies at the Division 1 race at Lebanon Valley while Ray Martin and Steve Gasparrelli scored at the D-6 event in Canada..While the alky cars are not racing in New England there will be a lot of great sportsman racing to go along with the action in the Mello Yello classes. I hope they have good weather and a great race in Epping as the NHRA returns to New England Dragway. Oh, and no traffic jams. Hey, a guy can dream, can't he?




NHRA: 10 Most Recent Entries [ top ]

Apr 23- HOUSTON - Lucas Oil Drag Racing Series Wrap Up The NHRA Lucas Oil Drag Racing Series Wrap Up
Apr 23- CHARLOTTE 1 - J.R. Todd Aiming for Two Four-Wide Racing Wins in 2018
Apr 23- Mid America Dragway Joins NHRA Member Track Network
Apr 23- HOUSTON - Special Awards
Apr 23- HOUSTON - Sunday Video
Apr 22- HOUSTON - Sunday Pro Mod Wrap Up