Fri, 14 Jun 2013, 14:11 PM



D. Goforth Posts Remarkable Turnaround After Crash



Courtesy of X-DRL Communications


Photo courtesy of Roger Richards





Takes Winning XPS Ways to St. Louis For X-treme Gateway Showdown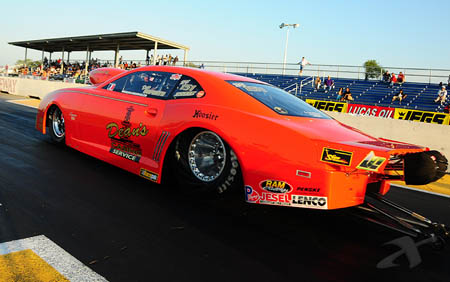 Dean Goforth
Don't plan that retirement party quite yet. X-DRL X-Treme Pro Stock standout proved he's still got plenty left to offer, doing so under remarkable circumstances as well.
Just three weeks following a brutal crash after a parts failure at Bristol Dragway, the 68-year-old Goforth whipped up on his younger counterparts at No Problem Raceway in Belle Rose, La., winning the X-DRL's Bash On The Bayou with a weekend-best 4.121 at 174.57 mph in his brand new 2013 Jerry Haas Race Cars Camaro.
With that, Goforth takes plenty of momentum into the X-DRL's X-treme Gateway Showdown, which takes place June 14-15 at Gateway Motorsports Park.
It marks the first appearance in St. Louis for the X-DRL, and Goforth will be one of the favorites in XPS after showing there's still plenty of talent left to offer the Pro Stock competition.
"Friends and family have asked me when I'm going to retire and I tell them, 'I will when I stop winning races.' Well, I just won, so it looks like I bought myself a little more time," Goforth said. "I think I showed that I've got something left and I can still drive one of these cars."
Certainly nobody doubted that after his remarkable performance in Belle Rose, which also qualified him for the X-DRL's X-Treme Shootout later this year at Lucas Oil Raceway at Indianapolis.
Goforth was in a brutal crash during the final qualifying session in Bristol, crashing hard into both walls. But the crew at JHRC quickly finished his new Camaro and Goforth showed no hesitation getting back behind the wheel.
The first runs for the car were in Belle Rose, but it responded well right off the trailer. He qualified No. 6 with a 4.23 and then knocked off Todd Hoerner and crew chief Brian Self to reach the finals. Runner-up Rick Cowger immediately had trouble in the finals, but Goforth had an adventurous run, nearly crossing the center line before taking the victory, his fourth in XPS.
"Rick was having a great day, but when you're 68 years old, all the guys are tough," Goforth said with a laugh. "All of the guys in this class are good, there's no denying that. I was nervous about all of them, but the car just felt good all weekend.
"It was getting close to the center line and I was scared to death I crossed it. But it was an awesome run and I was just thrilled to get the win."
Goforth, who also credited Sonny's Racing Engines, was blown away with the incredible results from the new car its first race.
That bodes well for St. Louis, where Goforth's talented crew will likely have the car dialed in even more.
"It's just a good crew with sharp guys working with us. They deserve a ton of credit for this and it's just a wonderful thing to have guys like this on your team," Goforth said.
"As for the car, this is the best car I've ever been in and there's no comparison. It was as smooth as can be and obviously the performance was there. The Haas bunch just did an excellent job. I'm truly excited to see where the car and the team can go from here. I believe there's a lot of potential left in the car and I know we're going to keep working hard to find it."
For more information about X-DRL X-treme Gateway Showdown, please visit www.gatewaymsp.com or www.X-DRL.com or contact (618) 215-8888.
WHAT: X-DRL X-treme Gateway Showdown. It is the fourth of nine races in the inaugural 2013 X-DRL season. The professional categories featured in the X-DRL are Pro Junior Dragster, Supercar Showdown, Mickey Thompson Top Sportsman, Top Dragster, X-treme Pro Mod, Precision Turbo & Engine Pro Turbo, X-treme Pro Stock, Switzer Dynamics Pro Nitrous and Pro X-treme, the world's quickest and fastest doorslammer class
WHEN: Friday and Saturday, June 14-15
WHERE: Gateway Motorsports Park, 700 Raceway Boulevard, Madison, IL 62060
SCHEDULE (Subject to change; all times local) FRIDAY: Qualifying Round 1 at 12 p.m.; Qualifying Round 2 at 3:30 p.m.; Qualifying Round 3 at 7 p.m.
SATURDAY: Qualifying Round 4 at 12 p.m.; Eliminations Round 1 at 3 p.m.; Final Eliminations at 8:30 p.m.
TICKETS: They are available by contacting Gateway Motorsports Park at (618) 215-8888 or visiting www.X-DRL.com. Friday Adult $25; Saturday Adult $25; Full Event Pass Adult $45; All Kids 12-Under Free; General Parking: Free. All tickets include X-DRL VIP pit pass.