Thu, 13 Jun 2013, 23:45 PM



She's Real Fine



By Bob Frey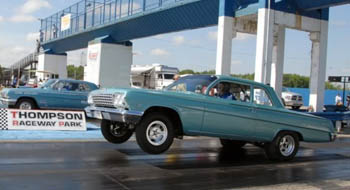 Ford's Biscayne
Photo copyright 2013 Bob Wenzelburger
If you read that heading you will probably end up finishing it by saying."My 409." After all, most car guys or gals who love drag racing love car songs and there weren't many better than the classic Beach Boys hit about the iconic Chevrolet engine. Now I don't know which came first, the idea for the song because they had a 409 Chevy, or the fact that it was a lot easier to rhyme "409" with "fine" than it was to match it up with, let's say, "Hemi" or "My 348." Whatever the reason was it sure made for a great song, and even today when you say those three words, "She's real fine" a lot of people will break into song. Having said that, as cool as the song was, there was and still is a certain fascination with that particular engine. At the recent Mecum auction that I went to there were several cars equipped with 409 engines, and while they had a variety of horsepower, they all commanded a great deal of attention. When I was in high school if you had a 409-powered car you were way up on the "cool-o-meter," and as hard as it may be to believe, I didn't have one. And when I began my career as a drag racing announcer back in the mid 1960's some of the best cars at Atco Dragway were those powered by a 409. Having said all of that you would have to look far and wide these days at any drag strip, other than one conducting a nostalgia race, to find a real 409 Chevy in action. That is, unless you happen to attend a Division 1 race where you are sure to find Denny Ford's classic 1962, 409 Chevrolet Biscayne, and it won't be hard to find, all you have to do is follow the crowd.
Denny Ford is sixty-three years old and, according to him, supposed to be retired. "You know how it is, you stop working and then you get busier than ever." Yes I do, Denny! Denny's days are full of things that he really enjoys and that primarily includes working on cars. "I loved cars as a kid, and I was able to turn my hobby into a job." Actually it was more than just a job, it was a life-long vocation, because for almost forty years Denny ran his own automotive business. "I sold that about two years ago and since then I have been able to go back to my hobby, and that is working on cars." As we spoke he had a 1969 Camaro and a 1979 Corvette in his garage and both were getting that special Denny Ford touch. "I do a lot of work on carburetors, transmissions, differentials and things like that," he said. "The Camaro is a 19,000 mile frame-off restoration, so as you can imagine it's a pretty nice car."
Photo copyright 2013 Diane Kubicke
Pretty nice cars have been a part of Denny's life for a long time. "In 1964 I started hanging on the fences at Pittsburgh International Dragway, and then in 1966 I made my first pass down the drag strip." That initial foray into the quarter-mile sport came in a 1962 Chevrolet with a 327 cubic inch engine and that was followed up by a genuine classic, a 1963 Chevrolet with a 409 engine. "I've been around those 409's for a long time and I always wanted to make one into a Stock class car," he said. "And now I have." But it was a long journey from that original 409 to the one he has now. In between he had a very successful career with a variety of cars, all Chevrolets and all with standard transmissions. "I never made a run down the track in a 'class' car that had an automatic transmission," he added. His most successful car, and the one he ran for the longest time, was a 1969 Camaro that he first took to the races in 1982. "I got the car in the fall of 1981 and we finished it in time for the Springnationals in '82. On our second pass we qualified 14th. It was quite an improvement over the Chevelle that I had been running. The Camaro ran in a variety of classes, depending on the weight and the engine, and they ranged from A to C Stock. It's funny, the 409 that I have now runs in D/Stock and that's the lowest class I have ever raced."
The Camaro that he had not only ran for a long time it ran very well. "Yeah, we had some success with it," he said modestly. That success included the final round at numerous divisional races and a win at Beech Bend in 1986. It also included his only trip to a national event final round at the 1990 Gatornationals. "I've been close several other times including once when I made the quarter-finals at Indy, but I have a great time racing the car and have met a lot of wonderful people." And he's going to meet more now that he has the 409 in competition. "It does get a lot of attention, and that's nice. It's a fun car." That "fun car" as he calls it runs very well and Denny was two-tenths under his index at the recent Maple Grove race. "The car has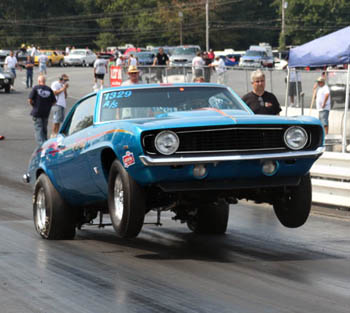 Ford's Camaro
Photo copyright 2013 Jim Samuel
the 409 - 425 (horsepower) engine in it. Now I know that will kick up some dust but you are allowed to run the optional '64 camshaft with it so it makes the class." At 3,828 pounds it's not a lightweight but it does run well and it garnered the coveted "Best Engineered Car" award at the Division 1 race at Cecil County last year. "That was the first time we had it out in Stock trim. Even now we only have nine full runs on it so it is still a work in progress." He did say "stock trim" because the Biscayne has been down the track before at some nostalgia races and with a big motor in it. "I have gone 10.26 at 130 miles per hour with it and that was really neat. I've had this car since 1985 and I finished it in 1996 and made it a street car. Then about six years ago I decided to make it a legal Stocker." Noted engine builder Brian Tilburg did the work on Denny's Camaro but for the 409 he went to someone who specializes in that particular engine. "Tony Shaffer is from Independence, Missouri and he runs in the GT classes with his Malibu and it's a two-barrel combination which is really interesting. I've known him for a while and he did the engine on the Biscayne. He loves the 348 and 409 engines almost as much as I do."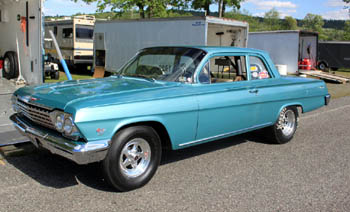 As the 2013 season progresses fans may not see as much of the 409 as they would like, because despite the fact that he is retired Denny has a lot on his plate. "I would like to take my wife out West, to North and South Dakota and Montana and some places like that and we plan to take my granddaughters to Canada later this year. Plus, as you can imagine, there are a lot of family things going on that will keep me busy. I'm in no hurry and I have some projects here to do, but we'll get it running better and see what happens. Like I said, I'm very fortunate. I was able to make my hobby my business and my business did well enough that now I can pursue my hobby and how many guys can say that." About the same amount that can say they have a really neat, 409 Chevrolet that runs on the quarter-mile. "I had the 409 early in my career and I knew that this would make a great Stock class car, and of course it's nice to get the extra attention at the track." How could you not get attention when the car you are running is so fine?
"I have to than two friends who have been with me through it all," Denny said. "Bo Martin and Rich Horn work late into the night, drive in the rain and bad weather and basically do whatever it takes to 'Git R Done.' They're the best."




NHRA: 10 Most Recent Entries [ top ]

May 24- BOWLING GREEN - Edmond Richardson Still Finds Major Thrill Racing at JEGS NHRA SPORTSnationals
May 24- NHRA Expands Leadership Team with Two Executive Hires and Two Promotions
May 24- TOPEKA - Lucas Oil Drag Racing Series Wrap Up
May 24- TOPEKA - Special Awards
May 21- TOPEKA - Pro Mod Championship Points
May 21- TOPEKA - Monday Video
May 21- TOPEKA - Monday Pro Mod Wrap Up
May 21- TOPEKA - Monday Wrap Up
May 21- TOPEKA - Championship Points
May 21- TOPEKA - Summary of Eliminations in Top Fuel