Wed, 12 Jun 2013, 17:09 PM



Bowman Claims CSS Win at Mo-Kan



Courtesy of Chris Graves


Photo copyright 2013 Max Cackle Photography





ASBURY, Mo. --
The Central States Supercharger series kicked off its 2013 season headlining the annual Memorial Weekend Classic at Mo-Kan Dragway in Asbury, Missouri. With a capacity crowd and sunshine overhead the weekend was perfect for some old school blown drag racing as the CSS series brought twelve cars to entertain the crowd including the debut of several new members including Bill Seals, Mike Allison, Ted McCord and Kenny Stroud. This even also marked the debut of the new nitro combinations for Scott Gaulter's "Nitro Madness" machine driven by Sean Belt.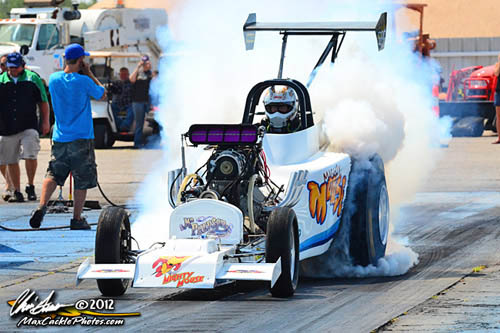 Anthony Whitfield
After two sessions of qualifying, Aaron Leyda and Sean Bent where tied for the lead with identical 4.2513 elapsed times, so the pole position went to Leyda based on mile per hour as the "Hemi Hunter" team claimed the top spot in the final order. The CSS series uses a 4.25 qualifying index and three teams including Leyda, Belt and Mark Bowman all posted a "perfect" 4.25 elapsed time to secure their spot in the field. Adam Smith found himself on the quick eight bump spot with a 4.75 in his "Adam-Bomb" blown front engine dragster. Unfortunately, the four new comers all found themselves on the outside looking in after qualifying concluded, but a fun time was had by all and those teams loaded up and cheered on their fellow racers as the crew members and drivers made final preparations for the first round of eliminations.

Final Qualifying Order: 
1.  Aaron Leyda (Bartlesville, OK) - 4.2513
2. Sean Belt (Wichita, KS) - 4.2513
3. Mark Bowman (Oklahoma City, OK) - 4.2519
4. John Umlauf (Rolla, MO) - 4.212*
5. Craig Donnelly (Kansas City, KS) - 4.370
6. Anthony Whitfield (Elk City, KS) - 4.40
7. Howard Knowles (Carthage, MO) - 4.51
8. Adam Smith (Copan, OK) - 4.75
 - - - - - - - - - - - - - - - - - - - - - - - - - -
9. Bill Seals (Raytown, MO) - 4.788
10. Mike Allison (Lathrop, MO) - 4.819
11. Ted McCord (Claremore, OK) - 4.842
12. Kenny Stroud (Tulsa, OK) - 4.8427

The first round of eliminations was called to the lanes and the teams laid down some great passes as Howard Knowles and Mark Bowman started off the action. Knowles got the jump at the starting line but lead quickly faded as Bowman drove around to take the win, posting a 4.31 at 167 mph over Knowles' 4.59 at 154 mph.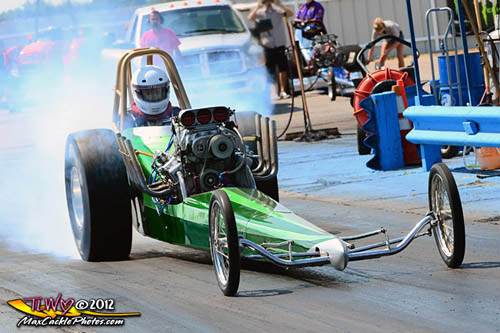 Adam Smith
Aaron Leyda and Craig Donnelly were out next in their blown altereds and after side by side burnouts they brought their cars into the stage beams. They left the line together, both with .076 reaction times, but the Dale Wilkens horsepower soon took over and Leyda blasted to a 4.19 at 176 mph to advance over Donnelly's clean 4.39 at 160 mph.
John Umlauf wheeled his blown front engine dragster through the waterbox set to race Adam Smith in a pair of beautiful blown front engine dragsters. Both were tardy off the line but Smith had the advantage early and posted a 5.18 at 144 mph, but it wasn't enough to hold off Umlaufs' quicker 4.50 at 160 mph as Umlauf moved on.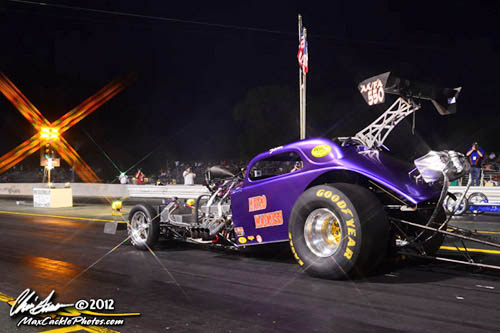 Sean Belt
In the final pair of the first round, Sean Belt squared off with Anthony Whitfield. Whitfield looked to repeat from his win at this event last year. Whitfield took a healthy advantage off the starting line but quickly had issues and had the best seat in the house for Belt to click off a 4.32 at 170 mph to take the win and move into the semi-finals.

First Round Results: 
(W) Mark Bowman (.076 rt) 4.31 @ 167 mph vs. (L) Howard Knowles (.026 rt) 4.59 @ 154 mph
(W) Aaron Leyda (.076 rt) 4.19 @ 176 mph vs. (L) Craig Donnelly (.076 rt) 4.39 @ 160 mph
(W) John Umlauf (.281 rt) 4.50 @ 160 mpg vs. (L) Adam Smith (.162 rt) 5.18 @ 144 mph
(W) Sean Belt (.116 rt) 4.32 @ 170 mph vs. (L) Anthony Whitfield (.021 rt) 6.44 @ 73 mph

In the first pair of the semi-finals, Mark Bowman and Sean Belt pulled to the line in their blown altereds. Belt took over a tenth of a second advantage off the starting line and as the cars passed the 330' cone they were nose to nose. Bowman made a move and drove around Belt at the stripe posting a 4.21 at 169 mph to advance over Belt's 4.35 at 169 mph as Bowman moved into the final.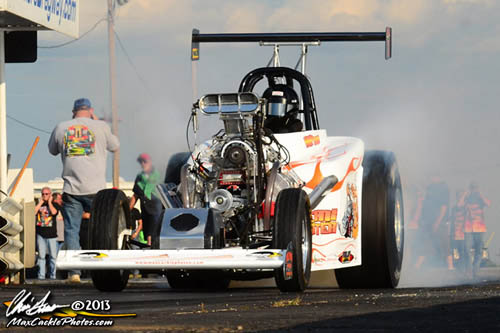 Aaron Leyda
Aaron Leyda and Adam Smith were up next, Smith was inserted into the field for John Umlauf who was sidelined with a mechanical failure. Leyda took this one from start to finish leaving first and clicking off a 4.24 at 167 mph to Smith's 4.76 at 147 mph as Leyda would advance to the finals to battle Bowman.

Semi-Final Round Results: 
(W) Mark Bowman (.172 rt) 4.21 @ 169 mph vs. (L) Sean Belt (.065 rt) 4.35 @ 169 mph
(W) Aaron Leyda (.066 rt) 4.24 @ 167 mph vs. (L) Adam Smith (.133 rt) 4.76 @ 147 mph

It had been over a year since Aaron Leyda or Mark Bowman had visited the winners circle in CSS competition and one of them was about to put that streak to an end. Number one qualifier Leyda hoped to cap off a solid outing and seal the deal against Bowman, yet Bowman came into the final with lane choice and a slight performance advantage from the previous round.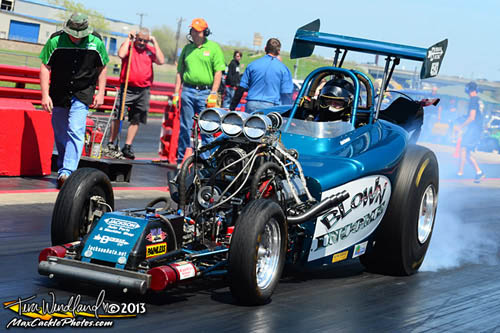 Mark Bowman
As they crept into the beams, the crew chiefs made their final adjustments and signaled the drivers to stage, it was up to them from this point on. Bowman was ready, posting a .013 reaction time and coupling that with his best lap of the event with a 4.12 to secure the win over Leyda's very close 4.14 in a great side by side final round.
Final Round Results:
(W) Mark Bowman (.013) 4.12 @ 175 mph vs. (L) Aaron Leyda (.074 rt) 4.14 @ 176 mph
The Central State Superchargers would like to thank Holzman Racecars and The Car Shop Inc. for the support of the 2013 bonus programs. At this event, Mark Bowman took home the Holzman Racecars "Quick Reaction Time" bonus with his .013 reaction time in the final round and Bill Seals won the Car Shop Inc. "Outside Looking In" bonus. The next stop on the CSS schedule brings the wild bunch to Kansas International Dragway in Wichita, KS on Saturday July 20th. For more information visit them online at www.cssuperchargers.com.




Drag News: 10 Most Recent Entries [ top ]

Apr 26- Nate Van Wagnen Named Drag Illustrated Editor-In-Chief
Apr 24- NHRA Heritage Series Heads To Wild Horse Pass
Apr 22- K&N Spring Fling Million Final Day Results
Apr 21- K&N Spring Fling Million Friday Results
Apr 20- K&N Spring Fling Million– Thursday Results
Apr 19- K&N Spring Fling Million- Wednesday Results
Apr 18- Buckeye S/SS @ National Trail April 28th
Apr 18- Don "the Snake" Prudhomme Returns To Baja Competition After 50 Years
Apr 18- K&N Spring Fling Million Tuesday Results
Apr 17- K&N Spring Fling Million Pre-Race