Wed, 12 Jun 2013, 15:09 PM



Western Fuel Altereds Tucson Dragway Reunion Results



Courtesy of Jim Maroney



TUCSON, Ariz. --
On May 18th, in conjunction with the Tucson Dragway Reunion, the Western Fuel Altereds held their first event of 2013 at Southwestern International Raceway in Tucson, AZ. Twelve teams were in attendance including the two newcomers of Mic Williams and Greg Holman. The event was run as a shootout format, two rounds of racing with the quick two et's racing in the final.
Greg Holman
First round started out with Mic Williams and Ed Middlebrook. Newcomer Williams upstaged the entire field by showing everyone how to do a burnout and winning the Good Vibrations Burnout contest. Did I mention this was his first race in an altered? All 12 teams made the call and did a great job of putting on a show highlighted by big burnouts, sideways passes and a blistering 6.61 at 215 mph pass by Kevin Knowles. Eric Gates was next with a 6.94 and Chris Phelps with a 7.10. The field was rounded out by Jim Maroney's tire shaking 7.53 Mic Williams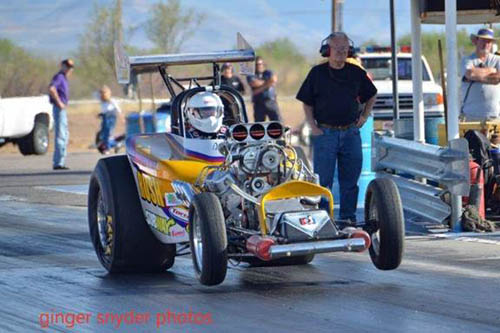 Jerry Hall
Second round most all of the teams stepped up their game. The first pair out was Jerry Hall and Jim Maroney. Hall laid a hole-shot on Maroney to take home the Torco quick reaction time award, but couldn't hold off Maroney's 200 mph big end charge. Kevin Knowles was still on top proving his dominance with a 6.77 and Gates found a tenth with a nice 6.82, but wasn't quick enough to steal the RBS Superchargers Low Et award from Knowles. Gates was followed by Maroney, Winefsky and Holman all of which improved over first round.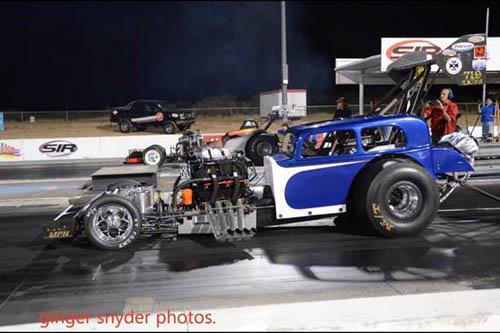 Final Round - Knowles and Gates
That set up the final round between Eric Gates's, big blower alcohol car and Kevin Knowles's nitroburner. When the tree dropped Gates left first and never looked back as Knowles struggled to keep the nitro horsepower in his lane. Congratulations to Eric Gates and the whole team for an excellent win and consistent 6 second car.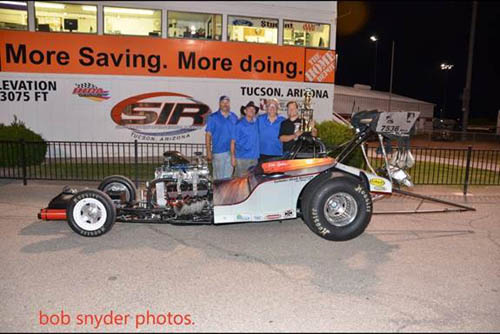 Eric Gates with Crew
(L to R) Keith Stock, Scott Sharp, Greg Larson, Eric Gates




Drag News: 10 Most Recent Entries [ top ]

May 16- Winners Crowned at .90 Series Opener
May 16- 32 Members of the International Drag Racing Hall of Fame will be at be at Spring Classic Nitro Revival May 18-20
May 16- 18th Annual NMRA Ford Motorsport Nationals Final Results
May 16- PDRA Reemphasizes Commitment to Pro Extreme
May 16- For Better or Worse
May 16- Musi Racing Engines and Buck Racing Engines Take Early Lead in Flatout Gaskets Nitrous Wars
May 16- St. Louis Nostalgia Rendezvous this Weekend at Gateway Motorsports Park
May 16- Reichardt Wins Second Round of Sharks of the Strip
May 16- Cook wins Carl's 4WD Bracket Series Super Pro final at Gateway Motorsports Park
May 16- Inaugural VP Racing Lubricants Mid-America SuperCar Showdown Results