Wed, 12 Jun 2013, 12:31 PM



Perry Moves Up a Spot to Take May Edition of The Big Dog Shootout



Courtesy of Greg Burrow, East Coast Drag News



Nitrous 2, Blowers 0, in the First Two Races with All New Rules



JULIAN, N.C. --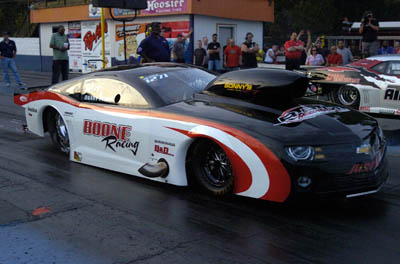 Winner Danny Perry in the
Boone Motorsports Camaro
Last month, there was a weather delay that took several cars away from the traditional first Thursday of the month for Piedmont Dragway's ZDD sponsored Big Dog Shootout. May proved to be just as tempermental as the weather again delayed racing for a week, but the second Thursday in May held perfect weather and 12 cars on the property to qualify for the 8 spots that make the Big Dog Shootout so competitive and the porcelain dog trophy such a coveted piece in drag racing competition.
Qualifying was touch and go as several competitors didn't hook up at all with only one round left. In the end, Jason Harris Pat Musi tuned, Robert Hayes built Pontiac Warbird sat on the pole with a very impressive 3.882 at a whopping 192 mph in the eighth mile. Second was Keith Floyd's blown Camaro at 3.890 @ 189 mph. Third was last month's winner Chris Rini's ATI Camaro at 3.90 @ 188 mph. Fourth was Danny Perry's Jerry Bickel '12 Camaro with Sonny Leonard power @ 3.91 @ 189. This would be an indication of things to come for eventual winner Perry's Boone Motorsports car. Fifth was Ed Hoover's blown Trussel Camaro at 3.933 @ 191 mph. Matt Giangrande's brand new Rick Jones '13 Camaro at 3.946 @ 188 mph. Seventh was Todd Tutterow prot?g?, Kevin Rivenbark in the blown Galot Motorsports Firebird. The final spot went to Kevin's teammate, Todd Tutterow's blown Camaro at 4.022. On the outside looking in were Brian Teachman, Travis Harvey, Jeff Blasi and Andy Beal. This set the eliminations with 4 Nitrous and 4 Blown powerplants in competition.
The first round had Danny Perry starting his march to the finals with a 3.87 over Ed Hoover's 3.93. Matt Giangrande used a 3.93 to take out Chris Rini's very close 3.99. Keith Floyd used a 3.88 to eliminate Kevin Rivenbark's red-lighting 3.91. Last, but not least, Jason Harris held off Todd Tutterow's 3.93 with a 3.87.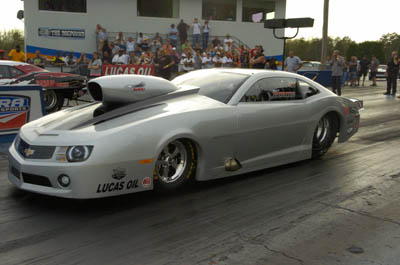 Runner UP Matt Giangrande's new Camaro
In the second round, Matt G defeated Keith Floyd after Floyd's Camaro when it would not fire. Perry used a 3.89 to defeat Jason's off pace 5.69.
In the final, Danny Perry unloaded a bracketlike 3.90 to defeat Matt Giangrande's off pace 6.15 in a battle of nitrous powered Camaros.
A total of 12 competitors showed up for Renegade competition with Tim Lawrence unloading a whopping 176 mph charge to qualify on the pole with a 4.12 et. In the finals, John Lassiter defeated the number 6 qualifier Billy Albert. This field gets closer and more competitive with every event. What an event within an event an worth the price of admission by itself.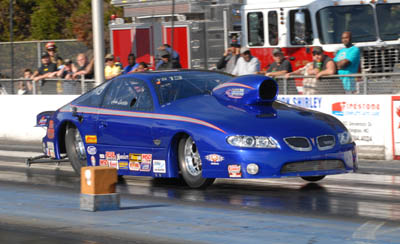 Renegade Winner-John Lassiter
Other winners were William Charles in the 4.90 Extreme eliminator. Rick Whaley won the OReilly Auto Parts Outlaw Doorslammer eliminator. Billy Bakere won in the Mickey Thompson 6.00 eliminator category and Jeff Faucette won the Deep Creek 7.49 Rico's Real Street eliminator.
With a record crowd, Graham, NC's Roger Ausley picked an excellent time to be the presenting sponsor for the May edition of ZDD sponsored, often imitated, never duplicated BIG DOG SHOOTOUT, held every month at the "DoorSlammer Capital of the World" Piedmont Dragway. See you there.




Drag News: 10 Most Recent Entries [ top ]

Apr 20- K&N Spring Fling Million– Thursday Results
Apr 19- K&N Spring Fling Million- Wednesday Results
Apr 18- Buckeye S/SS @ National Trail April 28th
Apr 18- Don "the Snake" Prudhomme Returns To Baja Competition After 50 Years
Apr 18- K&N Spring Fling Million Tuesday Results
Apr 17- K&N Spring Fling Million Pre-Race
Apr 12- Summit Racing Equipment is Newest Sponsor of Midwest Junior Super Series
Apr 12- Summit Racing Named Official MWPMS Sponsor and Event Title Rights Holder
Apr 11- NMCA All-Star Nationals Chevrolet Performance Challenge Series Final Results
Apr 11- Dragstrip Memories Returns in Presenting Canada's Drag Racing History