Sat, 08 Jun 2013, 13:16 PM



Big Track Dryer at Work



by Larry Sullivan


Photo copyright 2013 Roger Richards





PETERSBURG, Va. --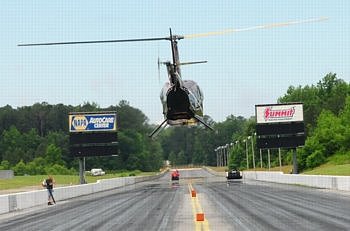 Movin' Air
12:50 p.m. - Although the rain stopped, the air was very humid and the track was drying slowly, so ADRL officials made a bold move.
There is a helicopter here, giving rides. They enlisted the aid of that helicopter in the track drying effort.
It was a good move. One very slow pass down the track (including the shutdown area) and the track was dry enough for the track crew to start dragging the track.
As the helicopter pulled away after its slow pass, the last of the clouds overhead moved on and we now have blue skies and sunshine, which will help complete the track drying process.
The estimated start time is still between 2 and 3 p.m., but it would have been later than that without the assistance of the helicopter.