Sat, 08 Jun 2013, 11:24 AM



Everyone Loves A Good Reunion



By Bob Frey



| | |
| --- | --- |
| | |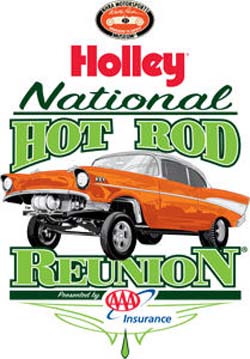 The NHRA Mello Yello Series is off this week but it will resume action next week in the hills of Eastern Tennessee, and while that big event is taking place there will be another event not too far away, 330 miles away to be exact, that will be a little slower. By "slower" I mean the cars that run down the track will be slower, the overall pace of the event will be slower, and yes, even some of the participants and honorees will move a little slower. The event is the 11th Annual Holley National Hot Rod Reunion and it will take place at Beech Bend Raceway in Bowling Green, Kentucky. I have often said that one of, and maybe the only drawback to my racing schedule and my job over the past few decades has been the fact that I wasn't able to attend some of the other races and events that I would like to, events like the one coming up in Kentucky. Well, now that I am retired, I have put some of these on my schedule and I am looking forward to meeting the fans, the racers and especially the honorees next week. While I have been to the California Hot Rod Reunion in Bakersfield several times (and I have the "Geezer" shirt to prove it), and while I have been to Beech Bend several times, I have never been to this particular reunion at this particular track and I am really looking forward to it.
Like most other reunions this one will feature the cars and stars of the past and they will be the center of attention. From the big gala on Friday night to the "Cacklefest" at the track, the people who are being honored this year will be treated like kings and rightfully so. I have had the good fortune to meet with and / or work with all of them over the course of the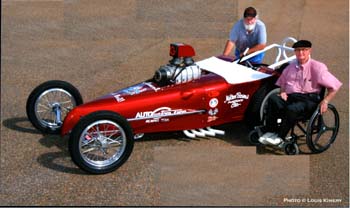 Ray Goodman and Preston Davis
with the "Bo-Weevil" dragster.
years, some more closely than others, and I can't wait to see them all next week. And, like so many reunions, the people who are being honored have earned their place in the limelight thanks to their contributions to the sport, both on and off the track.
Preston Davis will serve as the "Grand Marshall" of the event, and while his name may not be that familiar to the current generation of race fans it certainly is to those who have followed the sport for many years. A talented driver from the South who began racing in the early 1960's, Preston is well known for the years and the cars that he drove for Raymond Godman, especially the line of "Bo-Weevil" cars that Raymond campaigned. That came after Preston raced his own dragster for many years, a dragster that took him to a lot of wins and several national records. But it was his partnership with Raymond that yielded the most success and the two, who started racing together in the late 1960's, are still close friends today. Recently Preston recreated the Modified Roadster that the pair raced and it will be on display in Bowling Green next week.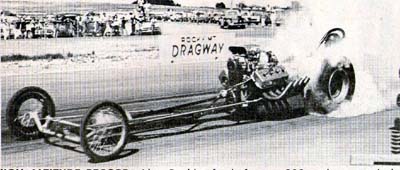 Alan Bockla pictured here
in the '65 National Dragster after
running over 200 mph in Denver.
Photo copyright 2013 NHRA
Alan Bockla is one of the honorees and this award and recognition is a long time coming. I have often said that the racers in the middle of the country get overlooked when we talk about the great history of this sport, and Alan may be a perfect example of that. Racing out of the "High Country" in the Denver, Colorado area, Alan did things in the thin air that nobody thought was possible. He became the first driver at the mile-high altitude to run 170, 180 and 190 miles per hour, and in a match race with "Big Daddy" Don Garlits in the mid 1960's he ran 207 miles per hour, something that even "Big" said could never be done at that altitude. From 1964 through 1968 he was as good as anyone in the country and he took his car to ten Division 5 final rounds and he won most of them. Like many racers of that era Alan and his team didn't travel far from home, but when the big stars came to Colorado they quickly found out what a "home court advantage" was, and more often than not, they left town wondering how Alan could do the things he did in the rarified air at the tracks in his home state.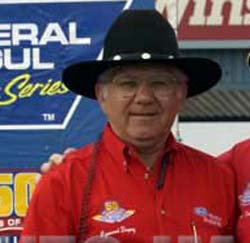 Lynwood Dupuy
Photo copyright 2013 Auto Imagery, Inc.
Lynwood Dupuy has been around the sport of drag racing since 1962 and he only recently retired from his job with NHRA, but he still can be found at special events and tracks all over the country. One of the few men to be recognized for his contributions to the sport even though he never did race a car down the track, Lynwood has helped make the sport better for all participants. In his fourteen years as NHRA's Competition Director Lynwood made sure that all of the cars went down the track safely and he was respected by competitors from the biggest stars in Top Fuel to the final entrant in Super Street. After leaving NHRA he joined NMCA where he continues to serve the racers and prepare the racetracks for the rigorous competition that today's cars demand. And if ever there was a real "people person" in the sport it's Lynwood. "I love what I do and I love the racers and I hope I can do this for many more years." So do we, Lynwood.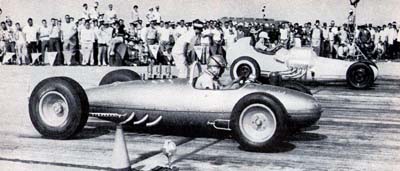 Melvin Heath (far lane) winning
the 1956 NHRA Regional race in Texas.
Photo copyright 2013 NHRA
Melvin Heath was part of the Pokie Okies Car Club, so you know what part of the country he is from. As early as 1964 he had one of the fastest cars in the country, a car that he raced in between the time he spent on his watermelon farm. He was part of the first NHRA Nationals in Great Bend, Kansas in 1955, and while that race didn't turn out quite the way he had hoped, he returned a year later and won the Top Eliminator crown. After beating Bob Alsenz in the class final Melvin returned to beat Don Little for the overall championship and a part in the drag racing history books. Because of NHRA's ban on nitro methane Melvin also made a little bit of history when he won that race and became the last driver for seven years to win an NHRA event with a nitro-powered car. He also won a pair of events during the 1956 NHRA Safety Safari tour and that made him a target for all of the touring pros, especially the California teams, when they came to the "Nationals" later that year.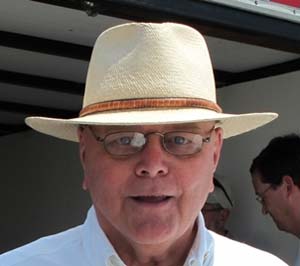 Jon Lundberg
Jon Lundberg is, and for my money always will be, "The Voice of Drag Racing." In the years from 1964 to about 1981 he would work as many as forty-five weeks a year announcing drag races and he became the first man to actually make a living by doing that. When you add in all of the awards shows and banquets that he did you can see that his calendar was always very full. From Bakersfield to the Coca Cola Cavalcade of Stars and the United States Drag Racing Team, Jon announced it all and he performed for and entertained audiences all across the country. I had heard about the man with the big flat-brimmed Stetson hat but I didn't meet him or hear him until the Coca Cola Funny Car circuit came to Atco in the late 1960's, and to say that I was in awe would be an understatement. For better or worse (you decide) Jon is the reason I decided to announce for a living and it will be a real honor to see him receive his award next week. Oh, did I mention that when he came to Atco he brought with him his own, special microphone to use? It was so cool. By the way, to this day I'm not sure if all the stories he told were true, but he told them with such authority that he always made them sound like they were.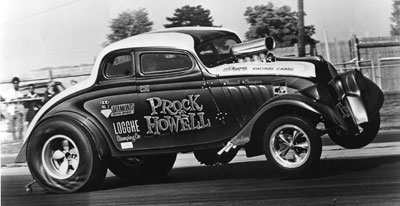 Tom Prock in his flip-top '33 Willys Gasser.
Photo copyright 2013 NHRA
The name "Prock" is very familiar to drag race fans, and while the contemporary fans know Jimmy Prock, the crew chief for Robert Hight, it is his father, Tom, who will be honored at Bowling Green. Like a lot of people of his generation Tom began racing at an early age, but unlike a lot of people he did it with a 1939 Pontiac that ran in C/G. He later stepped up to a flip-top Willys that had a full, chrome-moly chassis and ran on nitro. He worked for the Logghe Brothers at their company and had a hand in building a lot of the early Funny Cars and dragsters. Later he would become a driver and he had his most success in the cars campaigned by the Castronovo brothers. After a few years behind the wheel he became a crew chief and he worked with the great Tom McEwen and was part of Tom's win in the Big Bud Shootout at Indy in 1984. When he decided that touring the country was no longer for him he joined Joe Pisano at Venolia Pistons and he is still there to this day.
In addition to the stars there will be cars of all shapes and descriptions, race cars and show cars, and I am looking forward to seeing them, too. It should be a fun weekend and if I get some time I may even swing by the Corvette Museum. I love retirement!!




NHRA: 10 Most Recent Entries [ top ]

Apr 24- CHARLOTTE 1 - Steve Torrence Enjoying Four-Wide Success Heading to NGK Spark Plugs NHRA Four-Wide Nationals
Apr 24- CHARLOTTE 1 - Fact Sheet
Apr 24- Kalitta Motorsports Welcomes NASCAR Stars to the SealMaster Track Walk in Charlotte
Apr 24- zMAX Dragway Celebrates 10th Anniversary
Apr 24- CHARLOTTE 1 - NGK Spark Plugs NHRA Four-Wide Nationals Brings 40,000 Horsepower Thrill Show to zMAX Dragway
Apr 23- HOUSTON - Lucas Oil Drag Racing Series Wrap Up The NHRA Lucas Oil Drag Racing Series Wrap Up
Apr 23- CHARLOTTE 1 - J.R. Todd Aiming for Two Four-Wide Racing Wins in 2018
Apr 23- Mid America Dragway Joins NHRA Member Track Network
Apr 23- HOUSTON - Special Awards
Apr 23- HOUSTON - Sunday Video