Wed, 05 Jun 2013, 09:56 AM



Brown, Capps Help Raise $5,000 for a Good Cause



Courtesy of Evan Jones



WYOMISSING, Pa. ?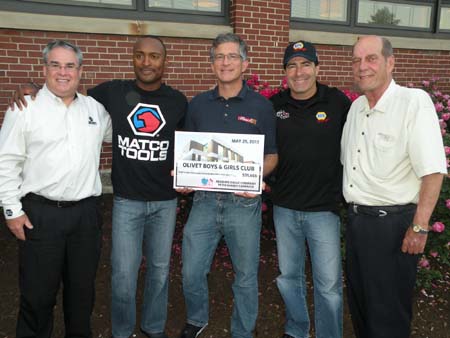 Presenting a check for $31,655 to the
Olivet Boys & Girls Club of Reading, Pa.,
are, from left, Jeff Riling of NAPA Auto Parts;
Top Fuel racer Antron Brown; Peter Barbey,
CEO & president of Reading Eagle Co.;
Funny Car racer Ron Capps; and Maple Grove Raceway
vice president/general manager Lex Dudas.
Two stars from the NHRA Mello Yello Series made a slight detour on their way to this weekend?s Toyota Summernationals at Old Bridge Raceway Park to help a good cause, and have a little fun. ?
Don Schumacher Racing teammates Antron Brown and Ron Capps were on hand Wednesday to take part in the Slick Willy?s/NAPA Auto Parts Challenge benefitting the Olivet Boys & Girls Club Kiss A Pig Campaign.
? The two pros took to Slick Willy?s go-kart track and went against more than 50 other racers and Reading Eagle Co. president Peter D. Barbey ? himself a veteran go-karter ? for the title of ?Slick Willy?s Fastest Driver.?
? The event raised nearly $5,000 for the Barbey?s Kiss A Pig campaign for a total of $31,655. Businesses around Reading, Pa., competed to see who could raise the most money for the Olivet Boys & Girls Club. The winner was Penske Truck Leasing, which raised $111,884. Overall, $290,166 was raised.
? For a $75 donation to the Campaign, dozens attempted to qualify for this event during a two-week period in May. The qualifiers then ran against Brown, Capps and Barbey in the finale.
? It was a task just about all of the racers took seriously. The winner was determined by the fastest recorded lap.
? ?These young kids are fearless,? said Capps, who has won one National Event this season in the NAPA Funny Car.
? Winning the ?Fastest Driver? title was Robby DeBusk from Lancaster, Pa. He recorded the fastest lap of 22.157 seconds. Matt Amos of Reading, Pa., was second at 22.198 and Doug Distasio of Leesport, Pa., was third at 22.280.
? Brown, the defending NHRA Top Fuel champion, said it was both fun and challenging going against them.
? ?The track was really tight,? said Brown. ?It was a lot of fun mixing it up with everybody. In the last heat everybody was running in the 22-second range, so it was definitely fun. I got passed on the last one, so somebody had a little more ?H.P.? than I did. It was really cool coming out and spending some time with our fans like this, especially for a good cause.?
? Capps liked being able to go head-to-head against some fans.
? ?The best part about the karting is that it?s much like golf,? Capps said. ?You can watch a PGA tournament and then play that course with the same clubs that a pro plays. It?s the same thing; you can race this course with me, Antron Brown or Tony Schumacher, whoever. As a fan it?s really cool that you can say ?I beat that guy and then I hung out with them.? I think that?s what?s neat about the karting.?
? Both Brown and Capps will be back in the area in October for the Auto-Plus NHRA Nationals at Maple Grove Raceway.




NHRA: 10 Most Recent Entries [ top ]

May 21- TOPEKA - Pro Mod Championship Points
May 21- TOPEKA - Monday Video
May 21- TOPEKA - Monday Pro Mod Wrap Up
May 21- TOPEKA - Monday Wrap Up
May 21- TOPEKA - Championship Points
May 21- TOPEKA - Summary of Eliminations in Top Fuel
May 21- TOPEKA - Summary of Eliminations in Funny Car
May 21- TOPEKA - Summary of Eliminations in Pro Stock
May 21- TOPEKA - Summary of Eliminations in Pro Modified
May 21- TOPEKA - Summary of Eliminations in Top Alcohol Funny Car