Wed, 05 Jun 2013, 09:34 AM



Abruzzi Racing Transmissions Joins DSE Sportsman Series in 2013



Courtesy of DSE Racing Series


Photo Credit Stacee Kenington,





$1200 in Abruzzi Certificates to be won in Modified and Super Pro



WARREN, Ohio --
Participants in the DSE Automotive Sportsman Racing Series will be competing for $1200 in additional prizes this summer all thanks to Abruzzi Racing Transmissions. Class Champions in Modified and Super Pro as well as, 2nd?place and 3rd?place point?s finishers will receive Gift Certificates that they can redeem when purchasing a Transmission or Torque converters at Abruzzi Racing Transmissions.
Founded in 1957 and originally called A&T Garage, Marco Abruzzi has grown Abruzzi Racing Transmissions into an Industry leading manufacturer of high performance Transmissions and Torque Converters that boasts a client list that has some of the fastest and most competitive Sportsman Bracket Racing vehicles in the North East.
Class Champions in Modified and Super Pro will both receive $300 certificates while 2nd?place will win a $200 certificate and 3rd?place a $100 certificate in conjunction with other Cash and Prizes.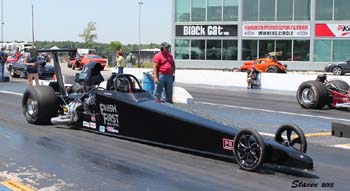 Series Regular Bob Jennings has over 350 passes on
his Abruzzi Racing Transmission which regularly
see?s Mid 7 second passes at 175 MPH double entering
in both Super Pro and Frantic 14 !
?We cannot Thank Abruzzi Racing enough for joining the ever growing list of Companies wanting to support the DSE Sportsman Racing Series this season,? commented Series Director Andrew Stirk. ?We have really worked hard to put together a great program for racers this season, and we hope that this is the beginning of many great years to come for Sportsman Drag Racing in Ontario!?
The first Event in the DSE Automotive Sportsman Racing Series is the 2nd?Annual Dilts Piston Hydraulics Season Opener which takes place June 8th-9th?at Cayuga Dragway of Toronto Motorsports Park. The DSE Sportsman Racing Series boasts a $14,500 Year end points fund, and features a point?s structure where racers claim their best 7 out of 12 point?s races during the season.




Drag News: 10 Most Recent Entries [ top ]

Apr 24- NHRA Heritage Series Heads To Wild Horse Pass
Apr 22- K&N Spring Fling Million Final Day Results
Apr 21- K&N Spring Fling Million Friday Results
Apr 20- K&N Spring Fling Million– Thursday Results
Apr 19- K&N Spring Fling Million- Wednesday Results
Apr 18- Buckeye S/SS @ National Trail April 28th
Apr 18- Don "the Snake" Prudhomme Returns To Baja Competition After 50 Years
Apr 18- K&N Spring Fling Million Tuesday Results
Apr 17- K&N Spring Fling Million Pre-Race
Apr 12- Summit Racing Equipment is Newest Sponsor of Midwest Junior Super Series