Thu, 30 May 2013, 17:19 PM



They Love Comp Racing In New Jersey



By Bob Frey


Photo copyright 2013 Auto Imagery, Inc.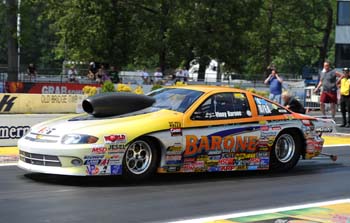 Sal Biondo leads qualifying
after one round.
It's summer, or will be officially soon, and that's when a young man's fancy turns to thoughts of sportsman racing at Englishtown. Ok, so maybe that's not exactly how the expression goes, but for any serious drag racing fan, especially those on the East Coast, racing at the Summernationals (or whatever you want to call the NHRA national event in Englishtown) means lots and lots of sportsman racers. Granted, the top of the line cars in the Lucas Oil Series, the Top Alcohol Dragsters and Funny Cars are not part of the race this weekend and that's a shame, but a lot of other classes and categories are. Among them, and one that will get a lot of interest from the fans, is Competition Eliminator, and that's because it brings together some of the best and brightest in the class from all over the eastern seaboard. While a lot of other tracks, events and divisions scramble to fill the field, the race in New Jersey almost always seems to be full on Comp cars and that's good for everyone, especially the fans.
Comp, as you know, features a wide variety of cars and classes and you will get the whole spectrum in New Jersey this weekend. As I write this story the fields are about 90% full for the Toyota Summernationals and Comp will have a full thirty-two car field and that is noteworthy these days. Let's face it, it's not an "entry level" class and it certainly isn't inexpensive to compete in, so to get almost three dozen cars at one race is a good thing. Now before you write and say that they used to have a million Comp cars at every race, remember, these are different times and getting a full field in this category is a major accomplishment. It must be something about the track, the fans, the history or a combination of all of the above, but Comp has always been a mainstay at E'town, and I for one am glad it's part of the show this year.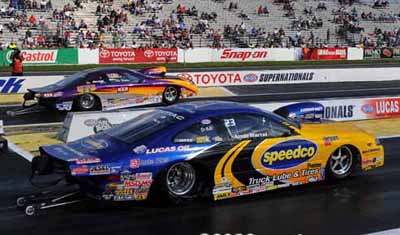 Arnie Martel defeated Dan Fletcher
in the final last year.
Over the years there have been so many great champions in Comp at the Summernationals and among the winners are Francis Crider (1971), Pete Shadinger (1973), John Lingenfelter (1977), Bob Newberry (1980), and Bob Benza (1986). More recently names like Biondo, Northrop, Martel, Fletcher and Rampy have been the champs and that's just a very short list. To win a national event in Comp is a real accomplishment and to do it in New Jersey may be second only to winning the marathon that is the U.S. Nationals. The class has been contested in New Jersey every year since the event began in 1970 with the lone exception of 2005, and this year Arnie Martel will look to win back-to-back Englishtown titles in Comp and that's something that has never been done before. Never!
The "new breed" of Comp racer, like Arnie Martel, David Rampy and Dan Fletcher to name just a few, are basically pro racers, men who do this for a living, and maybe that's why it's so tough to repeat nowadays. Of course in the early years you had some of the pro racers competing in Comp, and they did it for a variety of reasons, and that's why a legend like the late Don Carlton was able to win the race in 1976. In fact, when he wheeled his Nationwise Rod Shop Dodge to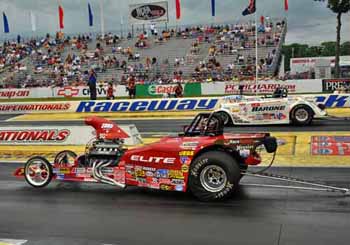 David Rampy defeated Anthony Bertozzi
in the 2011 final.
victory he did so by beating Don Nicholson in the final round. One wonders, what two great Pro Stock racers, or match racers, like that were doing in the Competition Eliminator class at a national event? Probably the same thing that Butch Leal was doing, running in the B/A class instead of Pro Stock. Anyway, that final produced a great race (8.55 to 8.58) that could have been a Wednesday night headline match race at Englishtown.
Looking down the lineup of entries for this year's race it reads like a "Who's Who" of the Comp world. As mentioned, Arnie Martel will be there with his Speedco-sponsored GTO in an attempt to go back-to-back, but he will get a lot of attention from the aforementioned David Ramp who won here in 2007 and again in 2011. Both of the racers David beat in the final round, Anthony Bertozzi and Allyn Armstrong, who have three final rounds between them, are also expected to make a serious run for the title. Sal Biondo, the 2010 champ, will carry his family's name into battle and he will be joined by Tom Stalba, Michelle Costa and the veteran Carl Miller. Frank Aragona, fresh off his win at the Division 1 race at Maple Grove, and a former Lucas Oil World Champion and two-time runner-up at the event, would love nothing more than to add an Englishtown trophy to his already over-crowded mantle.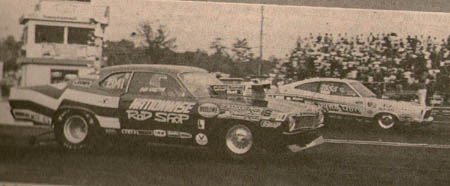 Don Carlton defeated Don Nicholson
in the 1976 Comp final.
While the field is absolutely loaded with former winners, national champs and record holders, there is one real sleeper in the field and that's Anthony Niemczyk. His little 125 cubic inch, turbocharged Mopar-powered dragster is a real work of art and we'll have a feature on Tony and his dad in the weeks ahead. While the team will be looking for their first national event win, and while E'town isn't the easiest place to do that, I think they have a real shot at surprising some people. Let's face it, a small car like Anthony's that can go 200 miles per hour is just another reason why I love Comp and I'm sure the New Jersey fans will love this car, too. Anthony qualified at the top of the pack at the Maple Grove national event last year so you know he can run with the best of them, and that's exactly what he'll be doing this weekend.
Before I go on I ask you please, please don't write to me and say that I forgot a particular car, because with three dozen entered this week I just can't mention them all. Suffice it to say this one class at this one race is almost enough to bring me out of retirement. Almost! But I can say this, I will be watching the results in Competition Eliminator this week as much as I will be looking at the results in the top four Mello Yello (professional) classes. After all, I was there when Pete Shadinger won in 1973, when George Supinski won in 1983, when David Nickens won in 1993 and when Bill Griffin won in 2003, so I feel like Comp at Englishtown is a part of me, and why not, it is one of the best classes at any race, and that's especially true at the historic New Jersey track.




NHRA: 10 Most Recent Entries [ top ]

Sep 22- GAINESVILLE - Fact Sheet
Sep 22- GAINESVILLE - NHRA Mello Yello Drag Racing Series Stars Excited for Unique History-Making Opportunity
Sep 22- NHRA Inks Multi-Year Extension with Fox Sports
Sep 17- INDY 4 -Through the Lens of Ron Lewis
Sep 16- Third JEGS SPORTSnationals Event will Round Out Revised Pacific Division Schedule
Sep 14- INDY 2 - Summary of Eliminations in Top Fuel
Sep 14- INDY 2 - Summary of Eliminations in Funny Car
Sep 14- INDY 2 - Summary of Eliminations in Pro Modified
Sep 14- INDY 2 - Summary of Eliminations in Top Fuel Harley
Sep 14- INDY 2 - Summary of Eliminations in Factory Stock Showdown