Wed, 22 May 2013, 20:39 PM



It's Only A Little Different



By Bob Frey


Photo copyright 2013 Auto Imagery, Inc.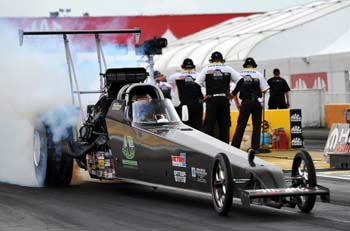 Brandon Booher
Over the course of the years drag racers, probably more than those in any other form of racing, have tried to do things a little differently than the normal guy. And, over the course of the years some have been very obvious and some have not, and some have been very successful and some have not. Some, in fact, have been complete failures. The allure of a three-wheeled dragster caught someone's attention years ago and so did a dragster with four, count 'em, four rear tires. As hard as it may be to believe, while those ideas may have been good in theory they were pitiful in reality. So were the not so popular twin-engine Top Fuel cars, although for some reason twin-engine gas dragsters were a familiar sight at drag strips for many years. Station wagons have been tried in Funny Car and Pro Stock, and while the weight transfer of such a vehicle sounds good it apparently didn't translate into a good race car, and if it had we would have seen more than the handful of them that existed. The drivers in the famous AA/GS class tried to put turbochargers on their cars, and while they ran very well, or in the case of "Ohio" George Montgomery extremely well, they weren't a big hit with the fans and they soon went the way of the twin-engine fuel cars. Turbo units also found their way into gas dragsters and, eventually, Funny Cars, but not for long. Even today drivers and teams like to tinker with a proven combination in an effort to make it better, after all, it's what has made this sport so great for so many years. Today, with the rules the way they are, there isn't a lot of wiggle room for teams to try something new and revolutionary, but that still doesn't stop them from trying. Take the case of Brandon Booher and his Top Alcohol Dragster team, a team that competes in the rugged Division 3 region and is now trying something that not a lot of other teams are attempting, and that is to make a torque-converter equipped car be competitive in a dragster.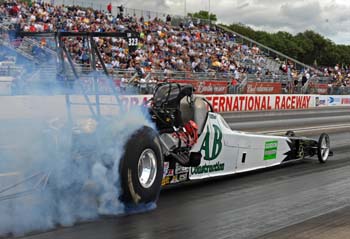 Booher in 2009
Brandon Booher is thirty years old and he has been racing since he was eleven. "I had a Jr. Dragster that I raced for a few years and then we had a Super Comp car for about a year before we stepped up to a blown, alcohol dragster when I was about seventeen." Brandon, who travels with, works with and races with his father, said that he got to be the wheel man after dad decided he didn't want to do it any more. "Dad drove the car about two times, and on the second pass the wheel came off the rim and, well, let's just say that dad was along for a wild ride. After that he told me that either I learn how to drive the car or he was going to sell it. Sometimes I think that he regrets giving me that option." Brandon, like most young men, jumped at the chance to drive the car and he has been behind the wheel ever since, and through all of those years the one constant has been the fact that the team has always run a car with a torque converter. "Yeah, I think other than one time when I sat in Marty Thacker's car and warmed it up I have never been in a race car that didn't have a torque converter." And that begs the question, why? "There are two main reasons why we do it and the first is financial. We run the car out of our own pocket and the torque converter is about twenty thousand dollars a year cheaper to run. Second, since it's usually just me and my father at the races, we can save about twenty hours of work on the normal race weekend, and believe me, that's a bunch."
When you take in those two aspects, financial and work, you have to wonder why more teams don't use this unique combination. "We get asked that all the time," Brandon said. "When we first started other racers came up to us and said that people with more money than us and people who are smarter than us have tried and not succeeded, so why do you think you can make it work? I have to admit, that comment about smarter people really hurt and may have been one of the reasons why we stuck with it." It's not easy telling a young man who went to college and majored in English and Political Science that there are a lot of smarter people out there. "I know what they meant but it just came out wrong," he added.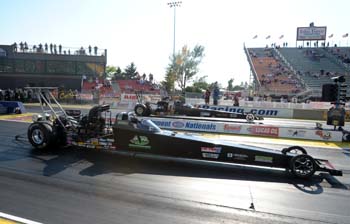 Booher vs. Marty Thacker
in 2011 Norwalk final.
Aaron Booher, Brandon's father, wasn't the only one who had a wild ride in the family car. "I had some problems and got some fuel under the tires at Indy in 2009 and pretty much destroyed our old car." Like most racers, after an incident like that Brandon was determined to race again so he had Mike Spitzer build another car and it, too, had a torque converter. "Mike builds a great car and that's why you see so many of them out there. This car ran well when we first brought it out, but then I got married last year, and other than Indy we didn't run at all in 2012. After all, I had to save money somewhere, didn't I?" But when they came back they came back with a vengeance. "I have to give all the credit to my dad. First of all it's ninety-nine percent his money and one percent mine. Plus he is always working on ways to make it lighter." One of the main things that the elder Booher did during the team's layoff was to look for ways to shave some weight off the car. "We were always about forty pounds heavy and with these cars you can save weight two ways, you can buy new titanium parts, which cost a lot of money, or you can see what you can do yourself on the car to get it lighter." Brandon went on to say that he would come out to the shop and find his father cutting here, and trimming parts there. "I thought, what's that going to save, and then I realized that if you save sixteen ounces one at a time that's a pound and that can mount up to some big savings." See, that Illinois State University education is paying off, isn't it?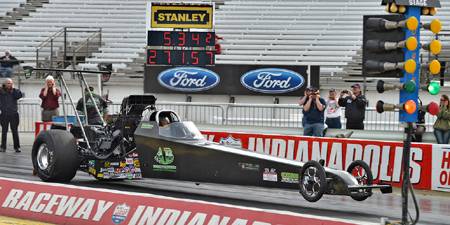 Booher ran his career best
at the Indy Divisional race.
Photo copyright 2013 Steve Fuhrman
In addition to the weight they were able to trim off the car the Booher's got a break when NHRA changed the minimum weight limits on the cars equipped with torque converters. "We got a fifty pound weight break and that's huge." Maybe that's why they ran so well at the Division 3 event in Indy, or maybe it's just years of hard work. "We unloaded the car and ran very well and ended up with our career best numbers, a 5.34 at 271 miles per hour. Now I'm not a very emotional guy but I have to admit that run really got to me and I know there is more there. I don't want to sound like Warren Johnson, you know, get out of the car and never be happy with the numbers, but we were very sluggish down low and if we can fix that I think this car and this combination can go in the high 5.20's. The torque converter enables us to be consistent on any track and in any weather conditions and we're really looking forward to racing this year. Let's face it, that 5.17 run (of Jim Whiteley) was unworldly, and we can't do that, but I do think we can step up and run with any of the blown cars out there, and if I do my job as a driver we can win with this combination. Of course I have to thank my wife, Shannon, for all of her support as well as a couple of guys who really help us at the races, Drew Fleuhr and Pete Brady. Their help is so important to us."
As nice as it is to run career best numbers and maybe, just maybe, prove some of those skeptics wrong, Brandon says that's not the best part of racing right now. "To get to do this with 'Pops' is the best part. He really works hard on this and to see it run like it has and to see him happy is the best feeling in the world." If he thinks his father is happy now wait until they roll this car, complete with its torque converter, into the national event winner's circle, and when they do you will have to look closely, because as unique as the combination is, externally it only looks a little different than the other cars, but it sure does run well.




NHRA: 10 Most Recent Entries [ top ]

Apr 23- HOUSTON - Lucas Oil Drag Racing Series Wrap Up The NHRA Lucas Oil Drag Racing Series Wrap Up
Apr 23- CHARLOTTE 1 - J.R. Todd Aiming for Two Four-Wide Racing Wins in 2018
Apr 23- Mid America Dragway Joins NHRA Member Track Network
Apr 23- HOUSTON - Special Awards
Apr 23- HOUSTON - Sunday Video
Apr 22- HOUSTON - Sunday Pro Mod Wrap Up