Tue, 21 May 2013, 16:27 PM



Topeka And The Grump



By Bob Frey


Photo copyright 2013 Auto Imagery, Inc.





| | |
| --- | --- |
| | |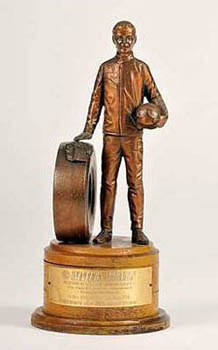 One of the things that I looked forward to as I entered into my retirement years was the possibility of going to some events that I was never able to attend because of my work schedule and one of those events was the big Mecum car auction in Indianapolis. Well, now that I have all of this free time (he said tongue in cheek) I did get to go to Indy for the special auction of Bill "Grumpy" Jenkins memorabilia and I had a blast. I will have much more on the entire event later this week but for now let me just say that they sold over 150 items, mostly trophies, and I didn't get a single one. That's not because I didn't want one or two, but the prices were astronomical, at least they seemed that way to a retired guy like me. There was one trophy there from the 1970 Winternationals that I thought should have been the most desirable one of the lot and it sure was. When the bidding was over that little gem sold for $17,000, and before you ask, I wasn't the highest bidder. Heck, I wasn't even close but I did have a great time. Please check my story on Thursday for more on this great event and if you ever have the chance to attend a Mecum auction you should do it because they are a lot of fun, and apparently a lot of drag racing fans go there because I signed a bunch of autographs.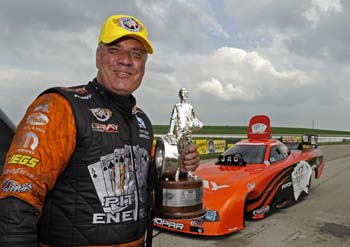 Johnny Gray celebrates third win this season.
The weather was a big factor again at an NHRA Mello Yello race and this time the victim was the event at Heartland Park Topeka. As I was sitting in my hotel room in Indy I noticed that they were running most of the sportsman cars on Saturday in order to free some time for Sunday when rain was expected. They finished everything except the alky cars and that meant that only the two alcohol classes and the Mello Yello series cars would run on Sunday. Hey, you do what you have to do in order to finish the race but I'm sure it's not the way anyone wanted to do it. In the end it was Shawn Langdon, the red hot Johnny Gray and the always tough Jeg Coughlin who took home top honors and the special silver anniversary trophies that went with it..A quick look at the standings now finds Shawn just about a round and a half behind the leader, Tony Schumacher, while Johnny is now in sole possession of first place in the Funny Car class and Jeg jumped to second in the points behind the leader, Mike Edwards...I have mentioned several times already this season about how competitive the Funny Car class is and with Johnny in the lead it just emphasizes that point. Did you know that this is the first time in his career that Johnny has had the Funny Car point's lead all to himself? With the lead he becomes the fifth Funny Car driver to be in the top spot this year and that's a bunch after only eight races. Did you know that this is just the third time in Funny Car history that we have had five different leaders after the first eight races of the year? It happened in 1982 and again in 1990, but other than that this is the first time that we have spread the wealth around this much in the Funny Car class in just eight races..Johnny's win was his third of the year and his second consecutive win and they are both personal bests for the veteran driver. Not only was the win the first time that he has ever won back-to-back events, but did you know it was also the first time that he went to the final round at one race after winning the previous event? He did have a great stretch near the end of the year in 2011 when he went to three consecutive finals, and two of the drivers he lost to at those races were Jack Beckman and Robert Hight. I only mention that because two of the drivers he beat in Topeka were Jack Beckman and Robert Hight.. Rob Wendland and the crew have Johnny's Pitch Energy Drink car running very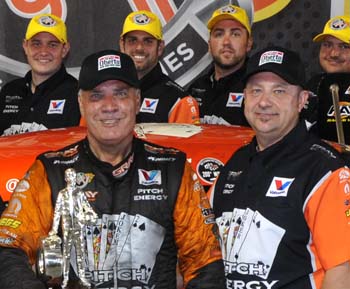 Gray and Rob Wendland
well and they will be tough to beat down the stretch this year. For a guy who has said that this is his last year running for the points he sure is making the most of it, isn't he?....
John Force
looked like the John Force of old when he qualified at the top of the pack. This was John's 141
st
number one spot and that is, by far, the most in the Funny Car class. To show you how good John's total of 141 is,
did you know
that the next three drivers,
Cruz Pedregon
,
Don Prudhomme
and
Robert Hight
have a combined total of 146 top spots?.....John wasn't able to convert that top spot into a win and that's something he hasn't been able to do for a while.
Did you know
that the last time he qualified at the top and won four rounds on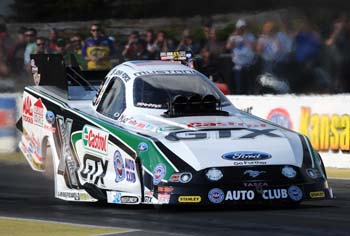 John Force
Sunday was at
Pomona
at the end of the 2004 season? Since then he has been the top guy seventeen times and not been able to convert that into a win. In fact,
did you know
that he has only made it past the second round at four of those seventeen events? But then John can be excused if he wasn't entirely focused on the race because he was thinking about becoming a grandfather, again, and in the big picture that's more important than winning a race, at least I think it is..
Robert Hight
looked like the Robert of old and he made it to the final round for the first time since Atlanta last year. Robert made three good runs coming into the final round and that's where he ran up against Johnny who made four good runs on Sunday and that was the difference. For the record Johnny's slowest run on Sunday was his first round 4.117 win over
Alexis DeJoria
..Since I mentioned the "Snake" I should add that he had a car at the Mecum auction, the
Skoal
Bandit
Funny Car that swept Indy in 1989, but I'm not sure if it sold. Don did tell me that the
"Snake and Mongoose"
movie will be out September 6
th
so mark that date down on your calendar.
There was a little bit of history made in the Pro Stock class on Sunday. First of all Jeg Coughlin won the race and his four round wins gave him 502 for his career. Did you know that Jeg became just the fifth Pro Stock driver to win 500 or more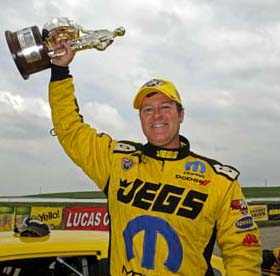 Jeg Coughlin celebrates first win this season
rounds in his career? He joins
Warren Johnson
(873),
Bob Glidden
(597),
Greg Anderson
(569) and
Kurt Johnson
(548) in that exclusive club. He also became just the twelfth driver in all of the Mello Yello classes to win 500 or more rounds, so a big congratulations to Jeg for a great career and a really good weekend in Kansas..Jeg beat his teammate and the reigning World Champion,
Allen Johnson
, in the final round and that was the third time this year that two Dodges have made up the Pro Stock final round.
Did you know
that in the entire history of the class, and that goes back to Bill Jenkins' big win at the 1970 Winternationals, this was only the eighteenth time that two Dodge cars have met in the Pro Stock final round? The best year for the Dodge boys was 1994 when
Darrell Alderman
and
Scott Geoffrion
combined for five final rounds, but the way Jeg, Allen and the other Dodges are running this year I'm sure that 1994 record will be beaten in 2013..There was another interesting little tidbit from the Pro Stock class this week and that came about when
Steve Kent
, one of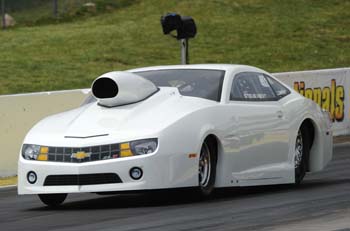 Steve Kent
the last drivers to still run a Pontiac, debuted his new
Chevrolet Camaro
and that meant that there were no Pontiacs in the Pro Stock field, in fact there weren't even any Pontiac Pro Stock cars on the grounds in Topeka and that hadn't happened for a long, long time. I should have mentioned this after the Las Vegas race earlier this year because there weren't any Pontiacs in the top sixteen at that race (although there were two, including Steve on the property).
Did you know
that prior to Vegas the last NHRA national event that didn't have a
Pontiac
in the Pro Stock field was the
Golden Gate Nationals
in 1982 and that was an eight-car field and it was 601 races ago? There were six Chevrolet Camaros, an
Oldsmobile Starfire
and a
Ford EXP
, but no Pontiacs in that field. And, prior to Vegas, the last time there were no
Pontiacs
in a sixteen-car field was at the Winternationals in 1982. That group included ten Chevrolets, three Dodges, two Fords and a
Plymouth
but no
Pontiacs
. That's a long time and a very impressive streak for one auto maker, isn't it? And now, in
Kansas
, there weren't even any
Pontiacs
trying to make the show...
Did you know
that
Pontiac
drivers have won 246 NHRA national events and that is, by far, the best for any manufacturer in the Pro Stock ranks? Chevrolet is next with 182 wins but they are still out there, or maybe I should say they are back out there winning races, but then again so are the Dodges.
Did you know
that the Pontiac Firebirds won ninety races and that's the most for any particular model in Pro Stock history?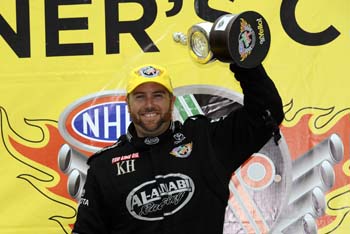 Shawn Langdon second win this season.
Shawn Langdon won for the second time this year and he beat the "Sarge," Tony Schumacher, in the final round. With all the history between Tony and Alan Johnson, the man who calls the shots on the Al-Anabi dragster, that is turning into one of the better matchups in the class. The two drivers had qualified first and second in the field and both ran well prior to their final round meeting. Did you know that this was just the third time it the twenty-five year history of the Topeka race that the top two dragster qualifiers made it to the money round? It happened the first year of the race, 1989, when Dick LaHaie beat Shirley Muldowney in the final round and it happened again in 1993 when Scott Kalitta beat Cory McClenathan in the final round. Unlike this year in both of those previous cases the winner was the number two qualifier..Shawn saved his best run, a 3.750, for the final round and that's the same round where Tony set top speed at 327.27 mph. That just goes to show the quality of those two teams and I hope the fans in Topeka enjoyed the show because it was a good one. Did you know that was the 92nd time that Tony has set top speed, and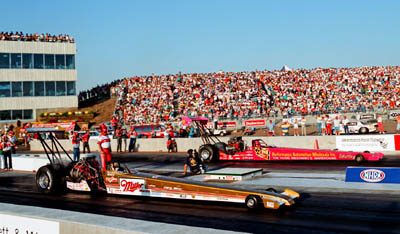 Dick LaHaie defeated Shirley Muldowney
in 1989 final.
while that's the best in the Top Fuel class it ranks third among the top three classes? Warren Johnson recorded top speed a staggering 221 times in Pro Stock and John Force did it 117 times in Funny Car. None the less Tony is the leader by far in the dragster class and his performance on Sunday just shows how good he and his
Army
team are..
Did you know
that Tony's final round was the 124
th
of his career and that ties him with
Frank Manzo
for fourth place on the all-time list of racers in all classes? By way of comparison
did you know
that Tony has been to those 124 finals in 368 races, and that comes out to a final round in about one of every three races? Frank, on the other hand, has been to his 124 final rounds at just 245 races and that's slightly better than a final round in every other race. Any way you look at it those are two pretty good racers..
Leah Pruett
won a couple of rounds for the first time in her Top Fuel career and she continues to make a case for herself for
Rookie of the Year
honors while
Brittany Force
and
Chad Head
appear to be the others in contention right now.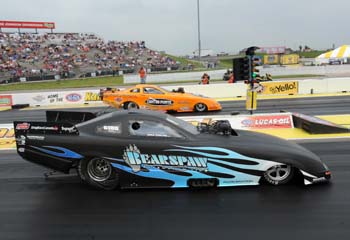 Jirka Kaplan defeated Tony Bartone
for first TAFC win.
Alan Bradshaw won for the first time in almost ten years when he beat Chris Demke for the Top Alcohol Dragster crown, and Jirka Kaplan beat Tony Bartone to claim his first national event win in the alky Funny Car class. Alan, a former Lucas Oil World Champion, won his first race since he beat David Wells in the final round at Brainerd in his championship year of 2003. Now that was almost ten years ago and while that seems like a long time (and it is) it's not even close to the longest drought in the alky dragster class. For whatever reason, work, schedule, family life or other circumstance, sportsman racers often go long times between wins. Mike Kosky went twelve years between wins and Tom Conway went thirteen years without a win, but did you know that Jay Meyer had the biggest drought in Top Alcohol Dragster history? Jay won in Denver in 1983 when he beat Bubba Sewell and then he didn't win again until be beat Mark Hentges at the Gatornationals in 2000, almost seventeen years later. Now that's a drought!




NHRA: 10 Most Recent Entries [ top ]

Apr 24- CHARLOTTE 1 - Steve Torrence Enjoying Four-Wide Success Heading to NGK Spark Plugs NHRA Four-Wide Nationals
Apr 24- CHARLOTTE 1 - Fact Sheet
Apr 24- Kalitta Motorsports Welcomes NASCAR Stars to the SealMaster Track Walk in Charlotte
Apr 24- zMAX Dragway Celebrates 10th Anniversary
Apr 24- CHARLOTTE 1 - NGK Spark Plugs NHRA Four-Wide Nationals Brings 40,000 Horsepower Thrill Show to zMAX Dragway
Apr 23- HOUSTON - Lucas Oil Drag Racing Series Wrap Up The NHRA Lucas Oil Drag Racing Series Wrap Up
Apr 23- CHARLOTTE 1 - J.R. Todd Aiming for Two Four-Wide Racing Wins in 2018
Apr 23- Mid America Dragway Joins NHRA Member Track Network
Apr 23- HOUSTON - Special Awards
Apr 23- HOUSTON - Sunday Video