Wed, 15 May 2013, 19:15 PM



NHRA Funny Car Star Hagan Racing into Championship Form



Courtesy of NHRA Communications


Photo copyright 2013 NHRA





At NHRA Kansas Nationals



TOPEKA, Kan. --
Matt Hagan
The NHRA Mello Yello Drag Racing Series returns to Heartland Park Topeka, May 17-19 for the NHRA Kansas Nationals and 2011 Funny Car world champion Matt Hagan is in contention for his first career win at Heartland Park as well as another Funny Car championship. Hagan, in his Magneti Marelli/Rocky Footwear Dodge Charger recently raced to his first win of the season at Charlotte, breaking a 23-race winless streak. Last weekend at Atlanta, when Hagan raced to the No. 1 qualifying position he ended a 29-race drought from the top of the qualifying order.
"You never doubt yourself; you always put that first foot forward and know it could be your weekend at any time," Hagan said. "It really just helped our team come together. We have a new deal, a new outlook and I think as far as having a new leader here with [crew chief] Dickie [Venables] tuning this car, it didn't take as long as I thought it would with a change like that. I'm very excited about that. I'm excited that we ended our drought. I think that we kind of created our own drought so it was nice to come out of something that I think we crated ourselves."
When the 2011 Funny Car season came to a close, Hagan was on top of the world. He won the season-ending event in Pomona, was crowned the Funny Car world champion for the first time in his career and his focus was set on 2012 and the defense of his championship. But four first round losses and one failure to qualify in the first six races of 2012 derailed championship hopes and the team was never higher than 11th in points.
This season is turning out to be a complete opposite for the team with one win, two runner-up finishes and one No. 1 qualifying position. They have also led the points and are currently second, only 13 behind leader Cruz Pedregon. Not only is Hagan's confidence high following the win, but also that of his entire crew.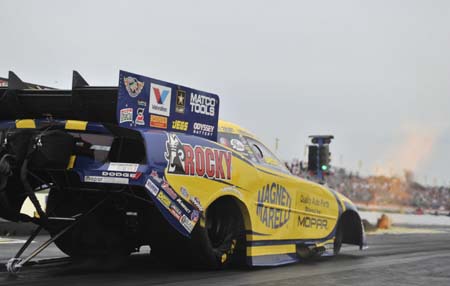 Matt Hagan
"It was phenomenal," Hagan said. "To watch [the crew] light up; we had a new kid on the car that had never won before. It was very exciting. You're making memories that they won't ever forget for the rest of their life. That's something that they'll take with them even when they are done with the sport. It's just cool to be a part of that. I was very excited for them, just knowing that they worked so hard to get there. I'm just excited in our second final of the year we were able to seal the deal."
Hagan has found success this year with the addition of veteran tuner Venables as crew chief of the 8,000-horsepower Funny Car. Venables, a two-time Funny Car champion crew chief with Pedregon Racing in 2007 and John Force Racing in 2003, brings decades of experience and success to the car.
"Tommy DeLago [former crew chief] and I had a lot of success; he's a brilliant tuner and a great crew chief, but the chemistry and communication between Dickie and I surpass what I've had in the past," Hagan said. "Dickie is just a great guy and he's easy to get along with. We hang out outside the race track and at the track. When you have that kind of chemistry, it definitely helps out on the racetrack and I think it shows."
The NHRA Kansas Nationals is the eighth race of the 24-race NHRA Mello Yello Drag Racing Series season and numerous rounds of racing remain before a champion is crowned at Pomona. Hagan knows what it takes to win a championship and hopes the momentum continues during the remainder of the season.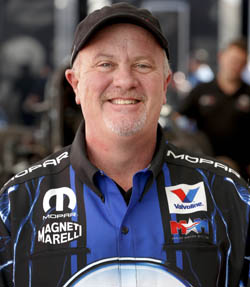 Dickie Venables
"I've never felt this excited about a team, a car or a crew," Hagan said. "We've won a championship, we've been runner-up, set world records, but I've just never had this kind of chemistry with a team up until this point. For me it is very, very exciting and I just want to grow that and continue to build on that chemistry that we have. These kids working on the car are very, very positive; they are learning fast and are dedicated to their job. It makes me want to be more dedicated and step up and make sure that I'm getting us a couple hundredths on the tree, they get us a couple hundredths on the race track and that's a tough combination to beat."
When Hagan isn't behind the wheel of his Funny Car he can often be found on a tractor at his 1,000-acre cattle ranch he owns and operates in Southwestern Virginia. As he interacts with the fans at the event he shares a common bond with many of them.
"I can relate to a lot of folks in Topeka and Kansas because it's a farming community," he says. "I sit at the ropes and talk more about farming than racing. It's always nice to get out there and see how everyone's doing and what the farming community is into and maybe do a little bench racing too at the ropes."
Along with Hagan, many drivers in the NHRA Mello Yello Drag Racing Series will be vying for wins at the crown jewel of the Midwest. David Grubnic (Top Fuel), Jack Beckman (Funny Car), and Allen Johnson (Pro Stock) will try to defend their 2012 event victories. The event will be televised on EPN2HD with five hours of event coverage.
Hagan has shared the points lead this season with teammates Ron Capps and Johnny Gray as well as Courtney Force and Cruz Pedregon, all leading the standings early in the season. Alexis DeJoria, Tim Wilkerson, Robert Hight and veteran Del Worsham will all be looking to grab their first win of the season at the NHRA Kansas Nationals.
In Top Fuel, defending winner Grubnic will have to hold off a tough contingent of challengers, including seven-time world champ and current points leader Tony Schumacher, Atlanta winner and defending world champ Antron Brown, national speed record holder and last season's runner-up Spencer Massey, Al-Anabi Racing's Shawn Langdon, Mac Tools driver Doug Kalitta, and Atlanta runner-up Brandon Bernstein.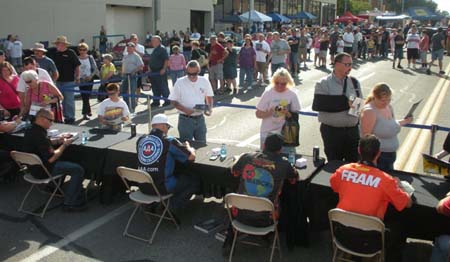 Drivers sign autographs at Speed Fest last year
In Pro Stock, defending world champion Allen Johnson is a two-time Topeka winner in his Team Mopar Dodge Avenger. His new teammate, Jeg Coughlin, is also a past winner at Topeka and will be looking for more success in his JEGS.com/Mopar Dodge Avenger. Series points leader Mike Edwards, who has claimed two victories this season and set the national record for elapsed time twice, and Greg Anderson, are also past Topeka winners and will be trying to claim another victory there. Others to watch in the 200 mph factory hot rod class include Erica Enders-Stevens, Vincent Nobile, Jason Line and Shane Gray, a past Topeka winner who has been to the last three final rounds.
The NHRA Lucas Oil Drag Racing Series also will thrill the crowds during the weekend with intense side-by-side competition.
As always, fans can interact with their favorite drivers because every ticket is an exclusive pit pass, allowing them to see firsthand the highly skilled mechanics service their hot rods between rounds. Spectators also won't want to miss the popular interactive NHRA Nitro Alley and the NHRA Manufacturers Midway.
To kick off the Kansas Nationals, fans will get a sneak preview of the event at the annual Speed Fest on Thursday, May 16, noon to 7 p.m. in the heart of Topeka, on 8th Avenue and Kansas Avenue. This free event provides fans the opportunity to see some amazing cars on display and meet some of the biggest NHRA stars for autographs including Robert Hight, Brandon Bernstein, Shawn Langdon, Morgan Lucas, Allen Johnson, and Erica Enders-Stevens to name a few. There will be two driver autograph sessions, one at 2 p.m. and another at 6 p.m.
• SCHEDULE: NHRA Mello Yello Drag Racing Series qualifying sessions are scheduled for 5 and 7 p.m. Friday, May 17, and will continue Saturday, May 18, at 12:15 and 2:30 p.m. Final eliminations will begin at 11 a.m. Sunday, May 19.
• TICKETS: For tickets, log on to www.NHRATix.com or call the NHRA Ticket Sales Center at (800) 884-NHRA (6472).
• TELEVISION: ESPN2 and ESPN2HD will televise two hours of qualifying coverage at 5:30 p.m. (ET) on Saturday, May 18, and three hours of eliminations coverage at 8 p.m. (ET) on Sunday, May 19.




NHRA: 10 Most Recent Entries [ top ]

Apr 24- CHARLOTTE 1 - Steve Torrence Enjoying Four-Wide Success Heading to NGK Spark Plugs NHRA Four-Wide Nationals
Apr 24- CHARLOTTE 1 - Fact Sheet
Apr 24- Kalitta Motorsports Welcomes NASCAR Stars to the SealMaster Track Walk in Charlotte
Apr 24- zMAX Dragway Celebrates 10th Anniversary
Apr 24- CHARLOTTE 1 - NGK Spark Plugs NHRA Four-Wide Nationals Brings 40,000 Horsepower Thrill Show to zMAX Dragway
Apr 23- HOUSTON - Lucas Oil Drag Racing Series Wrap Up The NHRA Lucas Oil Drag Racing Series Wrap Up
Apr 23- CHARLOTTE 1 - J.R. Todd Aiming for Two Four-Wide Racing Wins in 2018
Apr 23- Mid America Dragway Joins NHRA Member Track Network
Apr 23- HOUSTON - Special Awards
Apr 23- HOUSTON - Sunday Video