Tue, 14 May 2013, 20:10 PM



It Ended On A Saturday



By Bob Frey


Photo copyright 2013 Auto Imagery, Inc.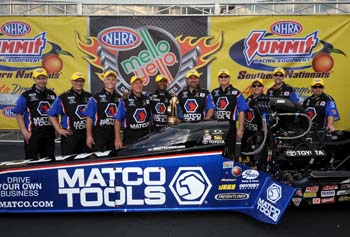 Brown and team celebrate win.
I've said it before and I'll say it again, a good race is a race that ends on the day it was supposed to end, not a day later and certainly not a week later. With that in mind the 33rd running of the Summit Racing Equipment Southern Nationals is in the books and in the rear view mirror as teams head down the road towards the 25th Annual Kansas Nationals at Heartland Park Topeka. What was supposed to be a weekend off turned into a bridge between Atlanta's original finishing date and the start of the eighth race of the season and I'm sure it puts a bit of a strain on man (or woman) and machine since this will now be five races in five weekends. It wasn't originally scheduled as such but that's how it turned out, and that's why I say a good race is one that ends on the day it was supposed to end?..Speaking of ends, the Atlanta race ended with Team Schumacher picking up another "double" win with Antron Brown and Johnny Gray doing the honors in Top Fuel and Funny Car respectively, and it also included another win by Mike Edwards in the Pro Stock class when he beat Johnny's son, Shane, in the money round?..Since there aren't, or haven't been, a lot of father-son teams competing in separate pro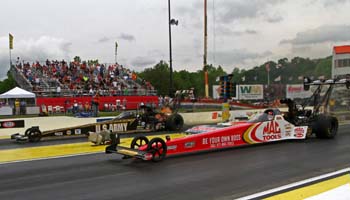 Kalitta defeated Schumacher
classes (TF, FC, PS and PSM),
did you know
that this was only the second time a father and son have appeared in the final round of two professional classes at the same race?
Brandon Bernstein
won TF at Brainerd in 2007 and his famous father,
Kenny
, was runner-up in the Funny Car class and that's the only other time it happened before Shane and Johnny both made the final round in
Atlanta
.
Someone who didn't make the final round in Georgia was Tony Schumacher and that's note worthy for one big reason. Did you know that the Commerce, Georgia track is the only active facility on the NHRA schedule where Tony hasn't won a race? I often say that it puzzles me why some drivers do so well at some tracks and not so well at others. Of course, having said that, Tony and his Army team weren't exactly struggling in Atlanta and it took a very good run by Doug Kalitta (3.789) to beat them in the second round. Still, I know how much the "Sarge"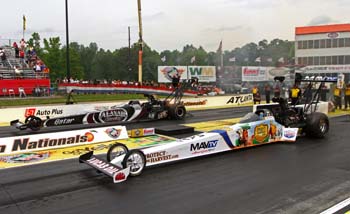 Bernstein defeated Langdon
would have liked to add a Georgia win to his already very impressive r?sum?, but now it will have to wait until at least 2014?.Tony's teammate on the
Don Schumacher Racing
lineup, Antron Brown, did win the race when he beat Brandon Bernstein in the final round.
Brandon
had been running well all day but the final race was over early when he smoked the tires and slowed to a 7.105. Meanwhile Antron was making a very good run, a 3.801, as he picked up the 23
rd
Top Fuel title of his career and his 39
th
national event win overall, including his time in the Pro Stock Motorcycle ranks.
Did you know
that those twenty-three Top Fuel wins place him ninth on the dragster list and sixteenth among all winners in the combined fuel classes?....Since I mentioned how well Brandon was running I should point out that he recorded low elapsed time of the meet with a 3.761 pass in the semi-finals, a run that resulted in a win over the number one qualifier,
Shawn Langdon
.
Did you know
that was the first time in almost two full years that
Brandon
recorded low elapsed time and it was only the fifth time in the last five years that he had the quickest car on the property? Nice job, Brandon?.With Brandon and Shawn in one semi-final match and Antron and Doug Kalitta in the other it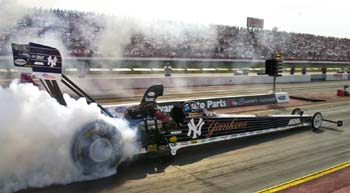 Mike Dunn won on a single in 2001.
meant that the top four qualifiers all made it to round three, and that doesn't happen very often.
Did you know
that in the thirty-three year history of the
Atlanta
event this was only the second time the four top cars in the dragster class all advanced to the semi-finals? The other time was in 2001 when Kenny Bernstein,
Mike Dunn
,
Larry Dixon
and
Darrell Russell
, the top four, all made it to the third round. That year it was Mike, the number two guy, over Darrell, the number four qualifier in the final and this year it was Antron, the number two guy over
Brandon
, the number four qualifier in the final. As I often ask, what are the odds?....Just in case you were wondering, there have been 740 races with Top Fuel cars and this was just the 57
th
time that the top four all made it to the semi-finals, so it happens on average about eight percent of the time?.One of the interesting matchups of the day was when Antron lined up against
Pat Dakin
in round one.
Did you know
that Pat's first national event in the dragster class was in 1971 and that's five years before Antron Brown was born?...Brandon and
David Grubnic
are the only two, full-time touring dragster drivers who have won more than once at Heartland Park Topeka.
Did you know
that in the twenty-four years of racing there no dragster driver has won the event more than twice?....David is the defending champ so he will try to do what no other Top Fuel driver has done in Kansas and that is win the event in consecutive years. Good luck to the Aussie.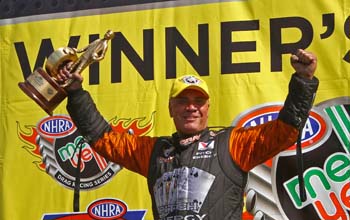 Gray celebrates second win this season.
When it's on Johnny Gray sure has a good car, doesn't he? This was Johnny's second win of the year but he also has a first round loss and a DNQ on his record in 2013. With that as a background it sure looks like when crew chief Rob Wendland has the car running well it is as good as any car in the class and it was the best in Georgia. In order to pick up the win Johnny had to beat three former NHRA World Champions, Robert Hight, Cruz Pedregon and Matt Hagan along with his teammate, Ron Capps, and that's a "murder's row" of talent if there ever was one. The win, coupled with Antron's in the dragster class, gave Team Schumacher a grand total of 205 national event wins and another "double-up" to add to their collection, the 38th time they have won two or more classes at the same event. Not bad for a race that followed Don's induction into the International Motorsports Hall of Fame, is it, even if it was a week late?...To show how even the Funny Car class is there was one driver (Matt Hagan), who was the top qualifier, set low elapsed time and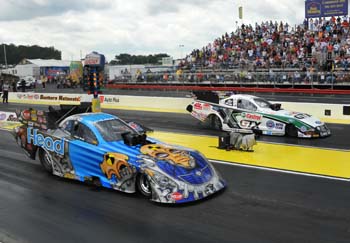 Chad Head vs. John Force
made it to the final round, another who recorded top speed (
Chad Head
) and still another (Gray) who went to the final round. Now that's spreading the wealth around, isn't it?...Chad Head, the second-generation Funny Car driver, was the eighth qualifier and he got a case of the "yips" in round one when he staged, hit the gas and took off. The only problem was the green light hadn't come on yet (and wouldn't for a while) so
Chad
, who is still learning the ropes, fouled out giving the win to
John Force
.
Chad
made no excuses for the error after the race and his comments reminded me of the time when
Frank Manzo
fouled out. "My brain said let's go and my foot said ok," Frank said. .
Did you know
that
Chad
's father,
Jim Head
, competed in 613 rounds during the course of his Top Fuel and Funny Car career and he fouled out exactly twice and they were twenty-two years apart? I wonder what, if anything, the elder Head said to his son when he came back to the pits?....To look at things from a different perspective,
did you know
that Jim competed in 481 races and he set top speed exactly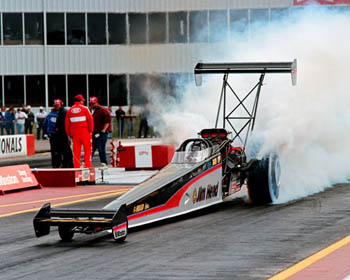 Jim Head at the 1990 Houston event.
once, the same number of times that Chad has done it in his four race career? By the way, if
Chad
continues to do well and the team continues to show up at races don't you think he deserves consideration for
Rookie of the Year
? I do?Matt Hagan, as mentioned, was the top qualifier and even though he didn't win the race he and his team have to be pleased with how the car is running. After a miserable 2012 season they have rebounded and are running well and in the thick of things in the Funny Car class?.Like a lot of drivers Matt found that being number one doesn't guarantee a win, but at least he made it to the final round.
Did you know
that the top Funny Car qualifier has only won once in the last eighteen years in
Atlanta
and Matt has won just twice in his eleven starts from the top spot? Still, he is second in the points and that has to feel good after the rugged year he had in 2012?.When I talk about the class being very even all you have to do is look at the numbers to see what I mean.
Did you know
that from the second round on there were a total of fourteen cars going down the track and nine of those recorded times of 4.14 or quicker and that's very good. Plus there are only 221 points separating the top guy in the points, Cruz Pedregon, from the tenth driver,
Alexis DeJoria
, and that's the tightest grouping in any of the top three pro classes.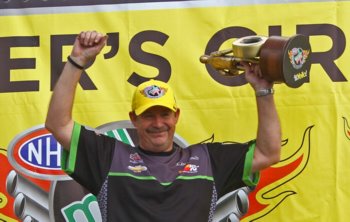 Edwards celebrates second win this season.
Mike Edwards continues to run well and he picked up his second win of the year and the 36th of his career when he beat Shane Gray in the final round. Along the way Mike's four round wins gave him 402 for his career and that's a milestone for any pro racer. Did you know that Mike becomes just the seventh Pro Stock driver to win 400 or more rounds and he is just the twentieth driver in all of the pro classes to reach that mark? Congratulations, Mike, who now has a commanding 126 point lead over Jeg Coughlin who moved into second place?..Not only did Mike win the race but he swept to victory and that's the tenth time he has done that in his career and the second time already in 2013. When you are the number one qualifier, set low elapsed time, record top speed and win the race it's about as good as it gets for a racer. As good as Mike's numbers are, and they are good, did you know that Warren Johnson swept thirty-seven races in his great career and that's the most for any driver in any of the top four classes??.The cars seem to be rather evenly matched in the class, after all, Mike's edge on the number two qualifier, Jeg, was only one-hundredth of a second but he is making the best runs on Sunday, or at least he seems to be.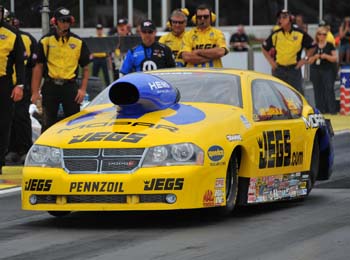 Jeg Coughlin
Mike and Johnny Gray have a lot in common, and by that I mean when they are on they are almost unbeatable, but each has had a couple of little "glitches' on race day that have sidelined them earlier than expected. But hey, that happens to everyone, doesn't it?....Jeg must love his new
Dodge
Pro Stock car and the partnership with
Allen Johnson
seems to be working out very well for him. When he qualified in the second spot it marked the fifth consecutive race that he was in the top four spots and that's good in anyone's book.
Did you know
that the last time Jeg went five races and didn't qualify any lower than fourth was in the 2007 season? That's a long time ago especially for someone with a track record like Jeg has. As I mentioned before, when he has a good car he is very tough to beat and now that he has a very good car he has to be considered a contender for the championship, don't you think?...
Summit Racing
team driver
Greg Anderson
is the Pro Stock leader with four wins at Heartland Park and he would love to make it five this week.
Did you know
that Greg and
Darrell Alderman
are the only drivers in any of the pro classes to win in
Kansas
in three consecutive years? Greg did it in 2003 - 2005 and Darrell won his three in 1989, '90 and '91.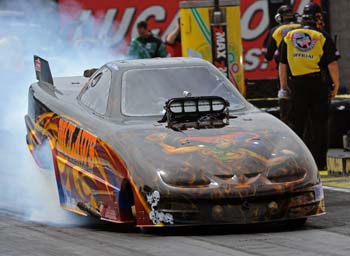 Charles McLaws
Charles McLaws and his Top Alcohol Funny Car team will be in Kansas this weekend and that's a long drive for the team from Arizona. I did a feature story on them a few weeks back that you can still find here on www.DragRaceCentral.com. Theirs is a very interesting story and if you get a chance this week just stop by and say hi. They epitomize what sportsman racing is all about and I'm sure they would like to meet a lot of new fans and share their heart-warming story with you. Believe me, it puts a lot of things, especially racing things, in their proper perspective.




NHRA: 10 Most Recent Entries [ top ]

Apr 24- CHARLOTTE 1 - Steve Torrence Enjoying Four-Wide Success Heading to NGK Spark Plugs NHRA Four-Wide Nationals
Apr 24- CHARLOTTE 1 - Fact Sheet
Apr 24- Kalitta Motorsports Welcomes NASCAR Stars to the SealMaster Track Walk in Charlotte
Apr 24- zMAX Dragway Celebrates 10th Anniversary
Apr 24- CHARLOTTE 1 - NGK Spark Plugs NHRA Four-Wide Nationals Brings 40,000 Horsepower Thrill Show to zMAX Dragway
Apr 23- HOUSTON - Lucas Oil Drag Racing Series Wrap Up The NHRA Lucas Oil Drag Racing Series Wrap Up
Apr 23- CHARLOTTE 1 - J.R. Todd Aiming for Two Four-Wide Racing Wins in 2018
Apr 23- Mid America Dragway Joins NHRA Member Track Network
Apr 23- HOUSTON - Special Awards
Apr 23- HOUSTON - Sunday Video