Mon, 13 May 2013, 11:50 AM



He's A Big Time Racer



By Bob Frey


Photo copyright 2013 Auto Imagery, Inc.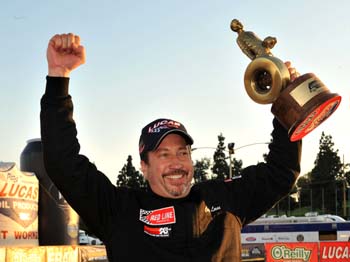 Jeff Lane
Over the course of the past couple of years there has been a lot of talk about parity in sports. It seems that the "big market" teams are scooping up all of the good players while the "small market" teams are left to fight for what remains. New York, Los Angeles, Chicago and others have the money and the resources to pay big salaries to the star athletes while the smaller cities, like Pittsburgh, Cincinnati and others don't. And just like the big markets get the top players those players get a lot of media attention because they play in a major market. Throughout the course of history there have been great players who played in small markets who just never got the recognition that they deserved. There are exceptions, of course, like Aaron Rodgers who plays for the Green Bay Packers, and as we all know Green Bay is not exactly a major metropolis, is it? The same formula holds true in drag racing, I think. There are drivers, especially on the sportsman level who travel around and get a lot of publicity, sometimes because they are good and other times because they just go to almost every national event. Racers from the New York area, of even Los Angeles, show up at Englishtown, Pomona or other tracks and get noticed for what they do, but there are racers from the "small markets' who are just as good, if not better, and if they decided to take their show on the road the publicity and national recognition would follow. In my mind Jeff Lane is one of those racers.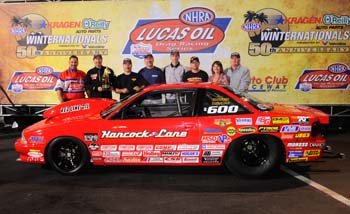 Lane and crew celebrate
2010 Pomona win.
Jeff Lane races in one of those small markets that I mentioned, Seattle, Washington. He also competes in Division 6 where it is tough to get a lot of national points simply because the car count is sometimes low, and a lost round or two here or there can often make the difference between winning a national championship and coming in second. Plus, when you are running in Competition Eliminator like he is now the national event opportunities are few and far between. Having said that all you have to do is look at Jeff's racing résumé to know that he is as good as any sportsman racer in the country. He has won forty NHRA divisional races, and that puts him in the top ten of all racers throughout the history of the divisional format and he has another twenty-three final round appearances. He has been to fourteen national event final rounds and won seven of them, he has won the Division 6 championship nine times, been a member of the All Star team six times, won the All Star race in 1996 and has been in the top ten a dozen times. Included in those nine division titles is the year 2006 when he won in two classes, Comp and Super Stock. With all of those accomplishments he could probably walk down to the starting line at any national race and hardly be recognized, unless of course it was the national race in Seattle. "I really don't think about that much," he said. "I've been very fortunate over the years to be able to race and accomplish what I have and I have had my fair share of publicity so I can't complain."
Jeff began his racing career in 1975 with Jerry Hancock, a man that he is still partners with to this day. "He had a shop down the street from me and a friend and I used to hear the engines running and we'd go down to his shop to see what was going on. From there it was pick up a wrench, fix that part and then hop in the truck and let's go racing." While that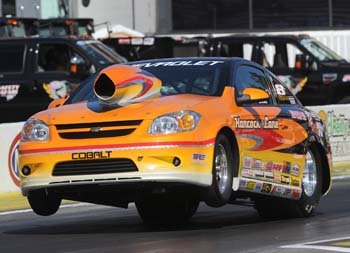 Jeff Lane
may be the Reader's Digest condensed version of the story it basically reflects the fact that Jerry saw something in the young man and it proves that he had a very good eye for talent. Their first car was a 1967 Camaro that ran in the Super Stock class and from that humble beginning the pair has had a lot of cars, all very successful, and has amassed a very formidable record. "Other than a brief stint when we were involved with SCCA racing we have been drag racing ever since '75," Jeff said. That SCCA gig saw the duo work with a team that traveled all over the West Coast and did very well. "We had them in second place but we both hated it. Drag racing is our first love."
At a young age Jeff could have elected to take his driving talents on the road full time but he decided against it. "I could have gone racing and travelled all over but I decided to stay near home, start my business and raise a family and I've never regretted it." Right out of high school he started a company, Lane Hardwood Floors, that he still operates today. "We do floors for high end builders and remodelers and it's been very good to me over the years." And twenty-one years ago he married Diane and they have two children, a boy and a girl, who both attend college in Washington. "One goes to Washington State and the other goes to the University of Washington so we have some real rivalries going on in our house." Almost like the rivalries he has on the track. "I enjoy racing guys like Dan Fletcher and Peter Biondo because they bring out the best in you." And while no one is really counting Jeff says that he is about even in his ten meetings with Dan and he has a winning record against Peter. "The year that I finished second in the national points to Peter we raced at the Las Vegas national event. It really didn't mean much because we were both out of races and he had already locked up the championship, but I beat him that day and I have to admit it was a good feeling."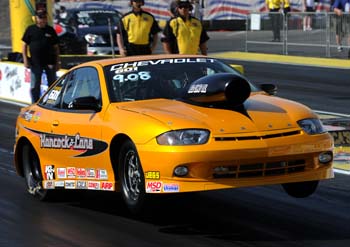 Cody Lane
Another good feeling is watching his son, Cody, join the ranks of drivers in the highly competitive world of Super Stock Eliminator. "He has a SS/BS car that runs very well and he is driving well, too. But he had a couple of unfortunate mistakes early this year, like a wrong dial-in at a national race, a technical glitch at another race and then, as hard as it is to believe, another wrong dial-in at a points race. A couple of them were my fault but I'm really proud of the way he has been driving." With a teacher like his father it seems like only a matter of time before Cody joins him in the winner's circle. "I hope his first win is better than mine," Jeff laughed. "We won the Arizona race in 1991, the year the race was postponed because the track broke up, and when I went back Jerry couldn't make it and there were about nine people in the stands and the entire winner's circle was me and my dad." He rectified that with his next win, however. "Yeah, we won in Seattle the next year and had about a hundred people in the winner's circle with us. That was a lot more fun." Jeff is quick to point out that he has a great crew and wonderful sponsors who are always right there with him. "Our crew, Ken Lantz, Todd Wagner and Rob Estes help us with the car and we couldn't do it without some great support. Among our sponsors are Mickey Thompson Tires, Red Line Oil, Comp Cams, Weldon Pumps, K&N Filters, Action Machine, Golden Shine, C&D Machine and CP Pistons. We really appreciate everything they do for us so we can participate in the sport we love."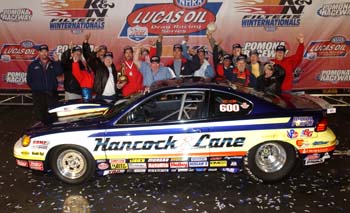 Lane and crew celebrate
2003 Pomona win.
A quick check of the national points right now finds Jeff leading the way in Comp and he is ahead of a few former national champions, Dean Carter and Lou Ficco. "We run a car in B/SMA that we built ourselves and we got off to a great start when we won the Lucas Oil Division 7 race in Arizona and we posted a runner-up at the Boise race last week." Along with his longtime friend and partner, Jerry Hancock, Jeff plans to run about the same schedule as he has in the past. "We'll hit about six national races and seven or eight divisional races. It's tough to chase the points in Comp when you live up here but we're happy doing what we're doing. It's fun and I'm having a great time now watching Cody race." And for the past thirty years or so drag racing fans have had a great time watching the team of Hancock and Lane race and win, and even if they aren't household names they are among the best in the sport.




NHRA: 10 Most Recent Entries [ top ]

Apr 21- HOUSTON - Pro Stock Eliminations Ladder
Apr 21- HOUSTON - Pro Stock Final Qualifying, Session #4 Order
Apr 21- HOUSTON - Pro Modified Eliminations Ladder
Apr 21- HOUSTON - Pro Modified Final Qualifying, Session #4 Order
Apr 21- HOUSTON - Pro Stock Qualifying Notes, Final Session
Apr 21- HOUSTON - Pro Modified Qualifying Notes, Final Session
Apr 21- HOUSTON - Rain Delay
Apr 21- HOUSTON - Top Fuel Harley Eliminations Ladder
Apr 21- HOUSTON - Top Fuel Harley Final Qualifying, Session #4 Order
Apr 21- HOUSTON - Top Fuel Harley Qualifying Notes, Final Session