Thu, 09 May 2013, 00:51 AM



Reichert, Bohl Win Indy North Central Opener



By Todd Veney/ Pro Sportsman Association


Photo copyright 2013 Kevin Pepera





Bill Reichert defeated Marty Thacker
in the Top Alcohol Dragster Final.
At the rain-plagued North Central opener in Indianapolis, five-time world champ Bill Reichert got his second win in three starts in Top Alcohol Dragster, and Andy Bohl became one of the few drivers in years to beat Frank Manzo in a Top Alcohol Funny Car final. Eliminations, already postponed a week, were run in their entirety on Monday after racers in all classes except the Top Alcohol Dragster and Funny Car headed home Sunday night following a long day sitting in the rain.
In the Top Alcohol Dragster final, Reichert left within thousandths of Thacker in a battle of former U.S. Nationals winners and scored with a consistent 5.42 opposite Thacker's close 5.46. "Bill's no fun to race anymore," Thacker said. "I've never seen anyone completely turn his reaction times around the way he has. If this was a couple of years ago, I would have beat him on a holeshot."
"He would have," said Reichert, who cut a .048 light in the final. "After all these years, I've figured out how to let my experience work for me instead of against me. All you have to do is hit the gas when the yellow light comes on - why does that have to be so difficult? Trying to force yourself to have a good reaction time never works. You have to trust yourself and just let it happen."
Running quick and fast has never been a problem for Reichert, and neither has being consistent, and it wasn't at Lucas Oil Raceway, one of his favorite tracks. After qualifying No. 1 with a 5.30 last week under vastly different conditions, the Rislone driver reeled off a 5.41 against Dave Hirata, who went up in smoke in round one, and a 5.43 against defending event champ Jared Dreher in the semifinals to reach his second final of the season, including the 4-Wide Nationals. His only loss this year came in the semifinals of the Gatornationals, one of the few races he hasn't won at least once.
Thacker came from the bottom half of the field by winning both preliminary rounds at the starting line. He beat No. 3 qualifier Ken Perry with a 5.53 when Perry red-lighted and 2012 Central Region champ Gord Gingles on a holeshot in the semi's, 5.43 to 5.42.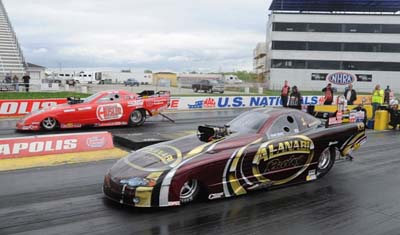 Andy Bohl won over Frank Manzo to
take home the Top Alcohol Funny Car trophy.
Bohl got his first victory of the season and one of the most rewarding wins of his career when he stopped Manzo in the final with a 5.70 at 251, coasting across the finish line after banging the blower near the five-second mark. "It's always been an honor just to be in the other lane from Frank Manzo," he said. "I've run him I don't know how many times and never beat him. Never left on him, either." He did this time with a clutch .048 reaction time, his best of the weekend, and won easily when Manzo's car got sideways in low gear.
"The thing just drove right into smoke, and I was staring at the wall in the other lane," Manzo said. "I don't know why I never got back on the gas - a senior moment, maybe? I'm usually a lot smarter than that in finals."
Manzo qualified No. 1 with a 5.52 and unloaded a 5.51, low e.t. of the meet, on his first-round single when opponent Dale Brand was unable to return for the rain date. In the semi's, his backpedaling 5.60 was enough to handle Chris Foster's tire-shaking 5.82.
Bohl, the only driver to make it to the finish line under power in all three qualifying sessions last weekend, beat John Bojec in the first round, 5.67 to 5.87, and defeated last year's runner-up, Brian Harvanek, in the semi's with a 5.63. "It would have been nice to run a little better against Manzo, but I didn't want to beat myself," said the Wisconsin owner/driver/tuner, who went out earlier than expected in Gainesville and Charlotte after strong qualifying performances, including a career-best 5.50-flat in Gainesville. "It's hard not to go for it against somebody like him, but I let the track come to me, and this weekend is something I'll never, ever forget."




LODRS: 10 Most Recent Entries [ top ]

May 21- LODRS 3-2 - Event Wrap Up
May 21- LODRS 7-3 - Event Wrap Up
May 21- LODRS 7-3 - Competition Eliminator Final, Round 4 Eliminations
May 21- LODRS 7-3 - Super Stock Final, Round 6 Eliminations
May 21- LODRS 7-3 - Stock Eliminator Final, Round 7 Eliminations
May 21- LODRS 7-3 - Super Comp Final, Round 7 Eliminations
May 21- LODRS 7-3 - Super Gas Final, Round 7 Eliminations
May 21- LODRS 7-3 - Super Street Final, Round 6 Eliminations
May 21- LODRS 7-3 - Top Sportsman Final, Round 5 Eliminations
May 21- LODRS 7-3 - Top Dragster Final, Round 6 Eliminations