Sun, 05 May 2013, 22:11 PM



One Of The Best



By Bob Frey


Photo copyright 2013 Auto Imagery, Inc.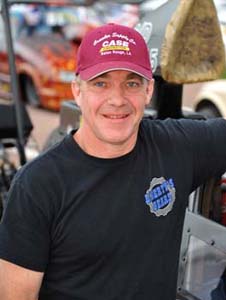 Joey Tanksley
Over the years I have not made any qualms about the fact that one of my favorite, if not my favorite, eliminators is Competition Eliminator. I love everything about it, the cars, the drivers, the varied approaches to the class and the huge diversity of drive-lines and engines that make up this exciting eliminator. Competition Eliminator has been part of the NHRA national events for as long as Top Fuel has and the very first winner was a drag racing legend, Tony Nancy. Since that first race in 1963 there have been 263 different drivers win in Comp and there have been almost as many engine and car combinations in the winner's circle, too. Some of the winners and season champions are as well-known as some of their professional counterparts with names like Nickens, Rampy, Fletcher, Lingenfelter and Maropulos among them. In the early years winners included George Montgomery, Don Enriquez, Ben Griffin and Chico Breschini, and while they may not be on the lips of contemporary drag race fans they are truly a great part of this class and this sport. My first real exposure to the class came at the 1967 U.S. Nationals when I watched in awe as Joe Law waded through a huge field of cars to beat Gary Sullivan in the final round. It was awesome! Today there are wonderful cars with great drivers that still eat, sleep and breathe Competition Eliminator, and if you want to see the best just visit Indy over Labor Day when, for the only time all year, the field is full of sixty-four cars and one of the best of them will be Joey Tanksley.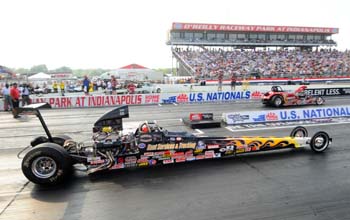 Joey Tanksley vs. David Rampy
in the 2009 Indy final.
"I have to say that one of my best memories of racing came at Indy in a race where I was runner-up," Joey said. The year was 2009 and Joey and his brothers were at Indy trying to work their way through the maze of cars that make Indy one of the best shows of the year. "Just to qualify for that race is great, but to make it to the final round with a stick car is really special," he added. After beating some of the best in the sport, including former Indy champs Larry Pritchett and Jason Coan along with two-time Indy finalist Rick Brown, they found themselves paired up with David Rampy for the final. "We got to the scales after the semi-final and they told us we had thirty-five minutes before they would run the final." As brief as that seemed the news got even worse a few minutes later. "We were back in the pits and Dale House came by and said that we only had twenty minutes before they were going to run us. With what we normally do between rounds that wasn't going to be enough time and I told my brothers we were done." Well, that didn't sit very well with his brothers who grew up under the watchful eye of their father, a long time racer himself. "My brothers said we could make it and we cut the clutch, replaced the valve springs and made it to the starting line on time, and even though we lost it was a great effort and it taught me never to give up."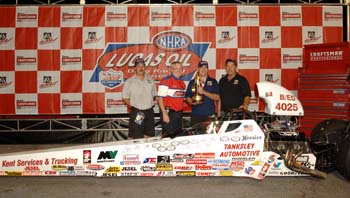 Tanksley celebrates 2005 St. Louis win.
The simple fact that Joey was even racing was a testament to the fact that he was not a quitter. "I had that nasty accident at the Gatornationals in 2000," he said. "It destroyed the car and broke my collarbone and I thought I was done." But, inspired by his father, he came back even stronger than before. "My dad was in Vietnam and he was in the 101st Airborne Division," Joey said. "He saw some nasty things and when he came back and went to Fort Bragg, he and some friends heard some cars racing and he said it was the sweetest sound he ever heard. He said that drag racing saved his life because it made him forget about a lot of the things that happened overseas." Not surprisingly Joey's father was a real inspiration in his life, both on and off the track. "I began going to the races with him when I was about five or six years old. He had a car that ran in Super Stock, and back then you would just hook a tow bar up to the car and haul it to the track." Those were the good old days and Joey remembers them well. "We went to the old Dallas International track and dad broke an axle in the car, and since we flat-towed it to the track we had to leave it there overnight and come back for it the next day."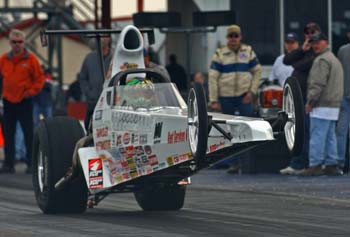 Tanksley had a big wheelstand
at 2005 Houston race.
As much as the accident at Gainesville, another one at the Sportsnationals earlier this year with a Super Stock car that he was driving for owner Charlie Burkett, and losing that Indy final hurt, it all pales in comparison to the biggest loss in Joey's life. "My dad passed away a few weeks ago. I was on the starting line at Houston for the points race at the exact time of his passing. When I was driving to Houston last week for the race I looked over and he wasn't there and it really hit me how much I was going to miss him." But before he passed the elder Tanksley gave Joey and his brothers a few words of advice. "Live your life," he told us. "Go racing. It's a great part of your life and I want you to keep doing it." That means the Comp racers will have Joey Tanksley to contend with for quite some time and fans will have one of the best to watch for years to come.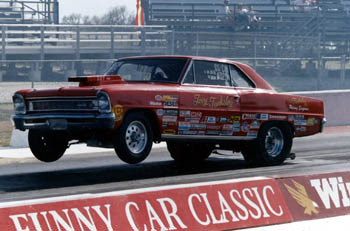 Tanksley's '66 Chevy II
As much as he liked racing there was a time when Joey wasn't sure if he would be able to compete at the level he wanted. "In 1985 I started out with an old Chevy II that I bought from a guy who had it sitting in his yard. He wanted 1500 for it and I only had 500 at the time, so I asked him if he would let me pay it off in installments and he said yes." And a drag racing career was born. Later, after the crash in Gainesville, it looked like he might not be able to keep racing at all until another man stepped in to help out. "I knew Steve Kent since he was a truck driver and we used to bracket race together. When he asked me what I was going to do after the crash I told him I would probably have to quit. He just looked at me and said that 'as long as I'm around you will have a car to race.' He's a very special man."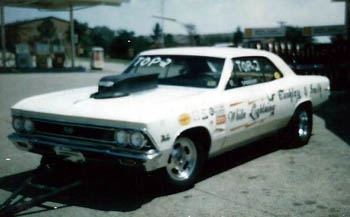 Tanksley's dad's race car
Steve owns the car that Joey races today, a very competitive dragster that is the latest in a long line of very successful cars campaigned by the Tanksley family. "It was originally a Mike Bos built race car but Shane Heckel has done a lot of work on it, and I have to thank Jimmy Thibadeaux and Chuck Haase for all of their help, too." When you add up his accomplishments it's easy to see why Joey is considered among the best in the sport. He has been to eleven final rounds at the national level, seventeen more at divisional races, been the Division 4 champion three times and a member of the division's All Star team five times. "I've been very fortunate and I have to thank my brothers and my wife for all of their help and support. And a special thanks to Steve and Trudy Kent, Patterson Racing, CFE, Ace Clutches, Liberty's Gears, and Hoosier Tires." And of course his father for all of his encouragement. "It just won't be the same at the races without him," Joey said. "But we'll carry on because that's just what we do."




NHRA: 10 Most Recent Entries [ top ]

Apr 24- CHARLOTTE 1 - Steve Torrence Enjoying Four-Wide Success Heading to NGK Spark Plugs NHRA Four-Wide Nationals
Apr 24- CHARLOTTE 1 - Fact Sheet
Apr 24- Kalitta Motorsports Welcomes NASCAR Stars to the SealMaster Track Walk in Charlotte
Apr 24- zMAX Dragway Celebrates 10th Anniversary
Apr 24- CHARLOTTE 1 - NGK Spark Plugs NHRA Four-Wide Nationals Brings 40,000 Horsepower Thrill Show to zMAX Dragway
Apr 23- HOUSTON - Lucas Oil Drag Racing Series Wrap Up The NHRA Lucas Oil Drag Racing Series Wrap Up
Apr 23- CHARLOTTE 1 - J.R. Todd Aiming for Two Four-Wide Racing Wins in 2018
Apr 23- Mid America Dragway Joins NHRA Member Track Network
Apr 23- HOUSTON - Special Awards
Apr 23- HOUSTON - Sunday Video