Sun, 05 May 2013, 15:57 PM



Local Owners Seal the Deal at Gateway Motorsports Park



Courtesy of Susan Ryan



St. Louis Region, May 1, 2013 -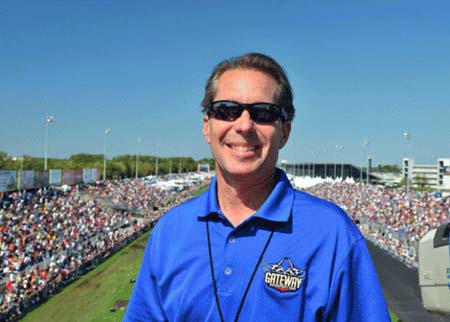 "Those who can must step up as a
community when the need arises and save
our precious assets and encourage growth so
we can retain our status as a top-tier city,"
Curtis Francois
Gateway Motorsports Park is finally where it belongs - locally owned and operated by people who love motorsports and who love the region. Today, Curtis Francois announced that he has finalized the local purchase of Gateway Motorsports Park. "This is a great day for local sports fans and for the St. Louis region," said Francois, a real estate developer, retired race car driver and owner of Gateway Motorsports Park. "Our region needs significant sporting, entertainment and cultural venues to remain relevant, and Gateway MSP is among the finest in the country."
The St. Louis region has taken significant blows over the years, with the loss of major Fortune 500 companies (today there are only nine) such as May Department Stores, AG Edwards, etc., not to mention the uncertain future of the Rams. The consequences of letting this world-class facility shutter were staggering. That's why the State of Illinois, St. Clair County and the City of Madison were so motivated to revitalize this property, which will employ hundreds and entertain millions for decades to come. "Without a buyer willing to take on the risk of ownership, the assets on the property would have been sold as scrap," said City of Madison Mayor John Hamm. "Gateway MSP is a first-class asset to our region, and it would have been devastating to our community to lose something as valuable simply due to corporate restructuring and a poor economy."
"Someone had to step up and prevent this regional jewel from ending up in the scrapyard," said Francois. Getting this deal done proved more complex than others wanted to undertake, which is why the multimillion-dollar property sat vacant for over a year once the previous owners, Dover Motorsports, Inc., relinquished the property due to a corporate refocus to concentrate their efforts on gaming. As a result, Gateway and sister facilities in Memphis and Nashville were shuttered. To complicate matters, the property on which Gateway Motorsports Park resided was owned by a half-dozen property owners and leased by Dover. Francois' experience in putting together complex real estate deals over the years proved invaluable to the success of the revitalization of the largest outdoor entertainment facility in the region. "Getting these local property owners to agree on a common approach and sale was certainly challenging, but these are great folks who were committed to seeing this track survive and thrive."
Illinois Senator James F. Clayborne, Jr., who represents the 57th District, said this venue was just too important to the people of Illinois to let it vanish. "When a facility like his is on the verge of extinction, through no fault of the people of Illinois, we have an obligation to stand up, protect these jobs, future tax revenues and the businesses that would have been devastated by the loss of this great venue. We are grateful for the cooperation of so many people who have stepped forward to make this happen."
The Future of Gateway Motorsports Park
What Francois also brought to the table was a tremendous passion to revive professional racing in the region. Gateway MSP has historically been a very popular facility for major motorsports sanctioning bodies due to its proximity to Indianapolis, which is where many major motorsports companies and top drivers are headquartered. The facility is on track to generate nearly 45 full-time jobs and hundreds of part-time jobs, in addition to tax revenue and revenue for surrounding businesses such as hotels, restaurants, etc. that were on the verge of going bust when the track closed in 2010. "Those who can must step up as a community when the need arises and save our precious assets and encourage growth so we can retain our status as a top-tier city," said Francois. "I was born and raised here in St. Louis, and I love this community. This is an incredible sporting facility with potential to become one of the top-flight facilities in the country. That would be a great thing for this region."
Francois has big plans for the future of Gateway, which will make a big impact on the overall region. He has put in place a five-year, multi-million dollar capital improvement campaign that will put Gateway Motorsports Park in a position to succeed in the long-term. The drag strip has been completely rebuilt and is now among the top drag strips in the country. Plans are underway for development of a nationally-sanctioned Karting track scheduled for a summer 2013 opening, which has created tremendous buzz throughout the racing industry. The Gateway Challenge program, which is launching this year, allows just about anyone to experience the thrill of racing on an awesome track. The oval track will host the premier Silver Crown event in June for the first time since 2001 at Gateway. 2014 will bring more activity to the oval track than ever before, and 2015 plans are moving toward attracting more major motorsport-sanctioned events throughout the facility. Efforts are underway to schedule outdoor concerts in the 20,000 seat amphitheater-style stands.
"The economic health of this region is dependent on the willingness of business leaders and entrepreneurs to take calculated risks and support innovation," said Mark Kern, St. Clair County Board Chairman. "Now that Gateway Motorsports Park is on the path to long-term sustainability, it's time enlist the entire community and area businesses to rally around Gateway so it can provide real value to the region."
Background
In September of 2011, Francois reached an agreement to operate Gateway for the 2012 racing season while plans were underway for the revitalization and purchase. An important key to reopening Gateway was the commitment to drag racing and the partnership with the National Hot Rod Association (NHRA). Francois inked a long-term deal with the NHRA starting with a signature event in September 2012. "Thanks to the grassroots motorsports fans across the country, this event was the most successful NHRA event in track history, setting attendance and track speed records," said Francois. Tickets go on sale next week to the public for the 2nd Annual AAA Insurance NHRA Midwest Nationals. For more information, www.gatewaymsp.com
Gateway Motorsports Park is a 200-acre facility located at 700 Raceway Boulevard about five minutes east of downtown St. Louis. The vision for the new Gateway Motorsports Park is to create a racing lifestyle that attracts enthusiasts, professionals, amateurs and street-car lovers of all kinds by harnessing the grassroots momentum, energy and passion of the thousands of racing enthusiasts and fans in the area. The first racing event at Gateway was held in 1997. The track closed in 2010 under former ownership and reopened for the 2012 racing season with Francois at the helm.
At Gateway Motorsports Park our mission is to provide our fans, racers and sponsors with a first-class, up close and personal racing experience. This includes unprecedented access to the drag strip, the oval, the road-racing track and a nationally-sanctioned karting track as well as special events such as concert and corporate functions for year-round activity at Gateway Motorsports Park. www.gatewaymsp.com




NHRA: 10 Most Recent Entries [ top ]

Apr 24- CHARLOTTE 1 - Steve Torrence Enjoying Four-Wide Success Heading to NGK Spark Plugs NHRA Four-Wide Nationals
Apr 24- CHARLOTTE 1 - Fact Sheet
Apr 24- Kalitta Motorsports Welcomes NASCAR Stars to the SealMaster Track Walk in Charlotte
Apr 24- zMAX Dragway Celebrates 10th Anniversary
Apr 24- CHARLOTTE 1 - NGK Spark Plugs NHRA Four-Wide Nationals Brings 40,000 Horsepower Thrill Show to zMAX Dragway
Apr 23- HOUSTON - Lucas Oil Drag Racing Series Wrap Up The NHRA Lucas Oil Drag Racing Series Wrap Up
Apr 23- CHARLOTTE 1 - J.R. Todd Aiming for Two Four-Wide Racing Wins in 2018
Apr 23- Mid America Dragway Joins NHRA Member Track Network
Apr 23- HOUSTON - Special Awards
Apr 23- HOUSTON - Sunday Video