Thu, 02 May 2013, 12:42 PM



Moshier, Thimm Jr. Rake in the Bucks at Maple Grove's Spring Footbrake



Courtesy of Evan Jones



MOHNTON, Pa. -
For two Maple Grove Raceway regulars, this past year's Spring Footbrake Nationals was a pretty lucrative venture.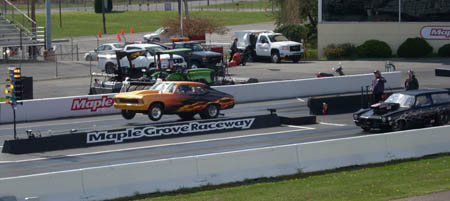 Jody Sneckenberger, left, draws a red light,
giving a patient Brock Moshier the $10,000 first prize on Saturday.
Brock Moshier and Paul Thimm Jr. each drove their cars to PPC Lubricants Victory Lane on Saturday and Sunday, respectively, and drove away with a check for $10,000.
Since racers were allowed to double-enter their cars, Moshier also pocketed an extra $2,000 for finishing second on Saturday. Meanwhile, Thimm - the defending Sunoco Race Fuels Money Trail E.T. Series season champion in Ciccarone Racing Products Pro Eliminator - received a good omen for his upcoming 2013 campaign.
Saturday: Moshier is twice as nice
Brock Moshier was literally seeing double on Saturday.
Like many racers who come to Maple Grove Raceway for the Spring 10K Footbrake Nationals, the Lititz, Pa., drag racer bought two entries into the event that rewards the winner with a guaranteed $10,000 first prize.
At the end of the afternoon, Moshier's entry - a 1971 Vega - had reached the final round. And on the other side of the bracket for the final was . . . . Moshier's second entry.
When Jody Sneckenberger (Hagerstown, Md.) fouled in the semifinal, it guaranteed an all-Moshier final and an early ending to the afternoon. Moshier's other entry had a semifinal bye when he raced past Mike Barber (Douglassville, Pa.) in the quarterfinals.
In all, Moshier had a great payday of $12,000 as he also claimed the runner-up check.
Going into the final rounds there were a few drivers who had a chance to do the double. Sneckenberger and his '70 Nova were alive, twice, in the fifth of eight rounds, as was Brian Cireddu (Brunswick, Ohio) in a '67 Camaro.
Sneckenberger then had one entry left going into the quarterfinals, but both Cireddu and Moshier advanced with two.
In the quarterfinals, Moshier eliminated Barber with a pass of 9.019 seconds at 132.79 mph that was ..029 under his dial-in. However, Barber also broke out and was .028 under. Cireddu fouled twice, allowing Sneckenberger and Moshier to both advance.
Paul Thimm Jr. celebrates his $10,000 first prize on Sunday.
Sunday: Thimm keeps the money at home
Paul Thimm Jr.'s house and racing garage are only a couple miles from Maple Grove Raceway. The local economy will surely benefit from the Mohnton, Pa., racer winning Sunday's $10,000 first prize.
In the final, he beat Old Bridge Raceway Park regular James Young (Parsippany, N.J.) in a very close call. Both drivers jumped the start too quickly, but it was Young who got the red light and the foul because his reaction time was a mere .004 quicker.
Moving through the ladder, Thimm's '27 Roadster faced some stiff competition, but he received the benefit of some itchy trigger fingers.
In the fifth round, he advanced when Andrew Bracuto (South Plainfield, N.J.) jumped by .005. The quarterfinals featured a potentially tough match-up with Martin Flegal (Ephrata, Pa.), but the fellow MGR regular left .008 seconds too early.
Thimm then had a bye in the semifinals.
Meanwhile, Young and his '85 Cutlass had to beat the double-entered '70 Duster of Nick Bowman (Export, Pa.) twice to make the final.
In the quarters, he survived a double-breakout pass by going 10.468 seconds at 128.18 mph, just ..028 under his dial-in. Bowman was a little quicker at 11.177 at 116.02, which was .027 under.
It was easier in the semifinals as Bowman fouled at the start, allowing Young to cruise down the track.
Racers will get another chance at 10 grand later in the year with the Fall Footbrake Nationals on Oct. 19.
Local racers will be out in full force next Saturday with the initial race of the Sunoco Race Fuels Money Trail E.T. Series on Saturday. High school racers will then take the track on Sunday for the Universal Technical Institute High School Challenge.
Results

Spring Footbrake Nationals

Saturday

Quarterfinals
Brock Moshier, '71 Vega, .020 reaction time, 9.019 seconds, 132.79 mph def. Mike Barber, '92 Ford,
..006, 9.948, 129.05.
Jody Sneckenberger, '70 Nova, .033, 9.991, 124.75 def. Brian Cireddu, '67 Camaro, foul -.011,
10.280, 117.66.
Moshier, .045, 13.967, 60.65 def. Cireddu, foul -.008, 14.207, 64.98.

Semifinals
Moshier, bye
Moshier, .018, 14.076, 54.59 def. Sneckenberger, foul -.009, 12.466, 68.41

Final
Not contested

Sunday

Quarterfinals
Paul Thimm Jr., '27 Roadster, .014, 9.135, 121.22 def. Martin Flegal, '98 S-10, foul -.008, 9.115,
144.88.
Nick Bowman, '70 Duster, .021, 11.196, 118.17 def. Ray Whitehead, '83 Camaro, .047, 9.394, 136.18.
James Young, '85 Cutlass, .054, 10.468, 128.18 def. Bowman, .029, 11.177, 116.02.

Semifinals
Young, .083, 10.695, 106.89 def. Bowman, foul -.016, 12.395, 77.02.
Thimm, bye

Final
Thimm, -.004, 14.244, 59.68 def. Young, foul -.008, 10.474. 127.38.





Drag News: 10 Most Recent Entries [ top ]

Apr 24- NHRA Heritage Series Heads To Wild Horse Pass
Apr 22- K&N Spring Fling Million Final Day Results
Apr 21- K&N Spring Fling Million Friday Results
Apr 20- K&N Spring Fling Million– Thursday Results
Apr 19- K&N Spring Fling Million- Wednesday Results
Apr 18- Buckeye S/SS @ National Trail April 28th
Apr 18- Don "the Snake" Prudhomme Returns To Baja Competition After 50 Years
Apr 18- K&N Spring Fling Million Tuesday Results
Apr 17- K&N Spring Fling Million Pre-Race
Apr 12- Summit Racing Equipment is Newest Sponsor of Midwest Junior Super Series