Thu, 02 May 2013, 12:26 PM



Reep Claims First OFAA Win In Historic Fashion



Courtesy of Chris Graves


Photo copyright 2013 Bucky Farris





NOBILE, Okla. --
The Painless Performance Outlaw Fuel Altered Association invaded Thunder Valley Raceway Park in Noble, Oklahoma for their second event of the nine race 2013 tour. Fifteen cars made the trip to Oklahoma to unleash havoc upon the all concrete eighth mile. Two time defending series Champion Jimmy Jones came to Thunder Valley in the points lead with Chris Trussell, Terry Brian, Aaron Leyda and Bobby Marriott rounding out the top five early in the season. This was the first trip back to Thunder Valley Raceway Park for the OFAA series in over ten years and the racers were excited to return to one of their original tracks from the early days of the series.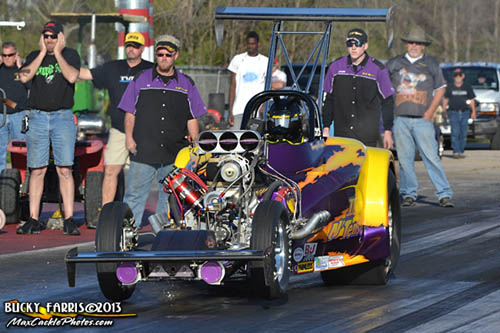 5_2_TerryBrian
With two qualifying sessions complete, several teams had dipped into the three second zone including Chris Trussell and Terry Brian who both clicked off 3.94's and Bobby Marriott who posted a 3.99 at 186 mph. Howard Farris wheeled the "War Wagon" nitro burner to a 4.01 at 146 mph and Mary Reep drove the "Grim Reeper" to a 4.02 at 144 mph. Kebin Kinsley snuck into the field in the "Nitro Junkie" owned by Roger Hennen with a 4.56 at 153 mph and Raymond Dawson's "High Octane" entry rounded out the twelve car field with a 4.89. The highlight of qualifying was the wild ride taken by Doyle Smith in his first race driving the "Chemical Reaction" nitro burner as he had the car on two wheels and across the centerline, but managed to keep the car off the wall. With qualifying concluded, the teams returned to the pits to prepare for the first round of eliminations.

Final Qualifying Order:
1. Bobby Marriott (Pilot Point, Tx) - 4.009 (3.991) @ 186 mph
2. Howard Farris (Springtown, Tx) - 4.01 @ 146 mph
3. Mary Reep (Austin, Tx) - 4.02 @ 144 mph
4. Chris Trussell (Canton, Tx) - 4.052 (3.948) @ 179 mph
5. Terry Brian (New London, Tx) - 4.052 (3.948) @ 177 mph
6. Aaron Leyda (Bartlesville, Ok) - 4.11 @ 173 mph
7. Donny McSwain (Rockwall, Tx) - 4.12 @ 170 mph
8. DoDad Burton (Tyler, Tx) - 4.19 @ 168 mph
9. Jimmy Jones (Cleburne, Tx) - 4.21 @ 140 mph
10. Mark Bowman (Oklahoma City, Ok) - 4.45 @ 168 mph
11. Kebin Kinsley (Arlington, Tx) - 4.56 @ 153 mph
12. Raymond Dawson (Nevada, Tx) - 4.89 @ 96 mph
13. John Broussard (Lake Charles, La) - 5.19 @ 168 mph
14. Doyle Smith (Paris, Tx) - 6.28 @ 80 mph
15. Joe Farris (Eureka Springs, Ar) - No Time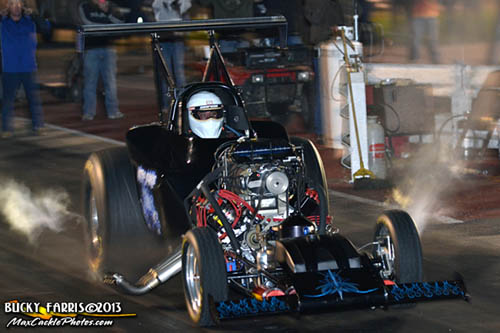 5_2_KebinKinsley
Carnage played its toll on a few of the heavy hitting OFAA teams including points leader Jimmy Jones and number two qualifier Howard Farris. Jones was sidelined after discovering a broken frame rail after qualifying and Farris' day ended with transmission troubles, which brought John Broussard into the round as an alternate. Raymond Dawson's "High Octane" and Donny McSwain's "Wild One" were the first pair out as eliminations got underway. After an exciting staging duel, McSwain lit his stage bulb and then left the line before the ambers, while Dawson pedaled his way to a 5.31 at 126 mph to take the round win.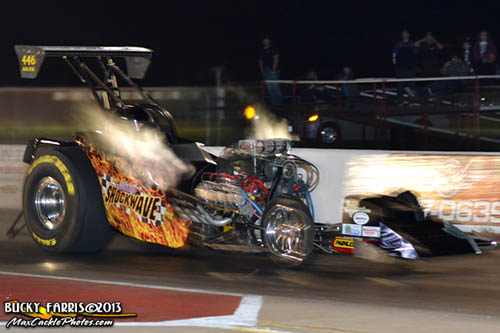 5_2_BobbyMarriott
Mary Reep and DoDad Burton rolled out next and after side by side burnouts brought their blown alcohol machines to the stage beams. Reep was out of the gate first and blistered the Thunder Valley eighth mile with a 3.85 at 170 mph, one of the quickest passes in recent OFAA history. Burton had the best seat in the house to see Mary click off the second quickest pass of her career, but his 4.44 in the "Free Spirit" entry was no match. Terry Brian's "II N'Tense" and Mark Bowman's "Blown Income" machines pulled to the line as eliminations continued. Brian fell asleep on the line but used a 4.08 at 167 mph to drive around Bowman's 4.75 at 158 mph.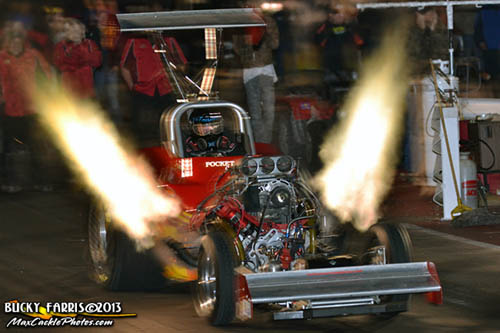 5_2_ChrisTrussell
Chris Trussell's "Assassin" nitro burner came to life ready to battle young gun John Broussard in the "Purple Haze" entry out of Louisiana. Trussell had the performance advantage on paper and despite being second off the line, pedaled his way to a header flaming 4.25 at 170 mph to Broussard's wild wheel standing 5.73 at 105 mph. Aaron Leyda brought out the "Hemi Hunter" lined up with veteran driver Kebin Kinsley in his first season driving in the OFAA series. Leyda took the starting line advantage and held it through the big end taking the win light with a 4.21 at 159 mph to Kinsley's 4.68 at 113 mph.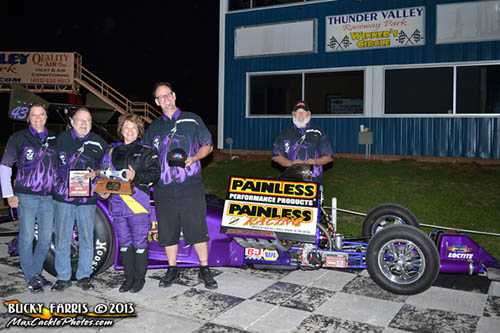 Mary Reep Winner
As the final round came to a close, number one qualifier Bobby Marriott and his "Shockwave" fuel altered came to life on a competition bye run. Marriott had a chance to advance to the finals if he could run quicker than Terry Brian's 4.08 as the two quickest winners from first round advance to the final in the OFAA Chicago style format. Marriott's car launched well off the line with flames belching from the headers but soon after the transmission let go and Marriott coasted to a 4.28 at 130 mph. Being the two quickest first round winners, Mary Reep and Terry Brian advanced to the final round.

First Round Eliminations:
(W) Raymond Dawson (.211 rt) 5.31 @ 120 mph vs. (L) Donny McSwain (Broke)
(W) Mary Reep (.076 rt) 3.85 @ 170 mph vs. (L) DoDad Burton (.148 rt) 4.44 @ 147 mph
(W) Terry Brian (.317 rt) 4.08 @ 167 mph vs. (L) Mark Bowman (.169 rt) 4.75 @ 158 mph
(W) Chris Trussell (.126 rt) 4.25 @ 170 mph vs. (L) John Broussard (.066 rt) 5.73 @ 105 mph
(W) Aaron Leyda (.066 rt) 4.21 @ 159 mph vs. (L) Kebin Kinsley (.128 rt) 4.68 @ 113 mph
(W) Bobby Marriott (.128 rt) 4.28 @ 130 mph vs. (L) Competition Bye Run

Both Reep and Brian came into the final with several previous OFAA final round appearances under the belt, the big difference was Reep still hadn't secured that first win in the series to become the first female to do so in history. As the cars fired up the pressure was on and after side by side burnouts the crew chiefs made their final adjustments and sent the drivers into the stage beams. At the flash of amber, they were off the line together and immediately Brian's car lost traction and he had the best seat in the house to watch Mary Reep make OFAA history and she blasted to a 3.97 at 180 mph to secure her first Outlaw Fuel Altered Association event win.
Final Round Results:
(W) Mary Reep (.097 rt) 3.97 @ 180 mph vs. (L) Terry Brian (.084 rt) 7.87 @ 73 mph
"It was an amazing race day with so many challenges facing our team between rounds. I want to thank Chad and Kevin from the Purple Haze team for helping us between rounds with the timing and brake issues. Also a huge thank you my crew, Rick Enloe, Vern Phillips & Bobi Jo Duncan for making it come together when it counted most. Michael & Don Kellett were not able to make the race but without their help after Denton, we would not have made it to the event. Finally a huge thank you to 'The Professor Reeper' for calling all the tuning shots on these tricky tracks. Many drivers say it, but I really do have the most talented team in the pits. Additionally, I'd like to say thanks to Dennis and Michelle Murray of Precision Engine in Austin and Jack Hodgson of Waco for their continued motor and machine work support along with Painless Performance, North Texas Diesel, Competition Sales of Dallas, Good Vibrations Motorsports, Wizard's Warehouse and 3rd Coast Commissioning Service for all the bonuses they provide the OFAA series," said Reep.
The Painless Performance OFAA series has two weeks off before heading back to Oklahoma to appear at Ardmore Dragway for the first time in series history to headline the "White Walls & Drags" event on Saturday, May 11th. The OFAA would like to thank Good Vibrations Motorsports, Wizard's Warehouse, Competition Sales of Dallas, North Texas Diesel and 3rd Coast Commissioning Service for their support of the 2013 series bonus programs. For more information visit www.ofaa.net.
Bonus Program Winners: Good Vibrations "Quick Reaction Time" - John Broussard & Aaron Leyda - .066
Wizard's Warehouse Finalists - Mary Reep & Terry Brian
Competition Sales of Dallas "Luck of the Draw" - Chris Trussell
North Texas Diesel "Quickest Rd.1 Non-Finalist" - Aaron Leyda
3rd Coast Commissioning Service "Best Burnout" - Kebin Kinsley




Drag News: 10 Most Recent Entries [ top ]

Apr 24- NHRA Heritage Series Heads To Wild Horse Pass
Apr 22- K&N Spring Fling Million Final Day Results
Apr 21- K&N Spring Fling Million Friday Results
Apr 20- K&N Spring Fling Million– Thursday Results
Apr 19- K&N Spring Fling Million- Wednesday Results
Apr 18- Buckeye S/SS @ National Trail April 28th
Apr 18- Don "the Snake" Prudhomme Returns To Baja Competition After 50 Years
Apr 18- K&N Spring Fling Million Tuesday Results
Apr 17- K&N Spring Fling Million Pre-Race
Apr 12- Summit Racing Equipment is Newest Sponsor of Midwest Junior Super Series