Thu, 02 May 2013, 11:56 AM



Winners Crowned at Texas Motorplex "Old School Showdown"



Courtesy of Chris Graves


Photo copyright 2013 Chris Graves





ENNIS, Texas --
The Second Annual "Old School Showdown" was held Saturday, April 20th, at the historic Texas Motorplex in Ennis, Texas. This event, held in conjunction with the NHRA Division 4 Lucas Oil Drag Racing Series event, brings the old school approach to drag racing with the Southwest Heritage Racing Association and Southwest Junior Fuel Association programs and joins them with the current era and competition level of a modern day NHRA divisional event. Together, they provide a unique and entertaining line-up for the drag racing fans of North Texas to enjoy each April. Welcomed by delightful spring weather conditions, the nostalgia racers of the SHRA and SWJFA associations were eager to get on the all concrete racing surface and blaze the hides for the capacity crowd at the Motorplex, old school style.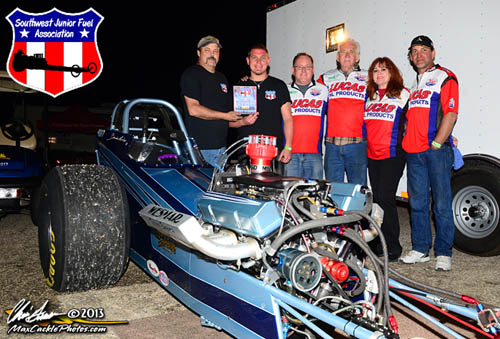 Brandon Lewis, Junior Fuel Winner
In Southwest Junior Fuel action, Odie Coker wheeling the Ron Ussery owned and tuned injected Hemi powered dragster posted a 7.29 at 181 mph to qualify number one but fuel pump issues sidelined their efforts after the first round of eliminations. This opened the door for number two qualifier, former NHRA Division 4 Alcohol Dragster competitor, Brandon Lewis, to go some rounds and that he did. Oklahoma native Lewis lined up in the final round against Louisiana based Brian Briggs in his brand new junior fueler. Briggs took a tenth of a second advantage on the starting line but his 7.61 at 174 mph was no match for Lewis' 7.38 at 177 mph, as Lewis claimed his first win in the SWJFA series for team owner and crew chief Charlie Smith.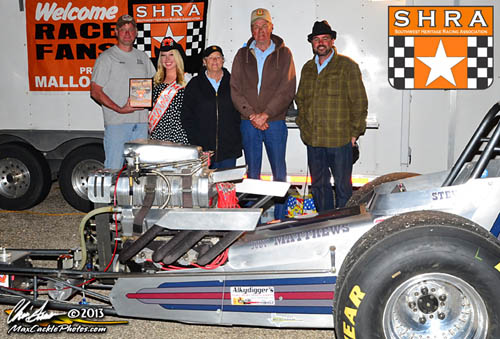 NE 1 Winner Steve Matthews
The Southwest Heritage Racing Association presented by MalloryPrint.com had their three Nostalgia Eliminator index classes in action at the Motorplex. In Nostalgia Eliminator 1 (4.65 index class), number one qualifier Steve Matthews piloted his front engine dragster to the final round to meet Chris Stouffer, both cars running blown small block Chevrolets on alcohol. Matthews was looking to secure his second straight win in the SHRA NE 1 class and he did just that when Stouffer left too soon off the starting line. Matthews' legged it out the back door to a 4.59 at 150 mph to take the win back home to Oklahoma.
"I'd like to thank my mom and dad for their support. Also I'd like to thank Anthony and Gerald for their help on the crew and the Oklahoma Heart Hospital for their care of my dad who makes our racing so much fun at the track. We are very fortunate to be able to race and to win back to back races with the SHRA is a great start to our season!" said Matthews.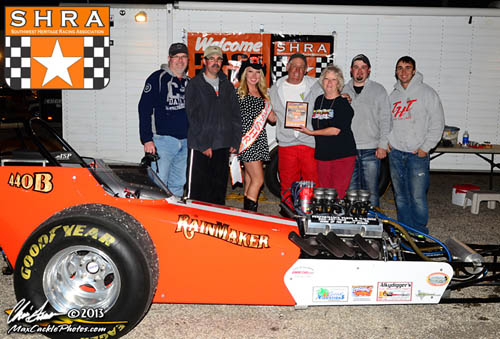 NE 2 Winner Johnnie Laird
In the Nostalgia Eliminator 2 (4.90 index) class, Tommy Drozd took the top qualifying position with a 4.99 at 138 mph but was put out in the semi-finals by Bee Godwin who found himself advancing to the final round to square off with veteran Johnnie Laird. Laird had the most consistent car throughout the event and hoped it would last in this all front engine dragster final. Laird was off the line first and coupled that with a strong 4.91 at 131 mph took the win over Godwin's off pace 5.71 at 109 mph. This was the first SHRA NE 2 win for Laird and the "Rain Maker" front engine dragster team of Ardmore, Oklahoma.
"We would like to thank all the people that came by with kind words and handshakes. We would like to recognize Rod Bales of Performance Parts & Machine in Yukon, Oklahoma for a reliable engine and longtime friend Lonnie Sears for a dependable transmission that helped us run well and get the win today. The SHRA for a program provides us with an affordable means to play with the toys and we love the race track operators that invite us to be part of the show. Most of all, I want to thank the good Lord for his blessings of me being able to have my wife and three generations of Laird's on the starting line of a drag strip with me," said Laird.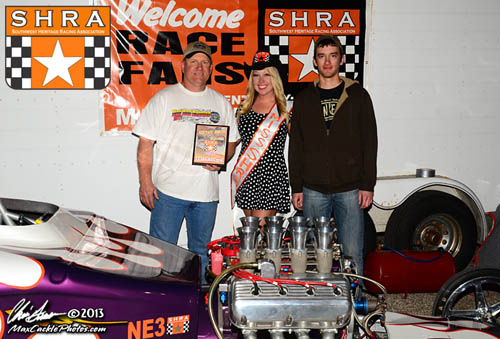 5_2_NE 3 Winner Doug Morrison
The action in Nostalgia Eliminator 3 (5.30 index class) brought a first time SHRA finalist in Keith Darrow of Forney, Texas to the final round to take on Doug Morrison of Gainesville, Texas. Darrow hoped to put an end to Morrison's winning streak as Morrison came into this final round undefeated in SHRA competition this season. As the ambers flashed, Morrison was out first and quickly Darrow's car made a move for the wall and he wisely shut off and had the best seat in the house to watch Morrison take his second straight SHRA NE 3 event win with a 5.36 at 118 mph.
"My team and crew had a great time at the Texas Motorplex with the SHRA series. Our car ran well, the weather was perfect and we had some luck on our side. I would like to thank my son Wes for his help, my wife Laurie and daughter Renee for their support and also all of our friends who support our race team," said Morrison.
The Southwest Junior Fuel Association would like to recognize Smiley's Racing Products, Hayden Enterprises, Hilborn Fuel Injection and Champion Spark Plugs for their support in the 2013 racing season. The Southwest Heritage Racing Association would like to thank Mallory Screen Print & Embroidery, Robinson Restoration & Service, Meyer Enterprises, Good Vibrations Motorsports, Harry's Hot Rod Truck & Accessories, Triple C Agency, North Texas Diesel, AlkyDiggers and Competition Sales of Dallas for their support in the series' debut season. For more information on the Southwest Junior Fuel and Southwest Heritage Racing Associations visit them online at www.swjfa.com and www.shraracing.com.




Drag News: 10 Most Recent Entries [ top ]

Jan 17- New Ownership and Management for Kansas International Dragway
Jan 17- FuelTech Signs as Presenting Sponsor of Season-Opening PDRA East Coast Nationals
Jan 17- Lucas Oil, Pat Musi Racing Engines & Musi Racing Continue Longtime Partnership for 2019
Jan 17- RAI on Home Territory at Sydney Dragway this Weekend
Jan 17- Nearly $400,000 on the Line at $40 Grand Nationals & No Box Bonanza
Jan 16- McClelland, Murphy, and Hicks Aim to Defend Southern California Championship Titles
Jan 11- Firecracker Bracket Nationals Return to Byron Dragway, July 5-7, 2019
Jan 08- Team Aruba Readies for 2019 Tour, Including Four NHRA Nationals
Jan 07- Rapisarda Autosport International Star Sanford Leads 400 Thunder Championship
Jan 02- Rapisarda Autosport International Chase New Year Glory