Wed, 01 May 2013, 20:24 PM



"The Shoe"



By Steve Reyes


Photo copyright 2013 Steve Reyes





It has been fifty years since a seventeen year old Don Schumacher began drag racing his street car down the lanes of Gary US30 Raceway in Gary, Indiana. The Chicagoland resident's path to drag racing glory had very humble beginnings. My first sighting of Mr. Schumacher was in 1966 in the December 1966 issue of All American Drag Magazine on pages 18-21. These pages featured a very cool injected Dodge Charger funny car named Stardust and there was a fresh faced young man named Don Schumacher on page 20 who was the owner/driver of the nitro burning funny car. His state of the art race car was assembled by a couple of very talented craftsman in the Midwest, John Buttera and Dennis Rollain of R&B Automotive in Kenosha, Wisconsin. Also, let's not forget fiberglass guru Ron Pellegrini's masterful Charger body. It was "The Shoe's" first serious venture into the wild world of funny car racing.
The second sighting of Don Schumacher by yours truly was at a big funny car event at my home track of Fremont, California in 1968. The injected Charger was long gone and in its place was a big bad blown 'Cuda funny car Yeah, "The Shoe" had gone pro in a big way. During the winter of 1968 and 1969, Don Schumacher hit the national scene of the world of drag racing. However, not all was wonderful for the Chicagoland resident. The theft of his 'Cuda early in 1969 was a setback that could have slowed him down. With his 'Cuda gone, he started to call around to find a replacement for the vanishing race car. A call to the Logghe Brothers proved to be a "right call at the right time" as the Logghe's had a complete, less engine 'Cuda sitting in their Michigan based shop. It was built for Butch Leal but Leal had suddenly retired from funny car racing and asked the Logghe's to sell the new funny car. There was Schumacher with the cash and the spankin' new 'Cuda found a home in Schumacher's shop.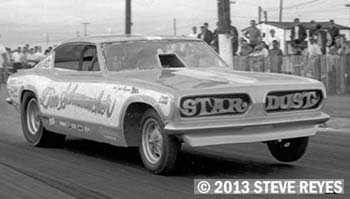 The Logghe 'Cuda served Schumacher very well for 1969 with many match race victories and it came to the West Coast and won Irwindale Raceway's Grand Prix of Drag Racing. During his tenure as a funny car driver/owner he won five NHRA National events, seventy percent of 560 races from 1968 to 1974, nine IHRA national events, and the 1973 AHRA Funny Car Championships. However, things changed for Schumacher in late 1974 when he retired from active racing to devote his time to his family and help his dad Al with the family owned business, Schumacher Electric. That would put an end to a personal racing career that spanned eleven years.
In the mid-1990's, Don Schumacher appeared on the world of drag racing scene again. This time he wasn't driving but helping his son with his pro career in drag racing, a then unknown top fuel driver, Tony Schumacher. We all know how that endeavor has turned out. Since the mid-1990's, Don Schumacher has built a dynasty with mega successful top fuel and funny car teams. His savvy business skills have enabled him to run multiple teams and he has brought major sponsors to drag racing. However, for me, he's still the guy with the great Stardust funny cars that barnstormed across the USA. He was one of the good guys in those crazy early days of funny car racing and I am glad I was able to hang out and photograph "The Shoe." Congratulations on your induction into the Motorsports Hall of Fame!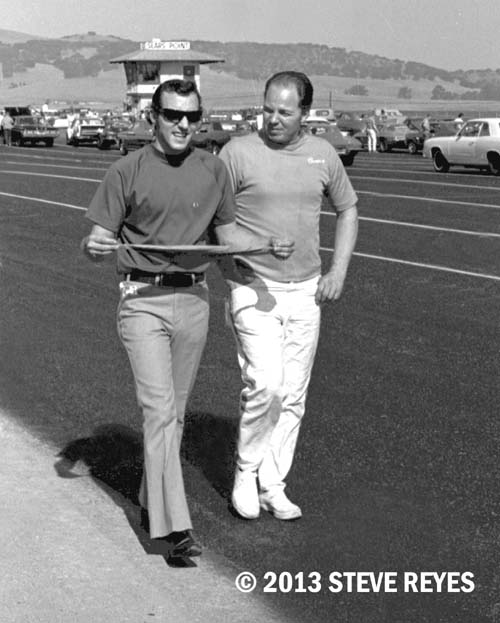 In 1969, at Sears Point, California, Schumacher and Connie Kalitta
returned from a starting line recon and compared notes.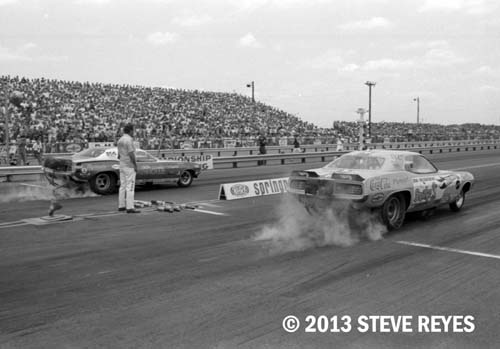 Prudhomme and Schumacher would meet many times in the early 1970's
and it was always a battle royale when they met on the drag strip.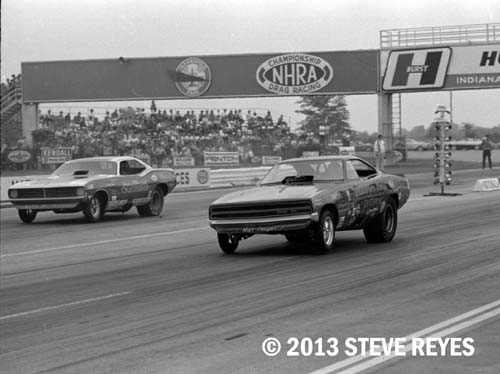 At Indianapolis in 1970, Schumacher disposed of Utica, New York's Phil Castronovo
on his way to the NHRA Nationals Funny Car Championships.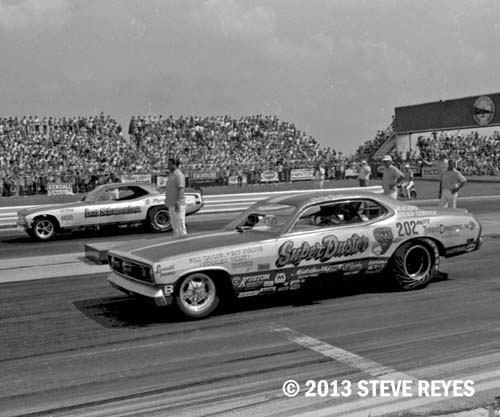 Here at Indianapolis, Schumacher was racing the Super Duster with Bobby Rowe
at the helm. When Schumacher expanded his funny car empire, Bobby Rowe
was hired as a driver for the blue Stardust 'Cuda.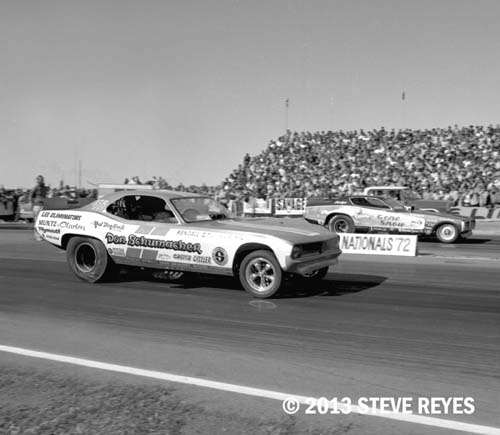 In 1972, both Schumacher and Gene Snow were established veteran
funny car drivers/owners and to be honest, they were two of the wealthiest
to ever pilot a funny car down the quarter mile.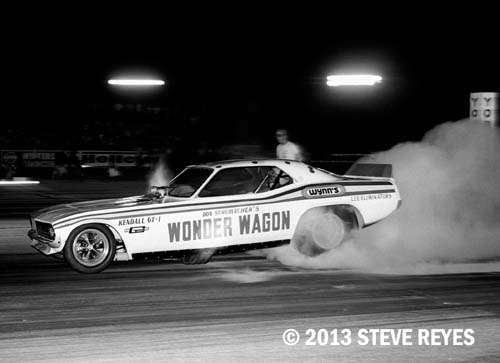 When Schumacher took over the Wonder Bread sponsorship in 1973,
one of his Stardust 'Cuda's became a Wonder Wagon 'Cuda.
The man behind the steering wheel was a young Texan named Raymond Beadle.
At the time this was Beadle's third ride in a nitro powered car.
He drove Mike Burkhart's AA/FC, Prentiss Cunningham's Top Fuel cars
(front and rear engine), and then for Schumacher.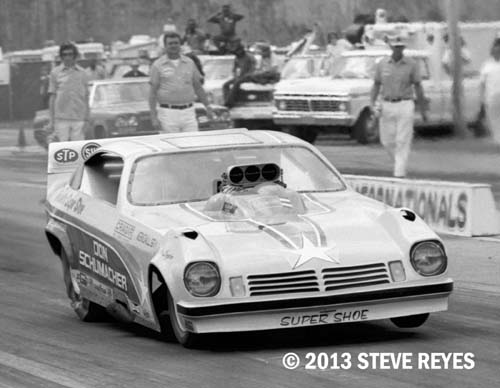 At the 1974 NHRA Gatornationals, Schumacher was runner-up to friend
and nemesis Don Prudhomme for funny car laurels.
Don finished out 1974 and retired to devote time to his family and the family business,
Schumacher Electric. The company was founded by his dad, Al in 1947.
Schumacher started out 1973 with a big win at the NHRA Winternationals.
His Stardust 'Cuda defeated Kenny Bernstein driving for Ray Alley in the final.
His crew, sharing in the victory, were Tim Grose (left) and Steve Montrelli (right).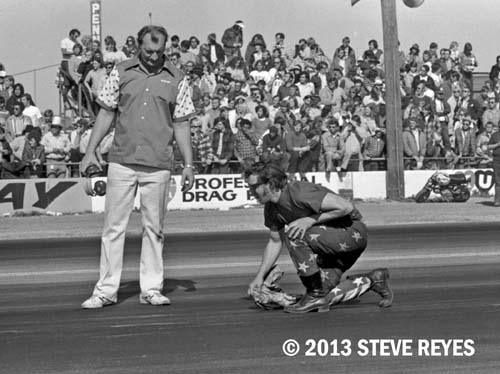 AHRA starter Pete Talmadge watched Schumacher clean the track
with his Stardust fire suit. It isn't every sport where you can watch a
millionaire on his knees cleaning the race track.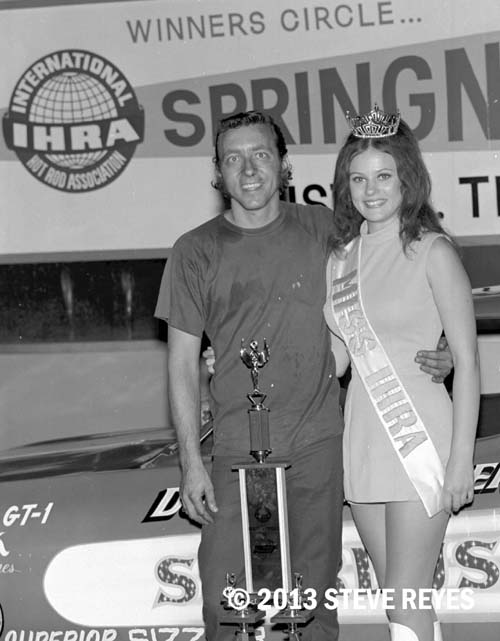 It's Don Schumacher in the IHRA winner's circle at Bristol, Tennessee in 1973.
Don won nine IHRA National events and seemed to be spending more time with the
IHRA queen than Richard Tharp who was her boyfriend at the time.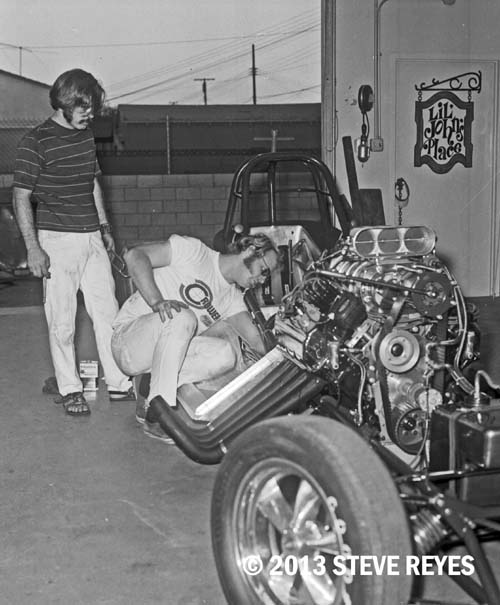 Lil' John Buttera and crew chief John Hogan put the finishing touches on
Schumacher's 1971 'Cuda. Back in 1966, the unknown Buttera and partner
Dennis Rollain built "The Shoe's" first Stardust Dodge Charger funny car.
Those mid-western guys sure do stick together.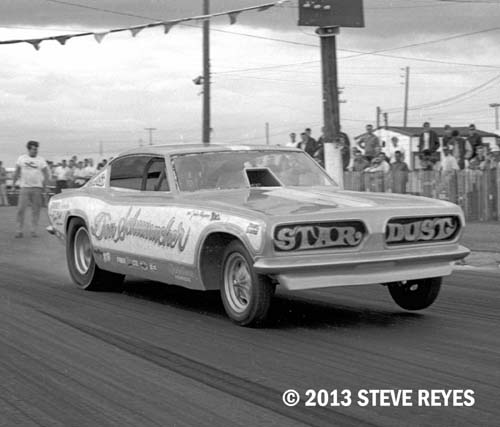 My first sighting of Don Schumacher was at Fremont, California in 1968.
"The Shoe" had his thundering 'Cuda at the soon to be rained out funny car event.
This was the car that disappeared off of Schumacher's car hauler and was never found.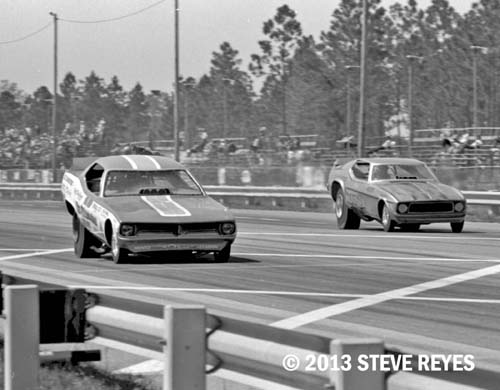 Battle of the Chicagoland funny cars at the Gatornationals in 1972.
Don Schumacher vs Gary Bolger in Bud Ricther's Golddigger Mustang.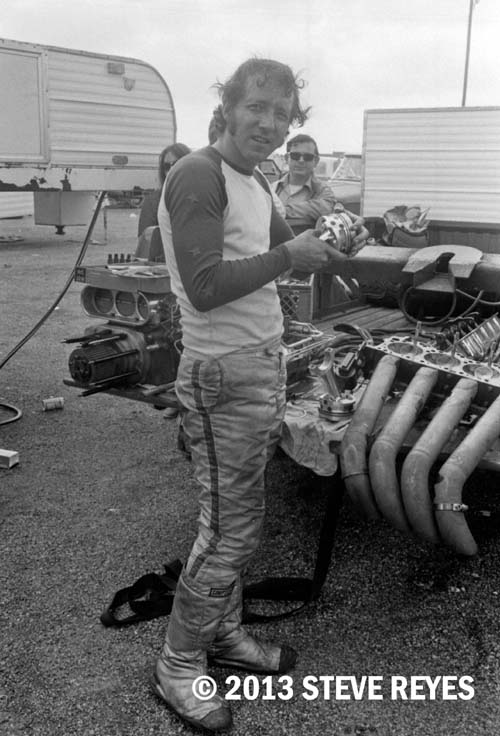 Yeah! Schumacher was old school, everyone works between rounds on the race car.
Don would get dirty with this crew to fix his 'Cuda between rounds.
This photo was taken at Green Valley, Texas in 1972.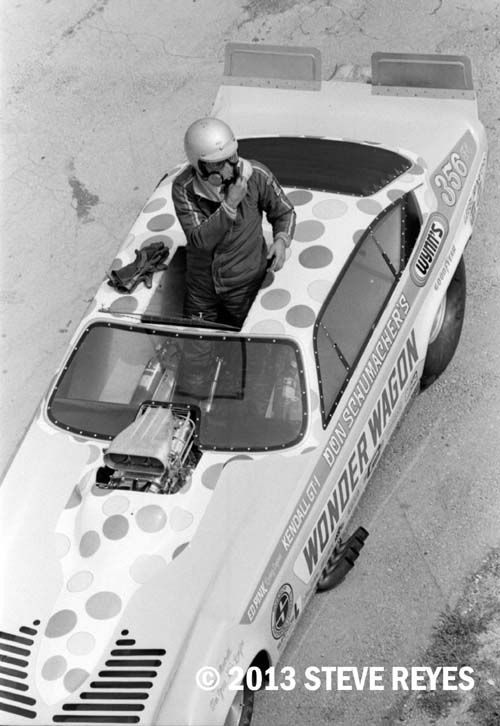 Don was one of the first to install safety hatches on fuel burning funny cars.
This photo was taken at Indianapolis in 1973.
Don has always led the funny car class with innovations that resulted
in safer race cars and
he considers this to be paramount in all
classes of drag racing and will settle for nothing less on all his race teams.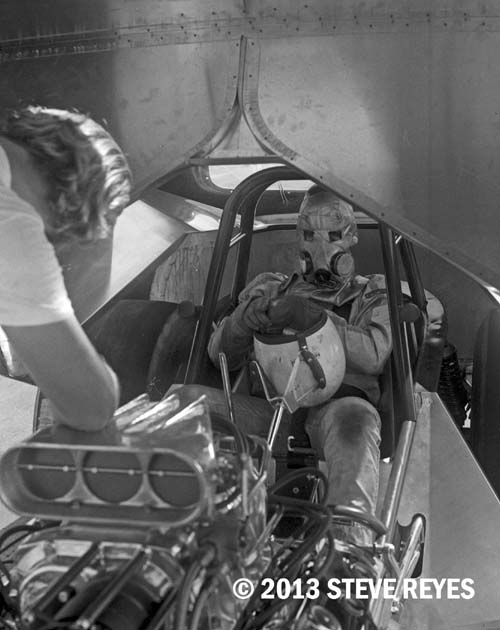 In 1969 at Orange County International Raceway, Schumacher got ready to test
his newly purchased Leal Logghe Brothers 'Cuda.
It seemed like he ran over a dozen times that day.
He and John Hopan ran the car until they knew it was just right.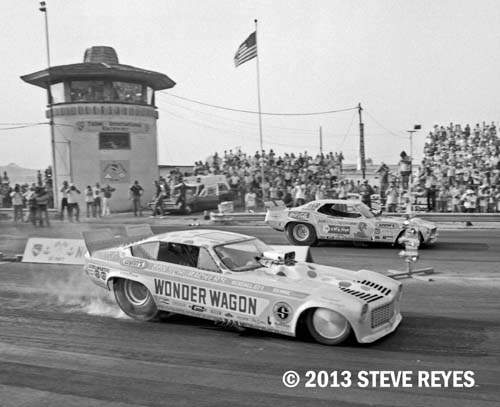 The Schumacher vs. Prudhomme show was at Tulsa, Oklahoma in 1973.
Don went up in smoke and the other Don streaked to
the finish line to win the PRA Funny Car Championship.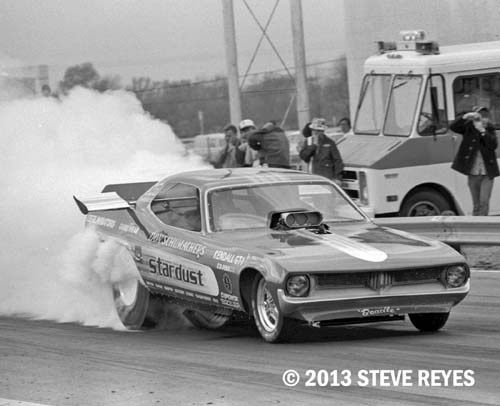 In Tulsa, Oklahoma in 1972, Raymond Beadle piloted Schumacher's red Stardust 'Cuda.
The red 'Cuda was sort of a test car for Schumacher racing,
so notice the Cunard wings added to help gain traction.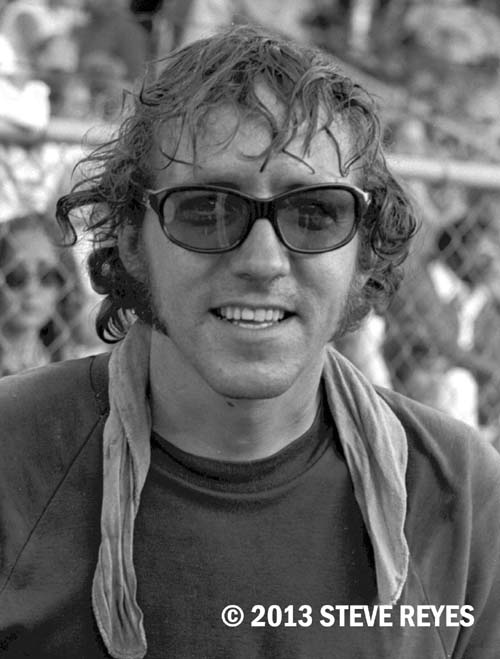 Bristol, Tennessee - Owner/Driver Don Schumacher in 1972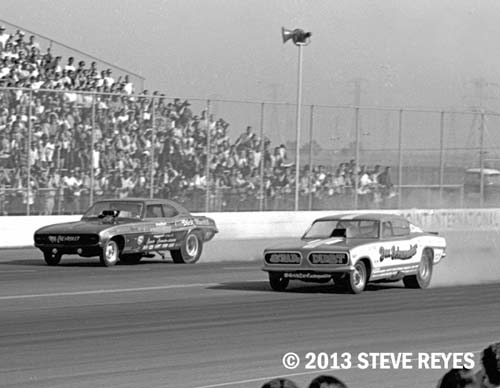 Every major funny car star was in attendance at the first major funny car race
at Sears Point, California in 1969. Two of the stars of the class,
Don Schumacher and Dickie Harrell have at it during eliminations.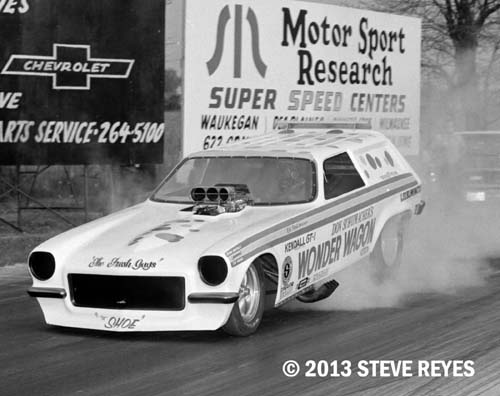 When Schumacher picked up the ITT Bakeries Wonder Wagon sponsorship,
he traded the 'Cuda body for a Vega Panel.
There are not a lot of pictures of him running this body because he blew it off the car.
That is when the ultra-slick Wonder Wagon Vega body
came to be on Schumacher's Buttera built race car.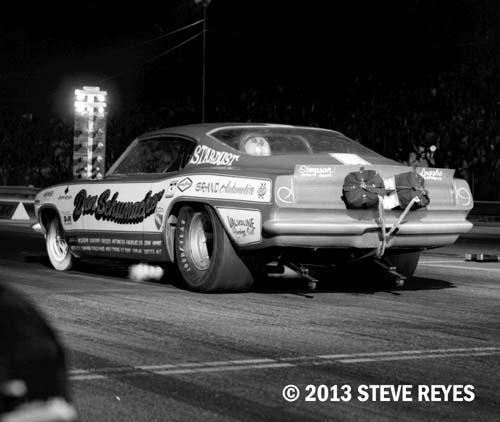 One of the first major west coast racers that Schumacher ran
with his newly purchased Leal Logghe 'Cuda
was at Irwindale Raceway's Grand Prix of Drag Racing in 1969.
Don spanked the gathering of funny car stars to take home the funny car honors.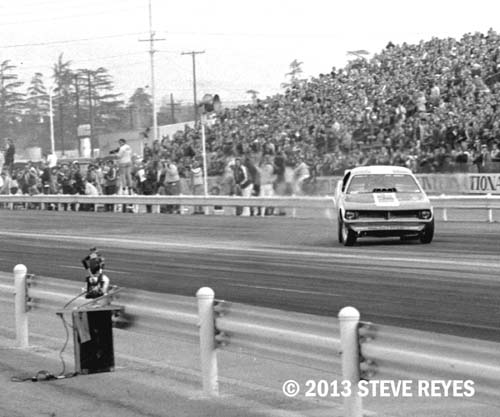 This was taken at the 1972 NHRA Winternationals in Pomona, California.
Do you wonder why he was called "The Shoe?"
Yes, Schumacher could drive with the best funny car drivers of the day.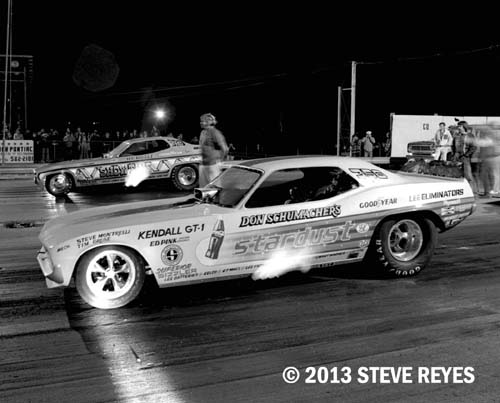 In Tulsa, Oklahoma in 1972, Don lined up to race Minnesota's Tom Hoover.
Take notice of the coke bottle on the side of Schumacher's 'Cuda.
He had just won the Coca Cola Cavalcade of Funny Car Championship in 1972.
Just another trophy in the trophy case for "The Shoe"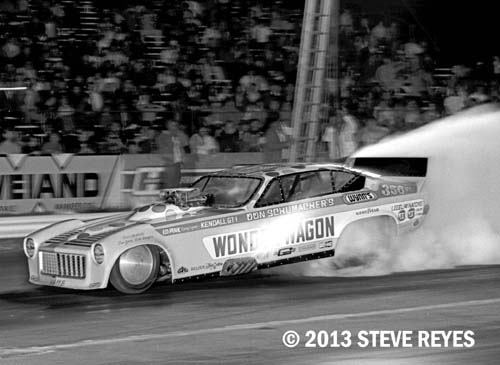 For me this was one of the slickest funny cars of 1973.
Schumacher's Wonder Wagon Vega AA/FC was low and fast.
The car also had wheel covers to get rid of air drag on the wheels and a driver's safety roof hatch.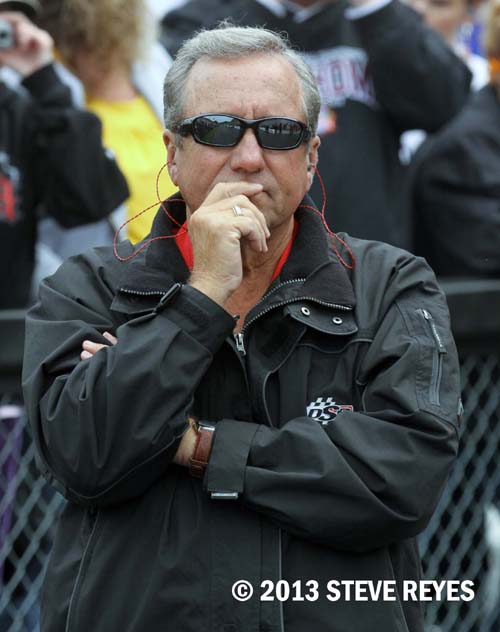 Today's Don Schumacher is a mega millionaire race car team owner of DSR
and the number one cheerleader for his top fuel champion son, Tony Schumacher.
And yes, he still is in love with drag racing after fifty years.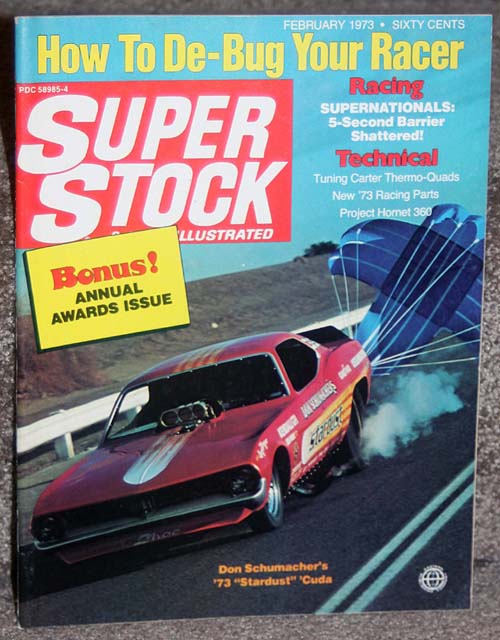 You can tell how popular Schumacher was back in the early 1970's,
he could be found on magazine covers and
color center spreads in all the major drag racing magazines.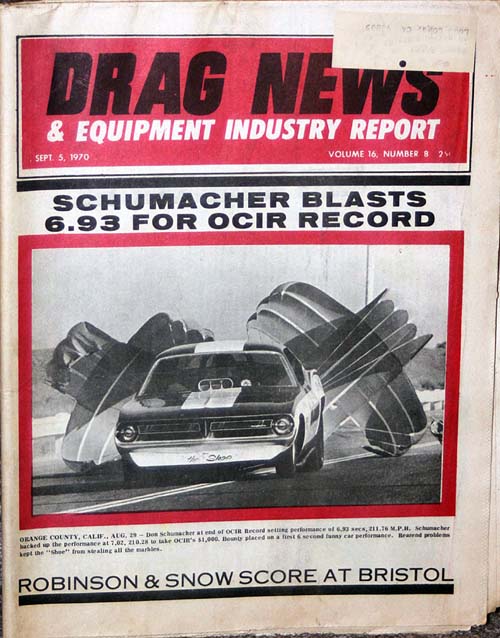 Schumacher caused quite a stir in the funny car ranks by picking up the bounty
offered by OCIR in 1970 for the first funny car in the six second bracket.
And yes, Don backed it up and Drag News spread the word
with this cover and a great Gary Densford photograph.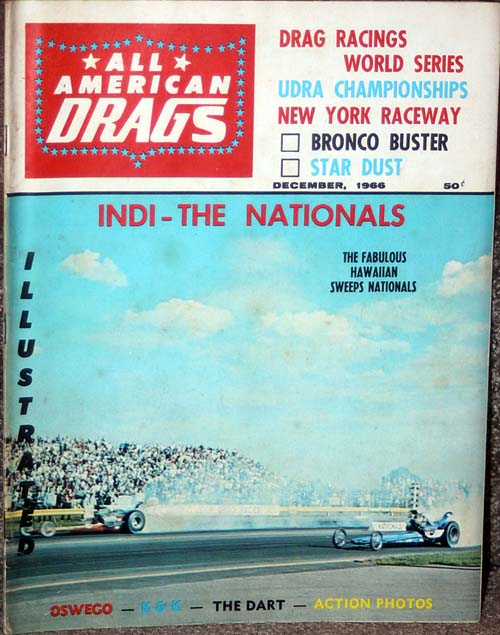 I first laid eyes on Schumacher and his Stardust injected charger funny car
in the December 1966 issue of All American Drags Magazine.
If you wish to purchase prints of the photos above, they may be obtained by contacting us at blrenterprise@cox.net. Other photos may be viewed by following the link at the bottom of the page at www.reyesontour.com.




NHRA: 10 Most Recent Entries [ top ]

Apr 22- HOUSTON - Pro Stock Round 3 Eliminations
Apr 22- HOUSTON - Funny Car Round 3 Eliminations
Apr 22- HOUSTON - Top Fuel Round 3 Eliminations
Apr 22- HOUSTON - Top Fuel Harley Round 2 Eliminations
Apr 22- HOUSTON - Super Stock Round 5 Eliminations
Apr 22- HOUSTON - Super Gas Round 5 Eliminations
Apr 22- HOUSTON - Super Comp Round 5 Eliminations
Apr 22- HOUSTON - Stock Eliminator Round 5 Eliminations
Apr 22- HOUSTON - Pro Modified Round 2 Eliminations
Apr 22- HOUSTON - Pro Stock Round 2 Eliminations