Tue, 30 Apr 2013, 12:10 PM



Meyer, Bartone Persevere in Houston



Courtesy of NHRA Field Marketing


Photo copyright 2013 Auto Imagery, Inc.





BAYTOWN, Texas --
At the rain-plagued O'Reilly Auto Parts NHRA SpringNationals at Royal Purple Raceway, Randy Meyer continued his recent resurgence in Top Alcohol Dragster and Tony Bartone won his second national event in a row in Top Alcohol Funny Car.
Meyer, a six-time runner-up last season, moved into second place in the national standings behind only Jim Whiteley, whom he beat in the final, 5.36 seconds, 271 mph to a slowing 5.46, 221. "Whiteley's been kicking my butt for a couple years now," he said. "He and that whole team are tough and don't make many mistakes."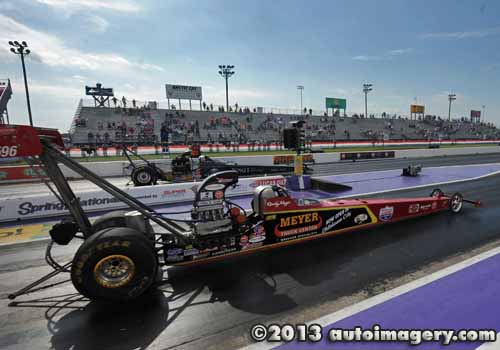 Randy Meyer defeated Jim Whiteley
Whiteley led late in the race but the back two blower studs on each side broke, killing the boost and allowing Meyer, who crossed the finish line going 50 mph faster, to zoom by for his fourth career title and first since the 2007 Gatornationals. "He wasn't pulling away from me, and I wasn't catching him either, but then he dropped back fast and instead of coming up a little short like we did so many times last year, we got the win," Meyer said. "We didn't beat ourselves for a change."
Meyer qualified third in the field with a 5.42 in the only session, behind Whiteley (5.26) and Chris Demke (5.36), and beat Buddy Domingue, 2011 world champ Duane Shields, and Rich McPhillips with increasingly quicker times of 5.48, 5.42, and 5.33. "Muggy conditions aren't ideal for A/Fuel, but we ran well compared to the rest of them," he said. "I'd say that we ran good, not great. You've always got to compare yourself to the number one car, and that's Whiteley."
Whiteley's J&A Service/YNot Racing team defeated James Thompson's Tom Conway-tuned Pepper Express A/Fueler, 5.34 to 5.40, in round one, then took a single in the second round because of the short field and another in the semifinals. In that round, Brandon Pierce, driving for Gene Snow in place of Chase Copeland, who now does the clutch on Sidnei Frigo's Top Fueler, never got a chance when his engine refused to fire. With a 5.34, 5.30, and 5.28, Whiteley had low e.t. of each of the first three rounds.
In the Top Alcohol Funny Car final, John Lombardo, who had just run a 5.568 to eliminate Jay Payne's 5.58 in the semi's, got a slight jump on Bartone, who established low e.t. in qualifying with a 5.566. Lombardo slipped to a 5.62 in the final that left him nine-thousandths of a second short of Bartone's 5.59.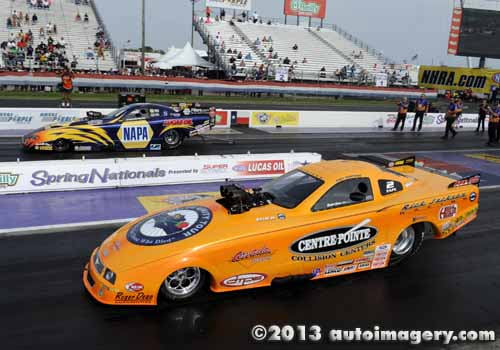 Tony Bartone defeated John Lombardo Jr.
"I never saw him, but I've seen the numbers, and he had to have been there the whole way," said Bartone, who moved into a third-place tie with Shane Westerfield in the national standings. Lombardo's runner-up leaves him second, 43 points behind undefeated Dan Pomponio.
Bartone, who also won Houston in 1996, 1997, 1999, 2000, 2010, and 2011, could have been out in the very first round when he managed just a 6.34 against Mark Billington, who shut off early. "I got up against the wall, and every time I steered it left, the car went right back to the right," he said. "I don't know how many times I was on and off the throttle - probably five or six."
That round was doubly important because as the No. 1 qualifier in a 14-car field, Bartone received a bye in round two. After an uneventful 5.68 on that one, he beat pal Mickey Ferro in the semis with an early-shutoff 5.99 when Ferro crossed the centerline on a 5.89.
"That was luck," admitted Bartone, who had the worst reaction time of his career, .378, after cutting a perfect .000 in the opening round. "I don't know where my mind was that time, but when the light came down, I wasn't ready. It's all about concentration. These aren't easy cars to drive, and leaving is the hardest part. The difference between leaving at the right rpm and being way off is an eighth of an inch with your right foot."
The following are the final results from the O'Reilly Auto Parts NHRA SpringNationals at Royal Purple Raceway:
Top Alcohol Dragster
Randy Meyer, 5.366, 271.90 def. Jim Whiteley, 5.466, 221.27.
Top Alcohol Funny Car
Tony Bartone, Ford Mustang, 5.591, 263.56 def. John Lombardo Jr., Chevy Monte Carlo, 5.629, 261.52.




NHRA: 10 Most Recent Entries [ top ]

May 21- TOPEKA - Pro Mod Championship Points
May 21- TOPEKA - Monday Video
May 21- TOPEKA - Monday Pro Mod Wrap Up
May 21- TOPEKA - Monday Wrap Up
May 21- TOPEKA - Championship Points
May 21- TOPEKA - Summary of Eliminations in Top Fuel
May 21- TOPEKA - Summary of Eliminations in Funny Car
May 21- TOPEKA - Summary of Eliminations in Pro Stock
May 21- TOPEKA - Summary of Eliminations in Pro Modified
May 21- TOPEKA - Summary of Eliminations in Top Alcohol Funny Car