Sun, 28 Apr 2013, 21:15 PM



Gallen Dominates In Nitro Jam's Return To Palm Beach



Courtesy of IHRA Communications


Photo courtesy of IHRA Communications





Huge Crowd On Hand For Carsafe Palm Beach Nitro Jam



JUPITER, Fla. --
Peter Gallen
(April 27, 2013) - Nitro Jam made its much anticipated return to Palm Beach International Raceway on Saturday to the fanfare of another incredible south Florida crowd.
Thousands packed into PBIR to witness the return to Nitro Jam's unique brand of motorsports entertainment and the fans did not walk away disappointed as Bruce Litton (Top Fuel), Peter Gallen (AMSOIL Prostalgia Nitro Funny Car), Jay Turner (Nitro Harley) and Kyle Hough (Fuel Altered) took home Ironman trophies during the 2013 CarSafe Palm Beach Nitro Jam.
Under the direction of Palm Beach International Raceway track manager and new IHRA CEO Jason Rittenberry, the unique event was a hit and capped a very successful tour of Florida following a record-breaking stop at Bradenton Motorsports Park the week prior.
On the track, the competition was as fierce as ever.
With a stellar track underneath them Nitro Jam's top stars posted some incredible numbers, none more so than reigning AMSOIL Prostalgia Nitro Funny Car World Champion Peter Gallen. The Broomall, Pennsylvania native posted two blistering laps on the cool Florida evening to take his fourth Funny Car win in a row and stake his claim as the fastest Funny Car on the east coast.
Gallen had laps of 5.775, 248.29 and 5.794, 246.12 on the PBIR quarter-mile to put the purple and gold "Poverty Stricken" Monza in the winner's circle once again. In the final opponent Mike Halstead ran into trouble immediately off the line and coasted across the line in the "Candies & Hughes" entry with an 8.345, 122.05 in the runner-up effort.
Both of Gallen's laps were without issue as the Pennsylvania native continues to make a name for himself only a few years after rejoining the sport.
In the consolation round Mike Minick drove the "Chi-Town Hustler" to a win over Mike McIntire and the "McAttack" team with a very fast 5.897, 239.74 lap. All four drivers had stellar times Saturday night, with Gallen, Minick and Halstead posting sub-six second runs in round one.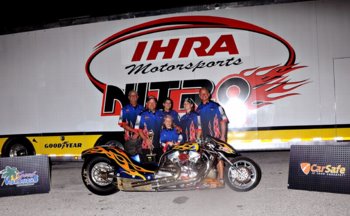 Jay Turner
Another class that turned heads Saturday night was Nitro Harley as Jay Turner and Tracy Kile continued to post incredible numbers on the back of two of the fastest nitro-powered motorcycles in the sport. On Saturday it was once again Turner as the Julian, N.C. native won in a very close race with a 6.492, 218.97 to Kile's 6.591, 212.06.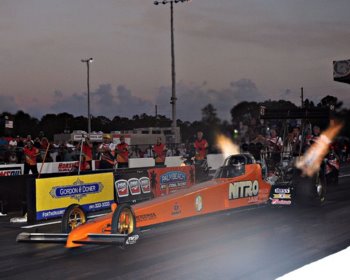 Bruce Litton
Top Fuel once again thundered down the Palm Beach quarter-mile Saturday night during the CarSafe Palm Beach Nitro Jam as Bruce Litton took home his very first Palm Beach Ironman with a sweep of Kyle Wurtzel in the sports fastest class. Litton's best pass of the night came in round one with a 4.905, 294.75 and the Indianapolis native followed that up with a tire-smoking 5.807, 177.42 in the final. Wurtzel broke and could not make the final call.
Finally in Fuel Altered Kyle Hough traded jabs with Ron Hope, but came away with the Ironman after Hope broke in the final. With a clean track and no competition, Hough still posted a solid 6.762, 218.72 in the "Super Nanook" Altered to take the win.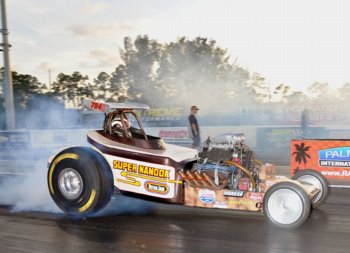 Kyle Hough
After two very successful Nitro Jam events in the state of Florida the series will take some time off before returning to action at the Suzuki Pittsburgh Nitro Jam June 1 at Pittsburgh Raceway Park.
JUPITER, Fla. -- Saturday's final results from the IHRA CarSafe Palm Beach Nitro Jam at Palm Beach International Raceway. The race is the fourth of nine in the 2013 Nitro Jam Series:
TOP FUEL Bruce Litton, Indianapolis, Ind., 5.807, 177.42 def. Kyle Wurtzel, Warsaw, Ind., BROKE.
PROSTALGIA NITRO FUNNY CAR Peter Gallen, Broomall, Pa., '77 Monza, 5.794, 246.12 def. Mike Halstead, Fontana, Calif., '70 Barracuda, 8.345, 122.05.
NOSTALGIA FUEL ALTERED Kyle Hough, Las Vegas, Nev., '23 roadster, 6.762, 218.72 def. Ron Hope, Franklin, Tenn., '33 Bantam, BROKE
NITRO HARLEY Jay Turner, Julian, N.C., 6.492, 218.97 def. Tracy Kile, Asheville, N.C., 6.591, 212.06.




IHRA: 10 Most Recent Entries [ top ]

Apr 24- Racers Receive Prizes at IHRA Summit Sportsman Spectacular Opener
Apr 24- Comeaux, Hughes Make History at IHRA Summit Sportsman Spectacular
Mar 21- 2018 IHRA Summit Sportsman Spectacular Series on April 20-22
Feb 26- Weather-Related Construction Delays Postpone IHRA Xtreme Raceway Park Opener
Feb 16- IHRA Summit Sportsman Spectacular Schedule Announced
Feb 15- New York Track Finds Value for Racers with IHRA Agreement
Feb 15- IHRA Summit Sportsman Spectacular Debut Only One Month Away Now is the Time to Pre-Enter
Feb 15- Summit Texas Location is a Racers' Paradise
Feb 15- Canadian Track Makes Large Commitment to IHRA Drag Racing
Jan 27- Mid-Michigan Destination Joins IHRA Family