Thu, 18 Apr 2013, 20:58 PM



Name That Driver!



By Bob Frey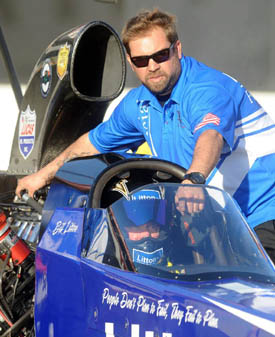 Anthony DiCero
It's sort of a running joke in drag racing that if you didn't drive for Roland Leong you never really made it in the sport. After all, other than "Uncle Larry" Sullivan, I'm probably the only guy who has been in the sport for a long time who didn't drive for the "Hawaiian." The list of drivers for Roland includes, but is not limited to, ESPN's Mike Dunn, Jim Dunn, Don Prudhomme, Danny Ongais and Butch Maas. Now that I think about it the aforementioned Mr. Maas drove a few cars in his day including ones for Archie Ary, Atlas Oil Tools, Glen O'Neil and Don Garlits. I'm actually surprised that he never drove the "Freight Train" because John Peters had a lot of folks behind the wheel over the years. There was Bob Muravez and Floyd Lippencott, Leonard Harris and Mickey Thompson and about a dozen others. And while all of those names were in the early days of the sport you do have current owners who have had a variety of drivers, too. Case in point, Jerry Darien, who has had Ashley Force, Morgan Lucas, Brandon Bernstein and Melanie Troxel among others, behind the wheel of his car. And don't get me started on Leonard Cottrell who makes all the others look like amateurs when it comes to selecting drivers. All of this brings me to a gentleman by the name of Anthony DiCero, and while he may not be as familiar to you as some of the other car owners that I mentioned, he is developing a great training ground for young and upcoming drivers, including his latest, Rashi Kanick.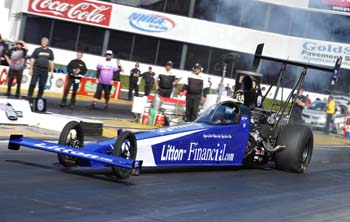 Bill Litton
Photo copyright 2013 Auto Imagery, Inc.
I caught up with Anthony the other day when he was at one of America's great eating establishments, Cracker Barrel. "I'm sitting here talking drag racing with Spencer Massey and Rishi," he said. What I wouldn't have given to be sitting at that table! Anyway, it shouldn't come as a real surprise that Anthony was dining with a current star and, potentially, a future star since that's kind of what he does for a living. "I've been involved with a lot of teams over the course of my career," he said. "And that includes the time I worked for various car owners and the time that I have owned my own car." Among the owners he worked with are Bob Gilbertson, Jim Dunn, Morgan Lucas, Tony Pedregon and Don Prudhomme. He also served for a while on the Funny Car team for Randy Anderson. "That was a real learning process," he said. "Back then there were only five guys on a Funny Car team so I worked on the tires, the body and the heads on the car." Among those who have driven his car are Scott Palmer, Bill Litton, Doug Foley, Shane Lawson and, of course, Rishi Kanick. He was also partners with Ron Griffis on the car that Ron's daughter, Cherissa, drove at the IHRA races the past two seasons. Not bad for a guy who is only thirty-four years old, is it? "My dad kept asking me when I was going to get a real job," Anthony said. "Things are going well now so I told him I guess this is a real job." When I asked him what he meant by "this" he said, "Blessed. Blessed is my job to be doing what I am."
What he is doing is providing an opportunity for some drivers to live their dream and compete in the sport they love. "I have a car that runs pretty well and it gives people an opportunity to race. I'm not saying this is what I started out to do but it seems to be working out well for everyone." In addition to his father Anthony received some advice from another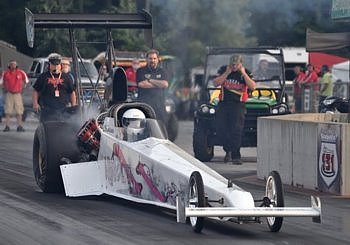 Cherissa Griffis
Photo copyright 2013 BME Photography
special person in his life, and he said that it came at just the right time now that he is a father himself. "I have a wonderful girlfriend of five years, Jessica, and we have a ten month old daughter. Jess told me that I needed to take control of my life now that I'm a dad and that's what I'm trying to do." And from all appearances he is doing it very well. "Jessica works with the Morgan Lucas team and I can't thank Forest and Charlotte Lucas enough for all the help they have given me. "
For Anthony the help comes from a lot of places and a lot of different people. "It's amazing how things happen in life," he said. "A few years ago I was working with Gene Arragoni on his car, but on the way to Maple Grove in 2008 his trailer was rear-ended and his dragster was totaled. When Gene went to sell off some of the parts I decided to buy them." He had enough parts that he was able to team up with Ron Griffis and put a car together for Cherissa. "That worked out well for each of us," he said. Cherissa, who has run a few NHRA national events, competed at the IHRA Nitro Jam events and did very well. Still in search of a chassis and car of his own Anthony said that he was having lunch one day with Tony Schumacher's crew chief, Mike Green, and he happened to mention that he was looking for a chassis, and if Mike knew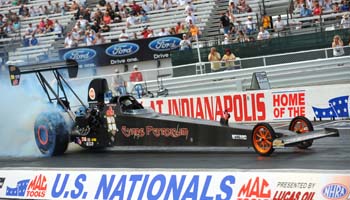 Tommy Johnson Jr at Indy in 2009.
Photo copyright 2013 Auto Imagery, Inc.
of any that were available would he let him know. "About thirty minutes after lunch Mike called back and said they had one at Don Schumacher Racing that they would sell and that's how I ended up with the car that I own now." That car is also an indication of how much help Anthony has received on his project. "It's a Tony Schumacher chassis, the one he ran before the canopy car, it has Antron Brown body pieces on it, the front wing is from Dexter Tuttle's car and the rear wing is from the Morgan Lucas car." Wow, talk about a car with an identity crisis!
While Anthony certainly can tune a car, especially one in the A/Fuel Dragster class, he is not a driver and never has been and that's where his friendship with Spencer Massey comes in. "We have been friends for about ten years and he has been a huge help with my drivers." He went on to say that most of the drivers who have been in his car have had very little, if any, real racing experience and that's why Spencer is so important to the project. "He has been where they are and is now one of the top drivers in the sport. When he comes to the pit area and talks to them they really listen. The advice and help he gives them is invaluable." After racing in Las Vegas two weeks ago Spencer and Anthony both headed to Virginia and the Division 1 Lucas Oil event. "Spencer went to Texas to get ready for the 4-Wide event this week and I went back to Indy to get some stuff and then we both went to Richmond to race with Rishi." Spencer got to the track just in time for the first run and he was able to observe what Anthony's latest driver was doing. "Rishi was a bundle of nerves. He had this new car that he bought from Sidnei Frigo and hadn't made many runs in it. Spencer was able to talk to him, calm him down a bit and that was a real plus." In the end Rishi made the show but lost in the first round when the car did a big wheelstand. "All in all he did just fine for his first race and we hope to improve on that this weekend," Anthony said. "Spencer is also helping me with Bill Litton and Bill will be the first to tell you how much he appreciates Spencer's advice."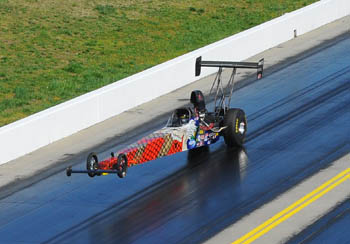 Rashi Kanick
Photo copyright 2013 Phil Hutchison
Working with different drivers presents a unique set of challenges for Anthony. "First of all you have to make sure that everything fits each driver and you have to be sure they can reach everything in the car." And he learned early on that reaching the controls when you're just sitting in the car is one thing and doing it when you are fully suited up is something else. "Yeah, once they get buckled in it changes how much flexibility they have so you have to suit them up and then adjust a few of the things." One thing that is constantly getting adjusted is his schedule. "We're getting a lot of calls and we keep adding races and that's a good thing." After the Charlotte race he will go back to Indy, pick up his car and put another new driver in it. "Kyle and Corey Michalek won the Champion Spark Plug contest and that included sponsoring their race car. They ran a Super Comp car last year and will step up to a Top Alcohol Dragster this year." And when somebody new wants to do that all they have to do is pick up the phone and dial 1-800-CALL-ANTHONY. Not really but you get the idea.
While he has a long way to go to join the ranks of the Roland Leongs of the world Anthony DiCero is happy just being himself. "In my wildest dreams I never thought this would take off like it has," he said. "I'm so thankful to all the people who have helped me and I hope to continue this for a long time. I would especially like to thank Tom Conway and Robin and Tony Samsel because, believe me when I say that none of this would have been possible without them." Based on the results we have seen so far there is no reason to believe that Anthony can't put himself and a lot of drivers in the winner's circle, just like Roland did.




NHRA: 10 Most Recent Entries [ top ]

Apr 24- CHARLOTTE 1 - Steve Torrence Enjoying Four-Wide Success Heading to NGK Spark Plugs NHRA Four-Wide Nationals
Apr 24- CHARLOTTE 1 - Fact Sheet
Apr 24- Kalitta Motorsports Welcomes NASCAR Stars to the SealMaster Track Walk in Charlotte
Apr 24- zMAX Dragway Celebrates 10th Anniversary
Apr 24- CHARLOTTE 1 - NGK Spark Plugs NHRA Four-Wide Nationals Brings 40,000 Horsepower Thrill Show to zMAX Dragway
Apr 23- HOUSTON - Lucas Oil Drag Racing Series Wrap Up The NHRA Lucas Oil Drag Racing Series Wrap Up
Apr 23- CHARLOTTE 1 - J.R. Todd Aiming for Two Four-Wide Racing Wins in 2018
Apr 23- Mid America Dragway Joins NHRA Member Track Network
Apr 23- HOUSTON - Special Awards
Apr 23- HOUSTON - Sunday Video